I was poking around on fredmiranda.com's for sale forum and saw a WACOM BAMBOO FUN tablet for sale for $60usd. This seemed quite reasonable, so I took a look around and found out that these are very decent beginner tablets. The kind that non-artists can use for illustration, editing and even navigation. Vista has been pen-enabled, so is quite friendly to the use of a pen instead of a mouse.
I checked the prices here in Canada and found them quite reasonable. Future Shop has the best prices right now, with the basic BAMBOO selling for $69.99cad and the more advanced BAMBOO FUN selling for $99cad in its small form. Note that the small form is perfectly fine for most purposes, and in fact I find it already a bit large for pen navigation as you have to move your arm pretty far to address the edges of the screen.
The BAMBOO FUN comes with extra goodies, which should be quite worthwhile for many people. First, it has a nice looking table, which also comes in three colors. I purchased basic black. With the glowing navigation circle, it looks very cool. It also comes with a mouse, which basic BAMBOO does not. This mouse never needs batteries, yet is wireless when used with the tablet. Very nice.
But the real kicker is that you get very recent versions of Adobe Photoshop Elements, Corel Painter Essentials and NIK Color Effects Pro. Elements is now at version 6 in the package, which is a heck of a deal, as you get Adobe Camera RAW 4.6 with support for the most recent cameras in it. And you get keys that are upgradeable!
So this qualifies in my opinion as an amazing deal. An excellent beginner's tablet plus world class photo editing and organization software for a hundred bucks. And fully upgradeable to the latest version, which has just been announced (Elements 7 with ACR 5.)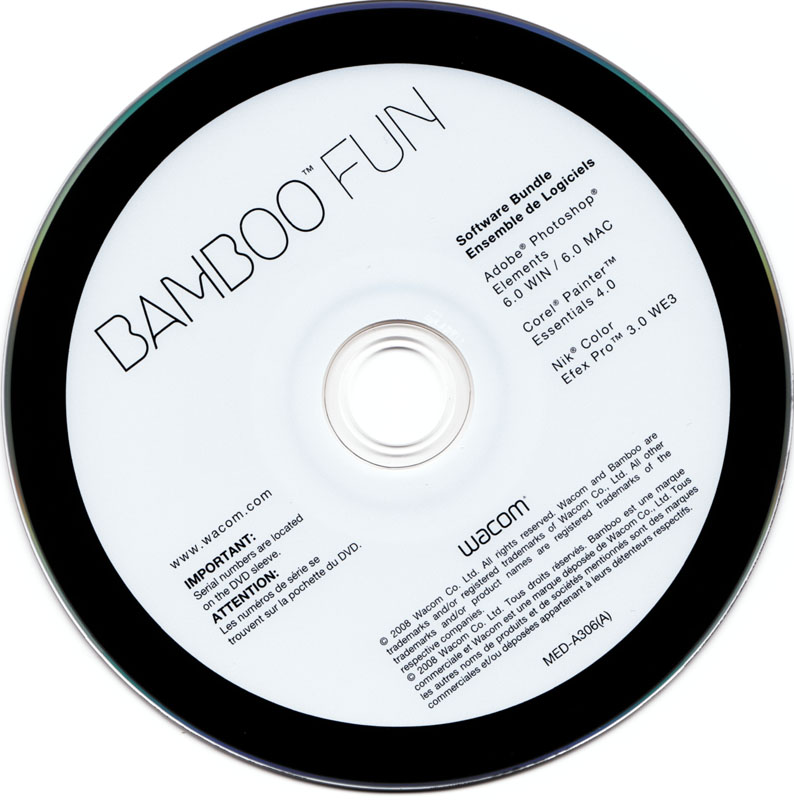 Consider giving this a try if you have ever thought about using a table for editing, illustration or navigation. It's pretty cool ...