Ok, these two aren't really in the same league. The Panny is a serious camera with amazing ergonomics and a smoking good lense, albeit way too short (booooooo!)
But the Fuji Talk Forum has been desperately searching for the next great compact Fuji camera for social situations ... the last one was the amazing F31fd. This is a camera that is so smooth at 800ISO that it defies logic. A sensor the size of your little finger nail with noise characteristics better than some of the crappier dSLRs ... (you know who you are ...)
DPReview performed a full review the LX3 and gave it a highly recommended. But they found that low contrast detail, a perennial problem in small sensor cameras, was not handled well. Panny have always had noise issues and over-zealous NR. The LX3 is much improved, but still not where it should be for the price.
I always enjoy Thom Hogan's reviews, and he looked over the LX3 against the stunning Canon G10 and the rather mediocre Nikon P6000 (why Nikon, why?) The LX3 should have won, but Canon has done wonders with their processing with some of the tiniest photosites yet ... and the Canon walked away being the only one Thom thought could do a decent 800ISO. I certainly think it does alright, because it retains a decent amount of detail.
http://www.bythom.com/compactchallenge.htm
Anyway ... back to the Fuji issue. The debate has been raging in a thread over there, based on someone's work on the DPReview sample images. The NR was a bit heavy handed and did not show enough to declare a winner. So I thought I'd apply my Neat Image skills to the problem and see what I could coax out of these two.
The result was, in my opinion, a virtual tie. Kudos to the LX3. Here are the 800ISO crops (click to expand the images):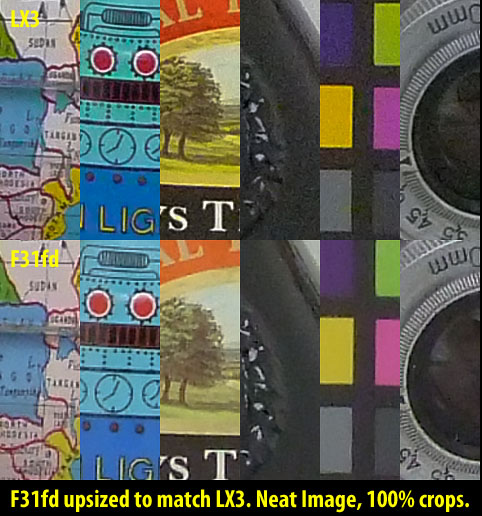 As you can see, the two are pretty close at 100%. Factor in paper and ink and even fairly big enlargements will look similar. Although the Fuji will look smoother in dark areas. You can see that with the lense crop, the Baliet's bottle crop, and the color card crop.
On the other hand, the Fuji has some weird edge artifacts. That is most obvious on the lense crop with the jaggies all over the little details around the silver parts.
I think the Fuji's NR is a big over-aggressive as well ... this being most obvious on the Bailey's label. The tree in the Panny image definitely has more detail.
Still ... overall, the detail is about the same (see the glove crop) ... leaving one to wonder where the extra 4 megapixels went?
So ... pretty much a tie. If only that LX3 lense were not so darned short :-(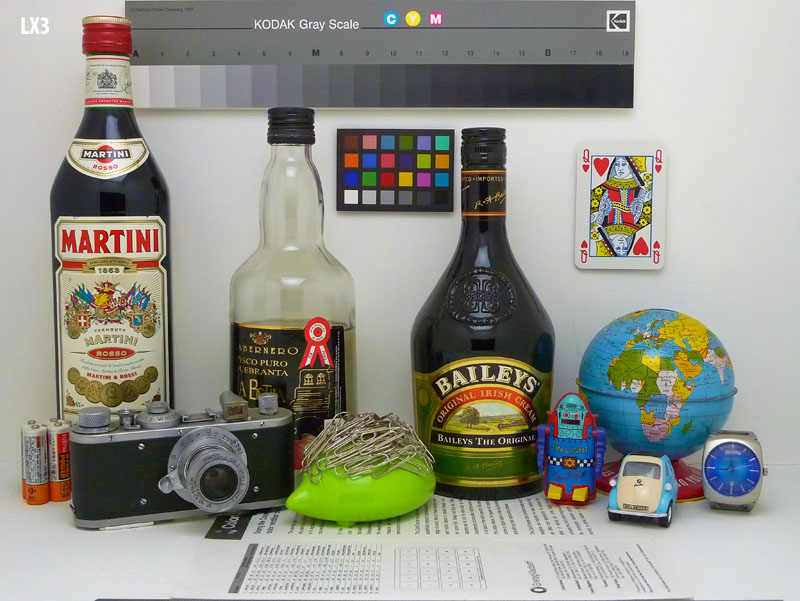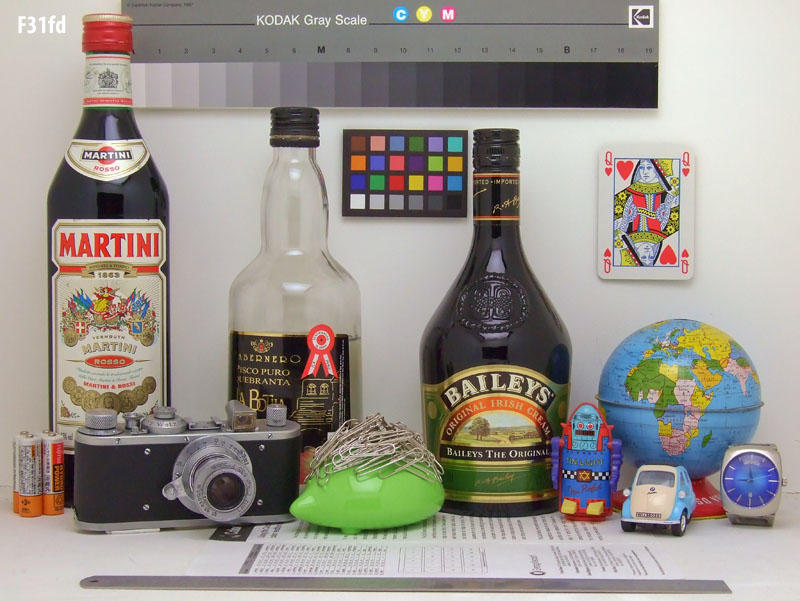 I think these would make fine prints, but the situation would be quite different were there hair or distant foliage in the image. We'd be looking at lots of clumping in the Panny image ... and some in the Fuji image too. But I am pretty sure the Fuji would be a little better.