So it's fairly late in the evening and the sun has just set or is just about to. You decide on a nice walk for half an hour and you grab your HS25 for the wander. It's the time of year when many flowers are at or near their peak, so it is a good time to see what the neighbors have been up to.
Before I left on the walk, I started in my own back yard. The Hansa Rose bush is now covered in blooms. Looks terrific. Here's a reasonably nice one, straight from the camera except for resizing.
Note: the majority of these images are straight from the camera, except wher I note that the image is processed. All are shot in EXR DR mode. I shot the first third of the image at auto ISO 400, but as the light waned I was forced to shoot auto ISO 1600. Meter was set to averaging the entire time.

fuji hs25 400iso f/5 1/80
Here is the same image as I usually prefer to render it.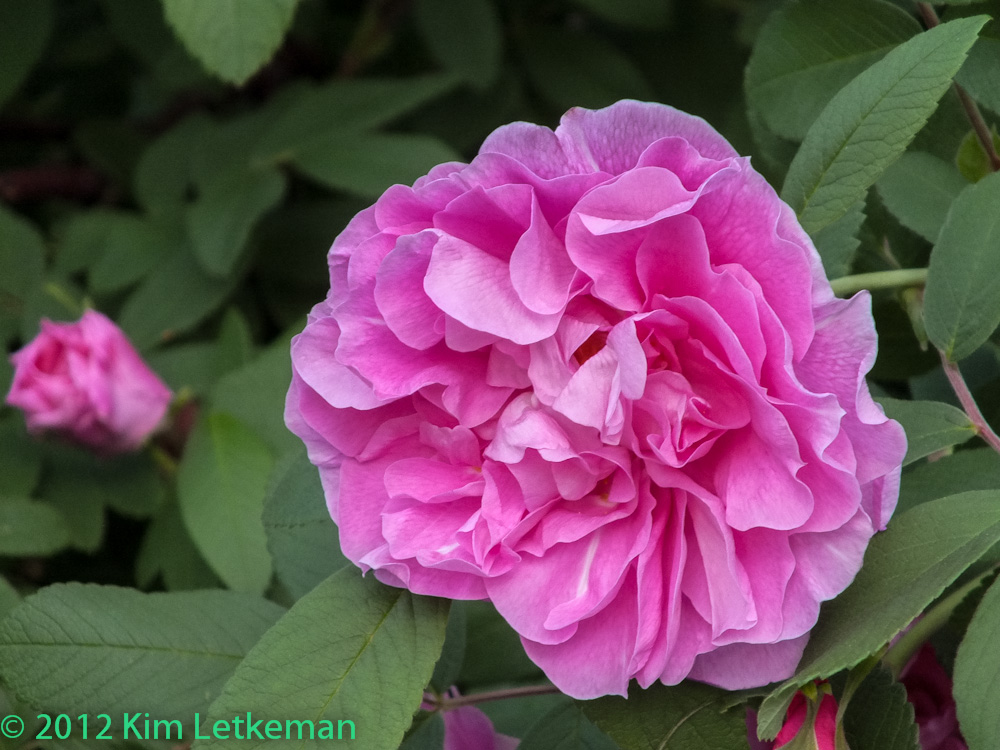 Yes, the difference is subtle. But subtle differences matter.
Another bloom with the stamens showing.

fuji hs25 400iso f/5 1/150 -2/3ev
Although it is not a sunny or contrasty light, I prefer to drop exposure a bit to protect pinks and reds, which are really hard to capture without blowing them out.
The whole bush as Fuji would render it and then as I would render it. No EXIF, it is embedded if you want to see it.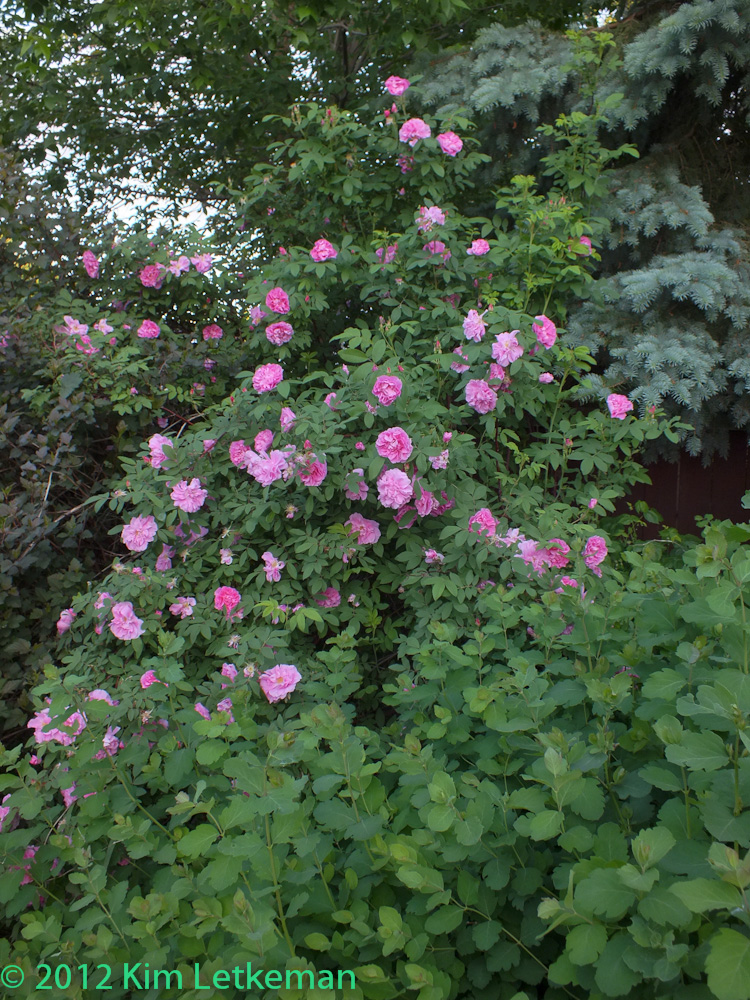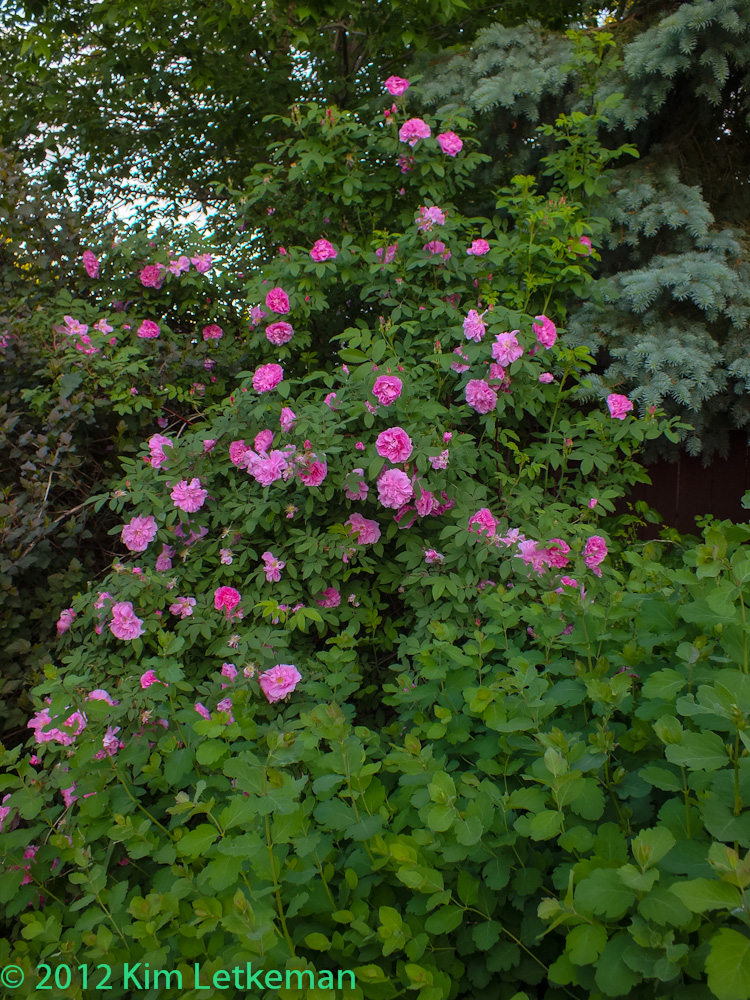 A robin lands right in front of me on the fence, and then walks towards me. I actually have to zoom out to get the whole thing in. Ho cocks his head at me as the camera is beeping (I am furiously trying to turn off macro mode.)
Again, Fuji's and then mine. I correct white balance by clicking the dropper on the fence.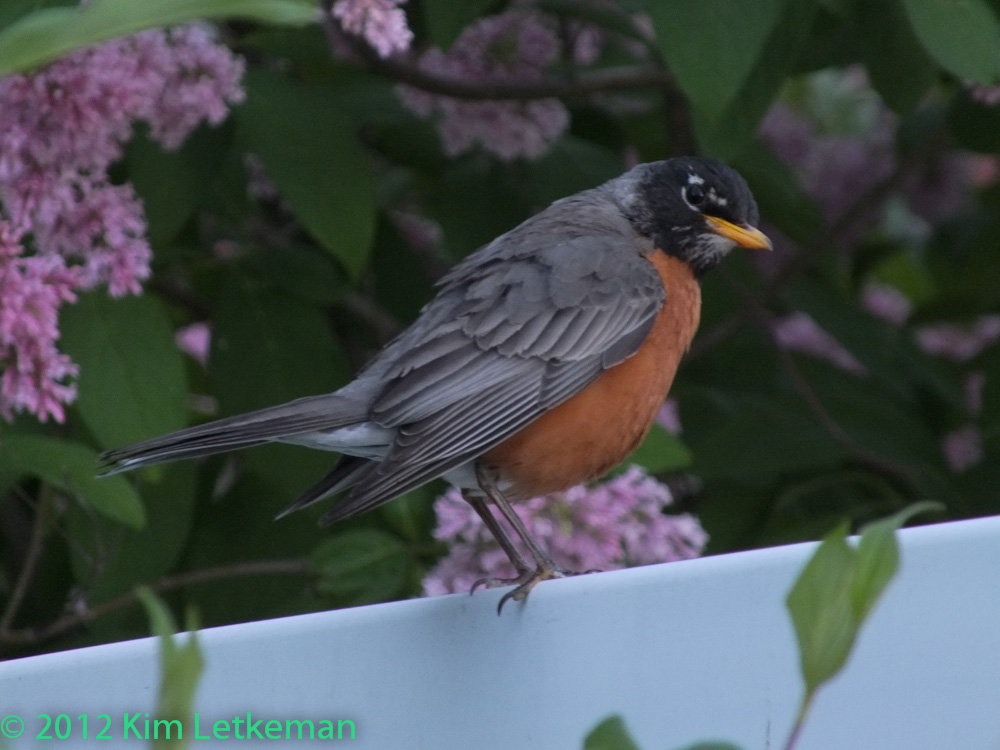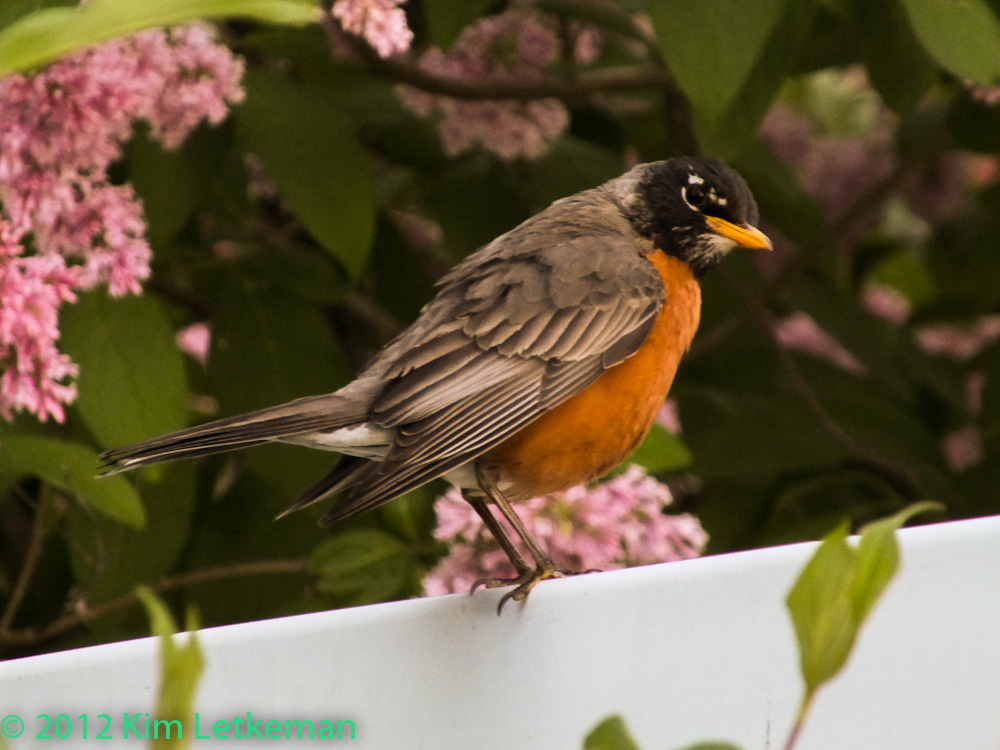 For those who don't like to process, perhaps working with custom white balance will suffice. But I would seriously consider getting Lightroom 4, which is half the price that Lightroom 3 used to be.
As I was about to leave the yard, I noted that the moon was up and looked really nice in the late evening blue sky.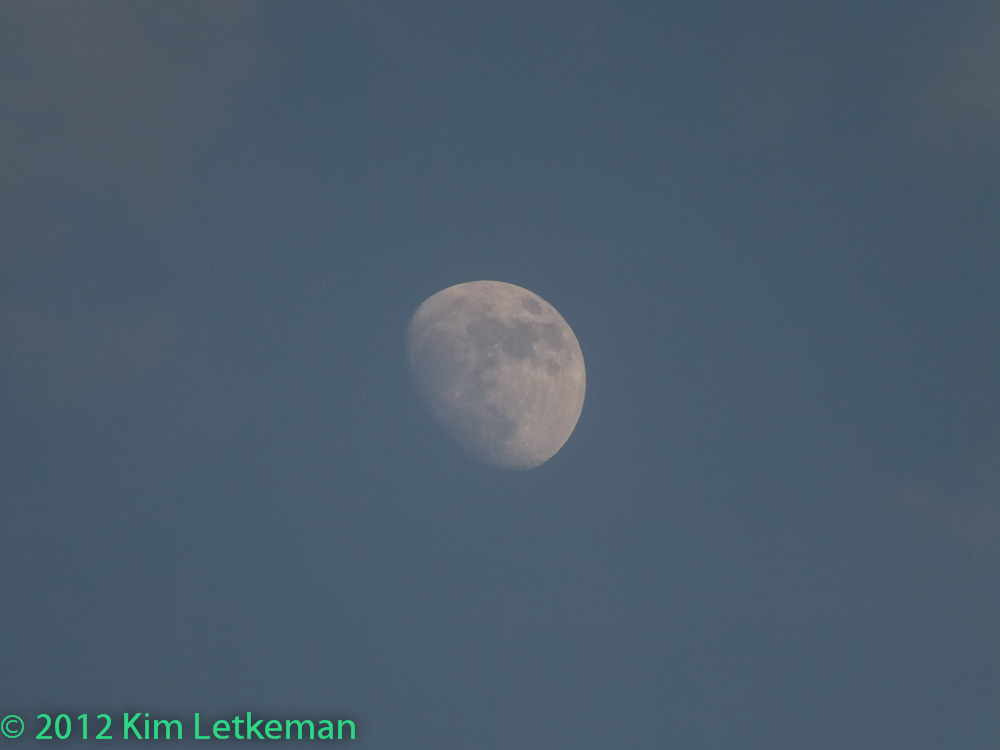 That's hand held of course. I tried exacting more detail and the sky turned to sandpaper, so I went with black and white and much prefer this rendering, even though it is nothing like the original scene.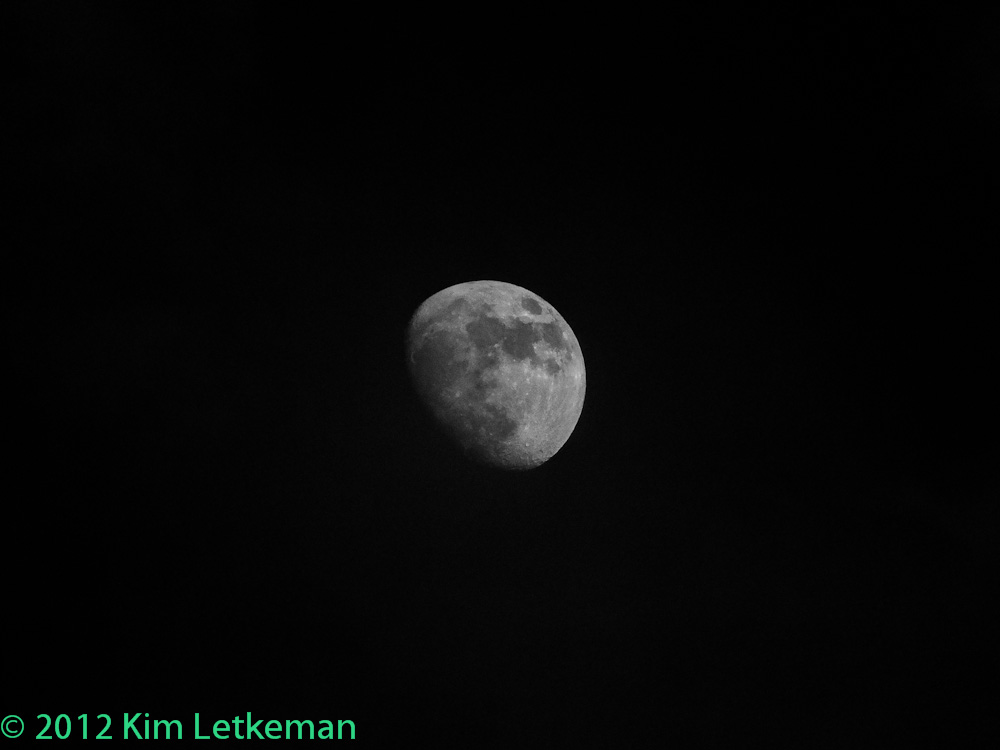 For those wondering how clean the moon came out at around 100%, the answer is not very.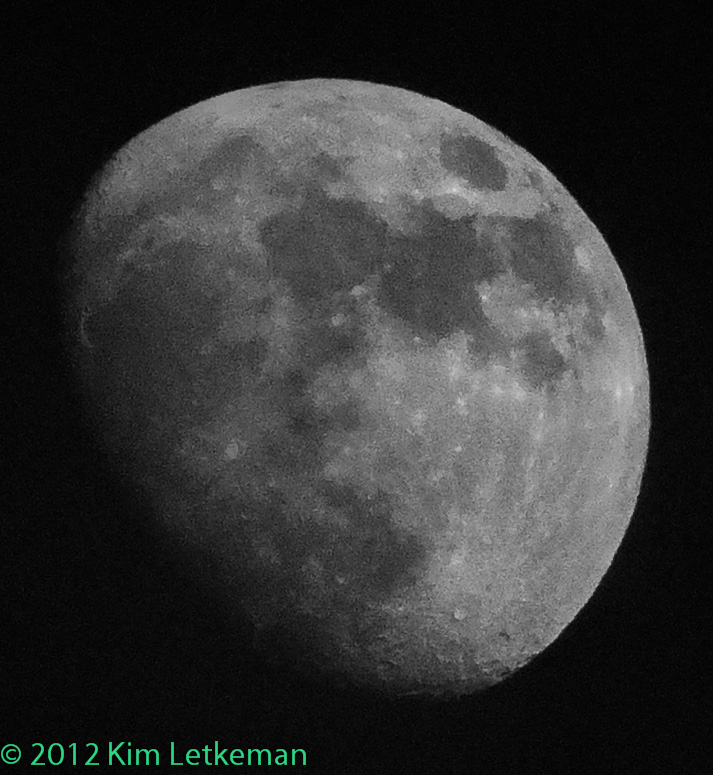 There is quite a bit of coarse detail, but the smearing is brutal. And this is 100ISO! Perhaps there was slight movement because it was hand held. Anyway, I have better output from this cam on the tripod.
---
So … off I went for a walk. I still had the camera set to auto ISO 400, so I got some blurry shots. Since this is an experience report, you get to see evrything.
This shot is blurred, but the camera did a nice job with the white balance. Still a bit cool, but nice overall. Note that I am shooting for capture quality, which means that these are all low contrast. I also have DR400 set up in EXR DR mode.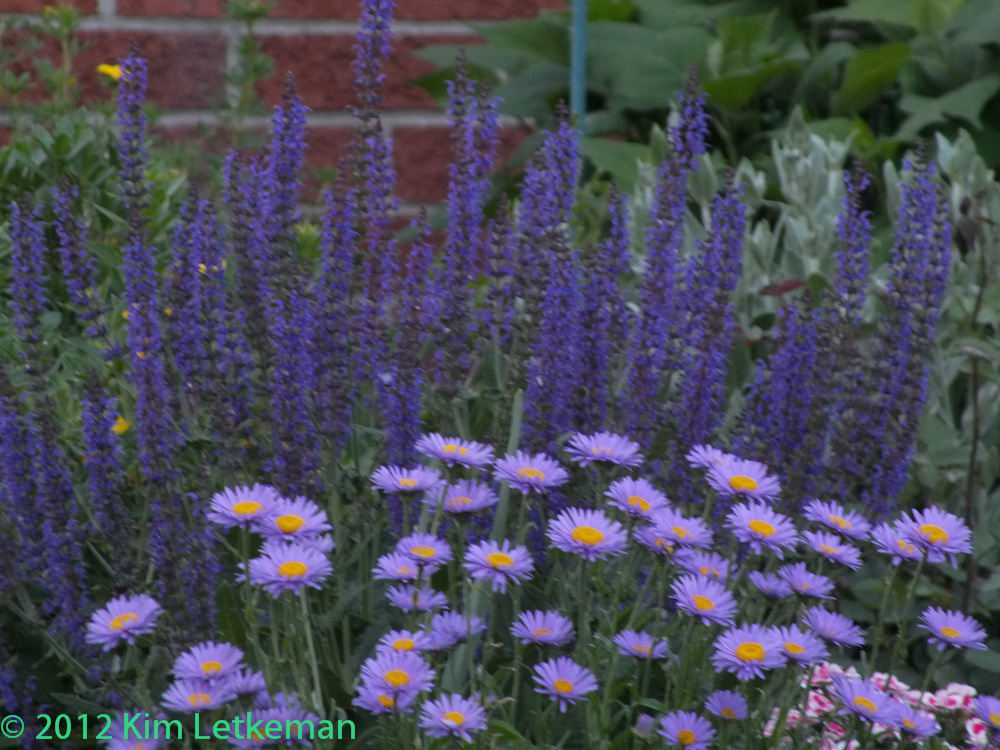 Fuji hs25 400iso f/5.6 1/50 -2/3ev 687mm EFL (too long for the shutter speed)
The next shot are Lupins. Gorgeous. And I got lucky on the stabilization.

Fuji hs25 400iso f/5 1/50 -2/3ev
Lucky again with these Poppies.

fuji hs25 400iso f/5 1/30(!) -2/3ev
A neighbor decided that the Lilac had to go. Bummer. I like Lilacs.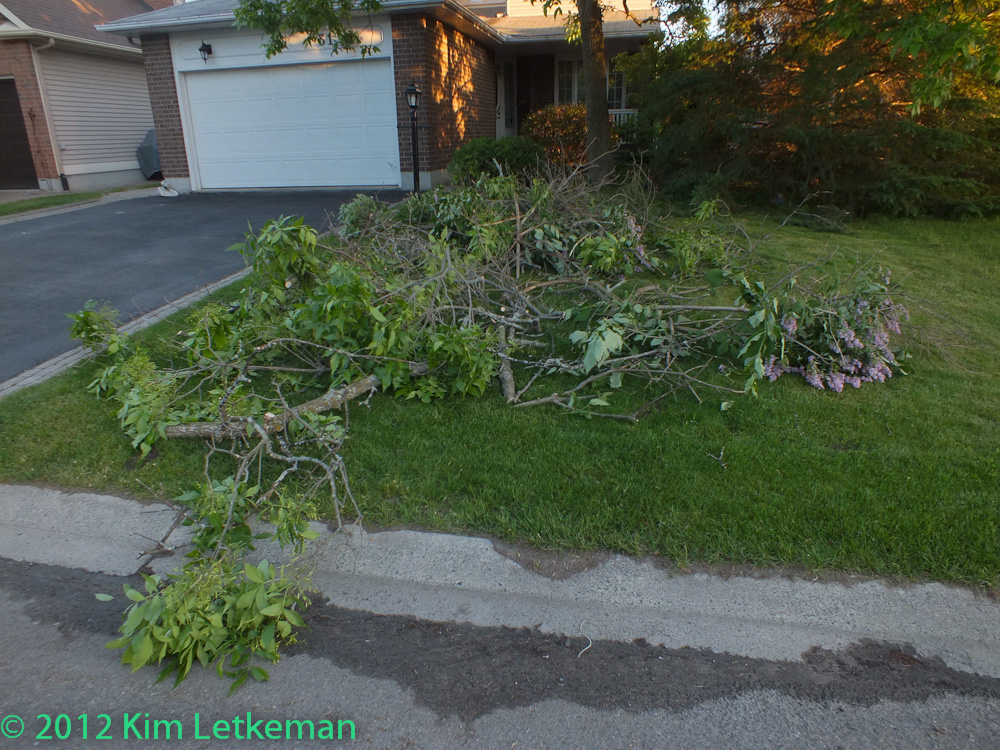 Note the leaning garage. I pointed the lens down to capture the scene, and that makes anything straight up and down lean outward.
Nice looking fluted flowers. Can't remember the name, but they remind me of Morning Glories, which bloom much later on.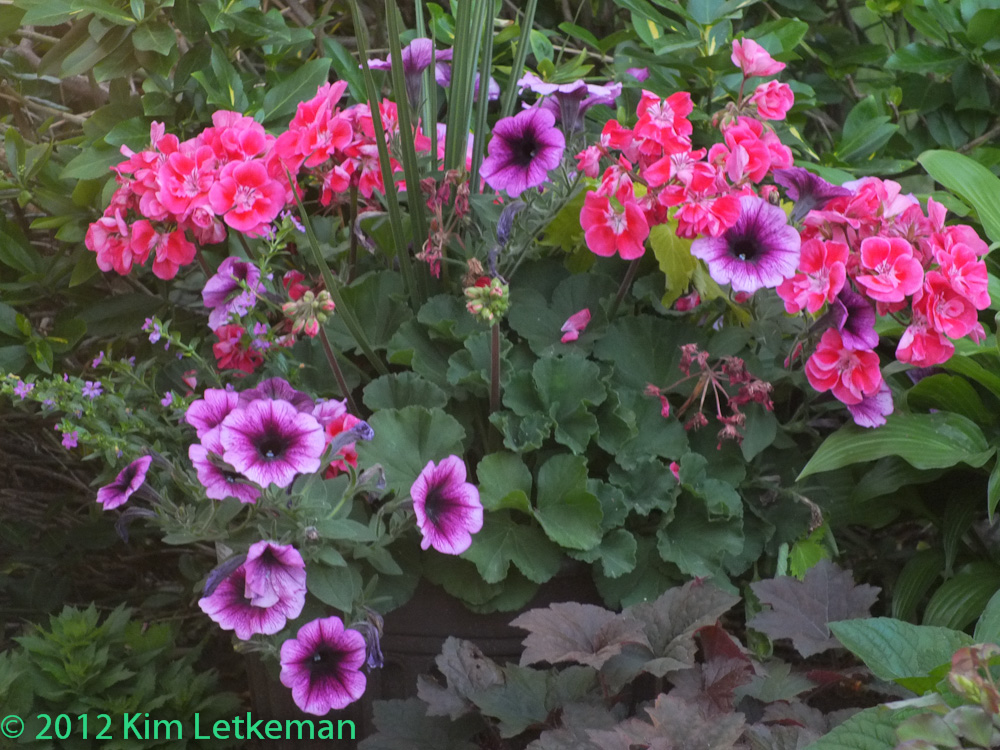 Generally, the color is coming out pretty well from the Fuji. Sometimes the cool white balance is too obvious, but other times it looks fine to me. YMMV of course.
This neighbor has an incredible set of Hostas out front. I processed this one for sure.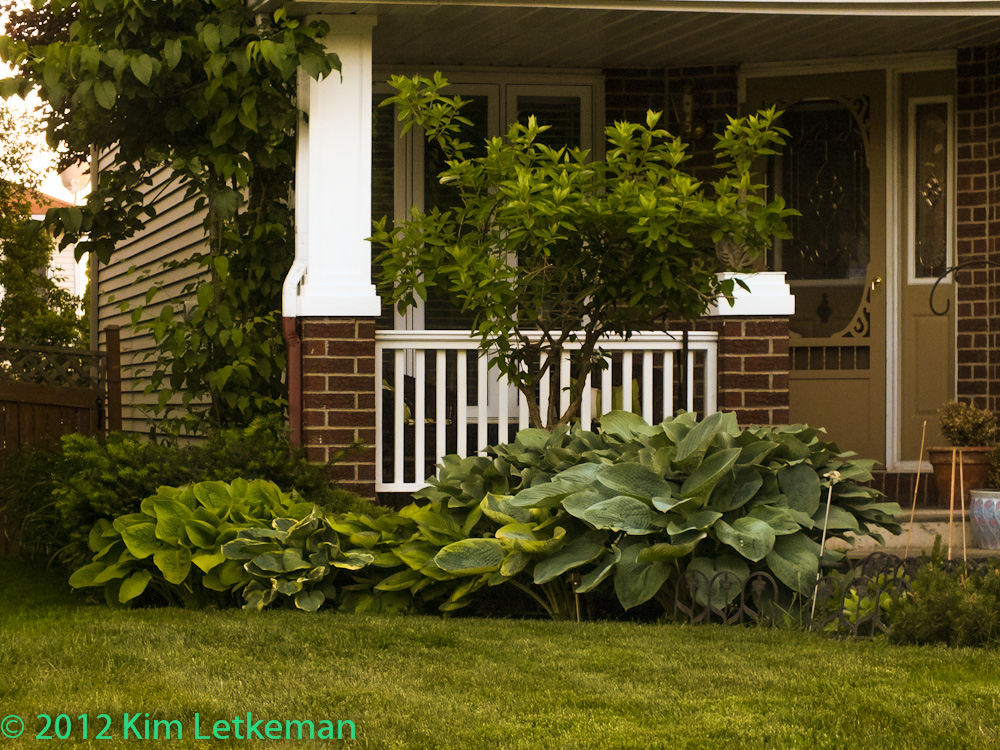 There must have been 6 or 8 take-offs during my walk. Here's one just climbing over head … heavy crop shows the grain.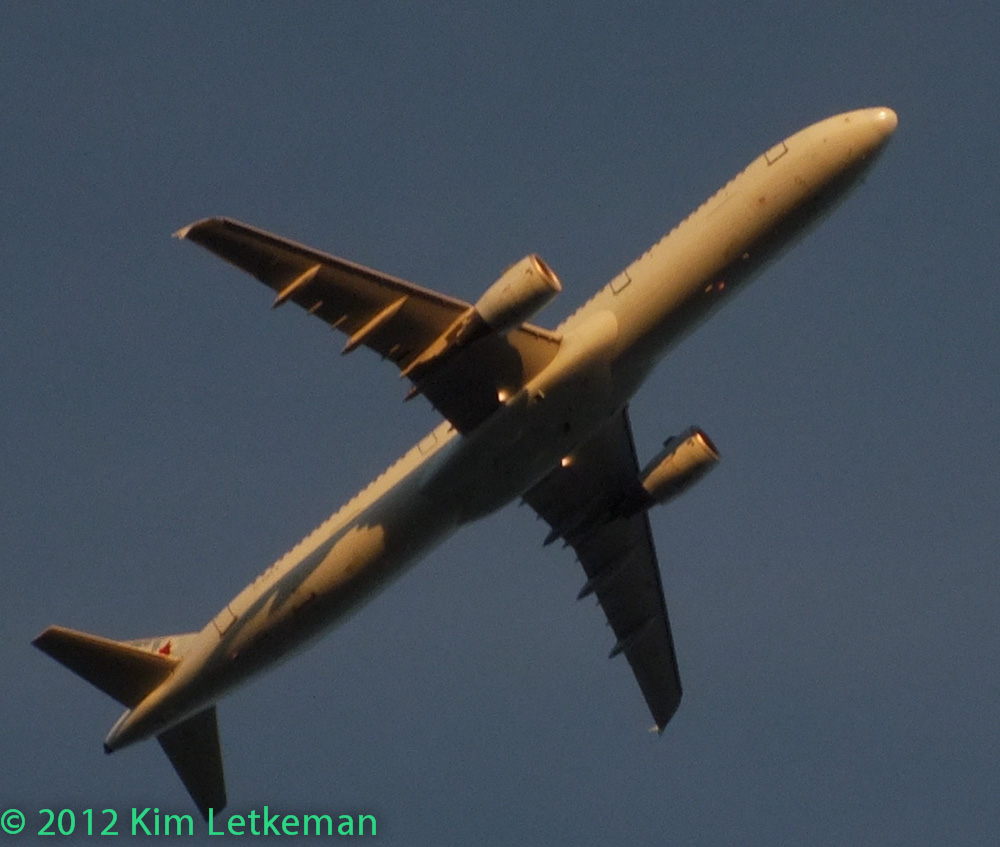 Got another sharp one. Some Iris at full zoom. No idea how I got it sharp at 1/60 …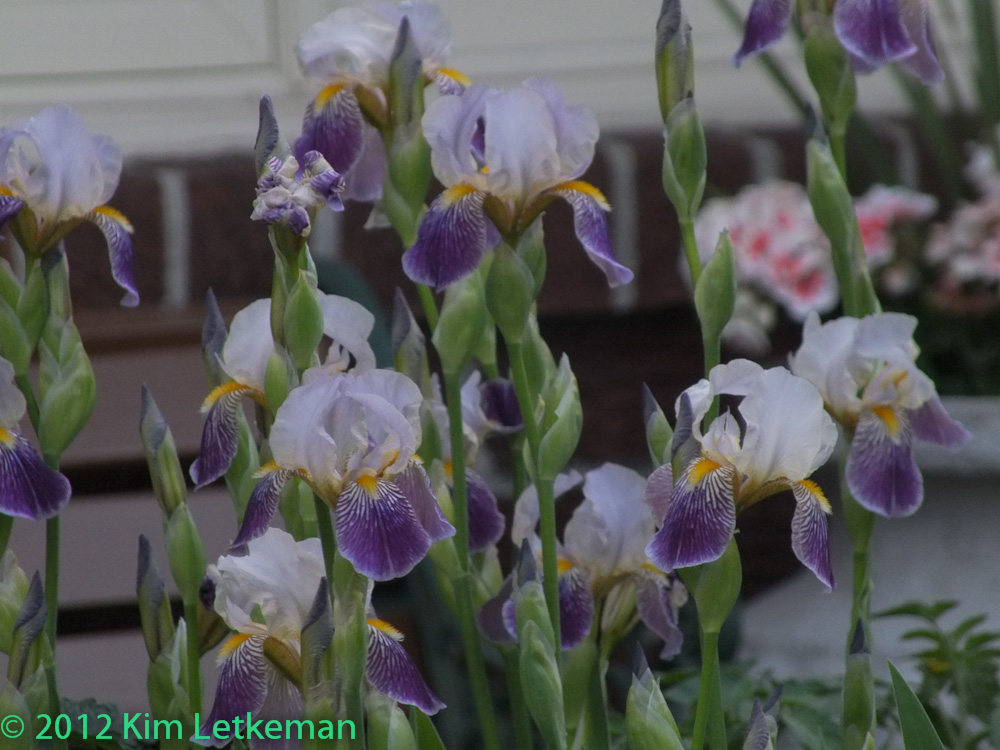 A bit more muted than I like, which is the fault of the white balance I think.
Next door we see more Lupins. Almost fully bloomed. Great background provided by their porch.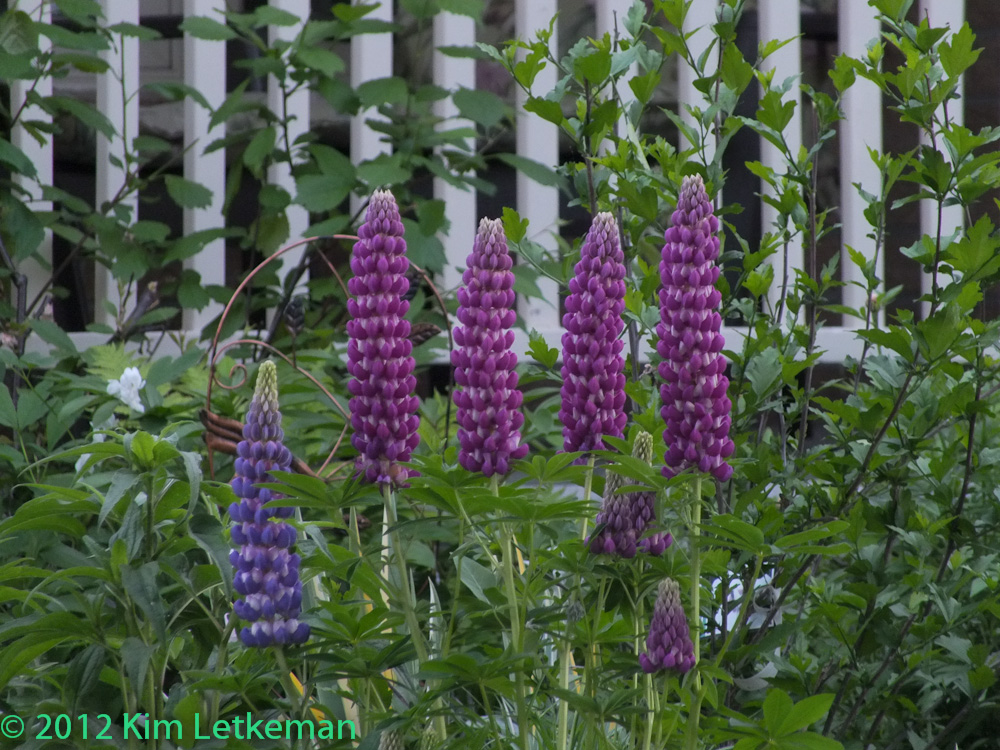 I don't recommend shooting 400ISO in the dark, but I did get quite a few keepers. But it gets harder as time goes on, as the sun is definitely gone by now.
Right next to the gorgeous Lupins we see the bent ones and I got blur again. Can't complain at these shutter speeds (1/25 in this case.
)
The Alliums (yes, of the onion family) next to them came out all right, but there is still a bit of blur if you look for it.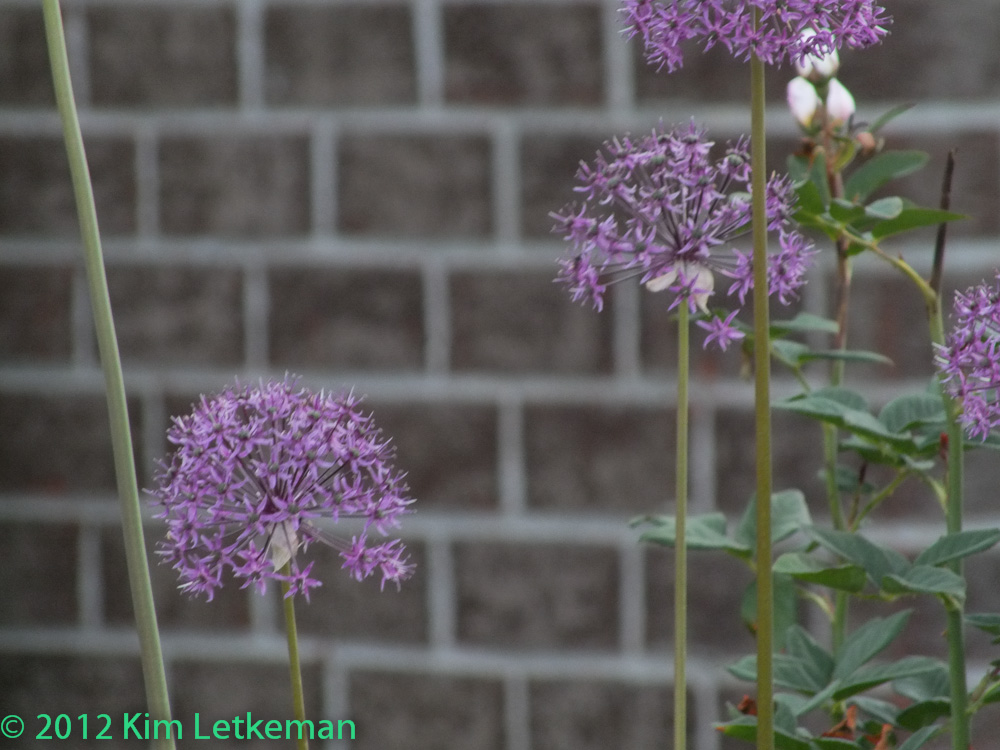 Another shot of Irises, and another ruined shot. 1/25s is too slow and I still have not quite figured out what is happening. Duh …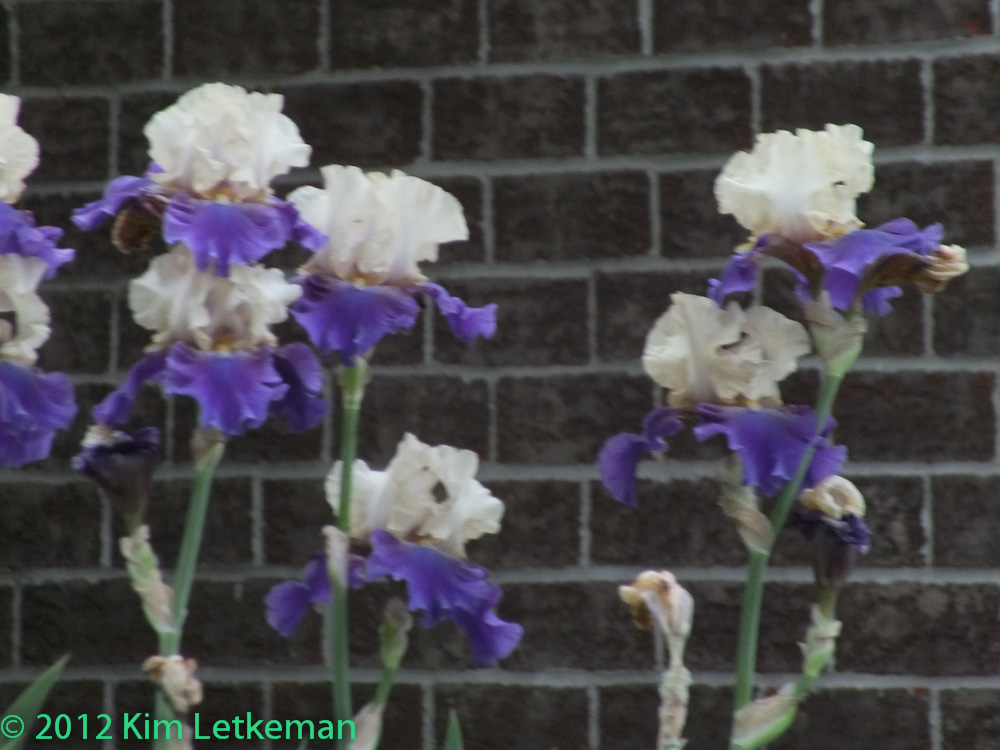 These Cosmos are almost sharp, but alas, not quite. The bull's eye composition would normally have been fixed with a crop, but I am posting what I shot. In this low light, I am finding it a chore to compose images at full zoom. This is something I have noticed about the HS25 … not really a tough light camera. Everything seems a bit more difficult.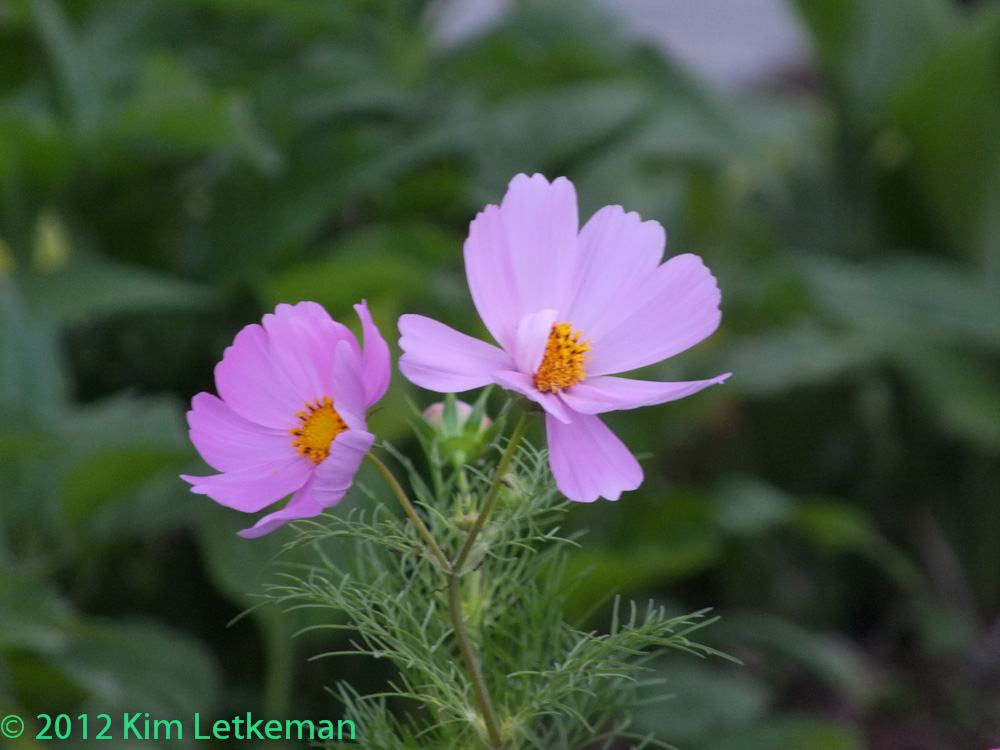 And finally, I notice the ISO is too low., The Peonies are gorgeous and I really want this shot. The two before this one were horrid. This one is still blurred, despite being shot at 1600 ISO.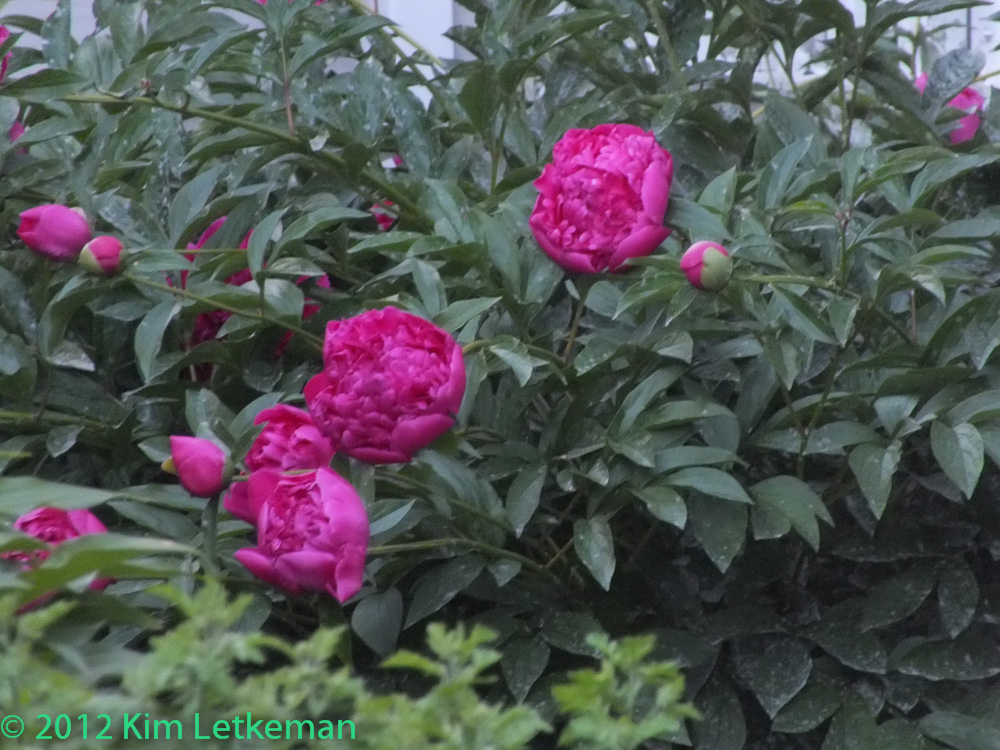 Because it is dark, the speed still only came out to 1/70. So still pretty slow for full zoom.
But here I get a very crisp image of these Irises. The shutter is fast enough at 1/220.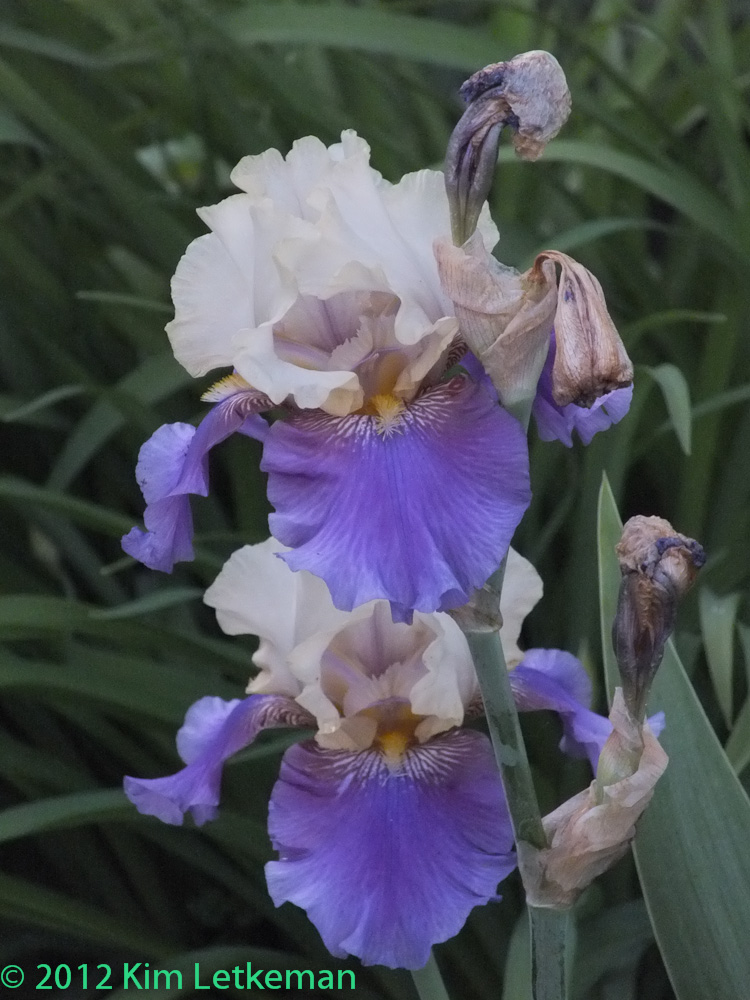 These Clematis look great. But I don't like the cool tint, so I process them myself again.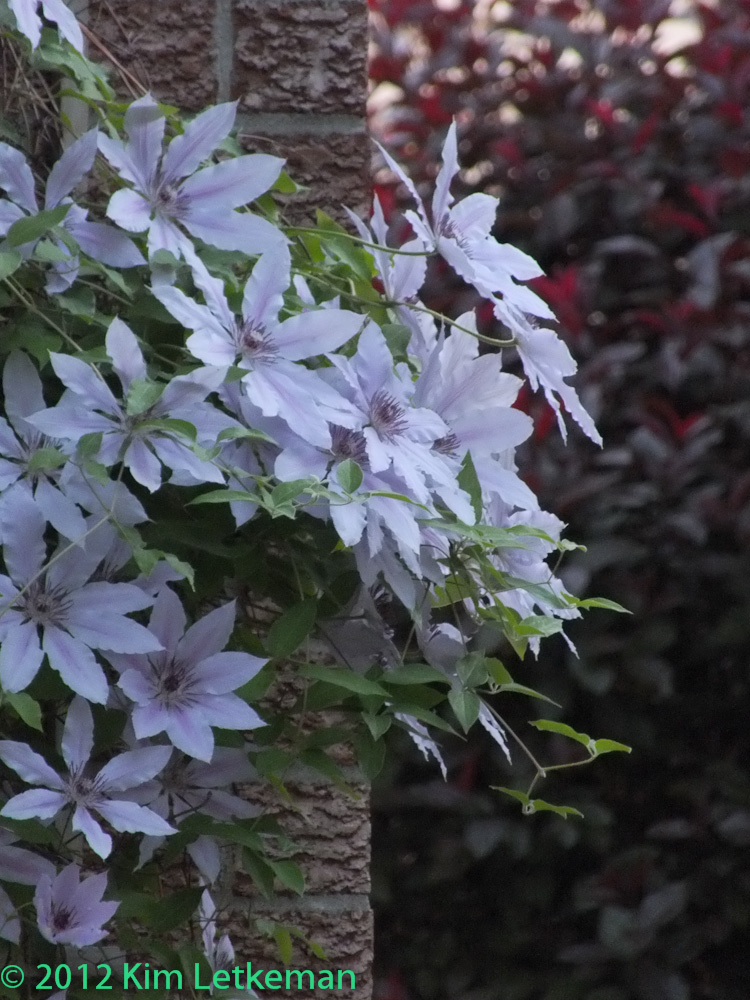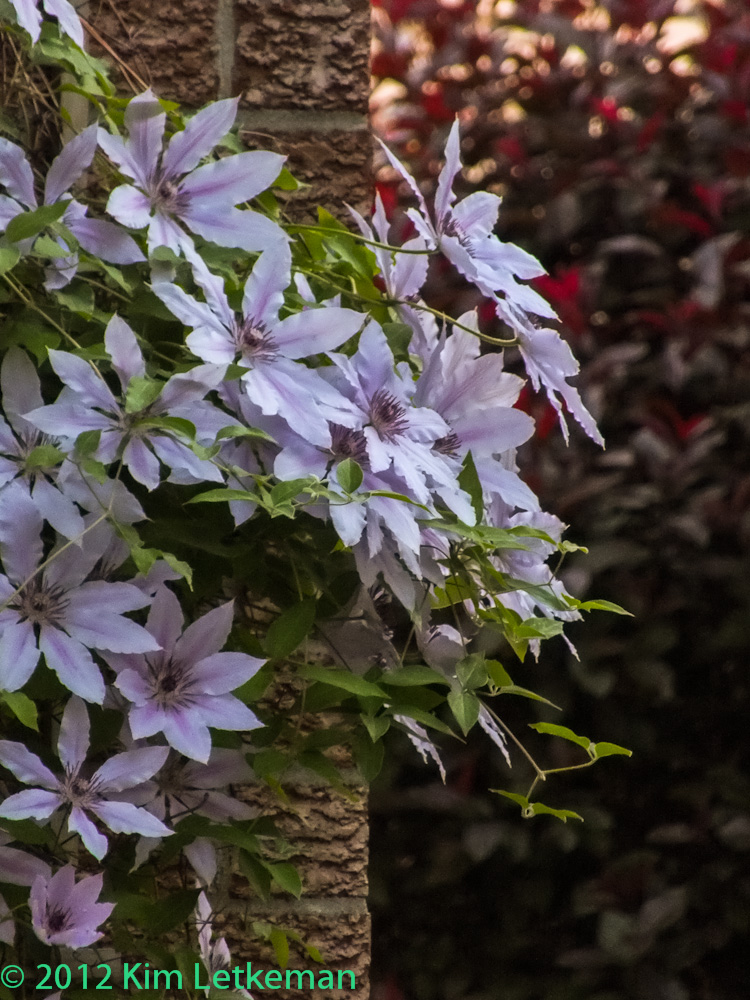 Now this one had no excuse to be blurred at 1/250s … but statistically it is still going to happen. I should have shot it 3 times to be certain.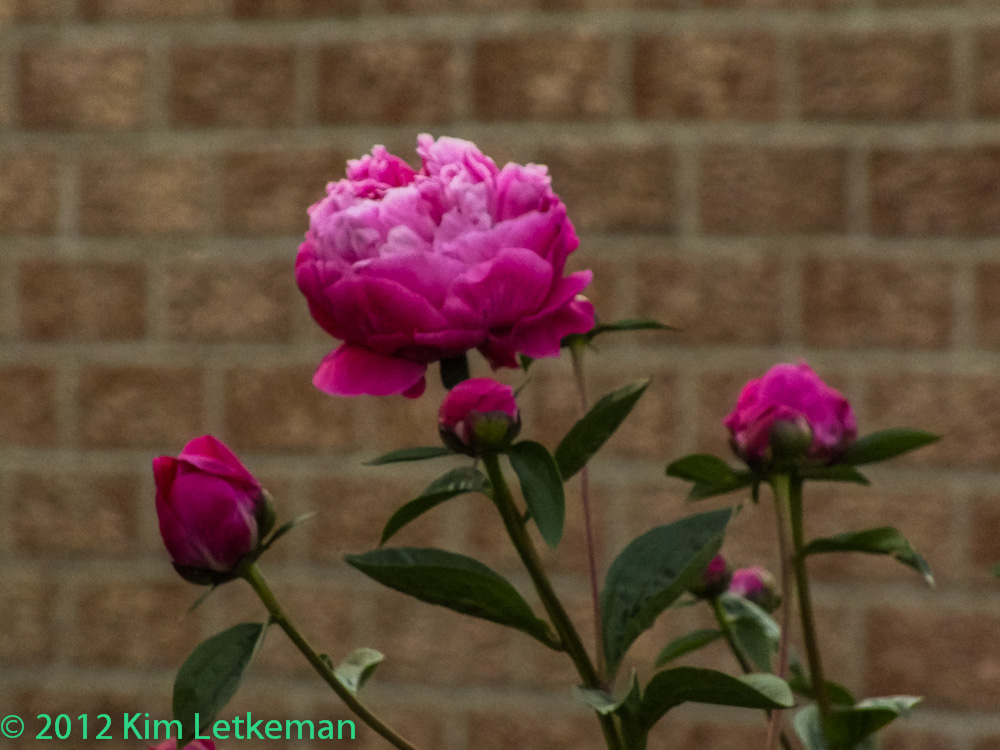 And yes, that one was processed. This is what Fuji did …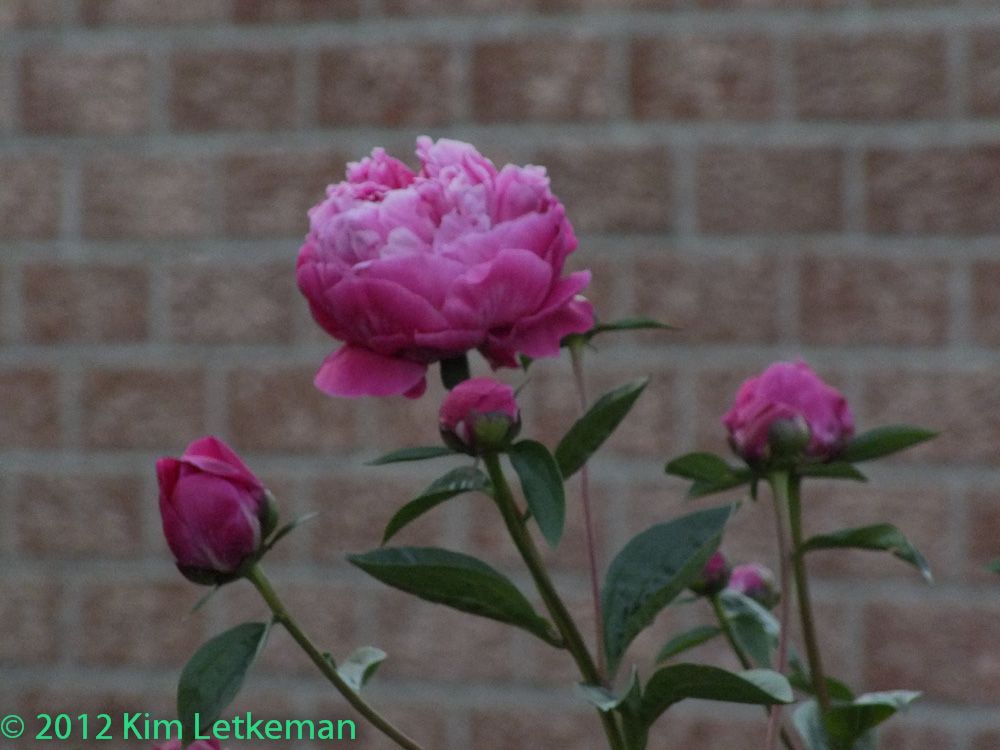 A cropped shot of a rabbit at full zoom and 1/70s. Not very sharp, not very clean, but hey … it's a wascally wabbit.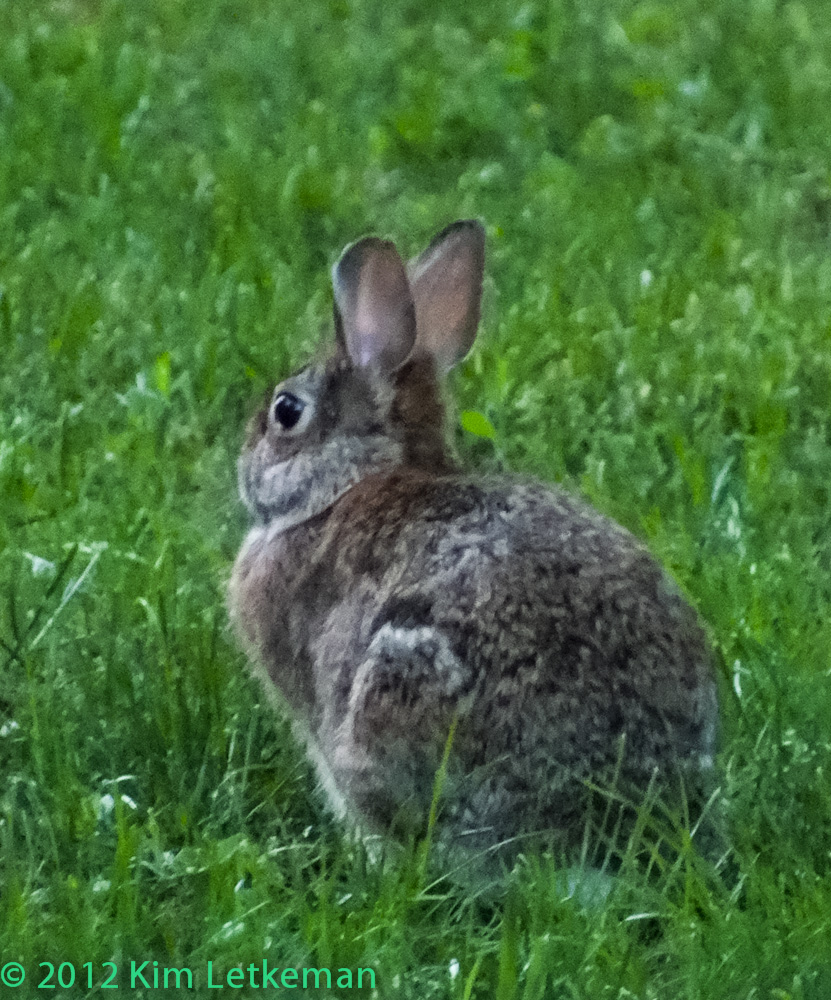 I went to wide angle and got a nice shot of a Peony down the road from the rabbit. At wide angle, you really have to watch your backgrounds. This worked well.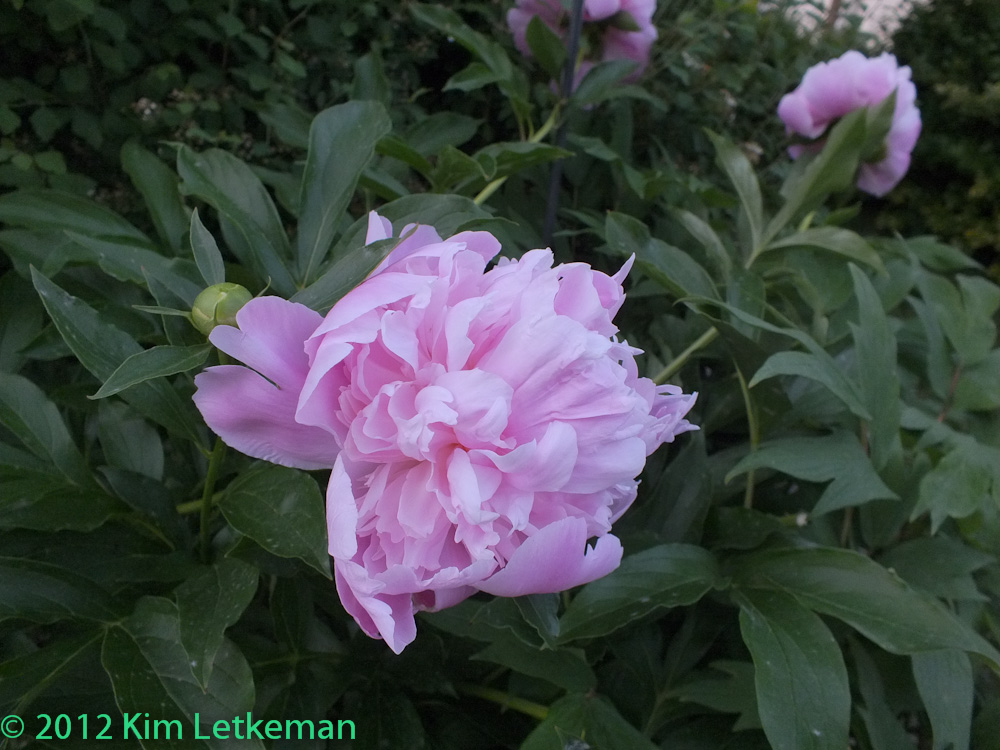 Then I back off a bit and shoot with more zoom and macro mode set. There is much less to worry about in the background with this narrow angle of view.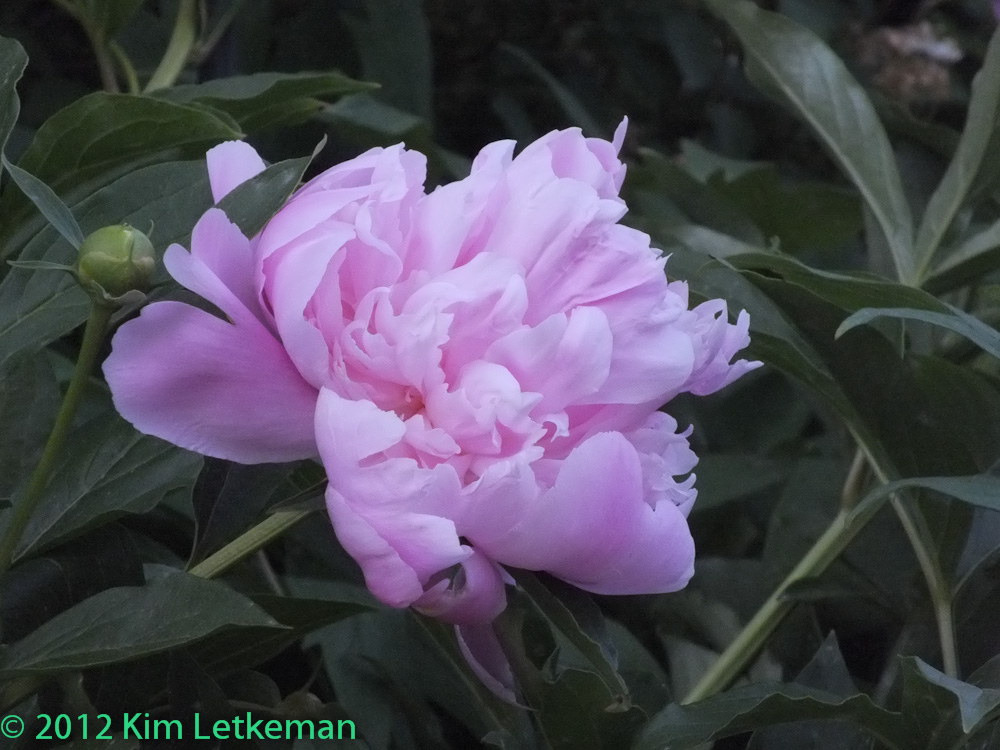 And once more … a wide shot of an Iris, then a tele shot in macro mode.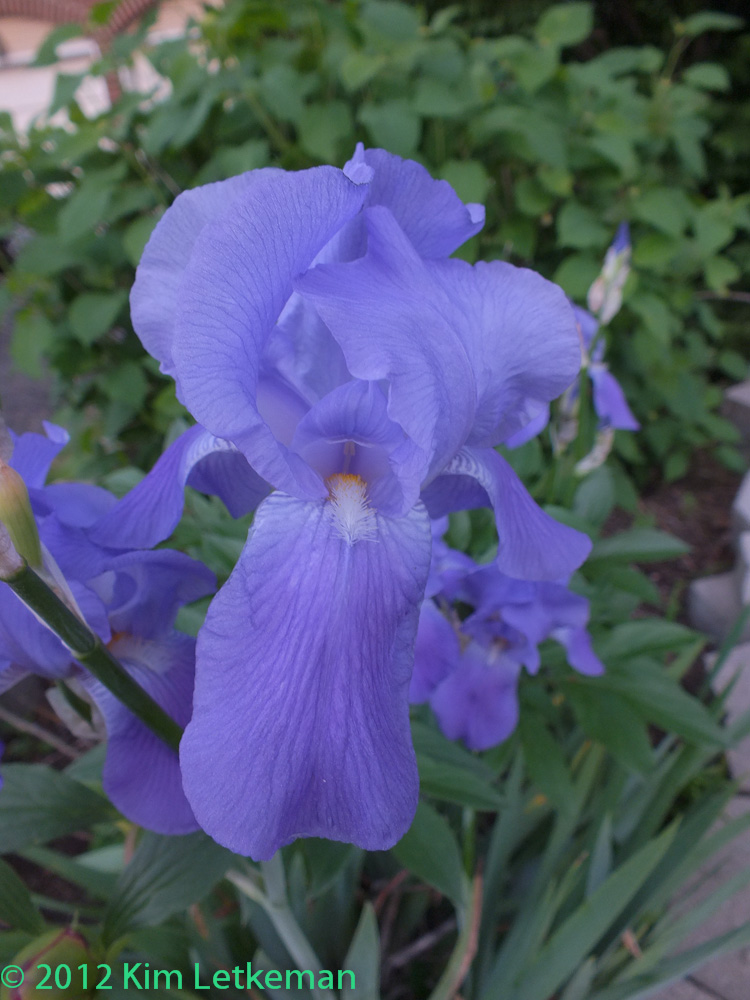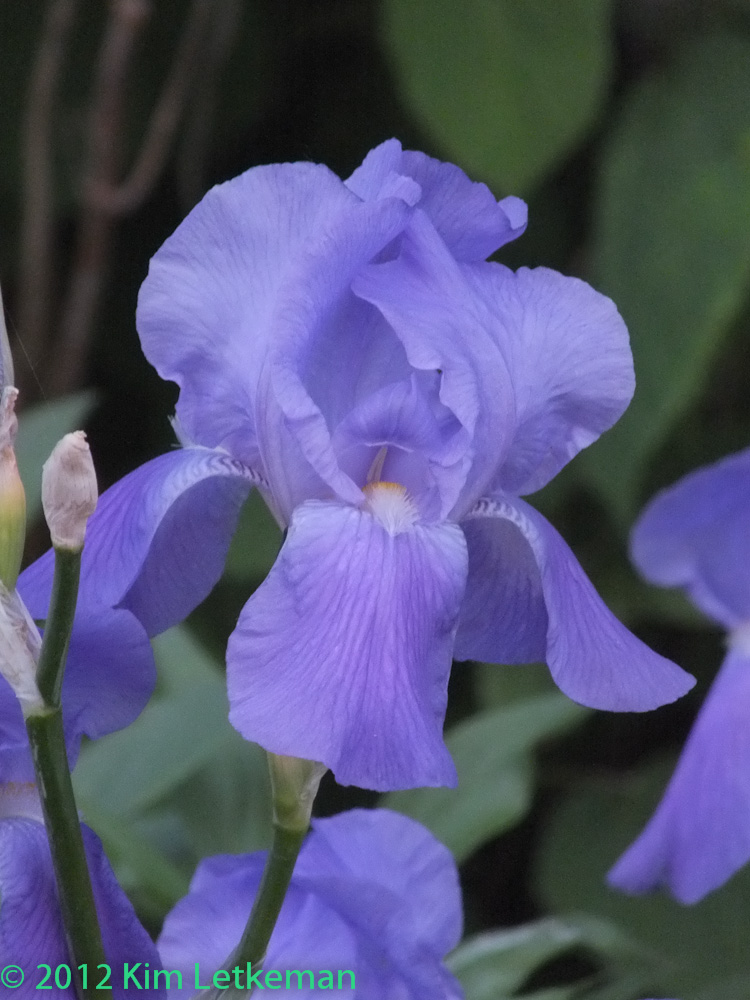 Again, the background makes a huge difference.
A while later, I notice this way cool flowering bush between two houses. I think I want one of these. Anyone know what it is? By the way, this one is processed.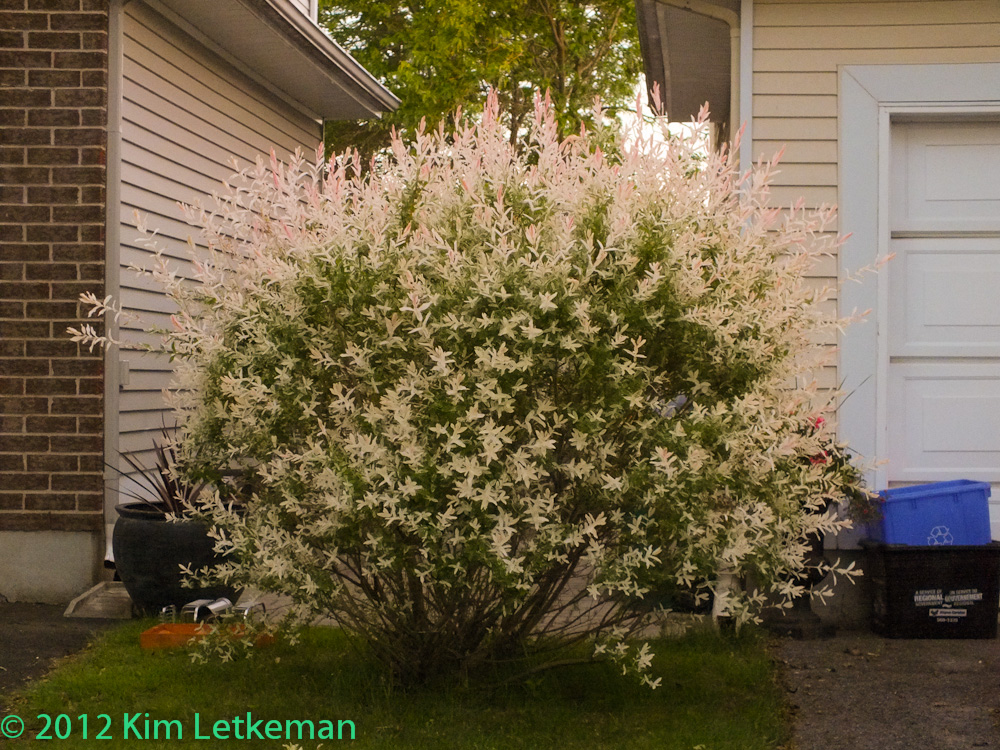 Iris is a popular flower around these parts.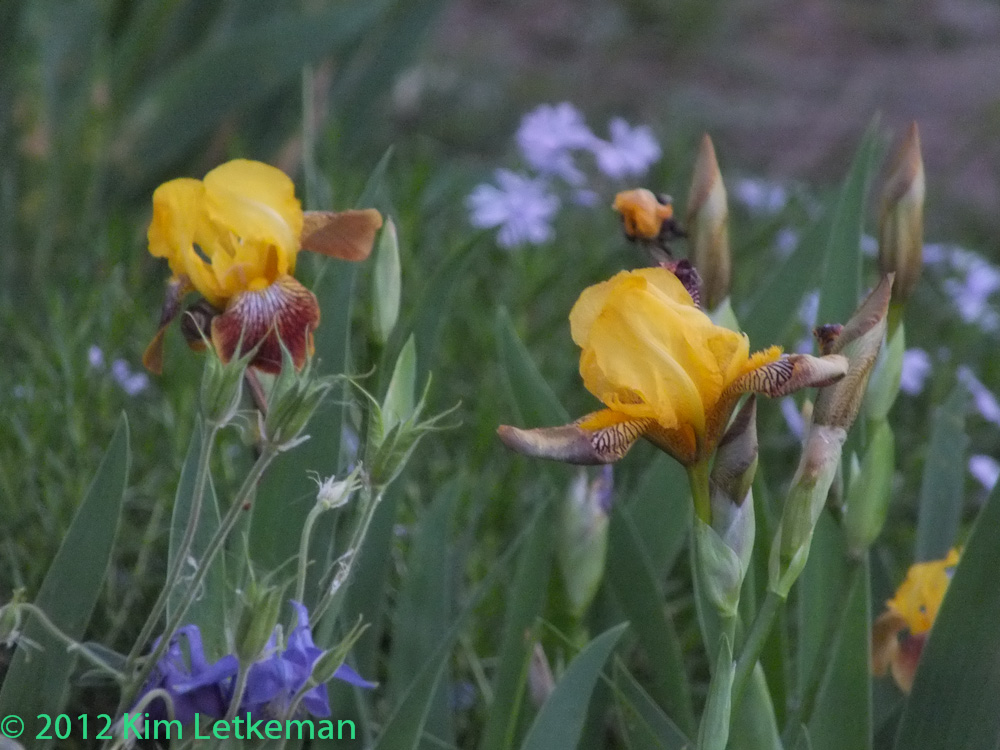 Second bunny in 10 minutes. Cool.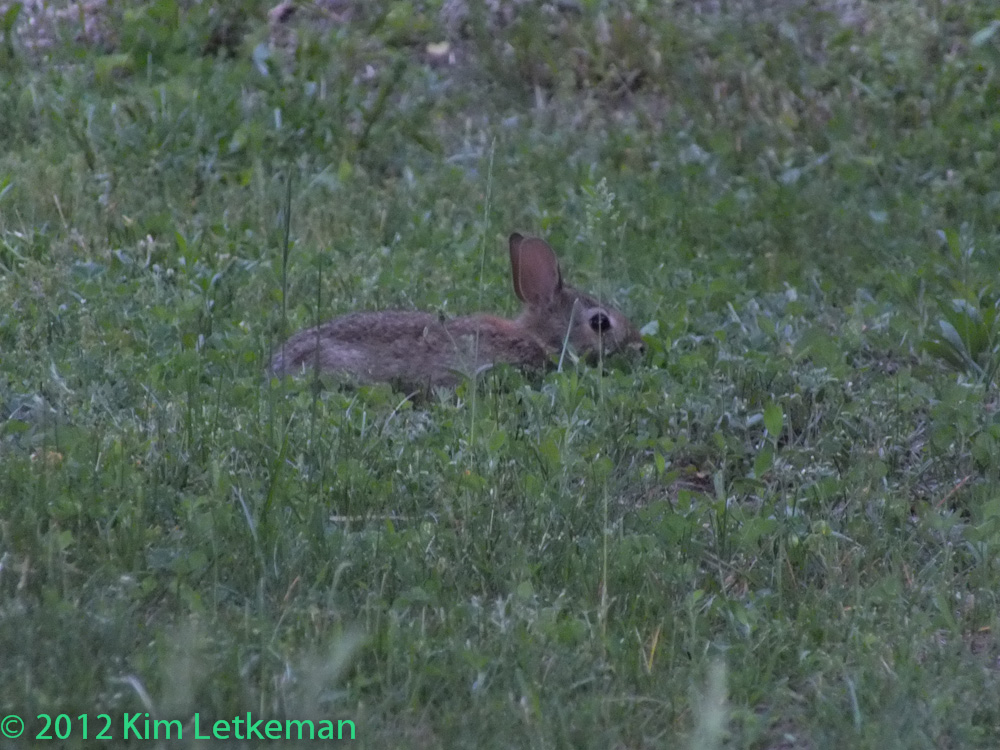 I had to reset white balance to show how pretty these Iris were. Wow …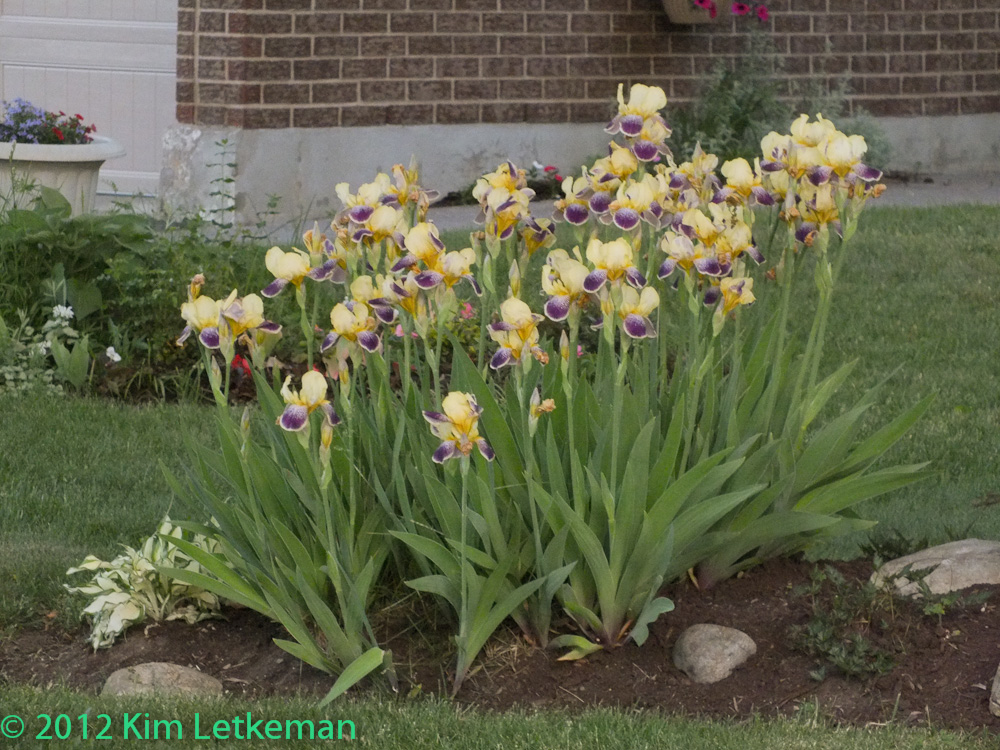 1/90 was just to slow for the closeup. Again … had I shot it three times … maybe.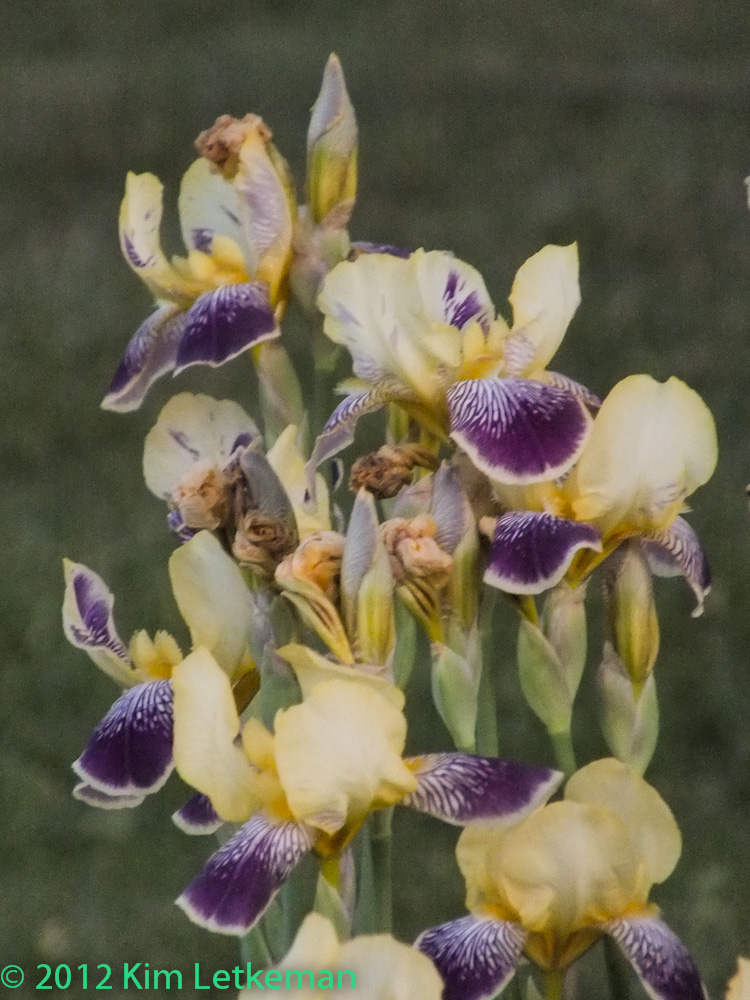 Last image … just before I turned the corner for home. This house is just gorgeous … the huge Maple in the front yard with the Ivy on the brick and the lovely stone driveway. Very nice …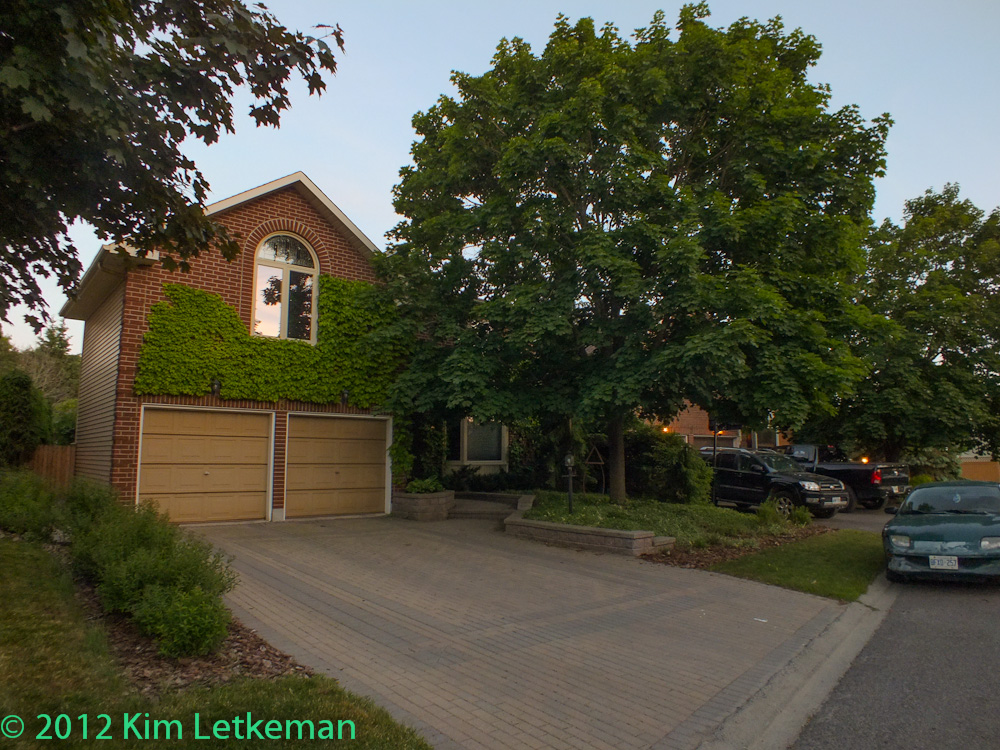 ---
conclusion
So is it fun to carry the HS25 in fading light? Well, mostly. I enjoyed carrying it. It is light and unobtrusive. But it has hesitations on the AF and the LCD / EVF freezes while that is going on. The EVF and LCD do not really show you what you are getting, although the LCD is far better than the EVF, which is a bit of a joke as a viewing device.
But I still find myself framing with the EVF because long zoom needs stability and the third point of pressure on the camera (eye socket) makes a lot of difference.
The noise and grain is ok, but not spectacular. At these sizes, full shots look fine at 1600ISO. But cropping is not going to make you happy.
One of these days I need to bring the D7000 out in this light. I expect a slaughter.