Yes, I shot the moon again. Sorry. I just can't help myself :-)
This time, though, I tried my most powerful lens combination after finally locating my Kenko 2x teleconverter. It had been moved in one of the purges leading up to the remodel I have begun by gutting my kitchen over the last week.
Anyway, I found it this evening and took the kit out for a test run … D7000 with 70-300VR and Kenko 2x. That makes for an effective focal length of 900mm at full zoom. That's pretty keen … something approaching 18x magnification I would venture …
I shot this one at f/13 (to counteract the aberrations associated with a strong teleconverter) at 100 ISO and 1/30s shutter speed. This actually works out to an underexposure, but that's ok by me as the D7000 has excellent tonal range in the shadows.
I used the tripod with mirror up, waiting the 30 seconds for the timer to expire each time. I only shot two images of the moon and this is the second.
I processed it quite heavily in order to pull as much detail as possible. I used various actions for clarify and local contrast enhancement. Clarify being a strong form of LCE with narrow halos.
I also used the "dramatic" setting of Topaz Adjust 4, dialing it back with the fade command to taste.
The result: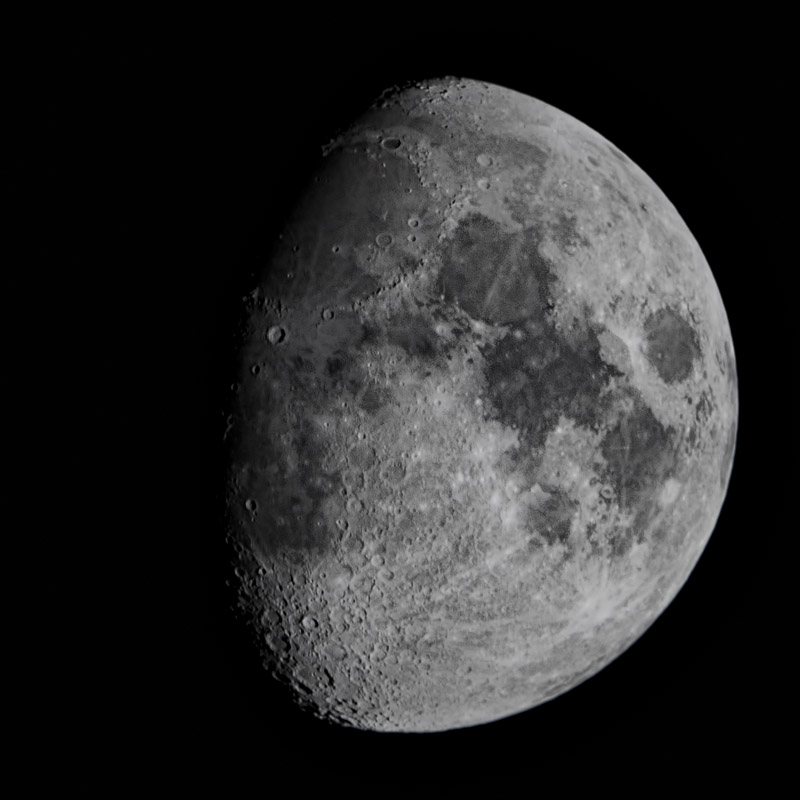 Click through to see the 800px version. There is rather a lot of detail available … I'm very pleased, especially when you consider that I used a consumer zoom with a strong teleconverter. Neither is really suited for the job, yet together they did alright …
Edit: Here's the first image, which might actually be a tad sharper. I cropped it a bit less, so it looks a tad sharper from that too …