Fall is the time to enjoy the changing of seasons at its best. Deciduous trees drop their leaves, but not until they've put on a spectacular show with bright reds, oranges and yellows …
But fall comes with a price as well: the vexation of winterization. I hate winterizing anything. The usual suspects are:
final short cut of the lawn to prevent nice from wintering over
cut down all perennials
divide perennials
plant bulbs
put up Christmas lights
burn off fuel in lawn mower
start snow blower to make sure it runs and have it serviced if necessary
close pool
swap to snow tires
I mean, how much fun can you have in a few short months :-)
So this year, I have been trying to complete the renovations that were started in late July. Which means that the list of what I actually did from this list is very short.
I left the lawn and perennials to fend for themselves over winter. I bought bulbs, so I am hoping to yet complete that task. No Christmas lights this year … bummer. The lawn mower is sitting there. I will at least add some stabilizer to the fuel as that will help. The snow blower will get started when the snow hits. The pool was finally closed yesterday and the snow tires today.
Because of the heavy renovation commitment, I had to burn off a bit of vacation to make the time to do those last two tasks while we have decent weather (i.e. shirt sleeves.) Today might be the last day like that (it's gorgeous out there right now.)
So … the evidence that I did a modicum of winterization … the pool after the anti freeze went in, everything was drained, and all pipe openings were sealed. Shot through a window, so not the greatest shot …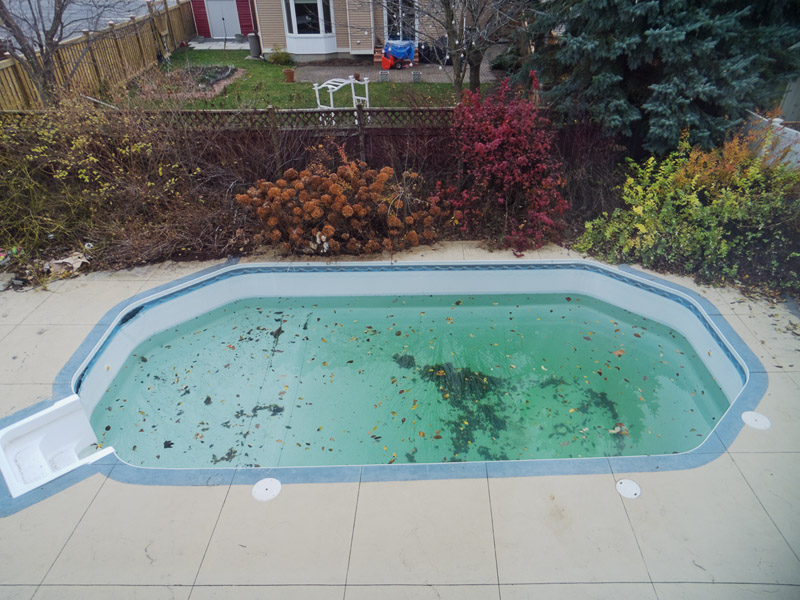 That was yesterday's fun. Today's was the snow tire change over. The Mazda's original wheels are looking a little stained and ugly by now. I don't much like the look of the rims, but they are ok when clean. The rims are 16" and the aspect ratio is 55, so 205/55 R16.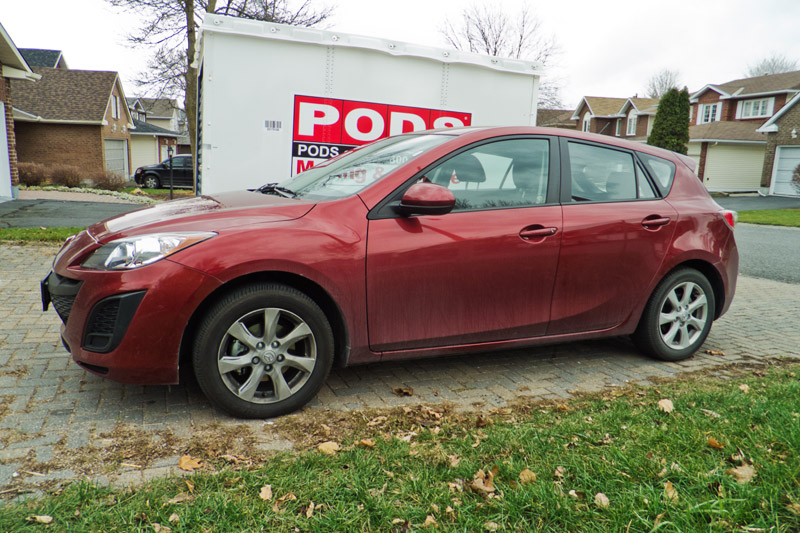 For winter, I chose the best matching size on a 15" rim for two reasons: the first being that these rims are quite a bit cheaper, and the second being that the taller, skinnier tire has better grip on ice and snow. The new size being 195/65 R15.
I received the tire package from Tirerack.com quite a while ago and just put them on today. They were very well packaged and I actually did not unwrap them until I starting mounting them, so had never seen what I bought …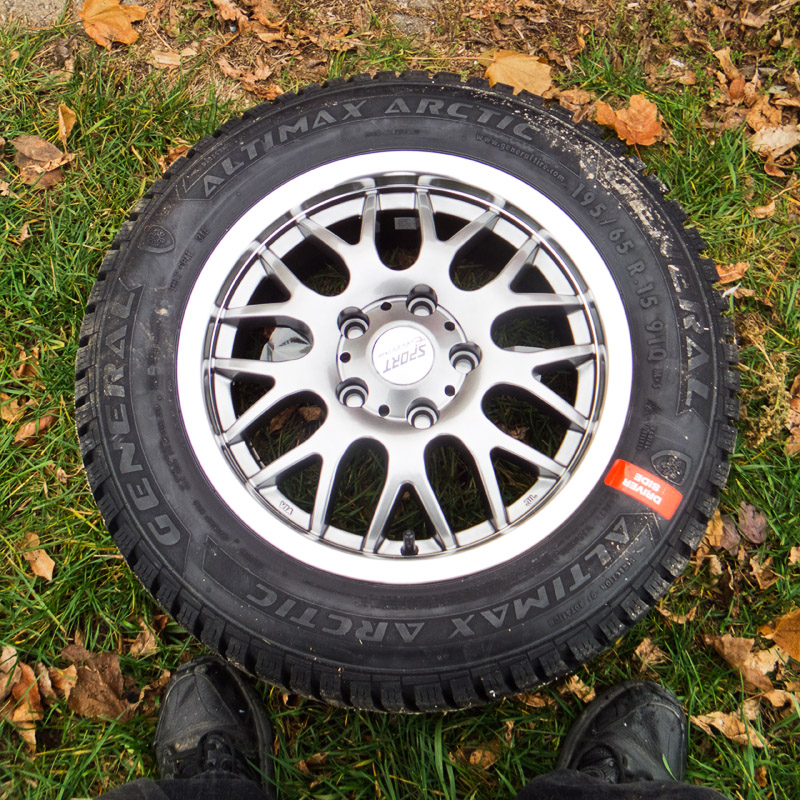 I am soooo glad that they look this good. I would have found it a bit painful otherwise. Not only that, but I was reading the Toronto Mazda forums and found out that, had I bought the next model up, the brake calipers would have been too big to fit inside the 15" rims. Sheesh … I thought these seemed really tight.
They use a strange centering disk made of plastic, which I am not that fond of. It means that I will have to be sure to tape the disk to the back of the rim each summer while they are in storage. PITA. Anyway, so be it. They also came with new nuts (and who doesn't love shiny new nuts?) … so I installed those as well. Lovely finsl result.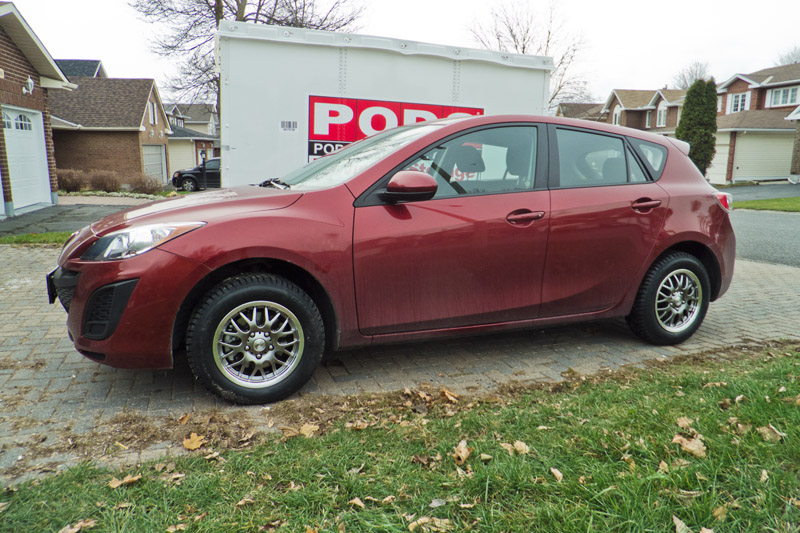 My test drive confirmed how much I am going to like these tires. I really enjoyed the slippery feel of the softer compound. Awesome.
I parked the car on the street and Nick brought the CR-V into the lane for its turn. I helped out a bit by marking the tires for next season's rotation (back to front, every 6 months) and it went very quickly. I've always liked the CR-V with the black rims on it. Makes it look tough, and that's saying something for a girlie car. I'm definitely going to miss the "go anywhere" AWD this winter, though the sparkly rims on the Mazda might make up for that :-)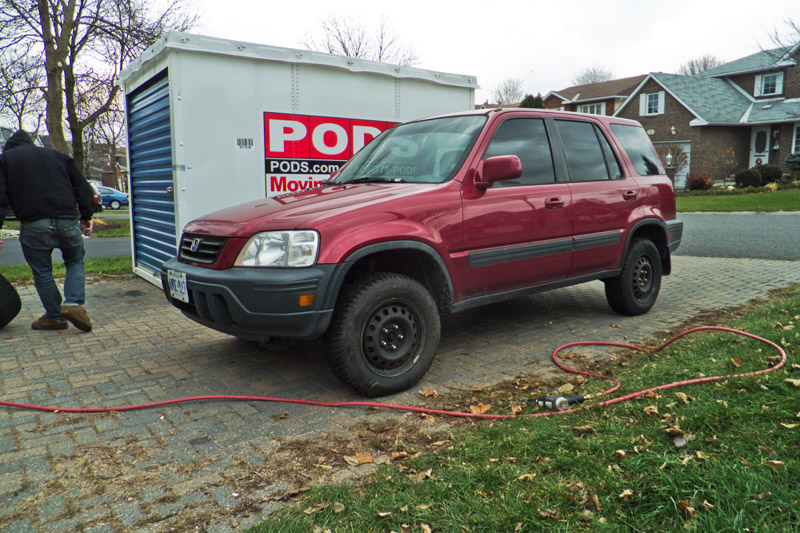 And, of course, the enjoyment of putting the summers away for next year …