In fact, all I have is a DX body now, but I do plan to have a good look at the D600 when it ships. That might be a rather spectacular full frame camera for a moderate price, we shall see.
I picked this gem up for $299 on Henrys Photo's web site in the used section. It is mint, as they said it was and it is the version without VC and without the built-in motor. Thus, it is the sharpest and fastest focusing of them all. Exactly the lens I was waiting for and exactly the price I wanted (actually, about 50 bucks cheaper than I was hoping to pay.)
Meanwhile, I have always enjoyed shooting the Tamron 28-75 2.8 on the D7000 as it is very sharp and has wonderful bokeh. But the range is very DX unfriendly, being the equivalent of 42-113mm, which is nowhere near wide enough for general purpose shooting.
Instead, I have coveted its equivalent DX lens, the 17-50 2.8, which has always been considered very sharp and competitive with the best of Nikon's equivalent lenses. It is also quite small, which is a bonus when you intentionally match it to a small body as I did. (D3200 users should seriously consider the version with built-in motor as it would be a wonderful match for their cameras.)
So this evening, I took it out into the back yard for a few minutes just to test drive it. Nick was out there so I was able to shoot a few of him (unlike Jon, he tolerates being photographed.)
You can see here how smooth the bokeh is, and this is shot at f/5 for no particular reason.

nikon d7000 + tamron 17-50 2.8 200iso f/5 1/1000
Here, I switch to 2.8 and the images remain incredibly sharp …

nikon d7000 + tamron 17-50 2.8 200iso f/2.8 1/2000

nikon D7000 + tamron 17-50 2.8 200iso f/2.8 1/640
I then turned my attention to the garden. This lens focuses surprisingly close and could easily carry the macro designation that some others put on any lens that gets within a few inches of a flower.

nikon d7000 + tamron 17-50 2.8 200iso f/4 1/1600
For those who might not recognize that flower, it is from my False Spirea bush. These wispy flowers are quite beautiful.
The pool remains crystal clear …

nikon d7000 + tamron 17-50 2.8 200iso f/5 1/2500
The blur on the right is not the field curvature for which this lens is known, but rather the consequences of shooting at f/5 when you focus only a few feet away (the edge of the stair case in front of me.)
The bushes on the left are still in the focus field, but the fence on the right is not.
And here is the best shot of the day … the daisies have arrived. Not the ones that I used to shoot on the south end of the pool … the False Spirea appears to have overcome that plant. But rather, the ones on the west end of the pool, which are the weird shaped petals. What I like about this lens is the superb clarity of the main part of the flower while the background remains nicely soft.

nikon d7000 + tamron 17-50 2.8 200iso f/8 1/125
The Norway Maple tree continues to grow at the south end of my pool. I really have to move it, but I don't think I can actually get it out of the rocky area it chose to grow. I think I'll have to cut it down this year, and I'm going to hate that.

nikon d7000 + tamron 17-50 2.8 200iso f/8 1/200
---
conclusion
I'm very satisfied so far. I bought the version without a built-in motor, which means that I can never upgrade to one of the small consumer cameras that Nikon make. The D7000 might be my DX camera of choice for a long time. Of course, the D3200 sensor in a D7100 might tempt me to trade up. We'll see …
Size-wise, the 17-50 is very nice and compact, It is a hair smaller than the 28-75 2.8, which of course is why I love that lens so much on FX sensors. And DX in fact, just not for general purpose shooting.
Although this shot is shot at 3200ISO by the X-S1 (and blurry), you can get a sense of the size difference here. Or lack thereof. They share a lens hood too.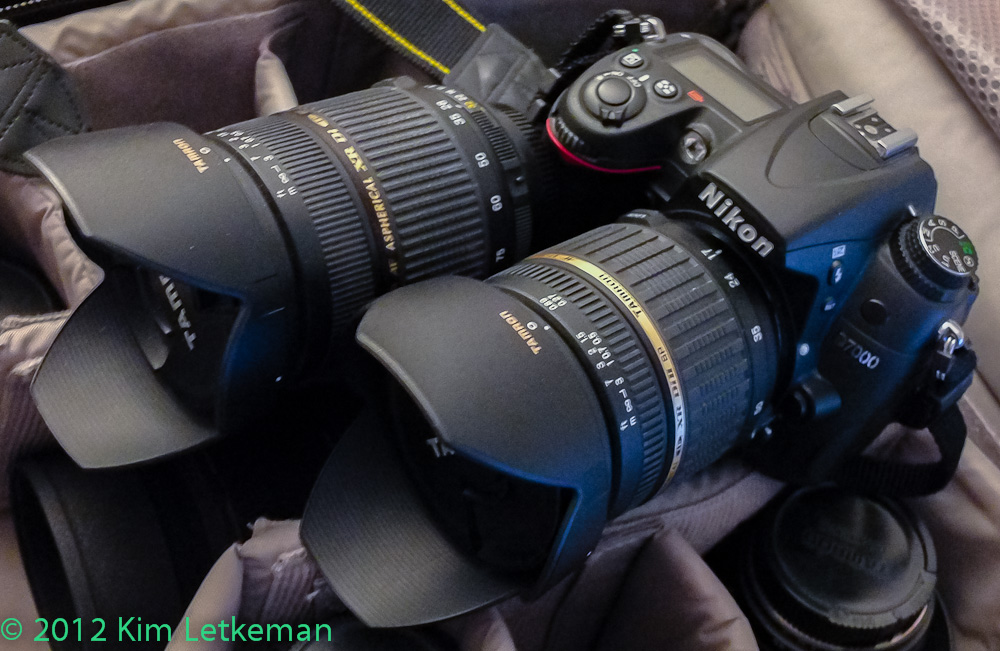 And how about the size when compared with the much more versatile 18-200VR?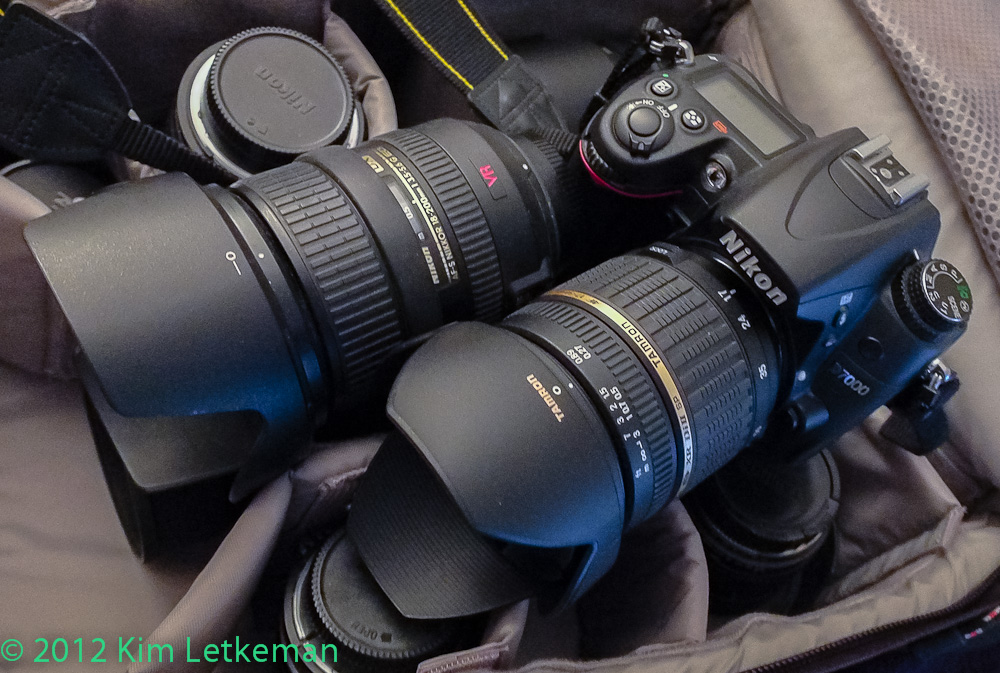 Well, that lens is a whole lot beefier. Of course, the range and stabilization make it a whole lot more useful if you really want to carry only one lens. But I am going to go back to the method I used with the D700 in New York City … walk around mid zoom and 70-300VR for reach. Two excellent lenses instead of one that shoots best at f/8 and above. I look forward to using this combo next trip …