So yet another garden update. Why? Because I'm puttering around the house this weekend and I am still familiarizing myself with how each lens shoots on the D7000. Remember that its rather high resolution pushes lenses harder than my previous cameras.
I also had the Canon 500D achromat attached to the Sigma for some shots. But the higher magnification in the fairly low late-evening light was not working out. Shutter speeds were too low at already-high ISO of 800.
Here's my first image, shot very close. This is the daisy situated at the western end of my yard, near the deep end of the pool. The petals are not razor sharp because of slight subject movement, but then it's not that kind of image anyway …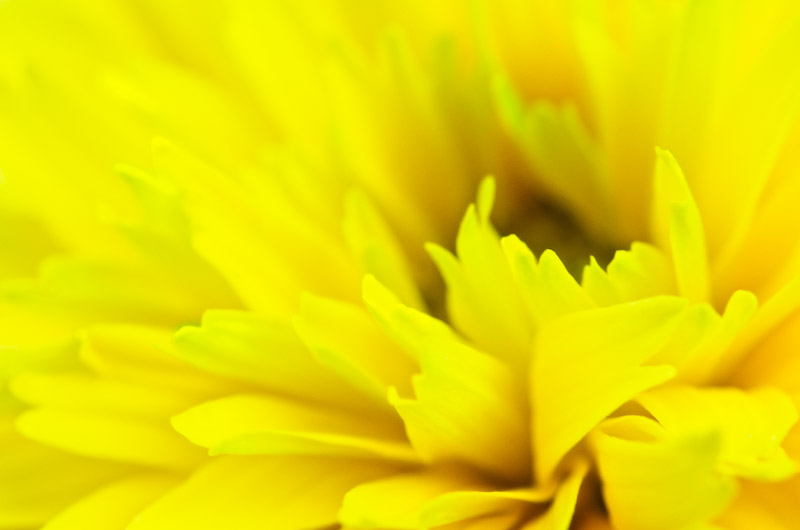 Backing away a bit, I get a reasonably sharp image of the whole flower, which you can see is already nearing the end of its life around the edges of many petals.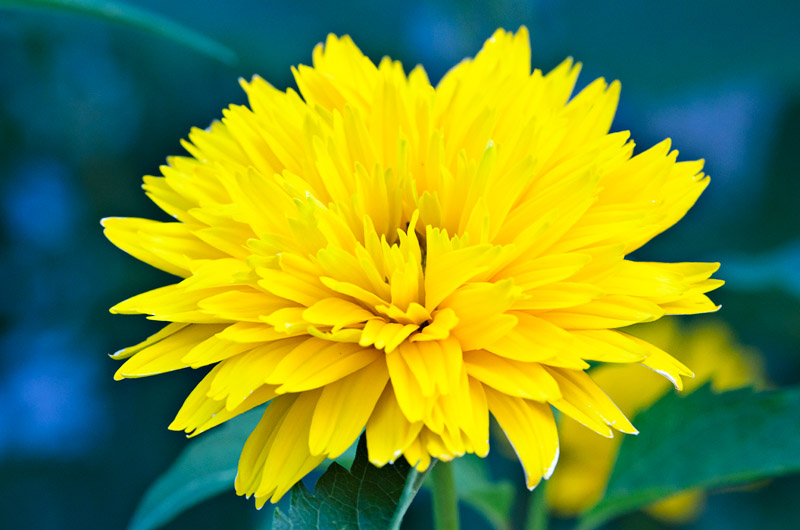 You can also see the strangely blue background. This is caused by the auto white balance's difficulty in handling the very blue light of late evening. It also turns the orange flowers yellow, an effect I am not displeased with. Later, I switch my processing to shade white balance and the difference is remarkable.
Here's a shot of another flower with a warmed up background. The stamens in the middle are sharp, but to get the whole thing sharp I would need to stop down more. Can't do that hand held.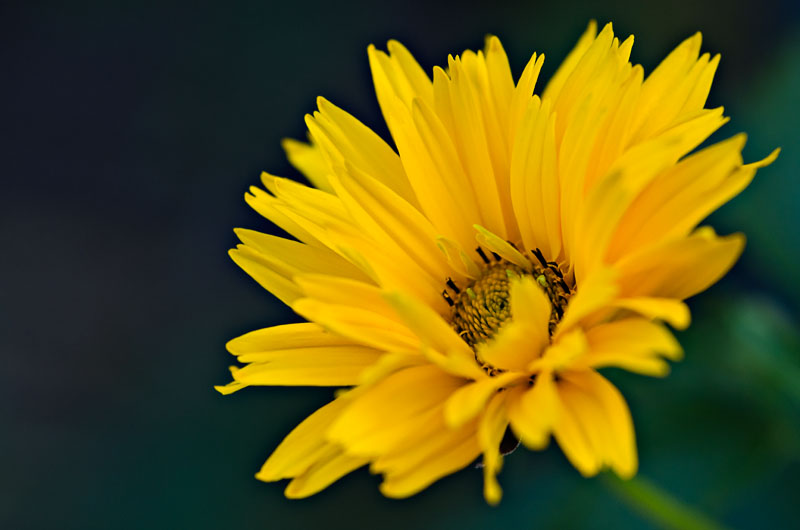 This is, by the way, a classic composition for flowers. You would do yourself a favor by getting used to getting closer and adding a dynamic angle to your images. Much better than the look of images shot from above with a flower in the center (although such compositions are sometimes useful.)
Moving around the pool to the south side, the Annabelle Hydrangeas continue to bloom like mad. For those who explore EXIF when they look at images, you will note that the first bunch of images in this set are shot at –1EV … that's a brain fart from the settings I used for the fireworks the other night.
Lesson learned (again) … check your settings before each shoot.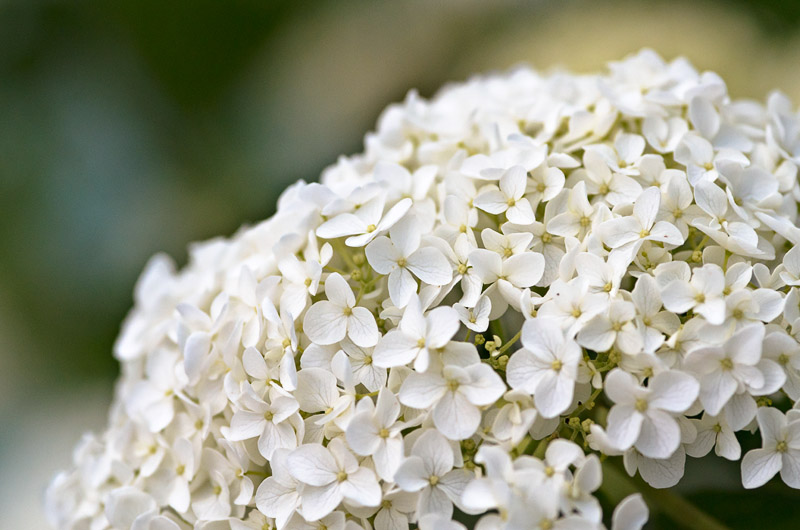 This lens has no problem picking up the fine little veins in these flowerlets … even at f/3.5 which is only half a stop down from wide open.
Of course, I always like to capture the Hydrangea's display of multiple flowers in different stages of the life cycle …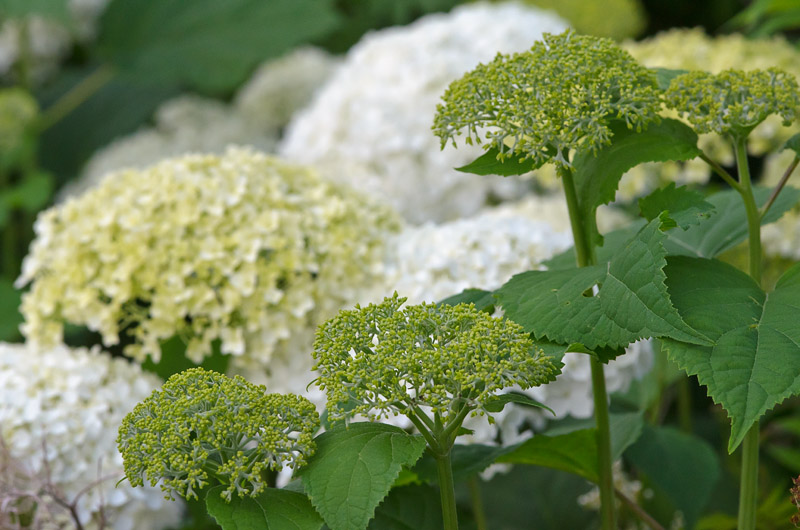 I also enjoy trying to capture the tiny details on the berries that the Silverleaf Dogwood sports. Here, I got rather good detail for 800 ISO …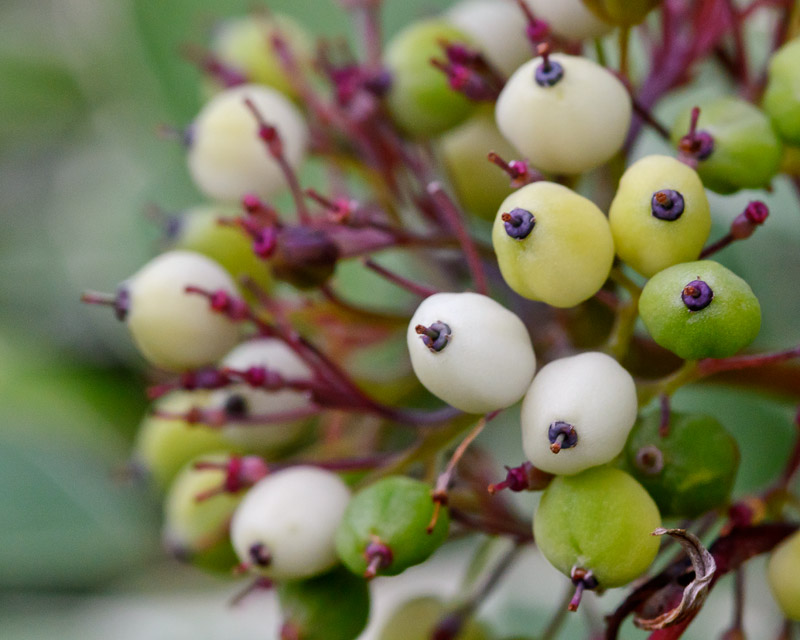 My Hansa native rose bush is nearing its zenith, and as I turned I saw one rather fresh flower in behind the Purple Ninebark's leaves.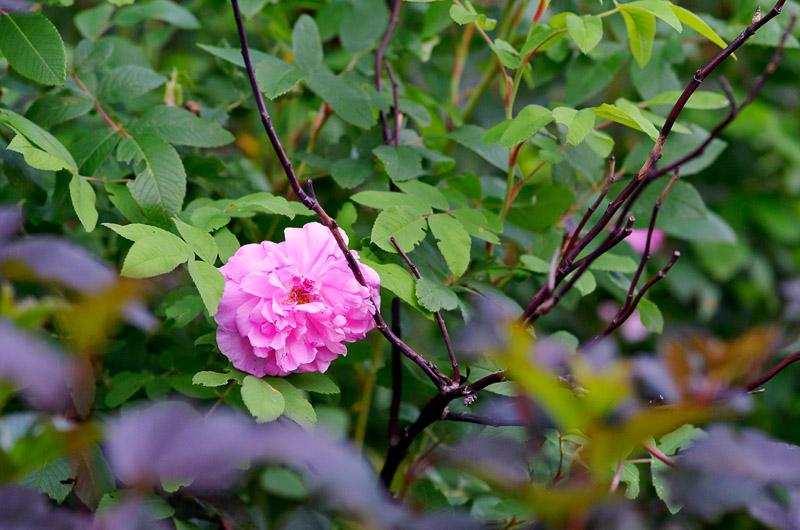 I went around the pool again to the east end and shot more images of the daisy and False Spirea plants. Here's a Spirea bloom in bud.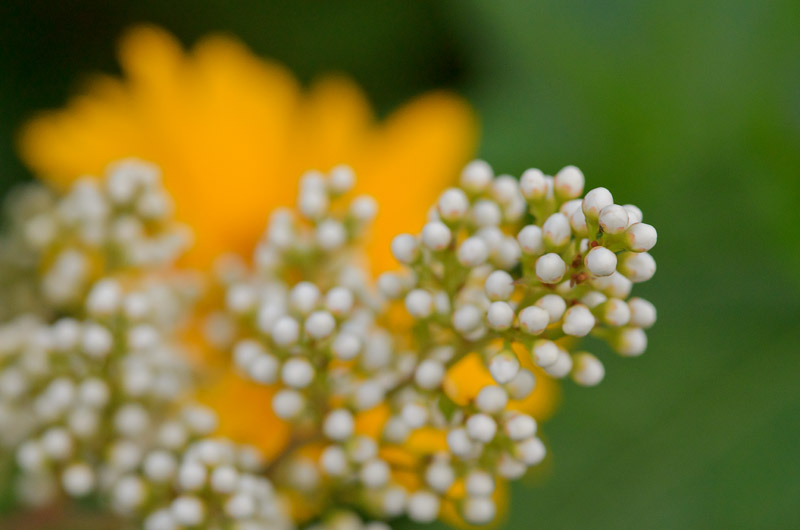 A muted image of a daisy, finally showing some of the sharpness for which this lens is known. Pretty nice for an image that is stopped down only 1/3 stops.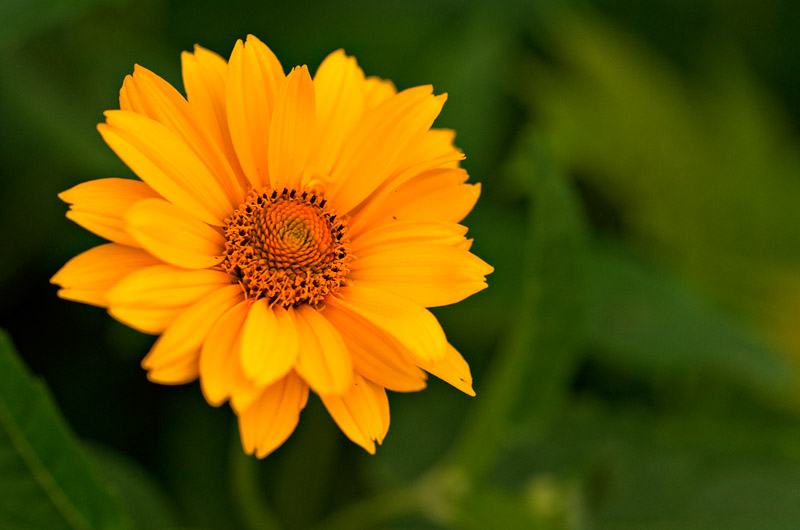 Since the lens is able to do 1:1 at closest focus, I can move in and shoot the center with ease. Shutter speeds are dropping pretty low now at 1/125s.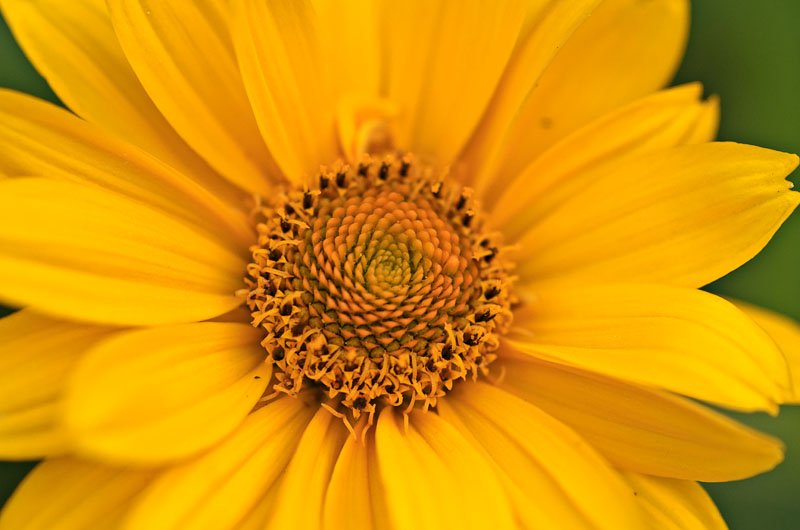 And of course it is interesting to see how the lens handles the pool stairs. The lenses previously tested had harsher, but brighter light. This lens has nicely muted light but slow shutter speeds. You can see here that the lens gives some pretty creamy backgrounds.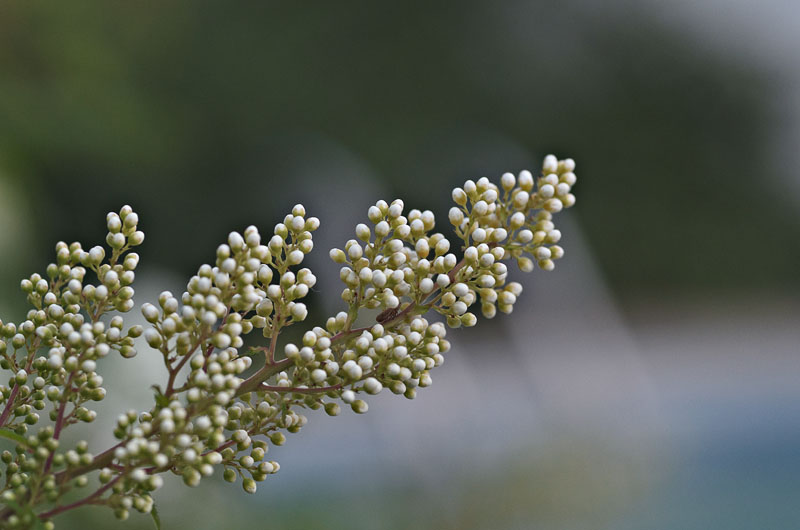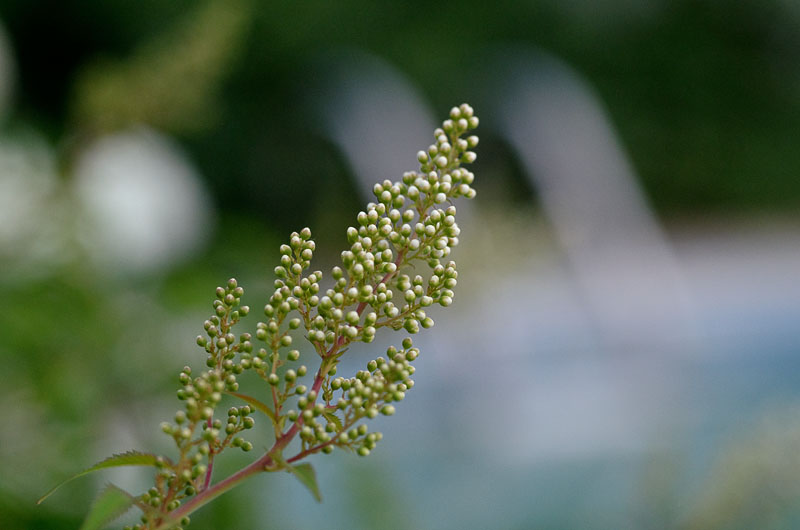 At a more oblique angle, the petals again have trouble staying inside the zone of focus.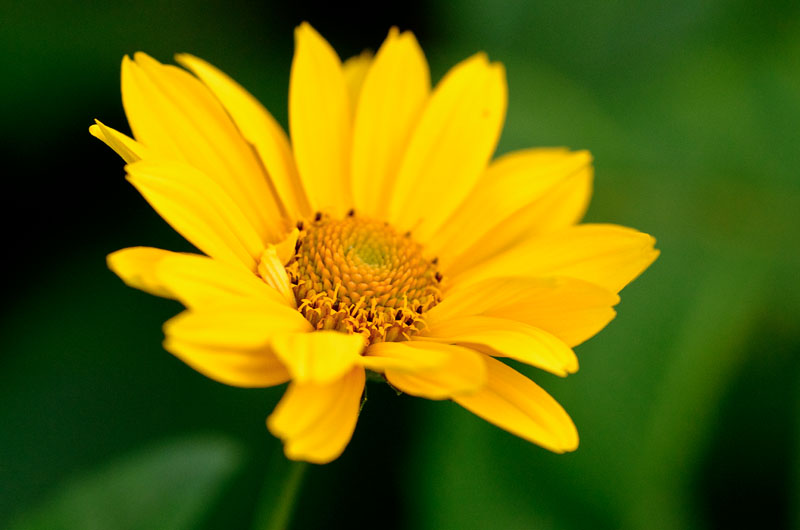 I was really just fooling around while the pool refilled. Our water ban was lifted last week because the new water main was completed early. So I can now legally refill my pool, which was quite lucky because of the brain fart that blew several hundred liters of water all over my pool equipment. I had left the lid off the chlorinator after refilling with pucks …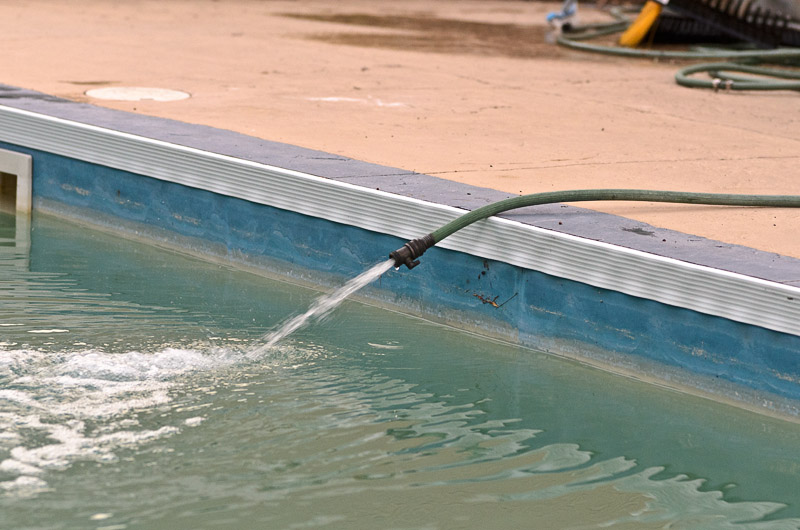 The Silverleaf Dogwood berries above are interesting to look at, but the Yellow Twig Dogwood berries are mych more subtle. Very pretty …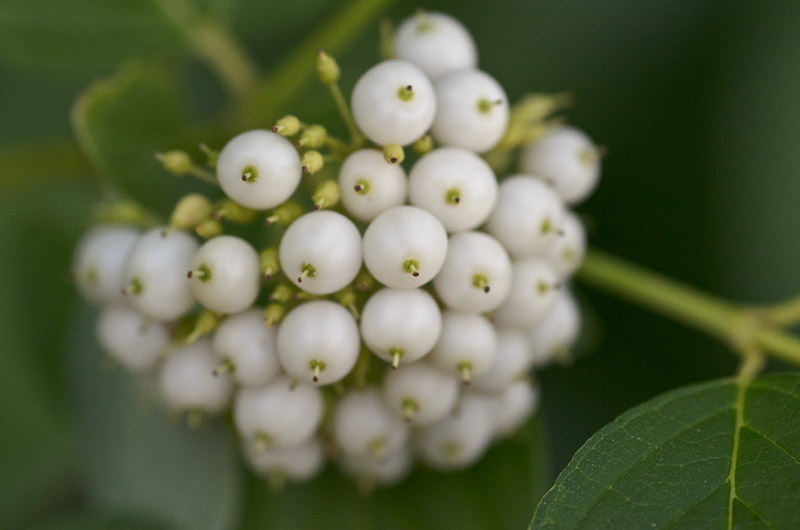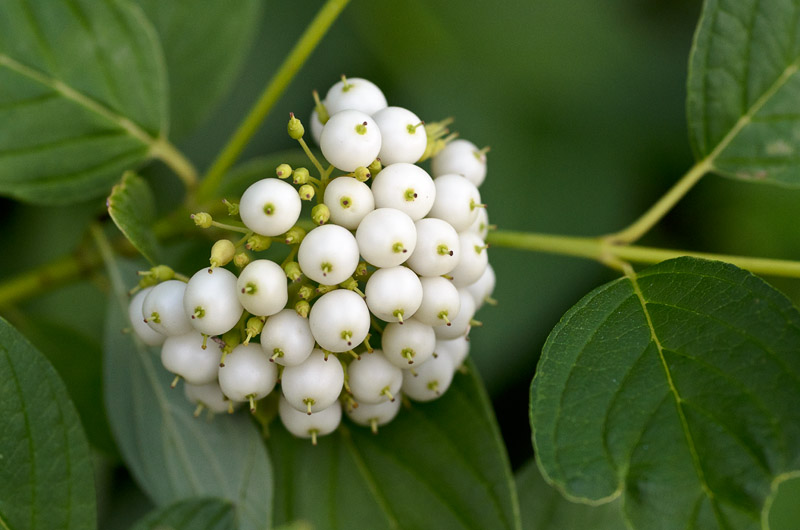 Here's an image with really busy bokeh. I'm not sure quite what happened here, but this sort of an image is definitely not a keeper. Your eye cannot stay on the subject for more than a few seconds …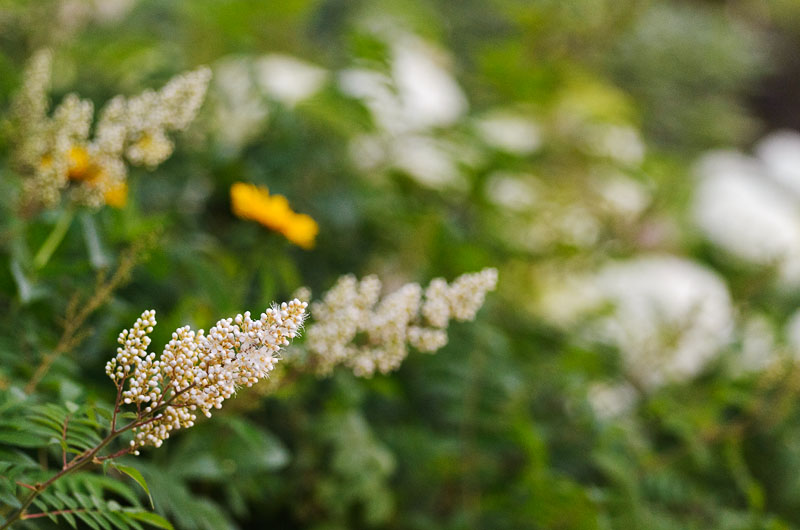 This is a bit better. Another angle on the poolside. Note the ugly branch sticking out. If you were trying to maximize the beauty of your flower images, you would be forced to remove that old dead branch, or to shoot some other sample elsewhere I the garden.
Here you can see the Yellow Twig Dogwood leaves that have been eaten by something. Probably earwigs as they have gone nuts lately in my yard. The fly is just sitting there and allows me to shoot several images.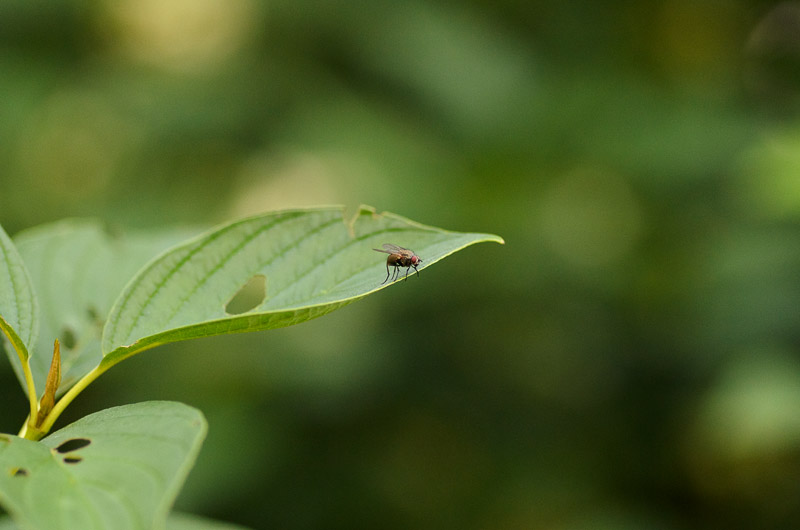 A crop showing some rather decent sharpness …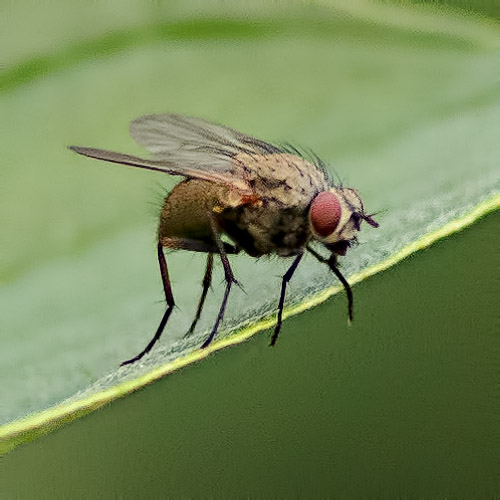 Pushing in a bit closer, I get superb bokeh behind the leaf ,,,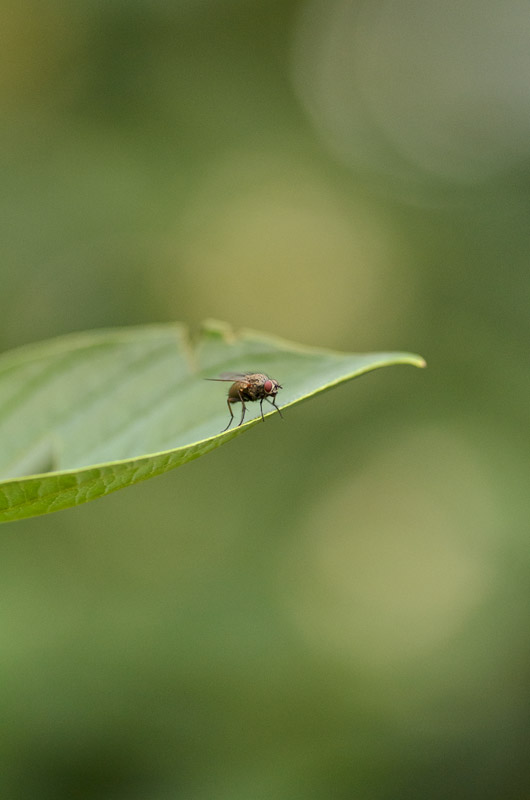 And one last crop showing a pretty detailed view of this fly. Great detail but a fair bit of noise artifacts caused by the rather high ISO. For these closeups I have had to switch to 1600 ISO to maintain shutter speeds.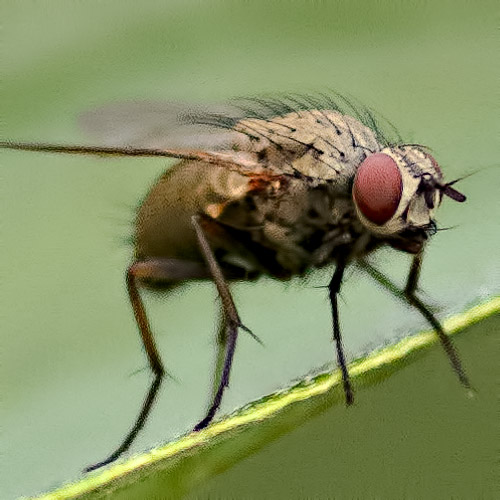 This lens is definitely sharp enough for this sensor. As would be expected from any of the main macro players in the 90 to 105 class …