After the rather successful "shoot Jupiter through a window" experiment, I thought maybe I would try shooting it in the backyard this time :-)
Jupiter was not quite above the trees yet, so I had to find a spot on my patio where it would peek between two trees. Kind of frustrating, but over time the trees in the neighborhood have gotten huge. That is nice, so I cannot complain that it interferes with my amateur astronomical experiments (although I suppose I just did :-)
Anyway, I experimented with settings for the best Jupiter image while shooting the D7000 with the 70-300VR at 300mm and settled on f/8 at 1600 ISO and 1/15s as the best of all the images. This could, of course, be partly due to the seeing (stability of the atmosphere) but these settings definitely captured a nice round Jupiter with minimal glow and a clear image of the four moons, which are shown from left to right as Europa, Io, Ganymede and Calisto.
Again, the Juplet gave me that info …
So here it is …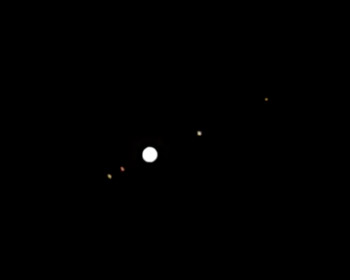 There is some touching up of this image to brighten the moons a bit and to clean up a tiny bit of glow around Jupiter, but this image was vastly cleaner than yesterday's image.
I believe that 50mm is considered approximately equivalent to the human eye's natural field of view, which makes the 450mm equivalent about 9x magnification. One can clearly see why the moons are so visible in typical binoculars. The ones I have coming from Oberwerk are 10x and should show a magnificent view of these moons through twin 60mm objectives.
Anyway, I then turned my attention to the moon, which was sitting at about 90 degree to Jupiter in the southern sky. I shot 5 images and all turned out sharp enough to participate in a 5 image stack and blend. I do these now and again for fun, although it is not recommended for moon shots. The reason is that seeing affects the moon really badly and blending is quite likely to blur features. I did it anyway … but as you will see in a moment, I also processed the best of the shots individually.
The first 5 image stack: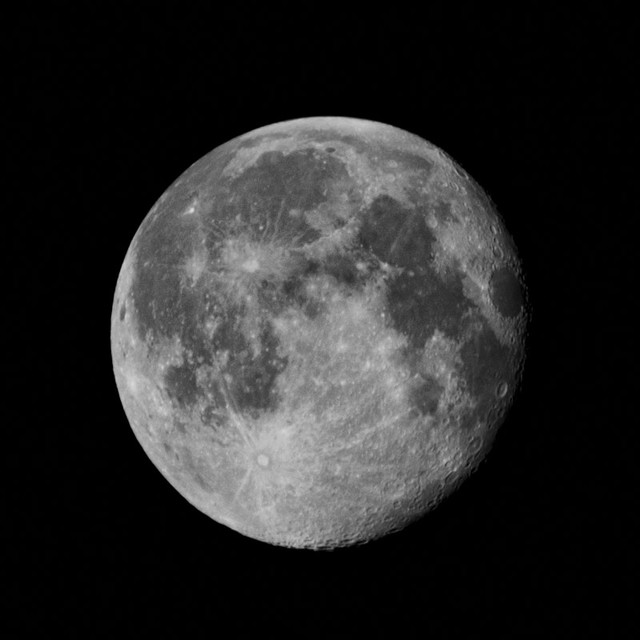 Click through to see the full 100% crop from the sensor. Very, very clean at 125 ISO, f/11 and 1/200s.
I had forgotten to perform output sharpening on the stack so I did that and resaved. Thus, this second image has had two jpeg output saves. That has theoretically increased artifacts significantly. You can be the judge of course …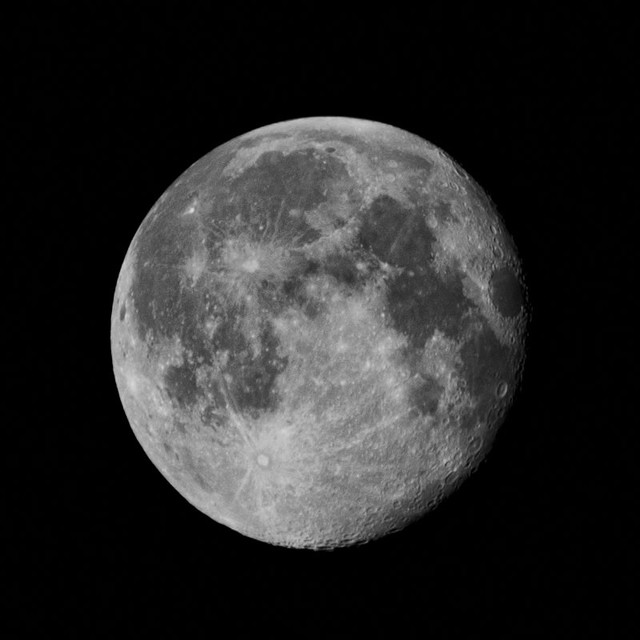 And finally, I processed the third of five images individually. It had the best detail in the crater in the middle of the sea at the right edge of the moon just below the middle. And this is one sharp image …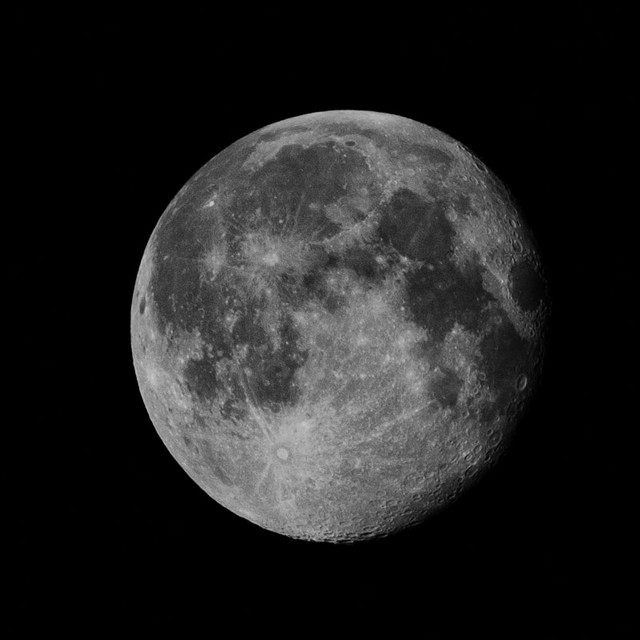 I continue to be extremely pleased with the 70-300VR … it's pretty amazing.