I've posted images of many a bowl of Pho, one of my three favorite soups (along with Singapore Laksa and Hennezup) … my favorite Pho has always been Pho Chin (well done beef, where the beef is roasted and sliced razor thin) to the one I must eat locally, Pho Tai (rare beef, where you must leave it sit for a while to be done or eat it red, also razor thin) and to the one that introduced me to Pho and remains one of my favorites – the one my son had last night at the Phu Yen restaurant, Spicy Beef Noodle (#27 on their menu if you would like to try it.)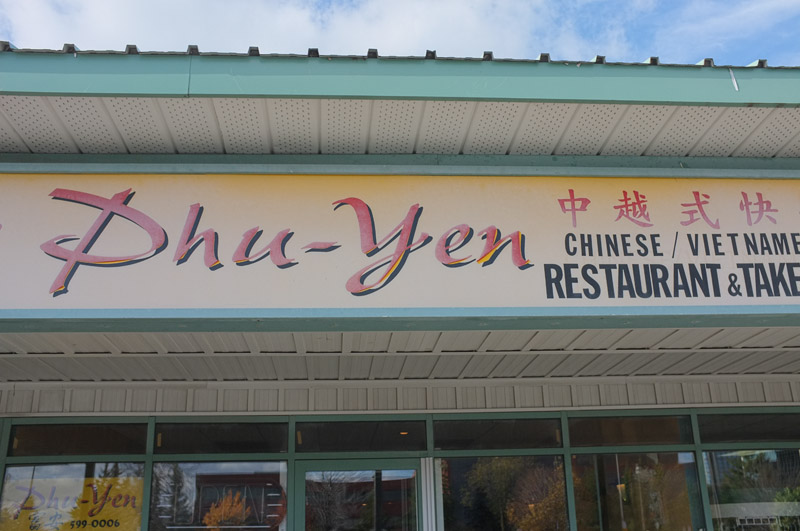 Fuji X100 straight from the camera.
I had a different favorite dish while he had the Pho and I have regretted it ever since
Whenever I get together with my friends Sue and the Don, we always hit the Phu Yen for a bowl of #27 … it is legendary. And I must have it now that I have seen the video below.
So it was with great delight that I watched this video where Anthony Bourdain goes hyper-orgasmic for what looks to me like a spectacular bowl of Pho, this link sent to me by my friend Petra, who loves a good bowl of soup and who appears to have her work cut out for her to find a decent bowl of Pho.
He nails it … there is a restaurant downtown here that serves a broth that looks like that and tastes better than any I have ever had … the waitress told me that they boil the bones a minimum of 5 hours, which of course gets everything into the broth. I must say that it is awesome … the restaurant is called the Phnom Phen, and it bears no relation to the restaurant by the same name near my office from which I have posted many an image over the last few years. The one near my office serves a Cambodian version of Pho while the one downtown serves classic Pho.
So happy Pho hunting to those who have never tried it. My first bowl of Pho with a friend caused us to hang the moniker "sweat sox soup" on it … it's pretty pungent if you get the spicy variety as your introduction. Yet I have had many hundred bowls in half a dozen different places since then and I can say without doubt that it is one of the best soups-as-a-meal that you will find.