I took the X100 with me this evening as I dropped Nick off at a friend's (party to celebrate his departure for Afghanistan) and then took Jon out for a late dinner. Before I walked out the door, I switched on my Kitchen lights (two of the four zones) and shot an image from the north eastern corner facing south. The dining room lights are not on, so that area is fairly dark.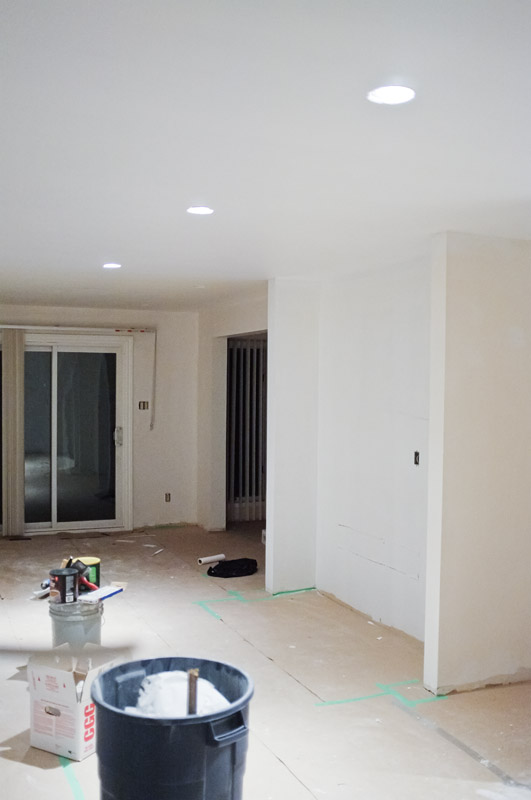 I am shooting exclusively jpeg this evening, but I do process every image in ACR and CS5, so these are not OOC jpegs, except in one instance where I show both to compare them. I am also shooting wide open, since I think a lot of people would want to do that quite often. I'll be shooting other review parts, so no worries on trying other scenarios. Tonight was "wide open" night.
The image above looks pretty nice for 3200 ISO (where I started off) and it gave me the benefit of an excellent 1/160s at 0EV. There is a tiny bit of flare on the light close to the top of the frame, and this reminds me a bit of the F550's objectionable flare. More on that later on.
Anyway, off we go to our favorite Vietnamese restaurant, which also happens to be 5 minutes from our house. I feel quite lucky in that.
As we were waiting for our orders, I felt compelled to get the obligatory coke glass image with blurred background. Shot in macro mode, you have to admit that the bokeh is pretty decent. The highlights are a tad distorted in parts of the frame, but all in all they are not busy and they are well filled. No nasty donuts. Pretty decent lens so far.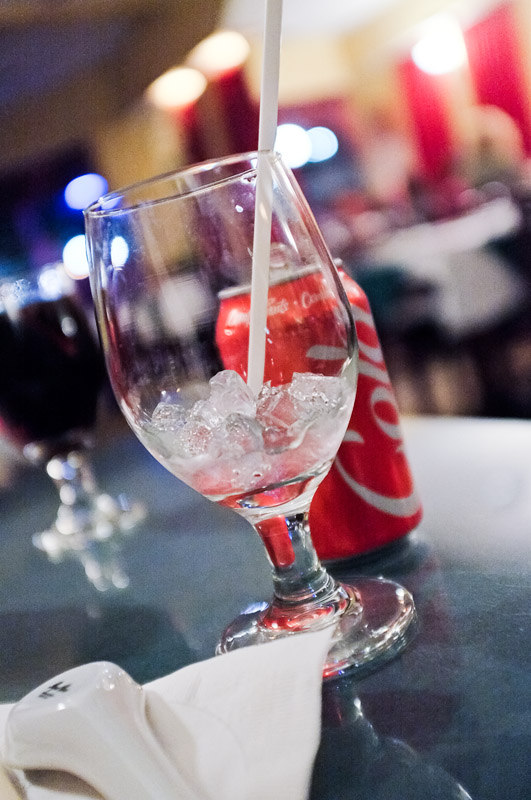 There is a fair bit of grain in the shadows here, and although I try to eliminate it in later images, it is always present. Note that I was shooting with NR at the lowest setting. So don't freak out about the noise. I'll shoot an NR ladder at some point.
Jon was his usual reticent self, so I spend a lot of time looking at this: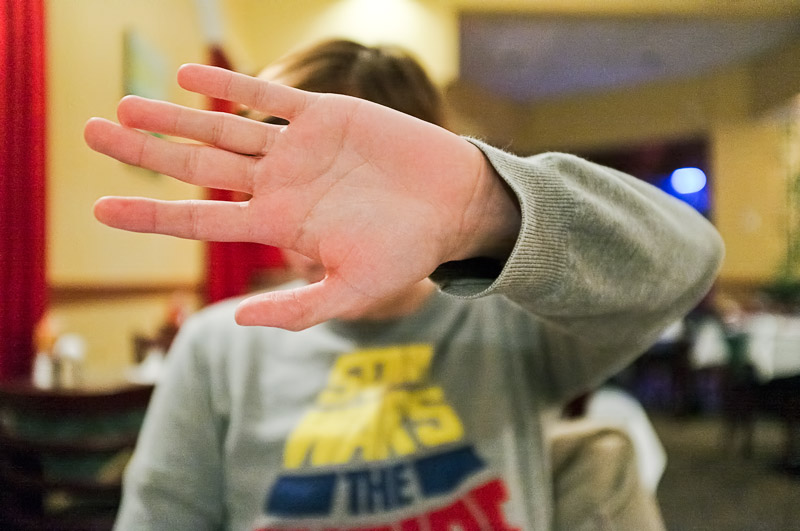 The restaurant is not very crowded at this time of night, but there are certainly enough people here for near 9pm.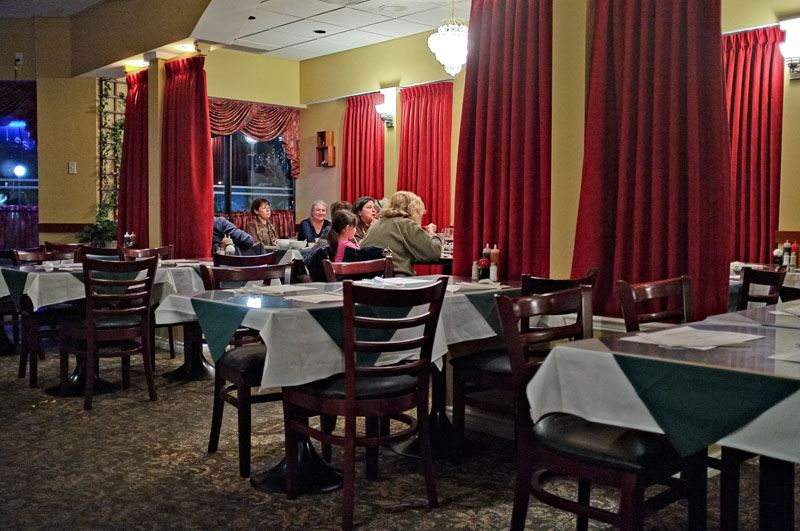 Ok, what follows is the one and only out of camera JPEG that you will get to see. This is what I shot when the spring rolls arrived. These are just about the best Vietnamese crispy spring tolls in the city. A lot of restaurants use a much greasier recipe and that kind of sucks. Another with superb spring rolls is the Phu Yen.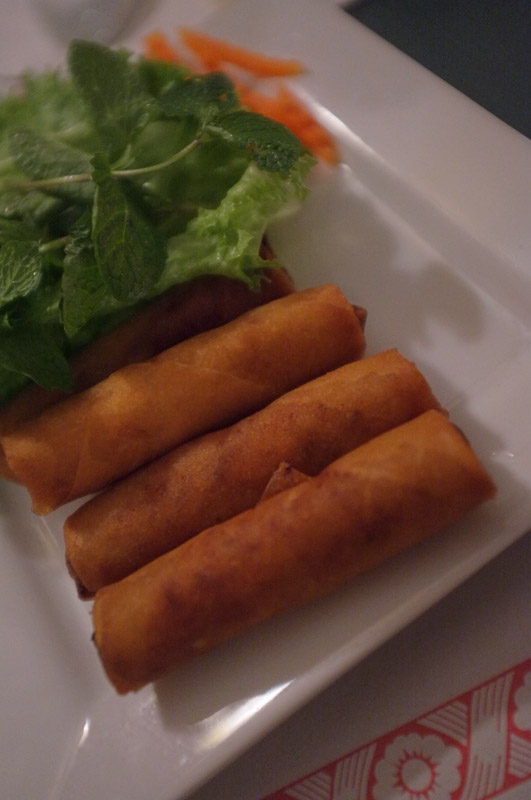 Now the processed version: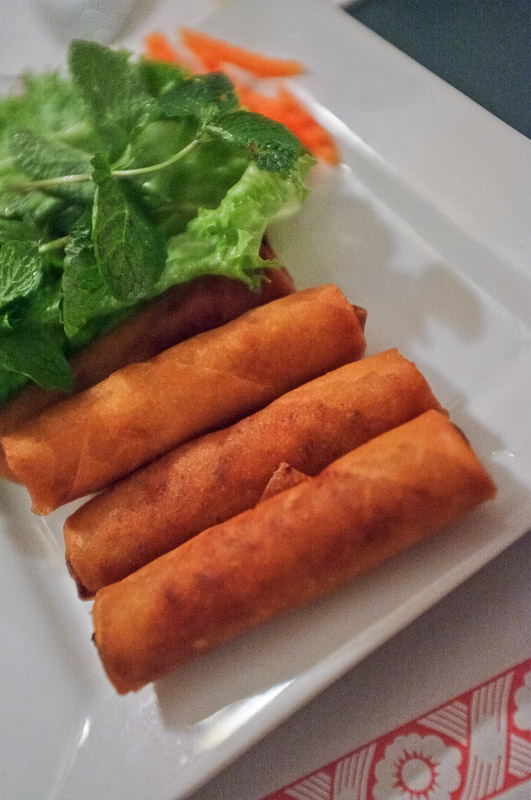 Which of course accentuates the noise that is there. You can't have it all.
And the main event. My Pho Tai and his curried chicken arrive. Jon continues to demonstrate his displeasure at having his soul stolen …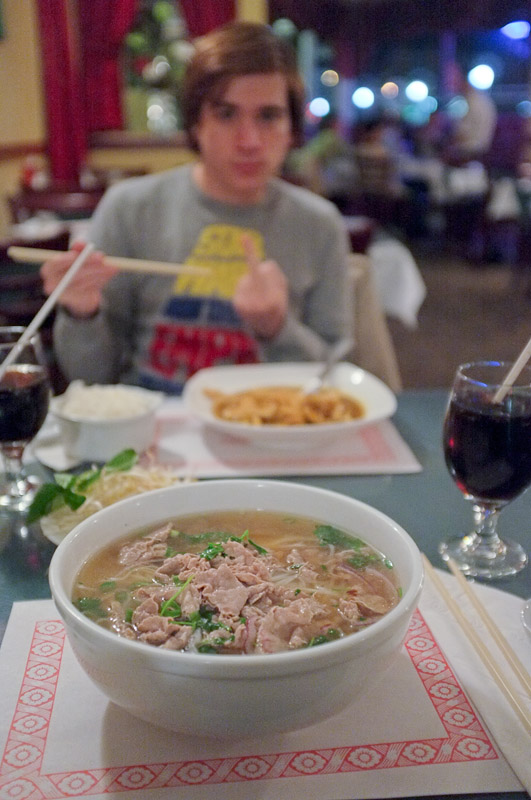 This image has less noise and quite nice bokeh. The camera can definitely perform in low light, even in JPEG.
A rare moment when Jon was not protesting the taking of his image. However, when I asked him why he was leaving a single piece of chicken on his plate, he opined that it was his proletariat protestation against bourgeois excesses. Ok … (Note that he is in 3rd year English literature with a Philosophy minor, so he's read the Communist Manifesto.)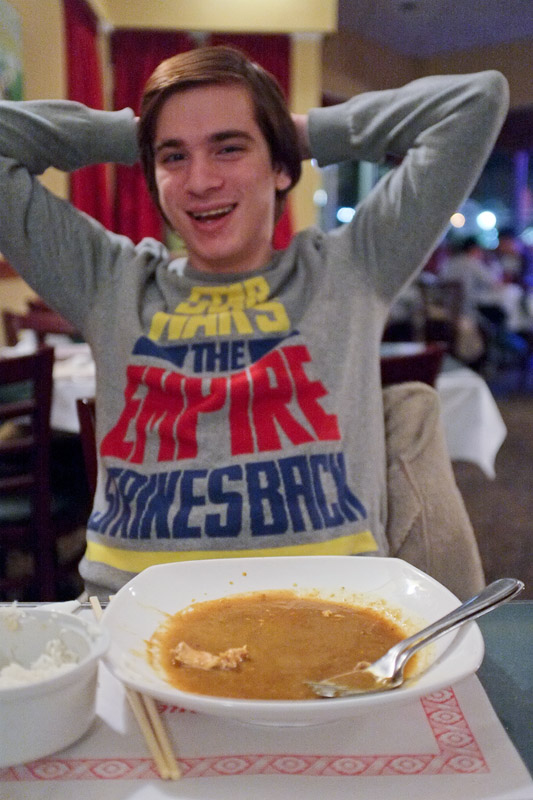 And he springs right back into action after that shot. A nice clear image … and people think bird photography is difficult.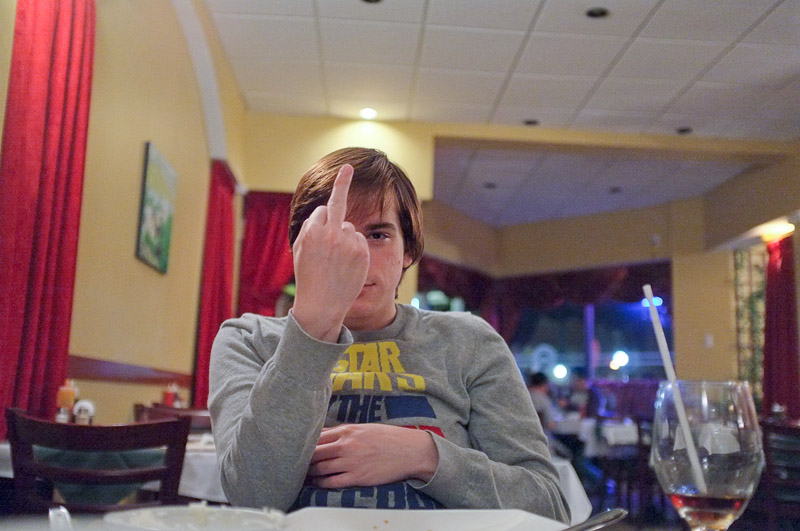 On the way to the car, I decide to capture the area and my car. This because, just like Hollywood, I think roads look terrific when wet.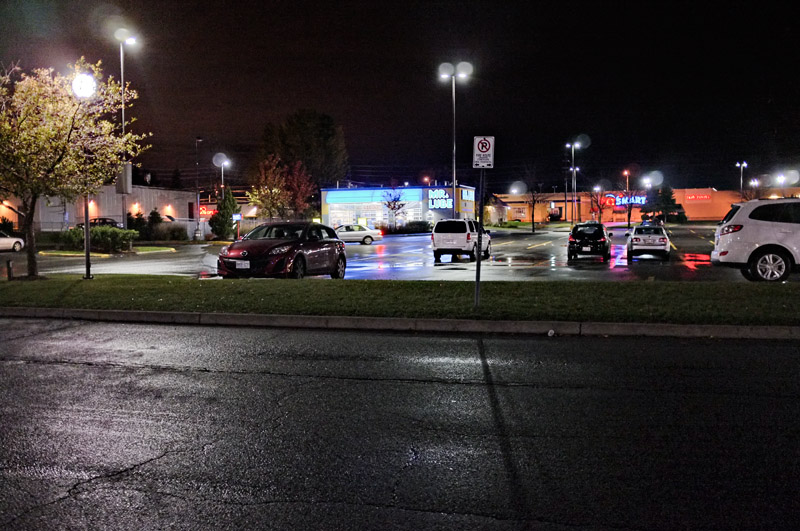 I did have to process out a lot of noise in the sky, which eventually required me to drop the sky's tonal values to near black. Looks good, but the whole image is more contrasty than I like …
And there's that flare again. This definitely reminds me of the strange flare on the F550, although this is not quite kaleidoscopic. Still … what up wit dat?
My next image was unfortunately affected by motion blur, however I liked it enough to crop this image out and blast it with Topaz Adjust to create something a little more like a 50's diner image in tone.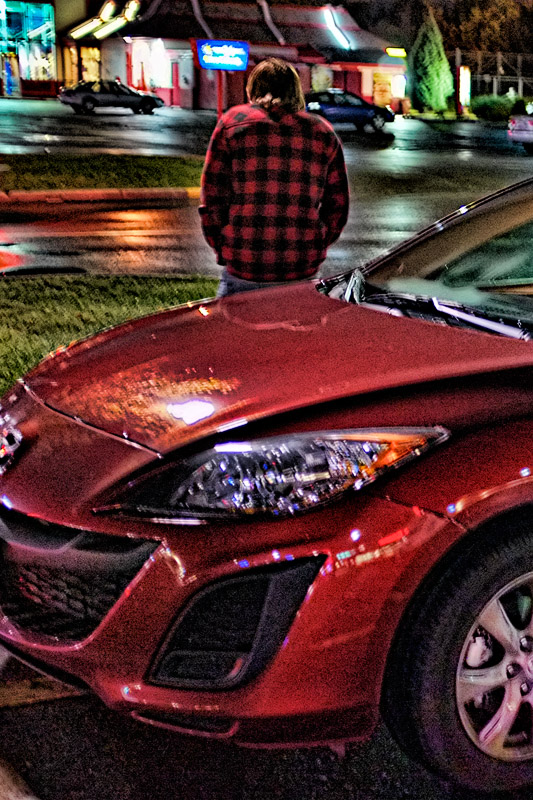 Super noisy, but that is Topaz pulling out everything to get an HDR like effect.
We arrive home and I get a shot of the Mazda next to the POD. These guys are great … if you need temporary storage (by the month) on your own property, it does not get a lot better than this.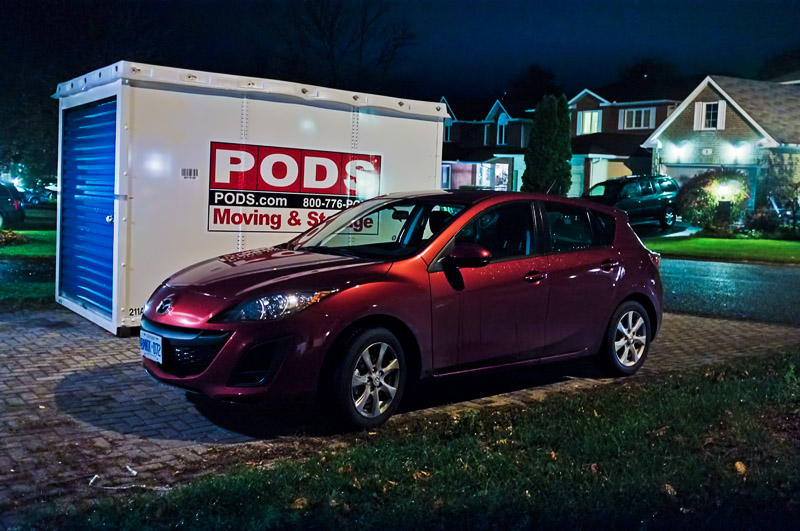 By this point I am wishing I had shot in RAW. These jpegs are quite nice, but there is enough grain to make me wish for more control. This slightly contrasty image is pretty good, but I prefer the more open look of some of my other work. I'm sure that I'll get there with the camera …
I knocked the ISO down to 800 at this point, as I decided to see how it would shoot at lower shutter speeds. Here is the kitchen shot from the dining room and facing north.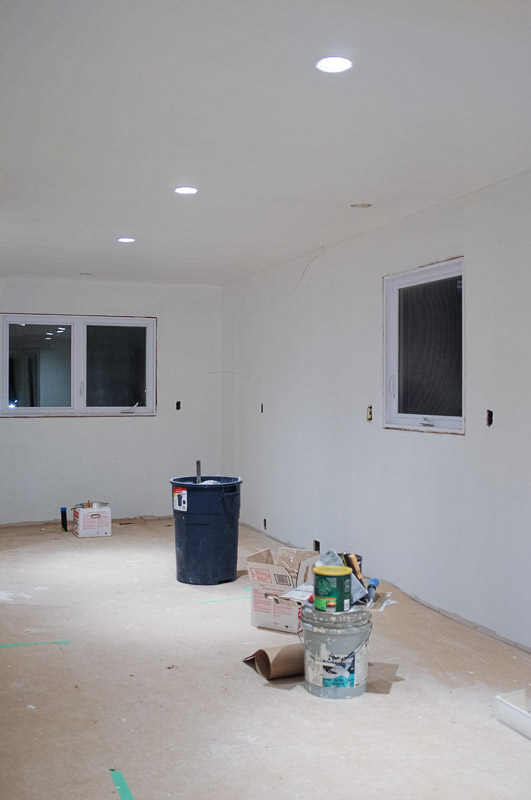 Don's done some amazing work in this kitchen in two weeks. I' really impressed with this. Cabinets are being delivered tomorrow, so the whole thing should start to come together in a few days …
Again, I shoot towards the southeast corner of the dining room from the northwest corner of the kitchen. This shows the pattern of lights down the center of the kitchen with four corner lights in the dining room. The effect of 400 watts of Halogen light is surface of the sun heat and light.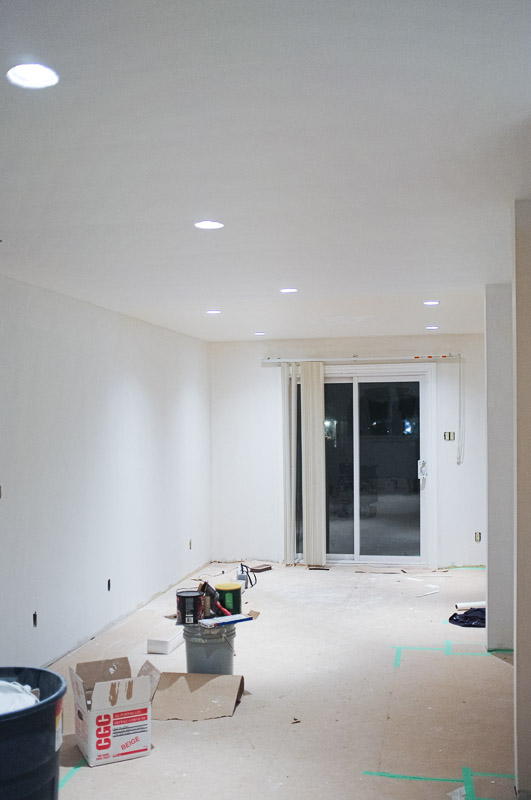 Something that keeps nagging me is the edges of the lights and when I finally look closer, this is what I see.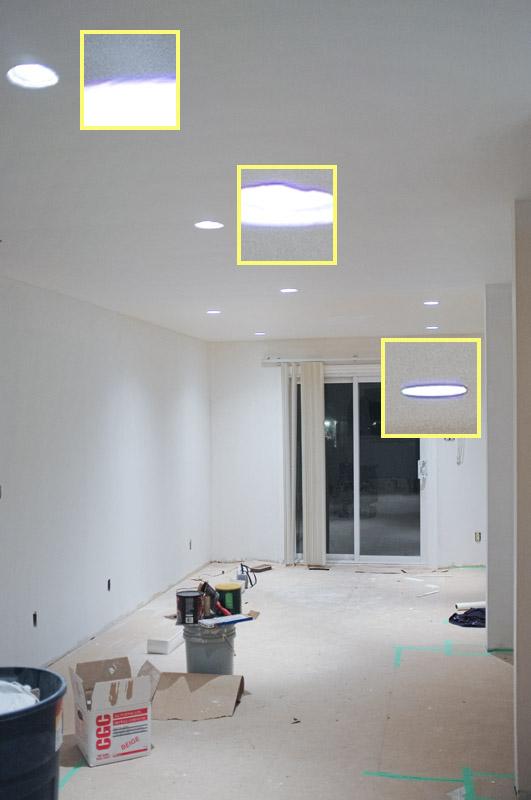 So it is a Fuji lens after all
And finally, the fridge build-in and the exit to the hallway and entrance.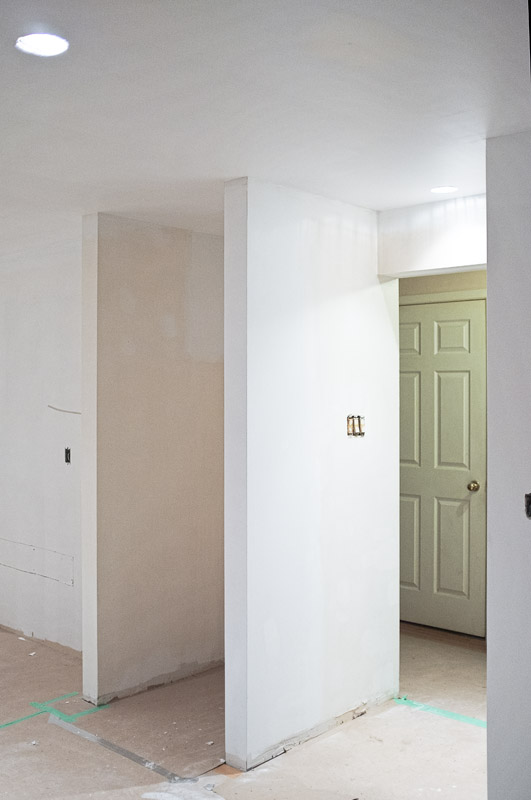 All in all, the X100 is definitely a lot of fun to shoot. It makes nice images, although I will want to explore things a bit further later. I am not enamored with the grain at 3200 ISO, but I will experiment a bit with NR settings and with RAW to see what I like to shoot best.
Of course, I can't wait to pit the D7000 against the X100 … that should be a hoot.