Wow … I was blown away by this concert, but it took a few days to process the images from the F200EXR and by then I got distracted by a bunch of other stuff.
So Leonard came to town once again to play his brand of … well … Cohen music :-) about a week ago (Friday the 7th actually) and I was really hoping that, even at 78 years old, he might be able to recreate the magic from a couple of years ago when he visited the National Arts Center.
This time, Cohen was at the Scotiabank Center and that was a good thing, because the place was pretty packed. I would bet well over 12,000 and maybe 15,000 people were there to see him. Really excellent turnout and the crowd was very appreciative.
I have learned to look at these big concerts at the Scotiabank Center quite closely because there are always a lot of decent tickets in the $30 range, and that to me is a "no-brainer" price to pay to see great music. This was no exception … in fact, instead of the usual 3rd level nose bleed seats, we got some decent 2nd level seats only a few rows from the rail. Really nice view.
Of course, we were still about 150 feet from the stage, so images of Leonard and his excellent group were small. And remember that the F200EXR is a first generation long zoom with a paltry maximum effective focal length of 140mm, which is tiny.

Fuji F200EXR 400iso f/5.1 1/60
I spoke in a video blog recently that concerts are not really low light. The exposure above should confirm that for you, as I was able to get a decent shutter speed at 400 ISO. I was also able to get more shots in this early series and to crop successively closer.

fuji f200exr 400iso f/5.1 1/40

fuji f200exr 400iso f/5.1 1/40
But cropping too close really starts to show how weak this older camera's JPEGs are when compared with modern sensors that shoot RAW and have much more optical reach. Still, this was not a terrible result.

fuji f200exr 400iso f/5.1 1/40
After this initial series, I shot about 300 more :-) as the lighting changed constantly. This was quite enjoyable, although I would have had much more fun had I been able to bring in some decent equipment.

I will forgo the exposure information … the rest are variations on this with some shot at 800 and some at 1600 ISO. The 400 ISO images are the cleanest, but the lighting was not always as clear and bright as this so I mixed it up.
They also had quite a few times when the band was not all visible. Lots of silhouettes, which I really like.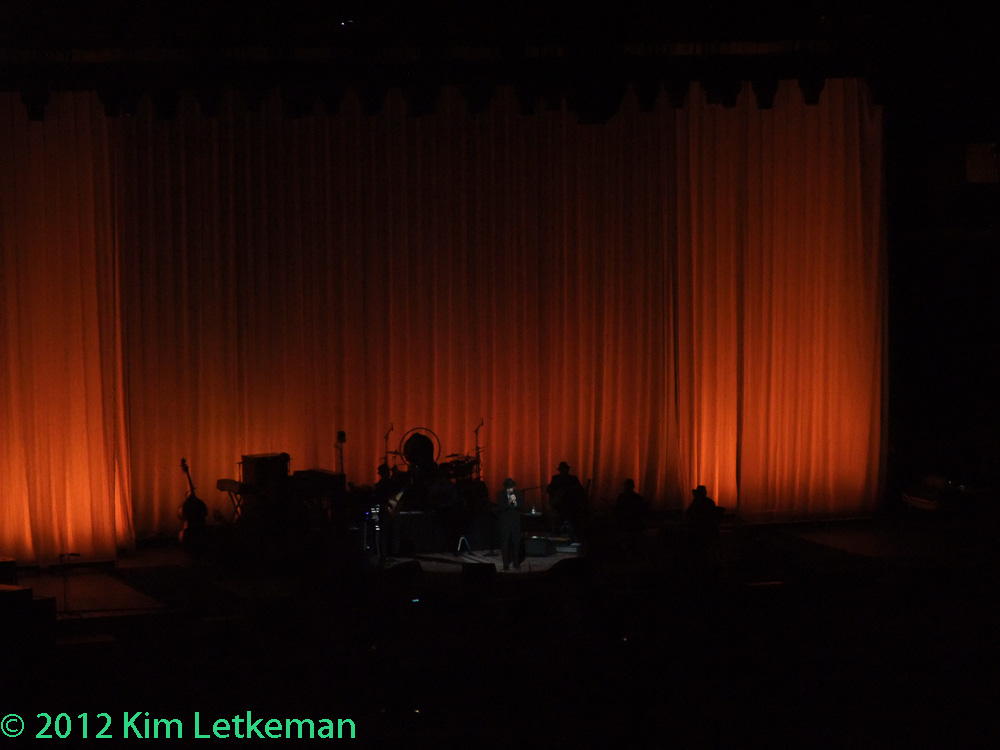 Leonard has a habit of singing from his knees a lot. I have no idea why, or whether this is something he has always done. It's curious, but it sure works so who can complain.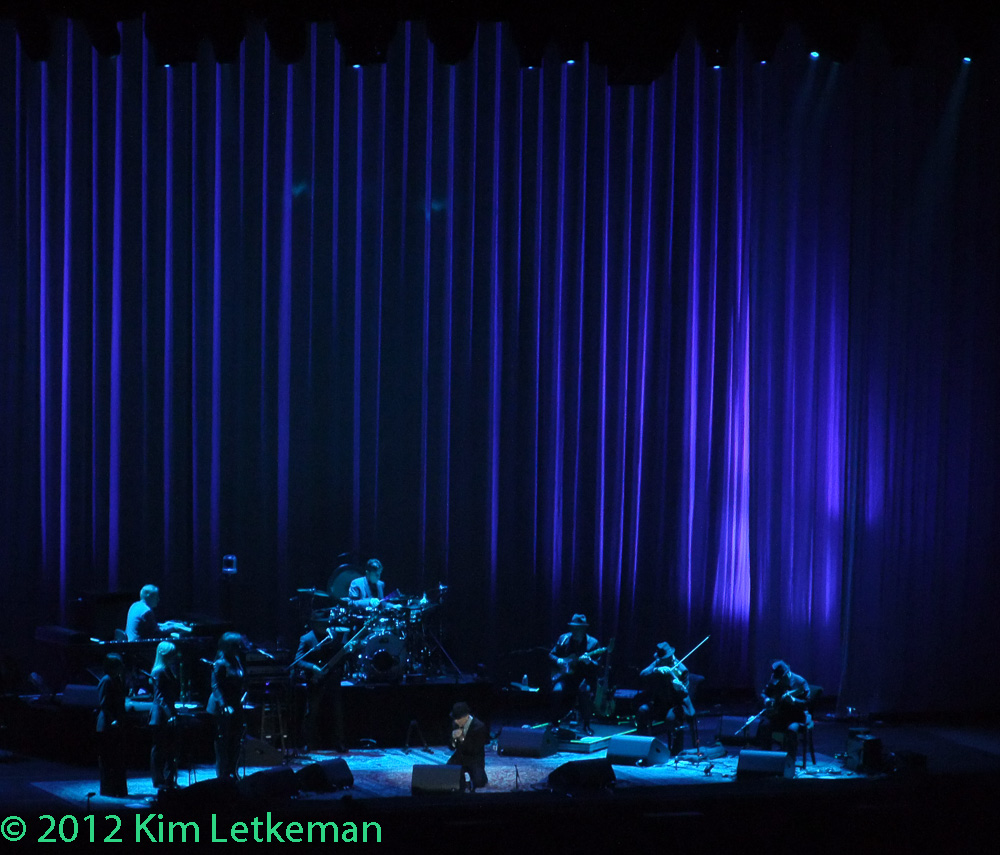 There were two screens flanking the stage where close ups were projected, a technique that has become ubiquitous these days. But these screens were unusually good, with extremely crisp and clean imagery. I've never seen anything quite like it.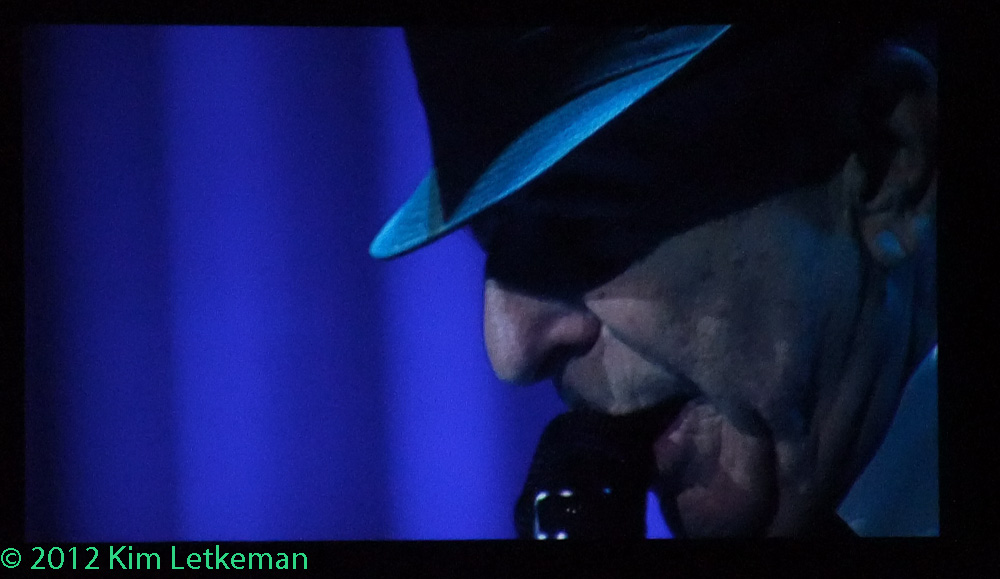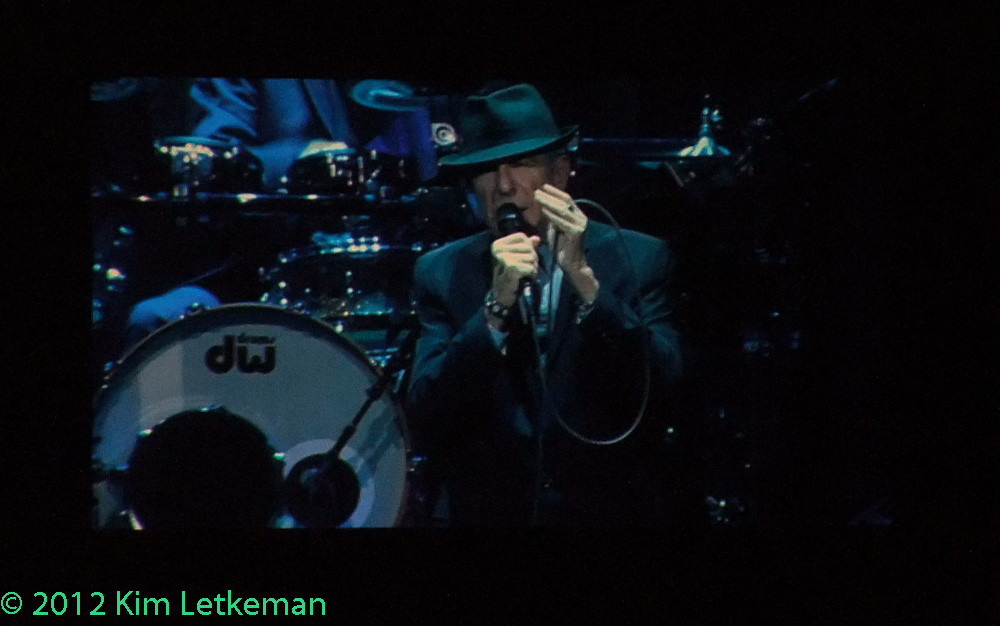 A few more shots, and you can see all 78 (!) images here: Kim's Leonard Cohen Gallery Page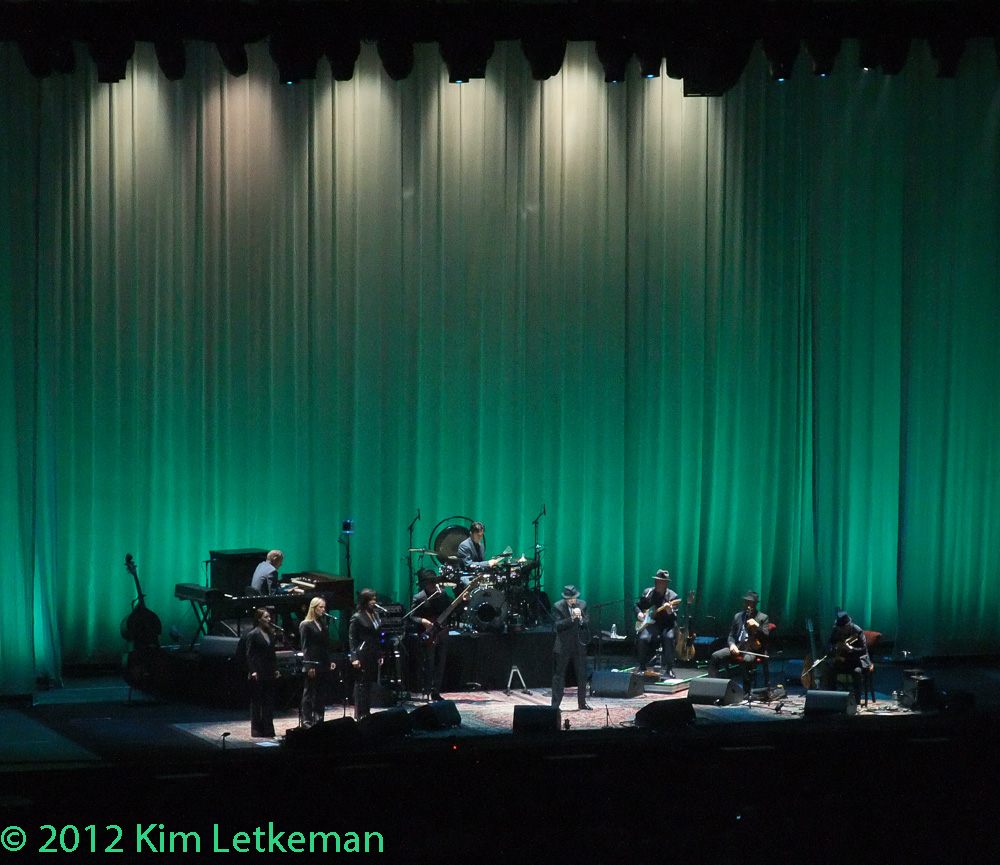 Leonard travels with superb musicians, which he introduces at least 4 times during the show. This is possible because he shocked the crowd by playing from 8pm to about 11:45pm with only a 20 minute break! He did four encores, with half the crowd gone by the 4th one. He just kept coming back on stage, and I can tell you that he was as good doing the last song as he was doing the first.
If you have listened to his iTunes Essentials album then you have heard a good chunk of this concert. But live is just so much better with this sort of music.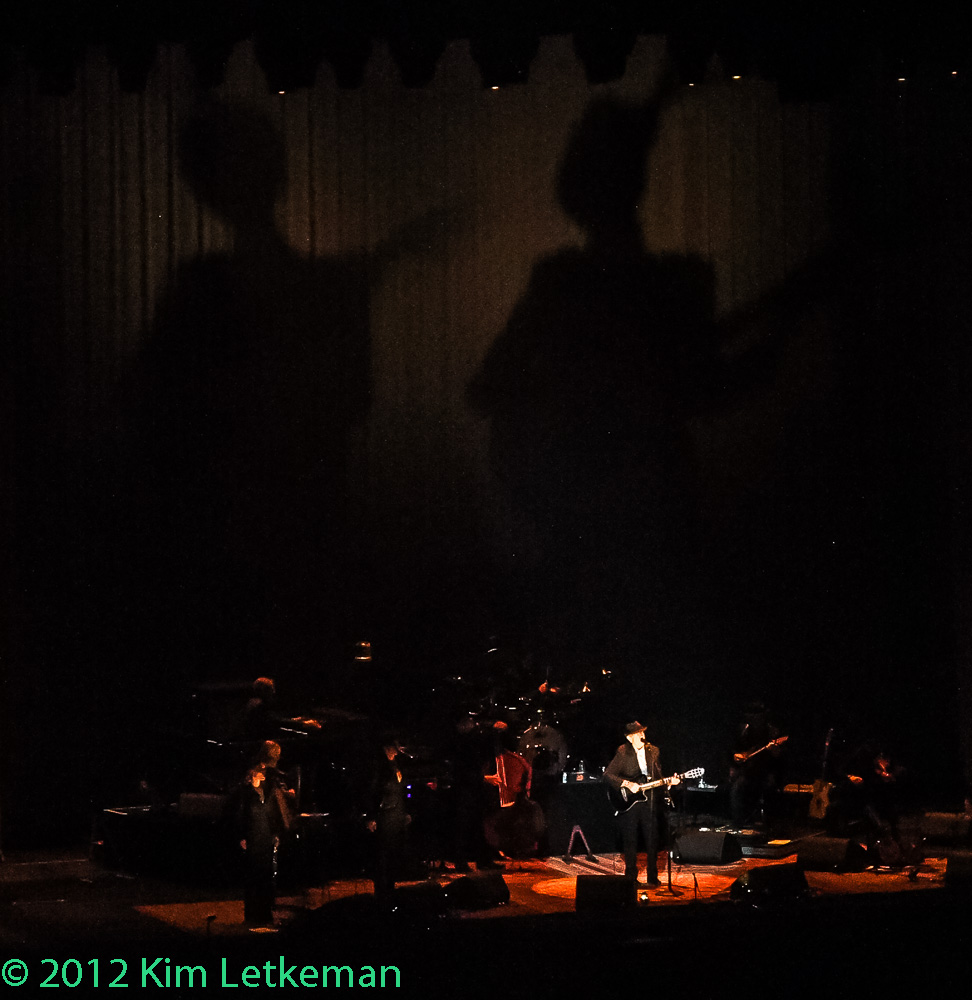 That one was an example of the need to raise ISO to 800 to try to capture the shadows on the curtain. There were many instrumental highlights and solos throughout the concert, as he travels with some of the best musicians around. It is quite the treat.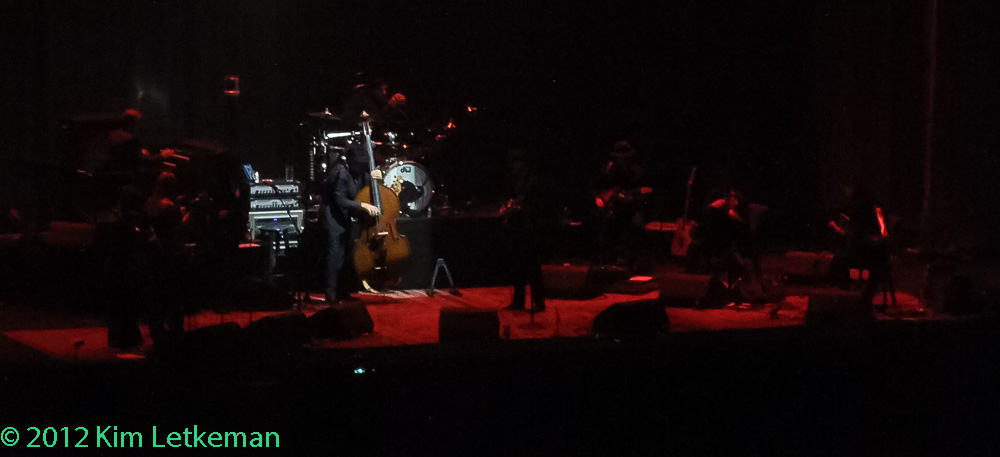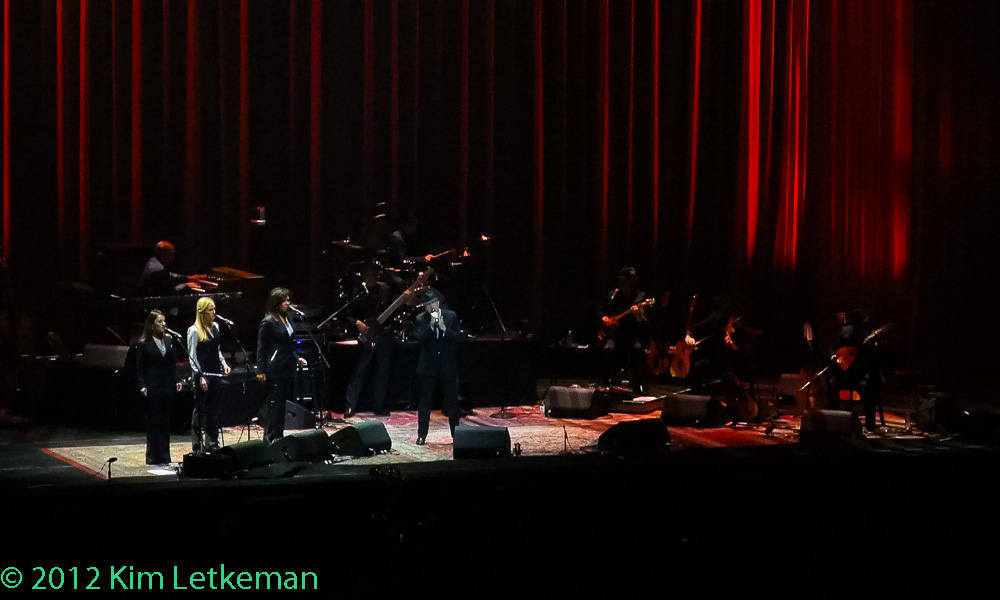 The packed house …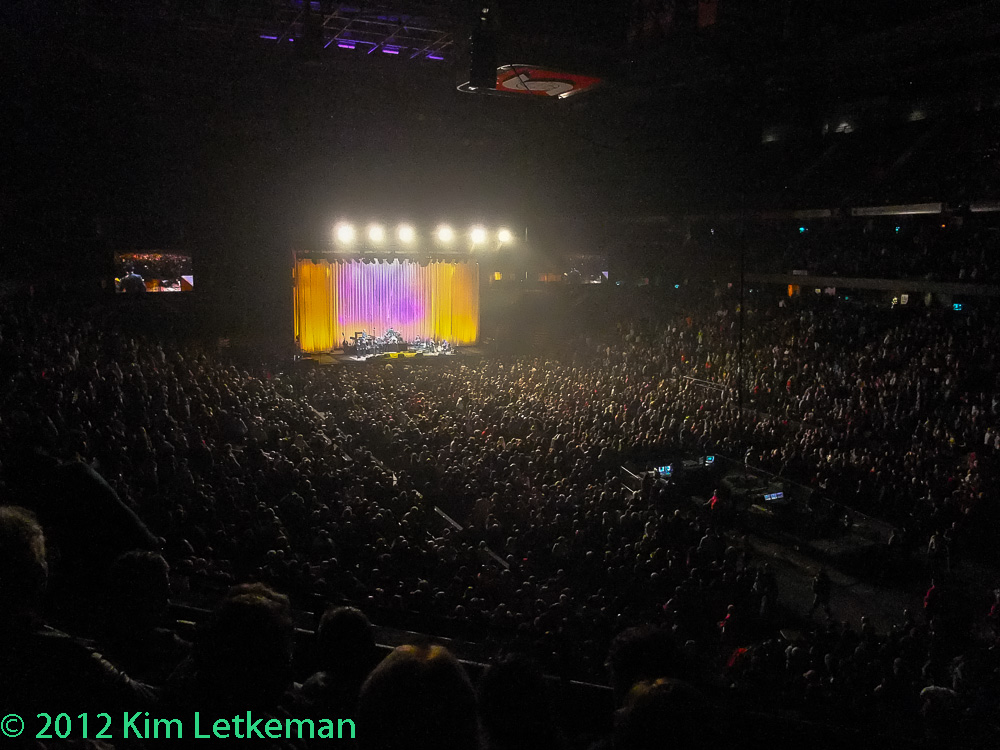 Here, he plays my second favorite song of his – Tower of Song. (First favorite should be obvious … Hallelujah.)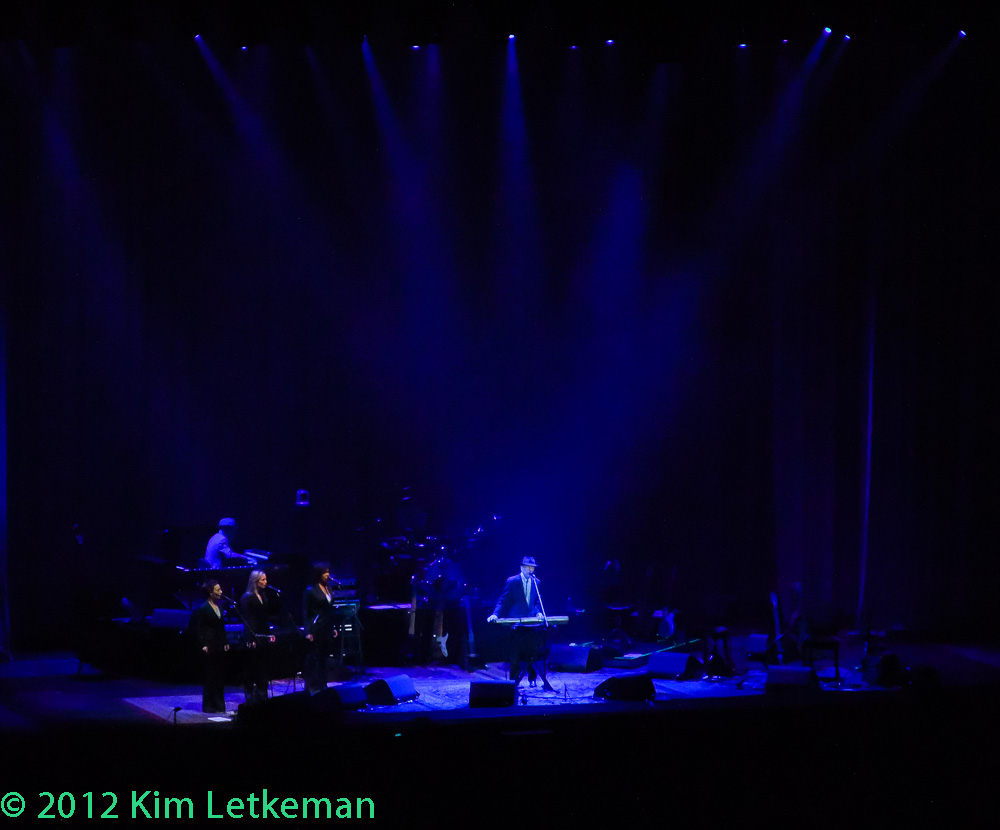 And so on … remember to click on these to see the larger versions, or just go through to the gallery here.
If you get the chance to see Leonard Cohen in concert, you should seriously move mountains to get there. He is a legend for a very good reason, and his voice and band are still world-class. The experience of a life time.