I've been away from the testing for several days, unfortunately. Too much on my plate for work and various other issues getting in the way. A massive computer crash Friday night threatened to ruin the whole weekend, but I recovered from that nicely Saturday morning in a matter of a few hours.
So that left some time later on to wander in the woods for about 90 off minutes. I went to my favourite trail and spent about 20 minutes shooting scenery and critters before I even got 200 yards. A target-rich environment for sure :-)
Now, to address the bad luck settings: I am a brain fart waiting to happen lately with so many time-sucking commitments, and I managed to forget to reset the HS50EXR after the last shooting of the bills, and then I forgot yesterday again to check the settings before heading off to the woods. Which means that I shot the whole series in JPEG only with the Sepia film mode engaged. Frak.
But all is not lost … because it turns out that monochrome Sepia images make for an excellent basis for black and white conversion. I am actually very pleased with some of the resulting images. And you will see why. Still, the contest I had hoped to see between the G5 and 10-500 OIS and the HS50EXR never quite materialized. Further, I did not really shoot the F900EXR much at all. The HS50 has its range entirely covered and the scenery was rather dull, it being an early spring day.
I brought the GX1 with Samyang fisheye for fun as well, so I was able to do a brief comparison between that and the F900 at wide angle. Let's lead off with those images …

Panasonic gx1 + samyang 7.5mm fisheye 160iso f/5.6 1/2500
Turning 180 degrees, I get this image and the exposure settings are exactly the same it turns out:

The branch detail and excellent open shadows really make this camera useful on this kind of day while the sun remains low in the afternoon. The dynamic range on this sensor does not set the world on fire, but it is enough to make very nice images even when the trees are in silhouette.
The F900EXR handles the scene well enough, and the branch detail on the raw files is also pretty excellent edge to edge, but the silhouette must remain because the tiny sensor does not retain the same quality in the deep shadows.

FUJI F900EXR @4.6mm (24mm efl) 100iso f/7.1 1/320
Getting the sun out of frame, actually helps a lot. Now the image takes on a similar look, although it does not quite give me the same warm felling as the GX1 image.

F900exr 100iso f/3.5 1/640
Turning around to basically match the first scene shot with the GX1, I do get a nice rendering of the scene with very decent edge to edge sharpness and nice clean details on the fine branches (i.e. none of the digital busy look you get if you shoot JPEG with too much sharpening.)

f900exr 100iso f/3.5 1/850
My conclusion is that the F900EXR continues to impress as a general purpose camera. Very nice sharpness and the raw files are very pleasant to process in Lightroom. The automatic correction for the raw files brings them within a whisker of the jpeg files where distortion is concerned.
---
So after that mini-test, I began the wander. And I got another 50 feet or so when I spotted this little squirrel maybe 50 feet away from me. I shot some images of him with the HS50 because it is able to pull images in so well. I did notice that the image did not look good in the EVF, but the EVF is not very good so I never put it all together until I got the images on the computer. :-)
Anyway, I have converted the brutally ugly sepia images (I hate that color) into something more tasteful and also remember that this is the worst time of day to be shooting animals against the sun … but when you run across a critter, it is not an option to try to run all the way around it. You win some and you lose some. When you are handed lemons, you make lemonade yada yada yada …
This is not cropped much I don't think … but he was still a fairly long way off. I had the HS50 on a monopod and I would creep closer after every shot just in case he bolted. Luckily, there was a lot of food on the trail, so I got closer and closer and he stuck close …
I was fairly pleased with the details that were still in the front (in shadow) side .. and by the way, no auto ISO today. I wanted to get clean images so I set base ISO and brought the monopod.

hs50exr @185mm (1000mm efl) 100iso f/5.6 1/950
As I got closer, I got some really nice angles and the detail remained outstanding (for JPEGs especially) ..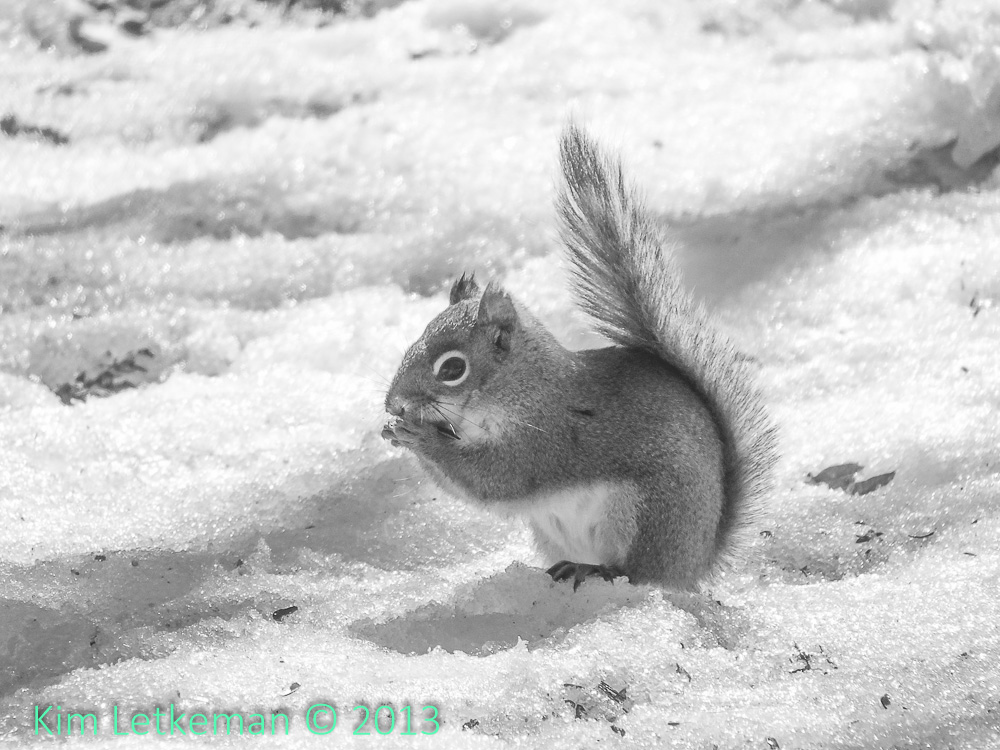 I won't bother reporting the EXIF unless something interesting happens, as it remains basically the same throughout each mini-series.
Creeping ever closer …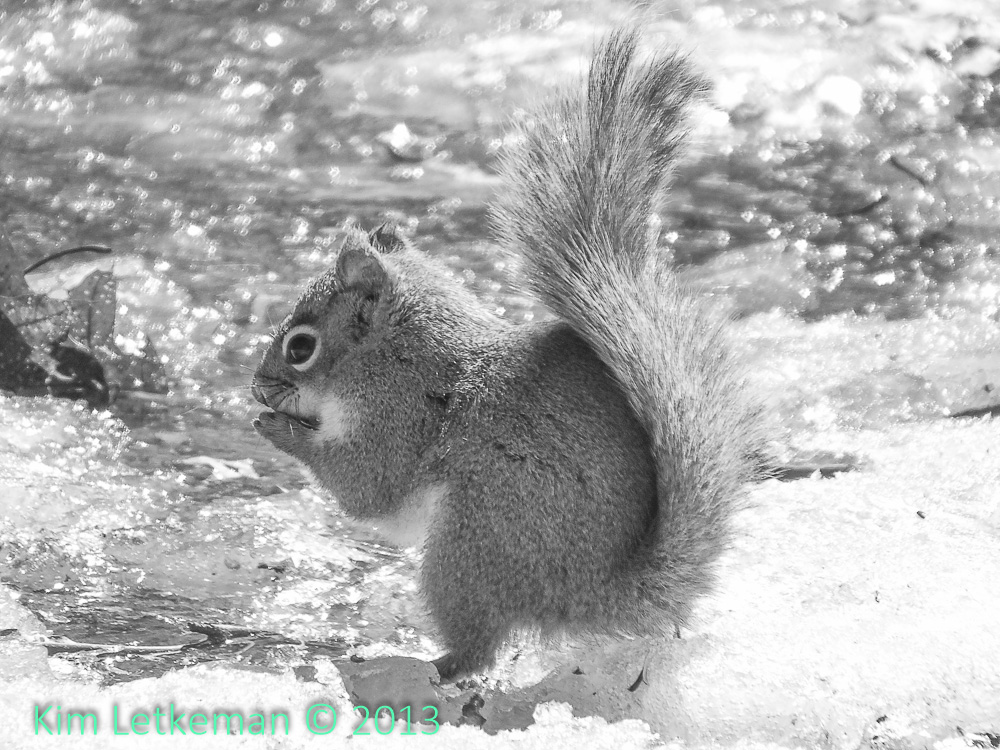 This one is a bit "crispy" for my taste … but the detail is pretty nice I think …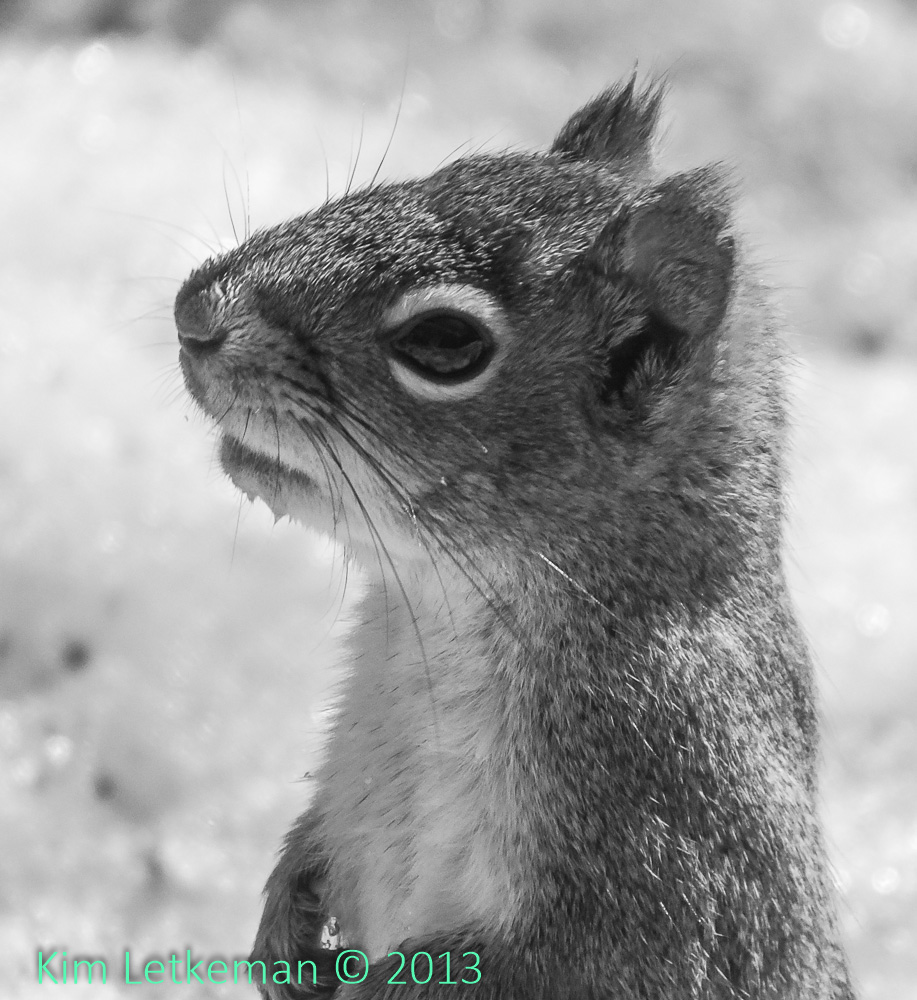 This is only a very slight crop to square up the frame and I am right on top of him …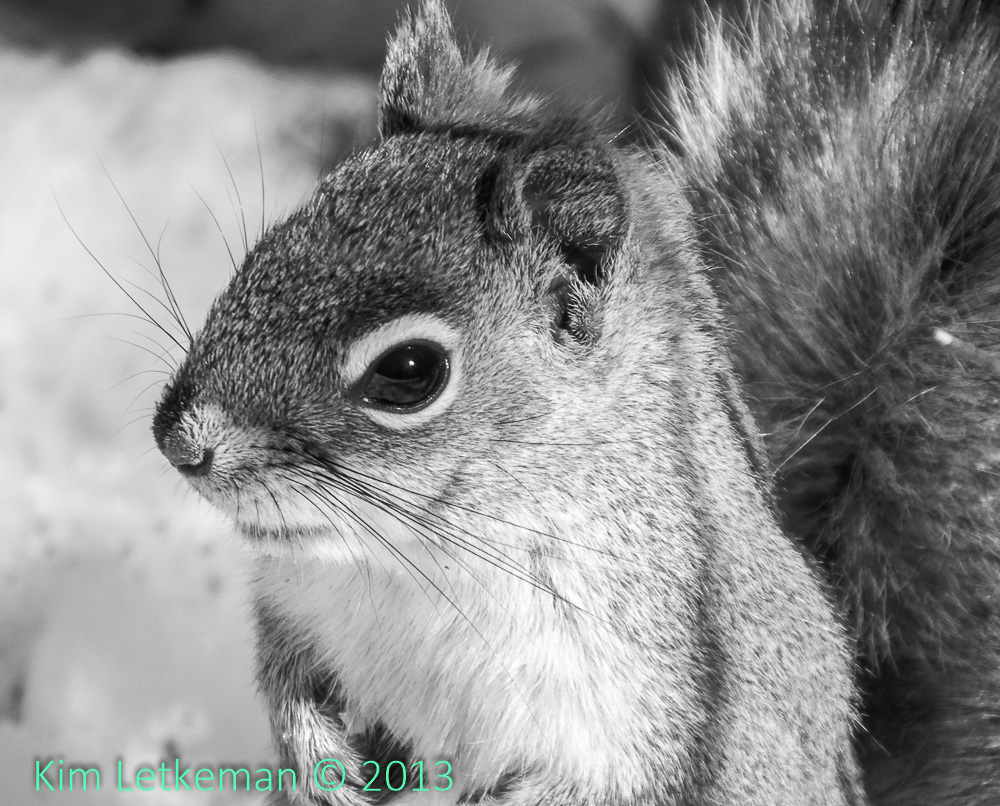 And then he bolted about 6 feet into the woods and made images far harder to come by. There are many twigs and branches in the way, but I got a few nice images of him eating something …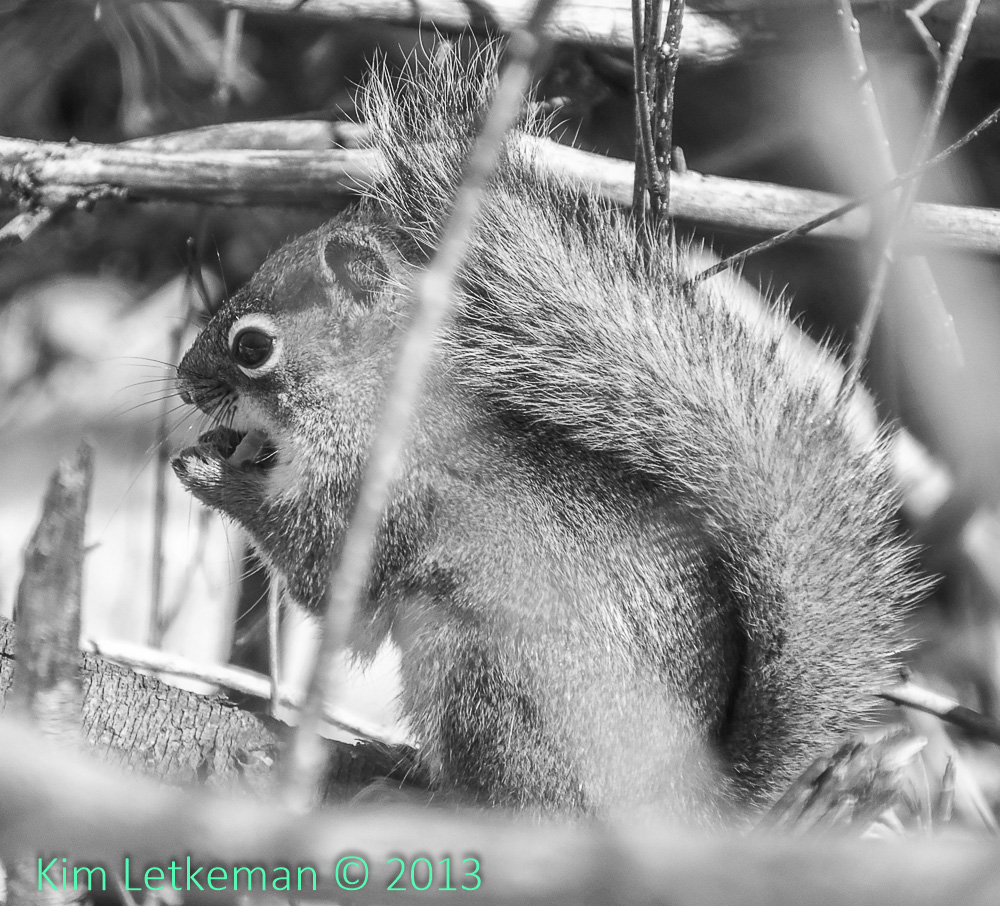 He didn't mind me moving back and forth to snag better angles … but it was tough to get unobstructed views. I was shooting at perhaps 600mm EFL by thus point, as 1000mm was too close with so many twigs in the way.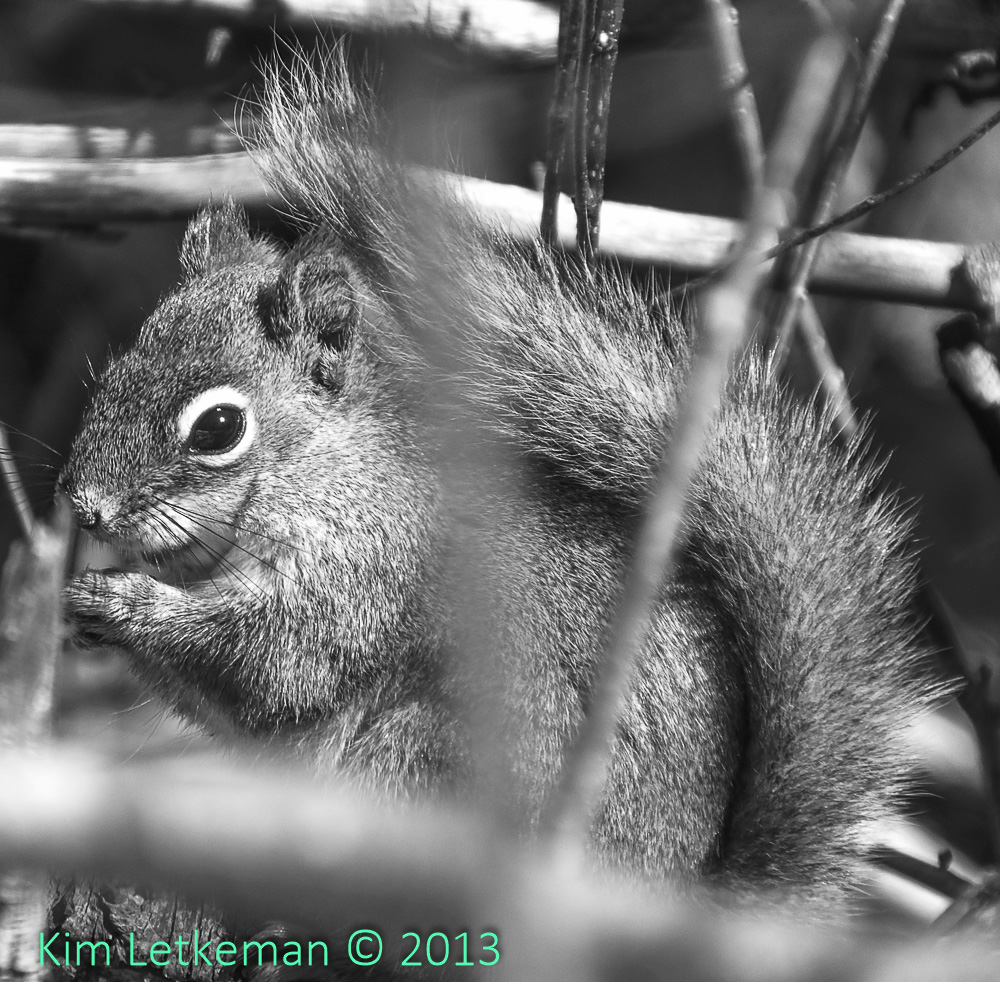 I think the HS50EXR gave a very good account of itself in these images. Here is what the G5 and 100-300 did by comparison …

panasonic g5 + lumix g vario 100-300 ois @300mm (600mm EFL) 400iso f/6.3 1/500
Note the raised ISO. The Fuji was on a monopod for the whole day, but I was not about to carry a tripod or second monopod (even had I owned one :-) for the G5, so I used auto ISO to compensate somewhat. There is a significant sensor size difference, so believe it or not, the G5 still has the ISO noise advantage here.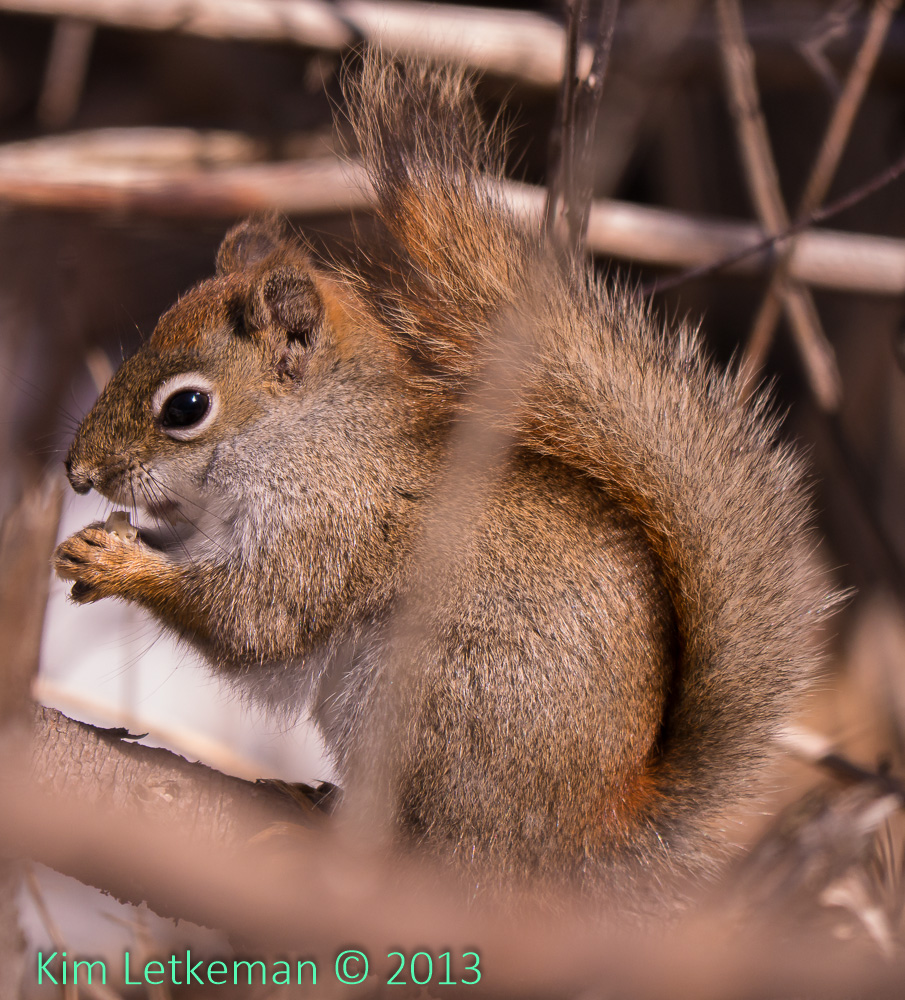 After a little while, I had my fill of the squirrel and moved on. Not far, though as I immediately came upon an active bird feeder. Now, I love a captive bird as much as the next photographer, so I sat there and shot images from really close up … which is more fun than a barrel of monkeys. Actually, I suppose that it would be more akin to shooting fish in a barrel. Whatever …
What is interesting is how little I got from the HS50EXR that was usable, The speed of the birds must have been the mitigating factor here, because I only have one image … but I think it's rather a decent one:

hs50exr @123.8mm (669mm efl) 100iso f/5.6 1/240
Now, for the G5 I had it in continuous (much easier control system for such things) and was able to knock off a pile of interesting images …

panasonic g5 + 100-300 @300mm (600mm efl) 200iso f/5.6 1/500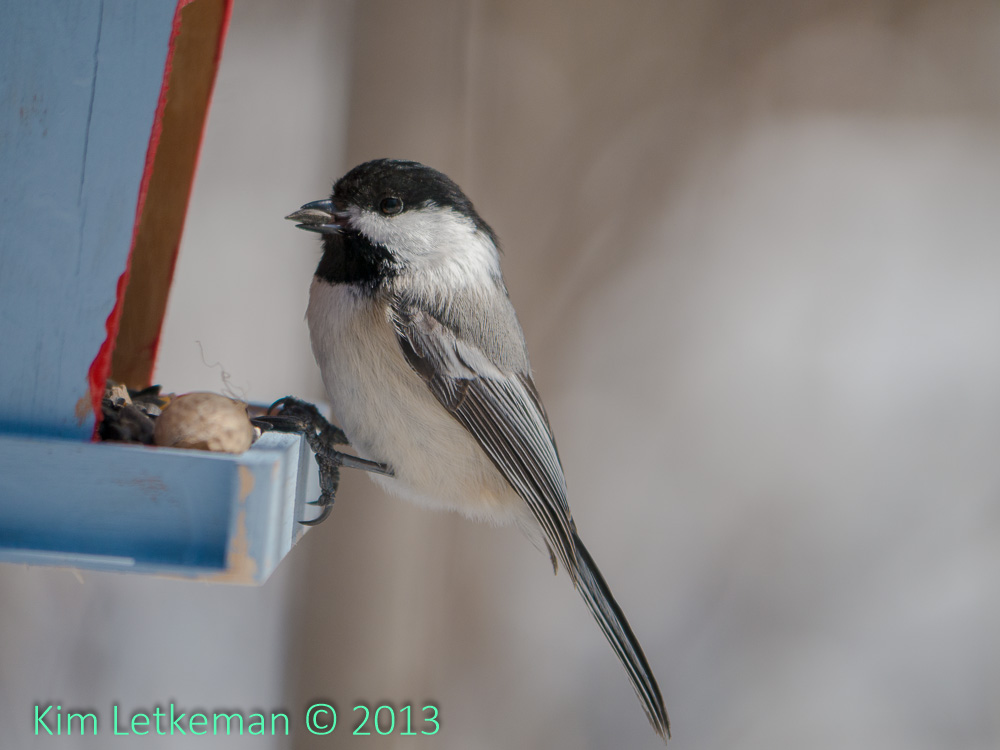 CMOS sensors have a peculiar read out issue of scanning top to bottom, and some of them are not that fast. I was shooting the G5 in electronic shutter mode, which is silent and introduces no "shutter shock", making for some seriously sharp images. But it also introduces a strange sensitivity to movement, which is akin to video's "shutter roll" … you get jello from that, and from this you get weird distortions … as in this image. But the reason I show you this is not to amuse you (although it does amuse me) but rather to show you that a Chickadee does a shoulder check at the moment of takeoff …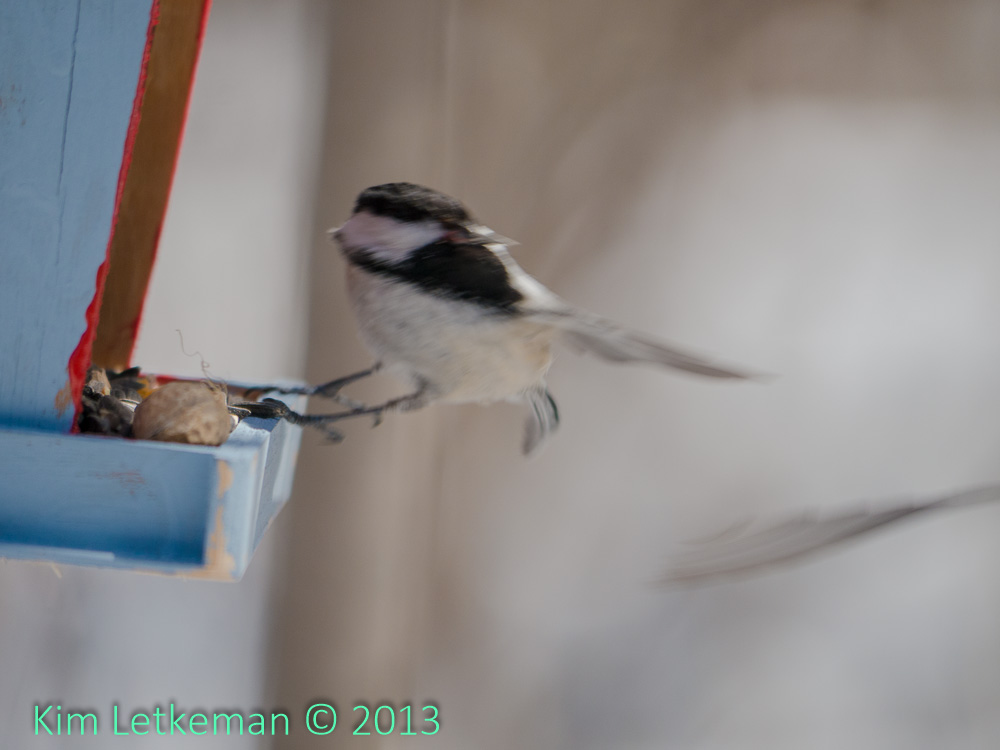 There are others in my gallery if you look here, but one last image shot very close and in shadow …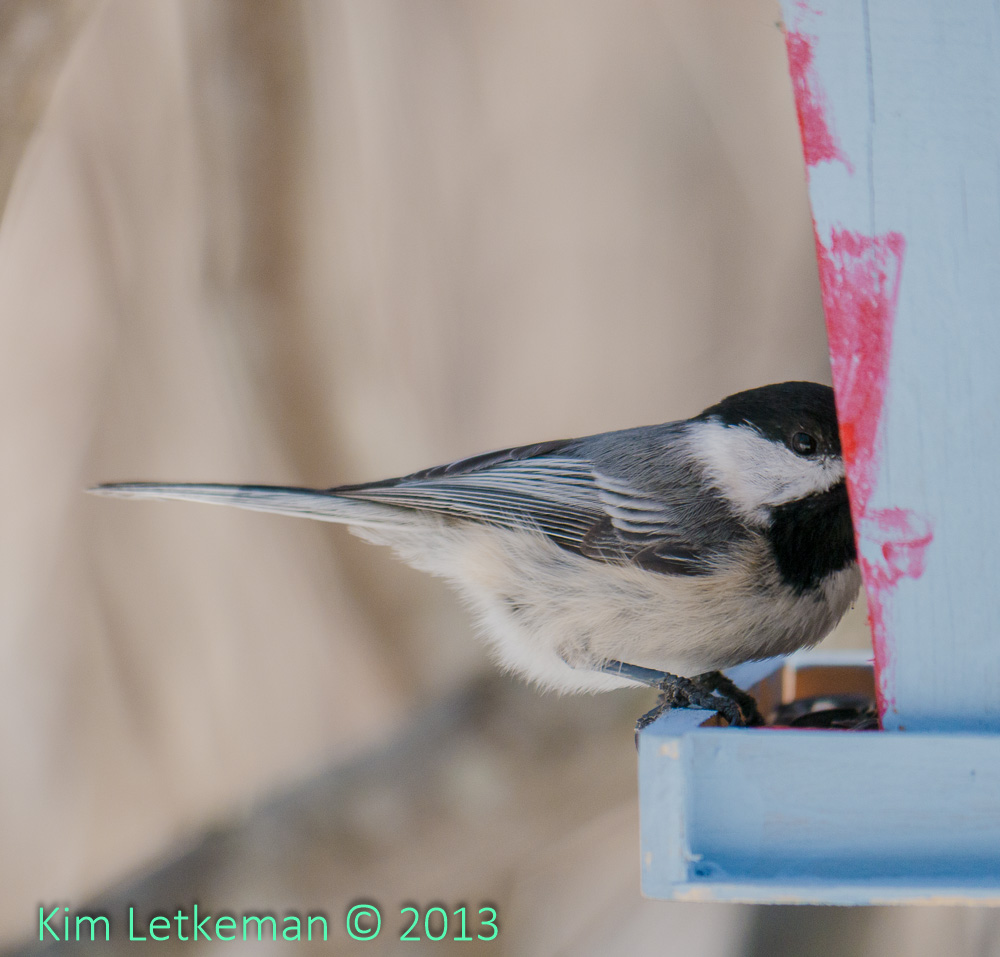 I love shooting the Panasonic bodies. And the results are well worthwhile. The HS50EXR is about the same size, but does require two lenses and costs about double, so there remains an advantage to the bridge camera. And the HS50EXR is a particularly good bridge camera, so don't take my dwelling on the G5 images as a slight to the HS50 … I just enjoy looking at the G5's output …
---
And finally we break free of the trail head
I shot quite a few images of the trail in sepia film mode, and you will see these as black and white conversions. The OnOne free filter pack helped me a lot here, as the infrared filter did a beautiful job of opening shadows. The squirrel shots above were all processed with that filter and so are all the landscapes. I actually quite like these landscapes, despite falling into them accidentally. More people should probably experiment with the medium, as it provides an opportunity to work exclusively with tone.
So there is still a lot of snow in the woods. We have not had enough warm rain to get to it yet, but the forecast for this week says that next week is likely to be rather different.

hs50exr 4.4mm (24mm efl) 100iso f/5.6 1/450
I tend to forget that the new F900EXR lens does not go to 4.4mm, and so I list it as 24mm EFL, when it is really 25 or even 26. This lens, on the other hand, goes to something around 23 or 24, and so I quite wide. And look at the superb detail in the branches. that is on my usual settings, which includes normal sharpening. But it requires a delicate touch in Lightroom during the sharpening phase and export phase to maintain the clean lines and edges.
It is extremely easy to ruin a shot with halos and crispy output, so I urge you to study the subject with books like "Real World Image Sharpening", which espouses a sharpening protocol that is implemented in the PKSharpener, which is incorporated into Lightroom 4 (according to Martin Evening's book and I believe him.)
As I walked along, I wondered … what went wrong …. this cluster of downed tress looks strange. I don't understand what prompted it. I see that one of the trees outright fell over, and it looks like it was rotted for some reason (as opposed to chewed by the resident beavers) …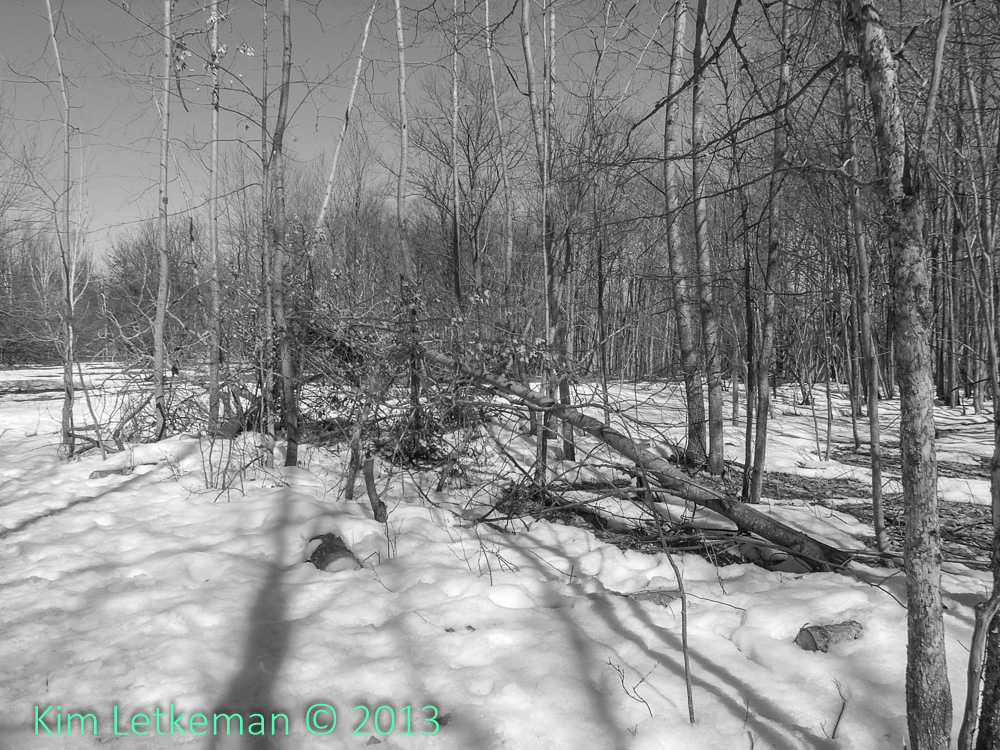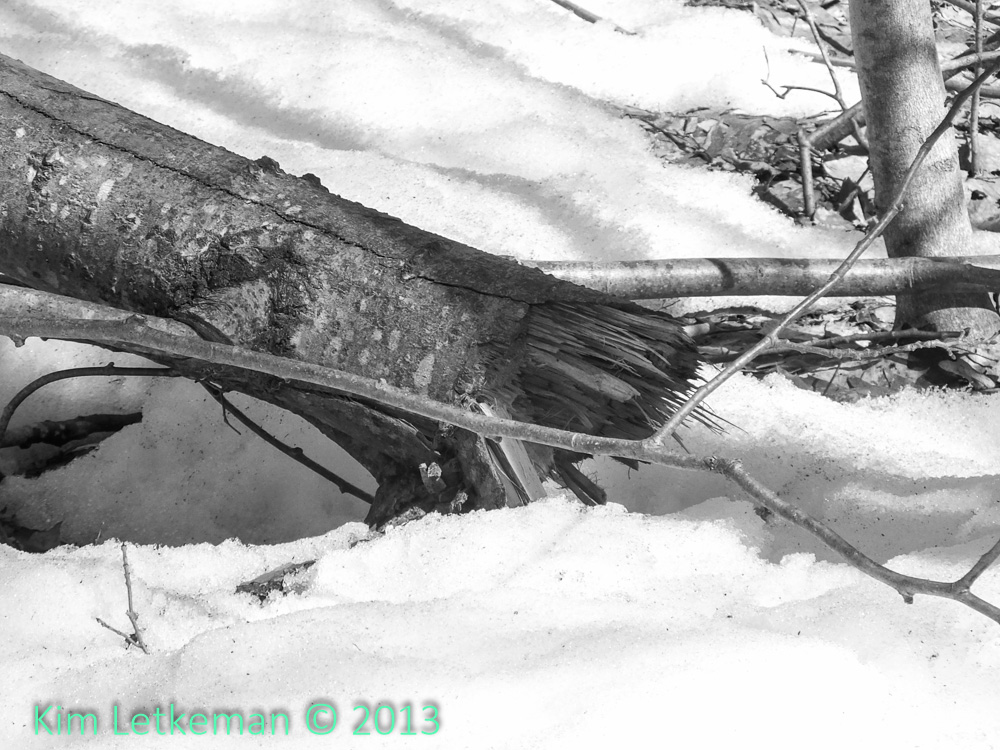 But the other two were clearly down because of an intervention …
Interesting … but not important I suppose. Lots of trees and branches down this year because of the incredibly heavy snow and ice we got more than once in the dead of winter …
A little later, I see a tree that has intrigued me all winter long. Not sure why, but is has held its leaves through everything the winter has thrown at us … and they have to be dead. They just refuse to fall …
The G5 sees it this way …
Not much happening at the beaver pond, the lodge being almost under the ice and the inhabitants doing whatever beavers do in spring …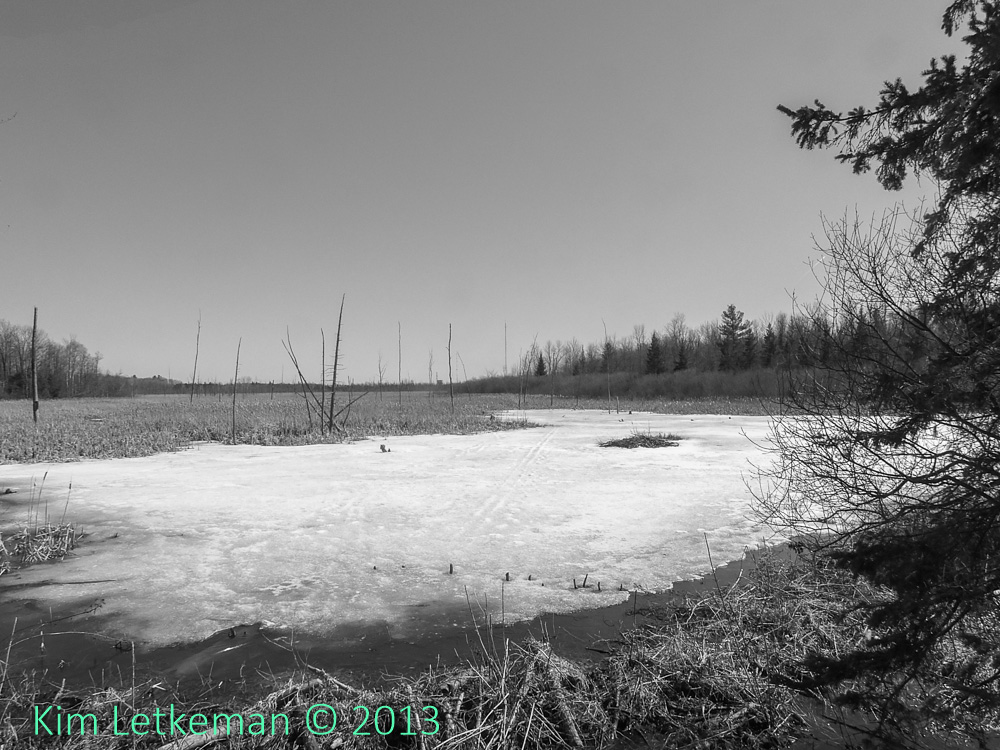 Again with the reach …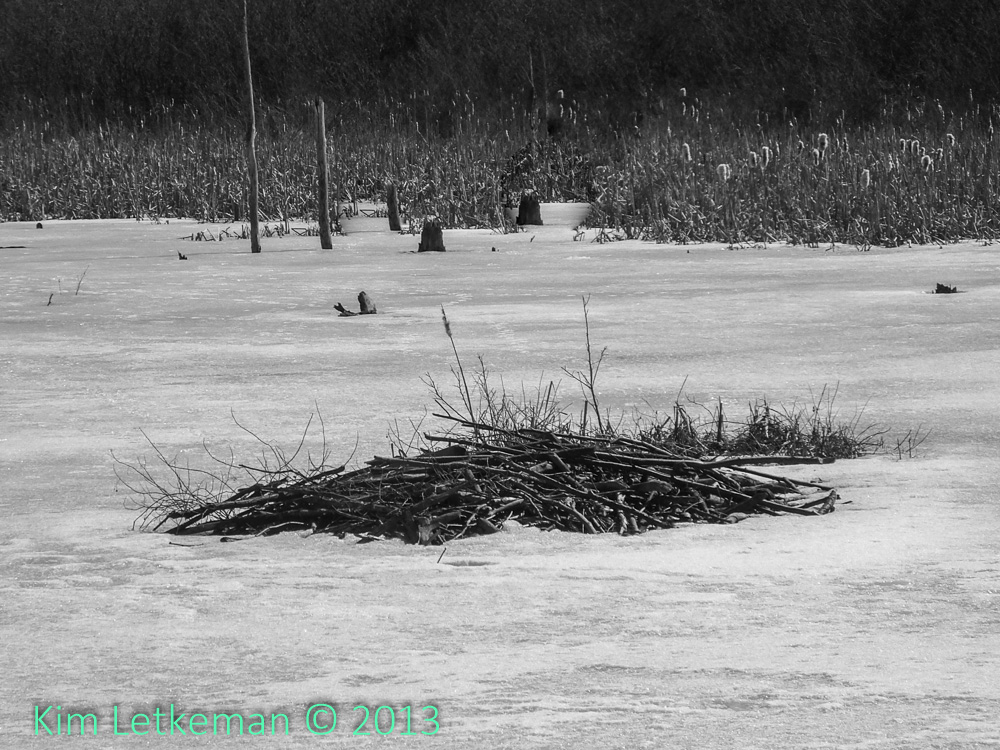 The hood on the HS50EXR is included, but is really small. Shooting almost into the sun does leave dust sparkles, which is unfortunate. The dust in on the outside, so this is my fault. Anyway, crossing the swamp on this bridge connects you with a few hundred kilometers of trail that takes you to Kingston, Ontario. That's a long walk, but I think it might be fun one day …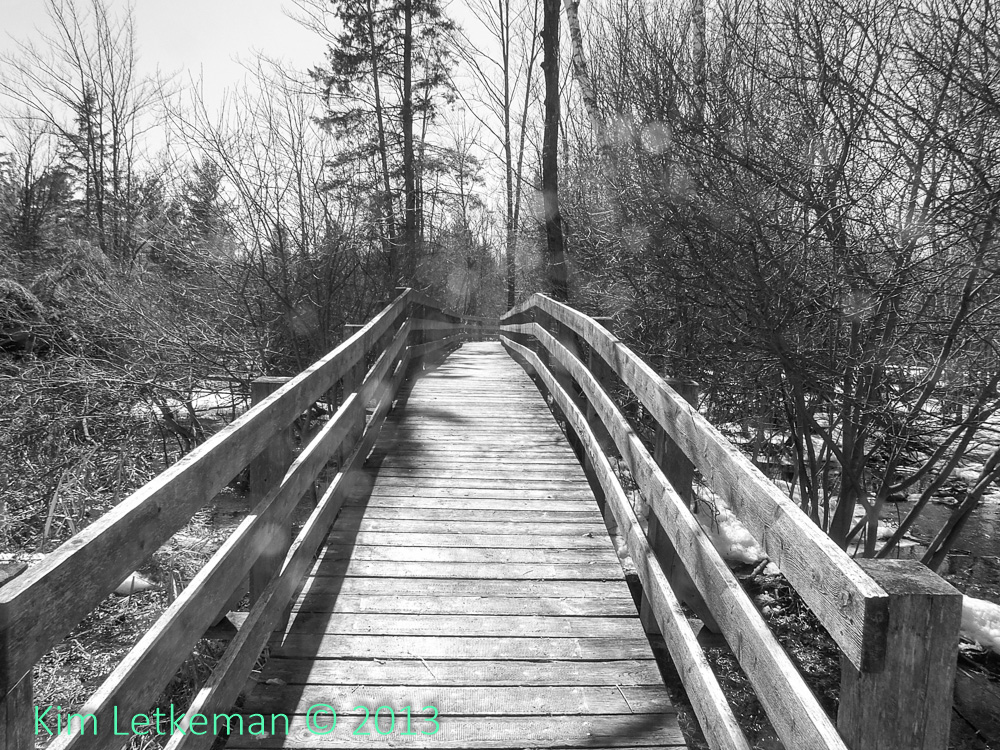 On the western leg of the trail, I came upon this little fellow. Here is is comfortable with me and in fact following me for a bit. Chipmunks are so cute …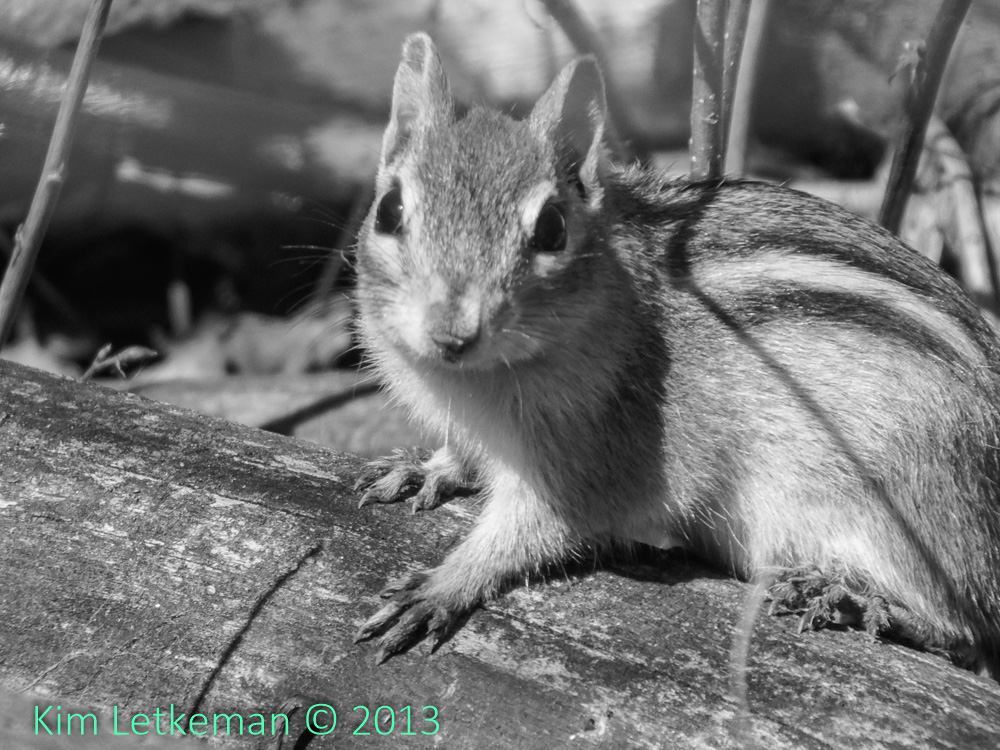 I find that I am unable to narrow focus down to an extremely precise point with the HS50EXR. That's something that the Fuji engineers should work on … a touhc screen like that on Panasonic MILCs would make a huge difference to usability … the result in the above image focus that has the feet sharper than the nose. Now what I really wanted, but then the DOF at 1000mm EFL is a bit narrow.
This one is a bit better …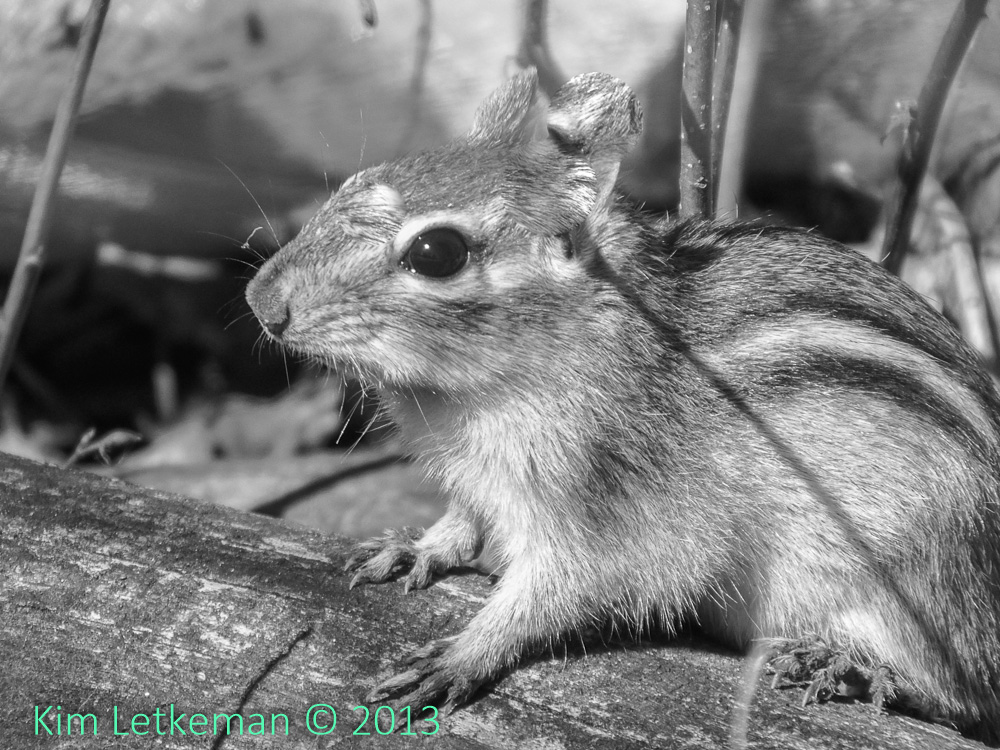 Nice hair detail there …
The G5 shot a few too … but they were earlier, when he was just getting used to me being there … a couple from that series …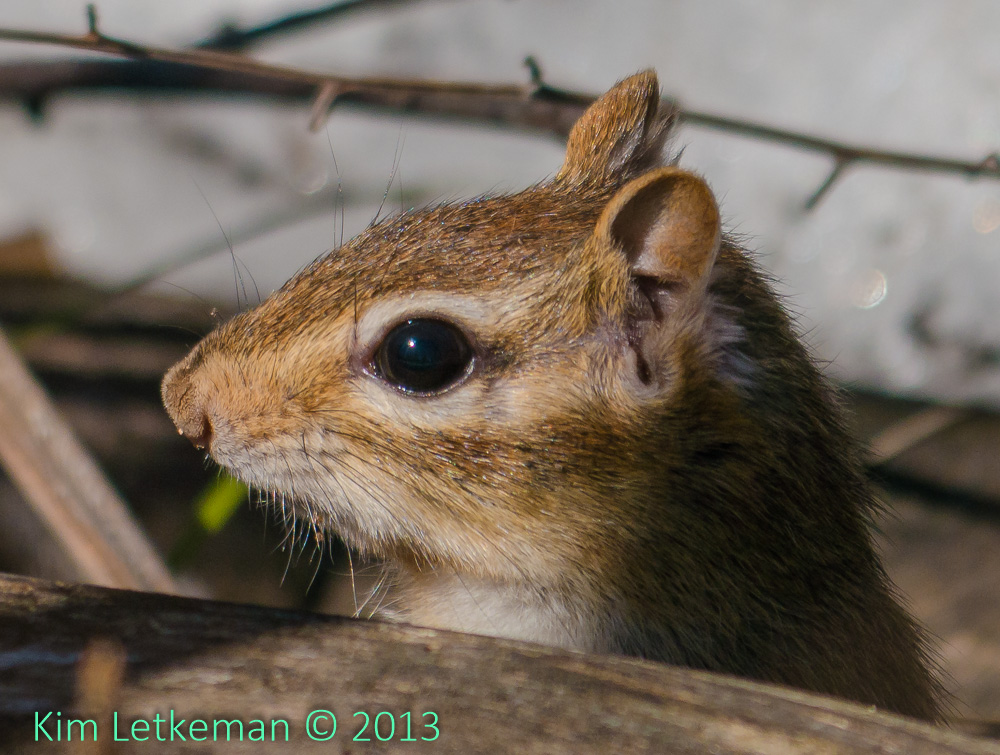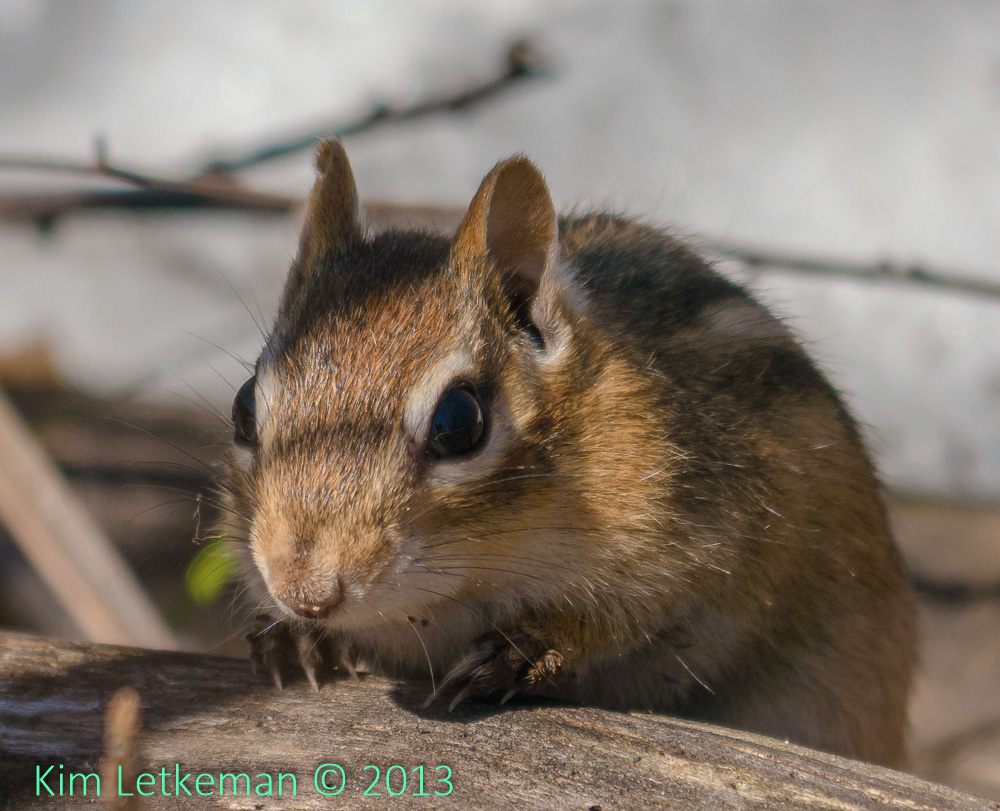 Turning around, I face the devastation on the west side of the path. I showed it in the film I shot in the dead of winter and it looks even worse as the snow leaves. This used to be a beautiful area with ferns and some trees and now it is just wasteland. I assume that it will look ok by the summer, though, as I would expect to see a lot of new growth take hold.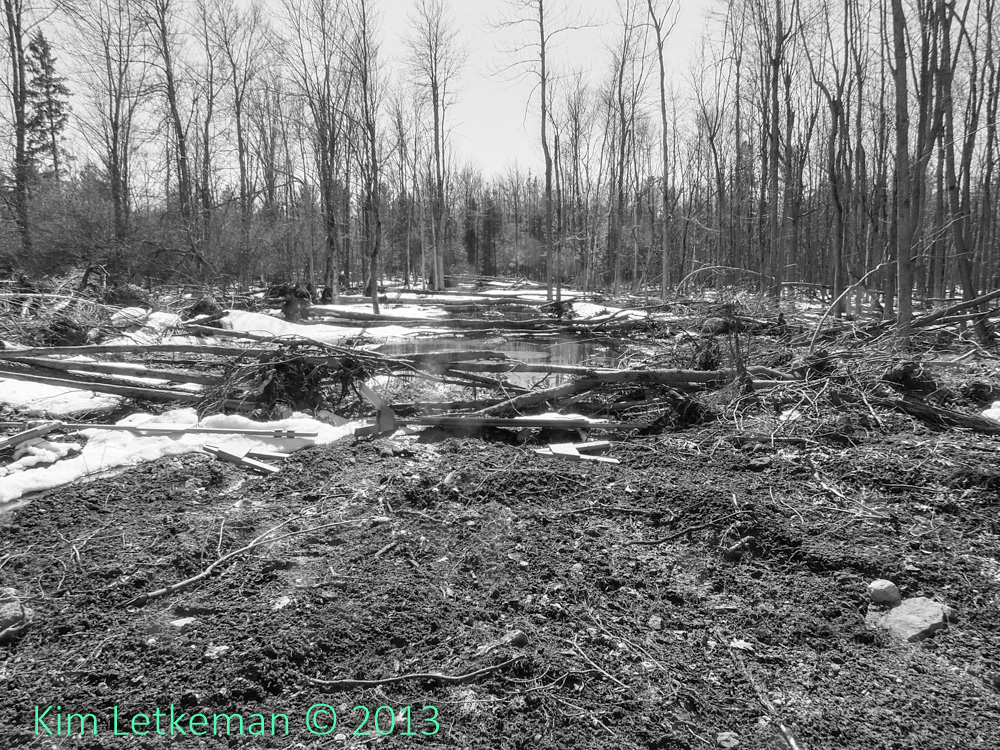 One of many downed trees, this one having gone down quite a while ago. Makes for nice imagery …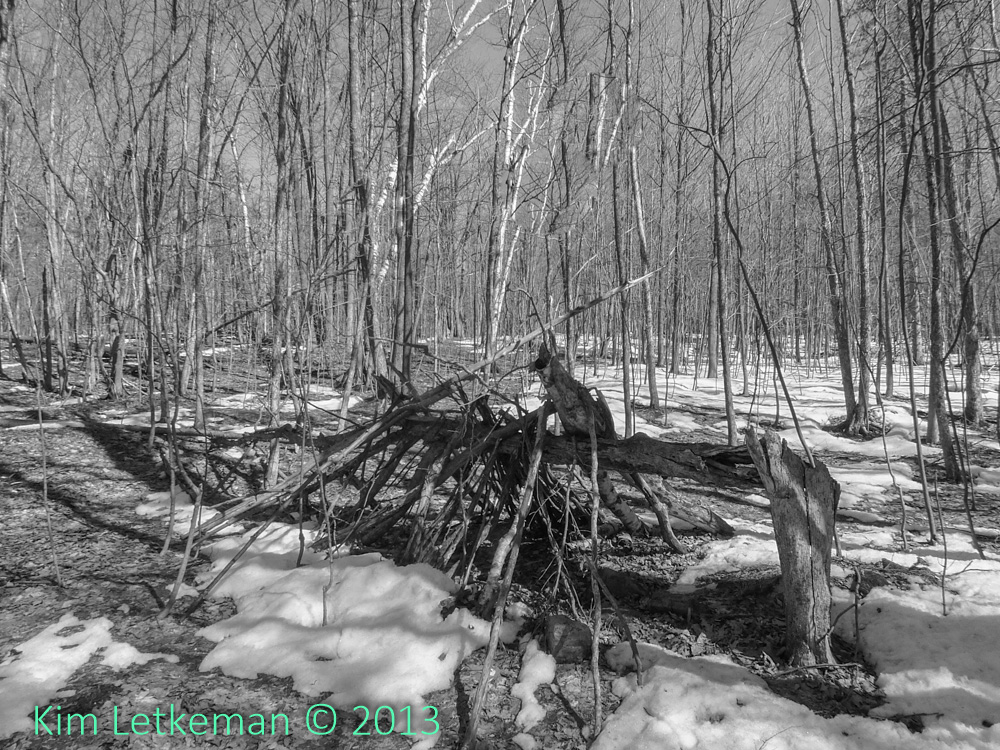 I was surprised to see that someone had built a shelter of some sort. Not sure who would have done this ,,, perhaps a school or scouts group did it with permission. Makes me curious is all …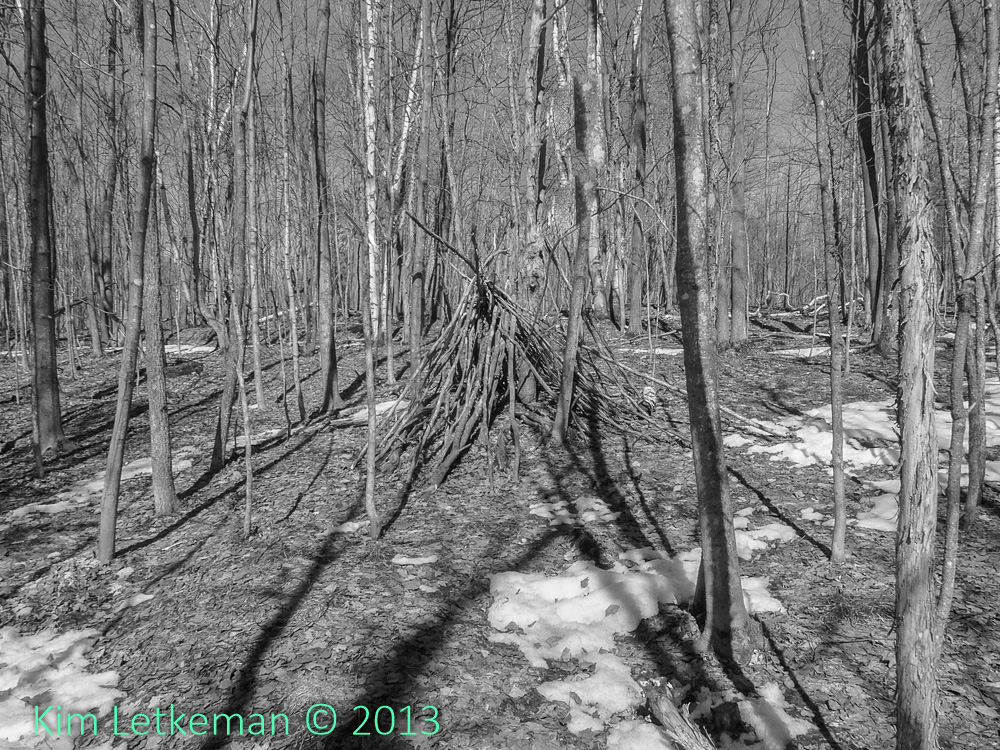 And the G5's take on it … remembering that the lens has a minimum EFL of 200mm
which is right where this is shot …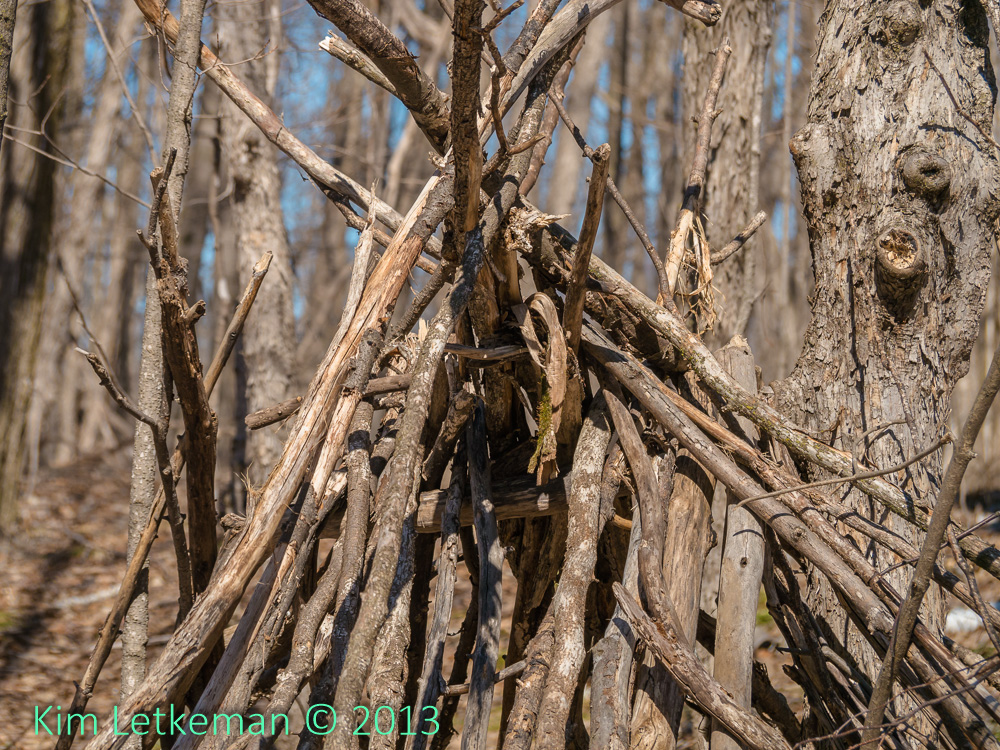 I hate to see a downed Birch )or Poplar if that's what this one is) because I like the counterpoint the white bark makes to the woods. I hate to see any of them go …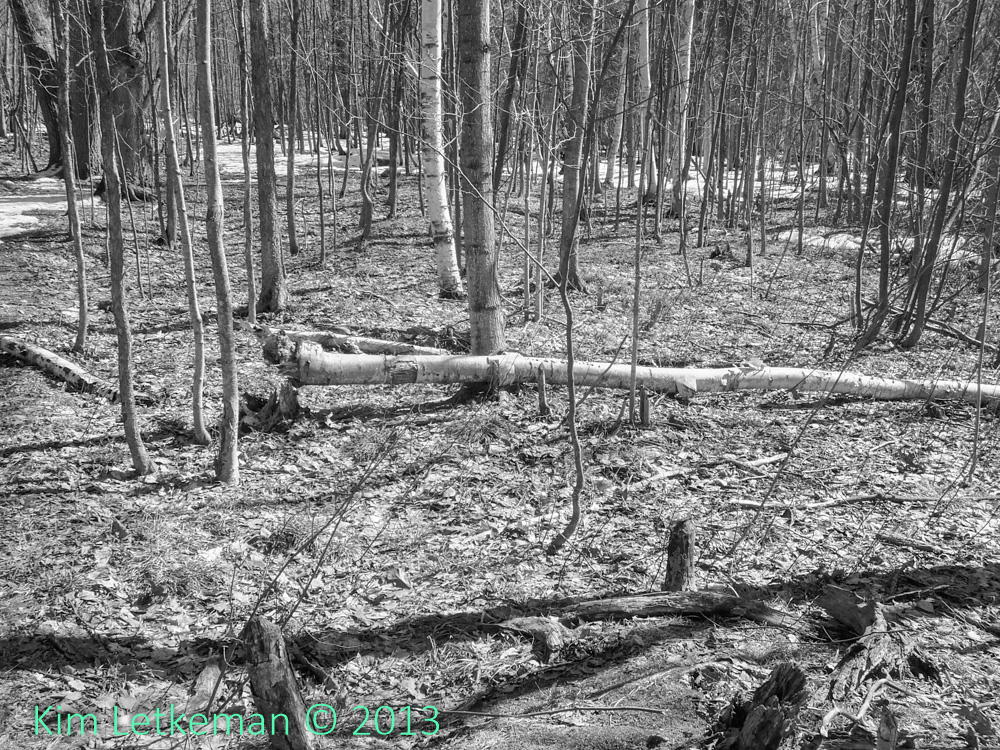 At the intersectio0n of the Chipmunk trail, I was a few feeding Chickadees and managed to luck into this neat shot …
That was just before a small platform out on the swamp that you must walk around to get back onto the Beaver trail. Here, we see that there is a second Beaver lodge, and the ice is leaving this one as there is a great deal of southern and western exposure.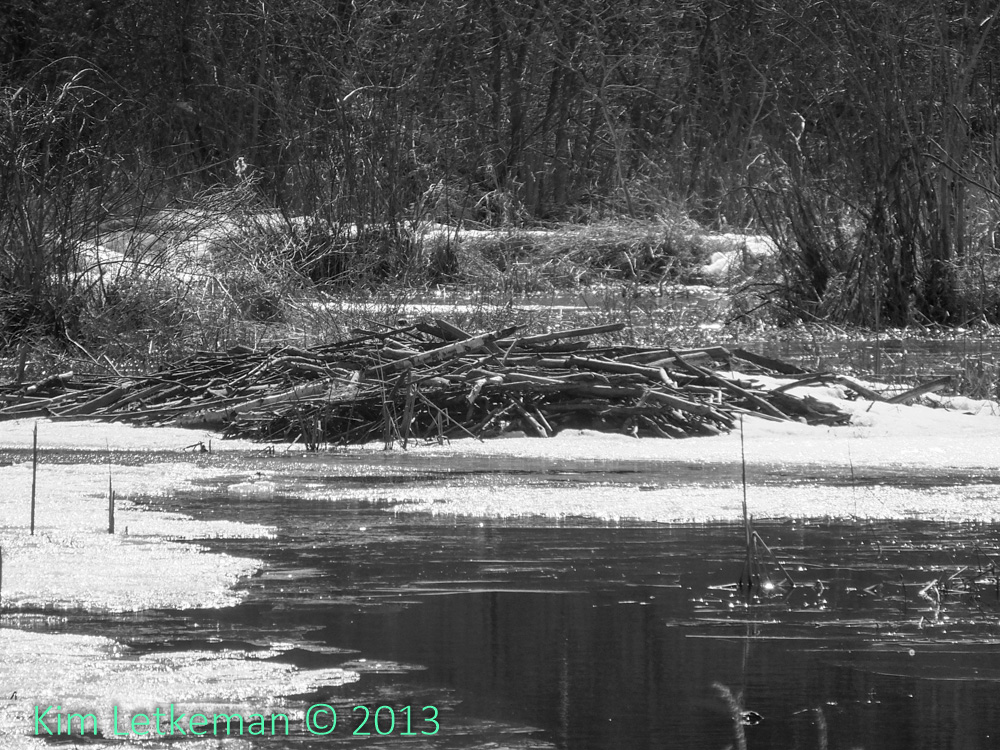 And from the G5 … I did not notice the Mallard Duck pair on the far left when I shot this … but they came into view in a few moments …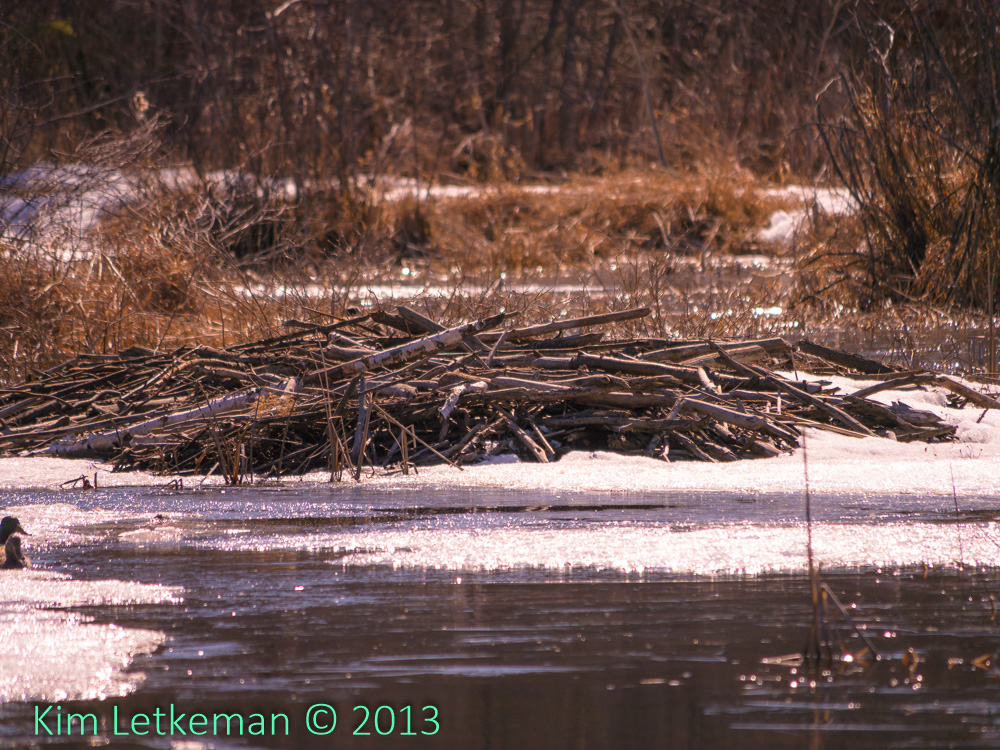 Some of the ice was still in, so when I saw the Mallards step up onto the ice I had to grab a shot. Bad environment for shooting through, as there are way too many speculars and the sucks are backlit. This is the worst possible light and shooting here is guaranteed to be disappointing. But the ducks were there and so was I :-)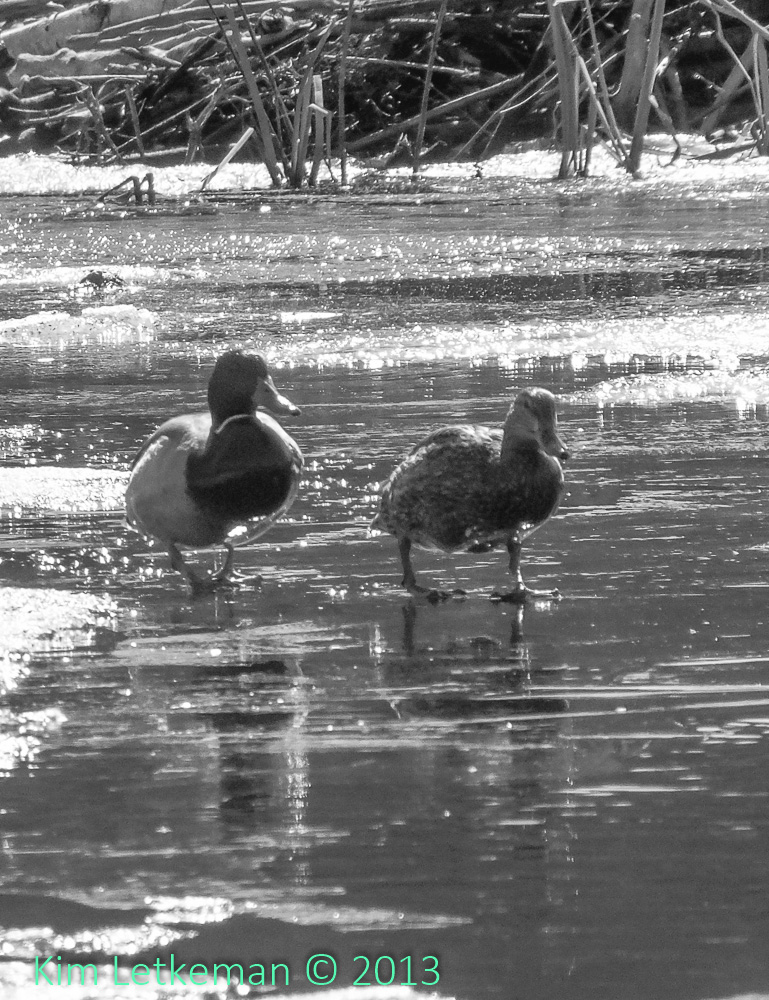 Blowouts are inevitable in this backlight, especially when restricted to JPEGs … but some of the images are acceptable snap shots so you get to see them …
The clarity on the male here is pretty nice …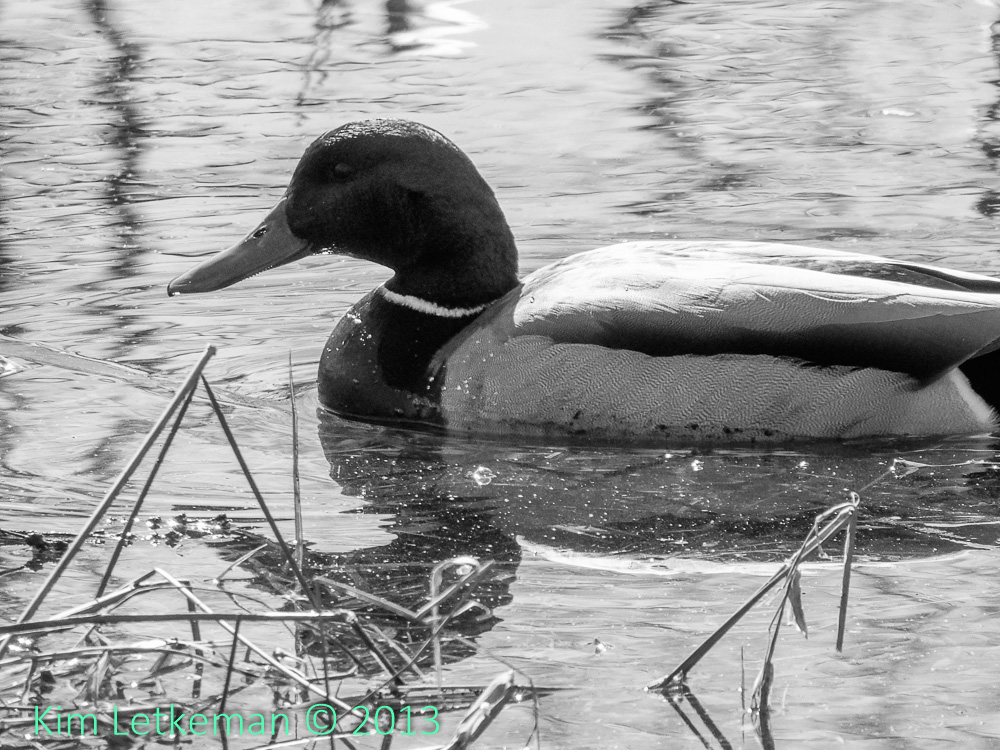 He's rather talented as he shows us his impression of the Black Swan …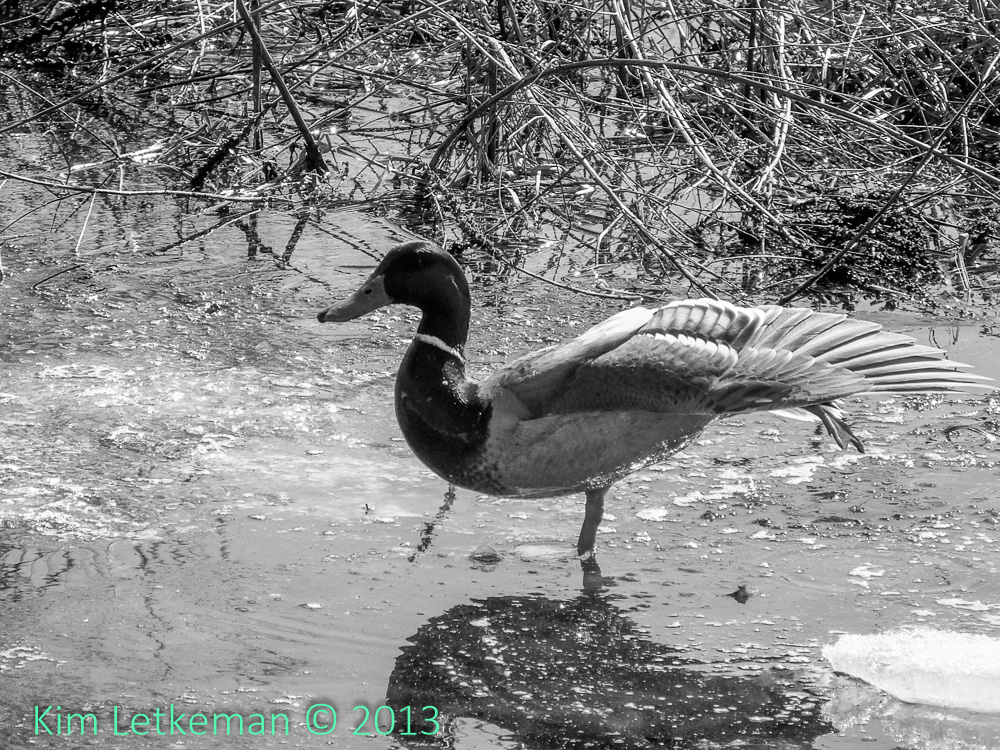 An earlier shot from the G5 … as they approach me …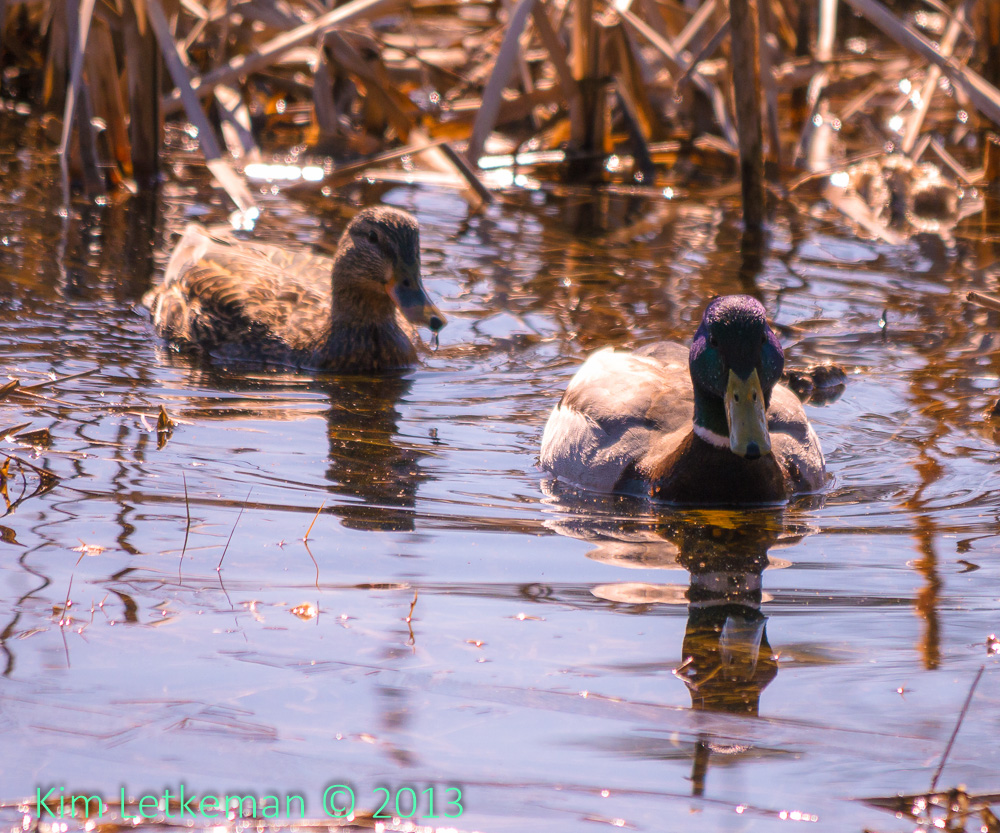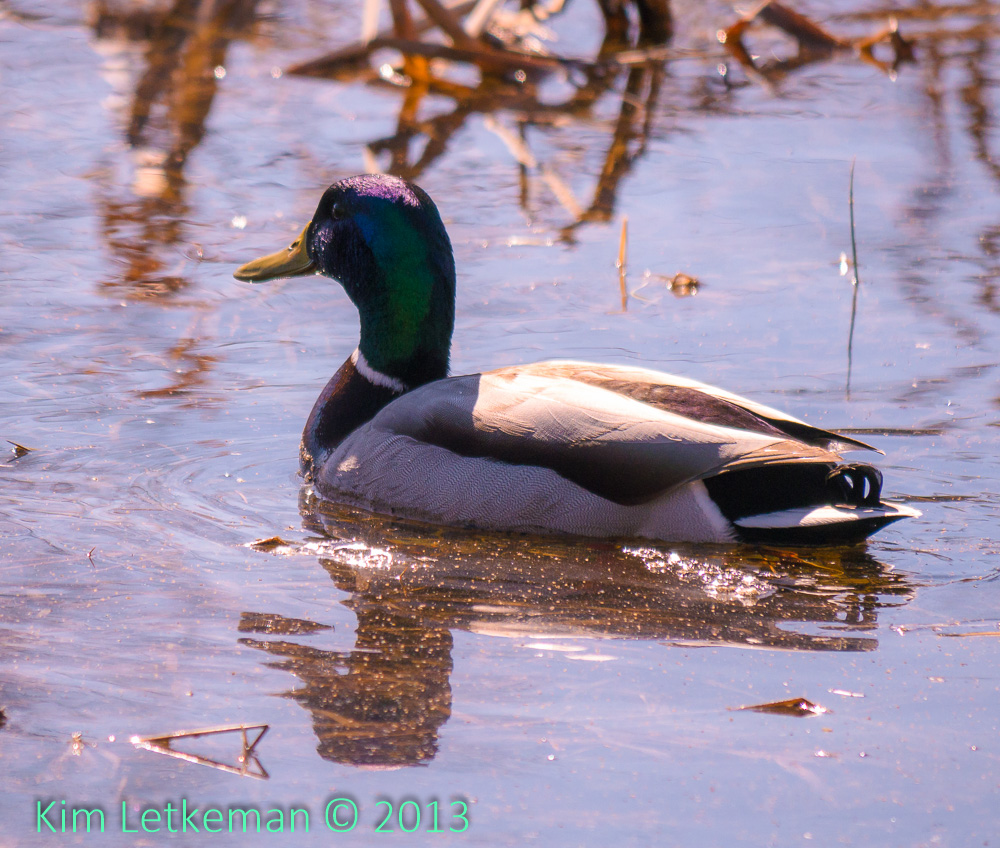 A few shots of the female …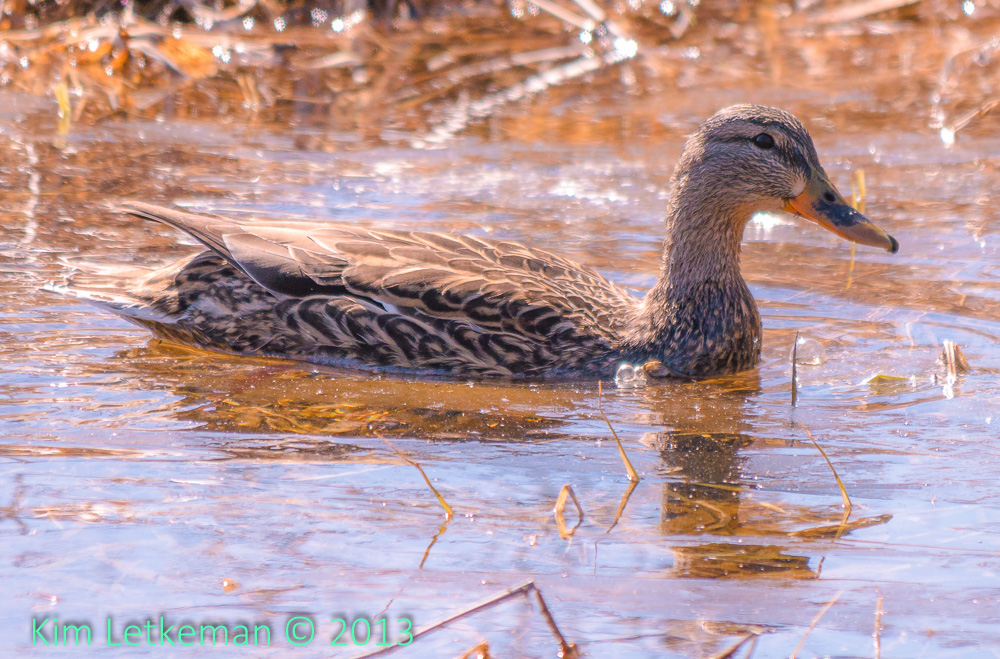 One last image of the male … the head is almost tolerably visible now … and the colors are excellent, as always with mallard males …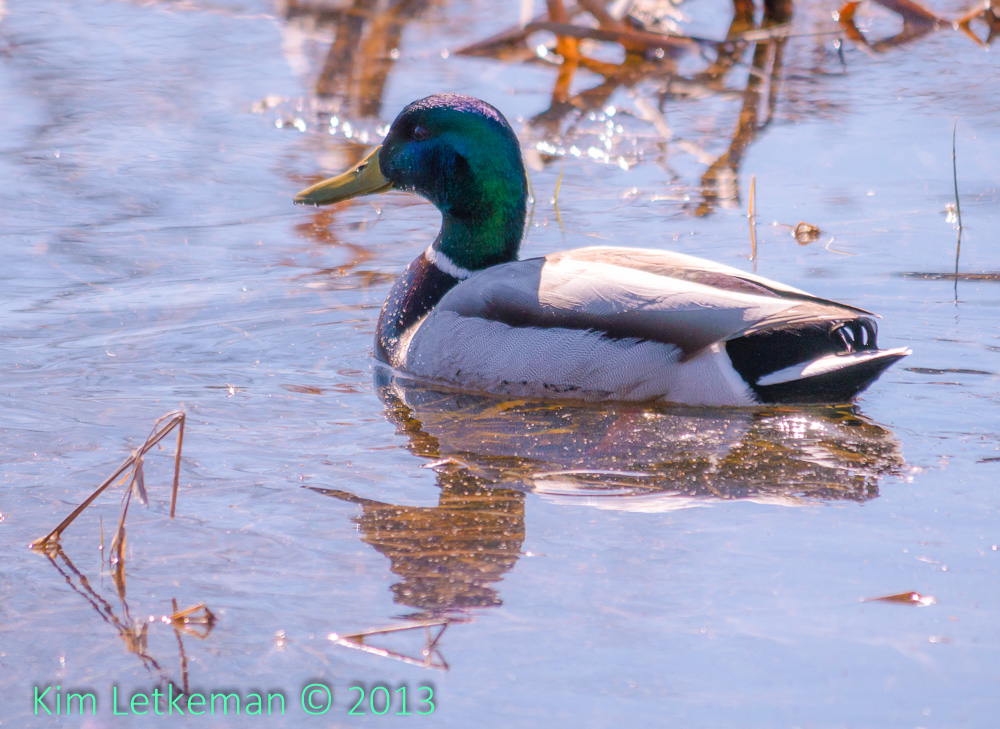 And off I went to finish out the western and the the northern legs of the trail. More devastation was visible everywhere. This one blocks the trail. so it will be gone soon enough …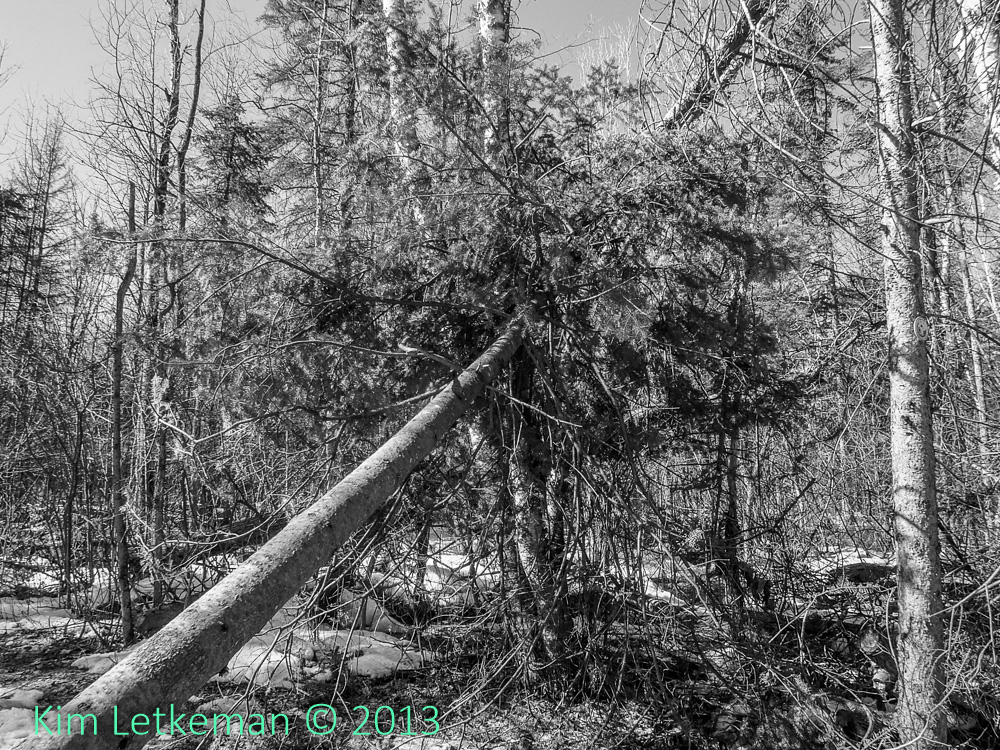 Look at it at the 1000px size and I think you will agre ethat the HS is pulling out some very nice detail and tone in JPEG, despite the nasty settings I used …
Lots of water in the woods. Maybe that's why they call this Beaver Swamp …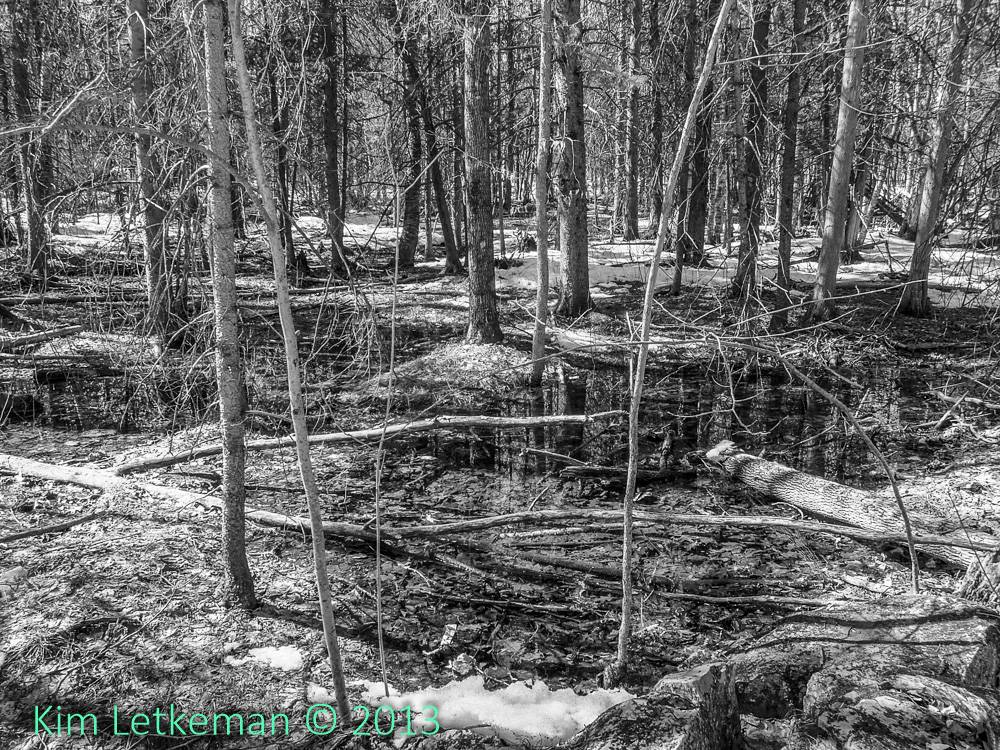 Serious woodpecker damage here …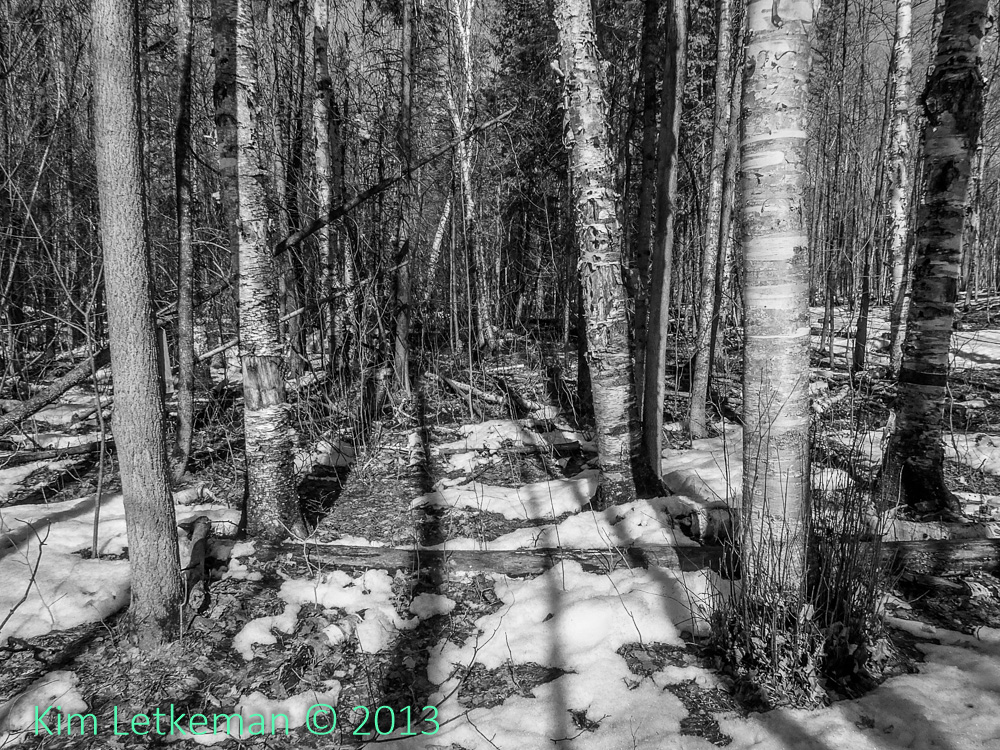 And that's that … I was only about 100 feet from the wild bird center and I was cold enough by this time that I really had no need to shoot anything else.
I quite like the black and white study of the woods here … I wish, of course, that I had shot it in black and white film mode and not sepia, but sepia is a monochrome mode anyway, so this probably accounts for the nice transition to black and white tones.
The details are superb from all these cameras. I find it hard to imagine finding any of them wanting for casual shooting in the woods. next time I will go hand held on the HS and see how it fares at higher ISOs. But a monopod is a very realistic option for a camera with this sort of range … don't dismiss it outright.