A very short walk today as the temperature plummeted amidst 60kph winds with snow squalls. As I stepped outside for a walk to decompress after several hours of software torture, I was stunned at how bad the weather had managed to turn. It has been lovely the last few days, but mu luck was running such that the act of stepping outside would destroy days of excellent weather :-)
I decided to continue anyway, despite the immediate chills. But first, a quick shot of the Yellow-Twig Dogwood at full zoom from a window on the second floor …

HS50EXR 185mm (1000mm EFL) 100iso f/5.6 1/160
The focus point was that thick vertical branch in the center(ish) … and it looks gorgeous. Terrific detail and very "real" …
Here is a 100% crop …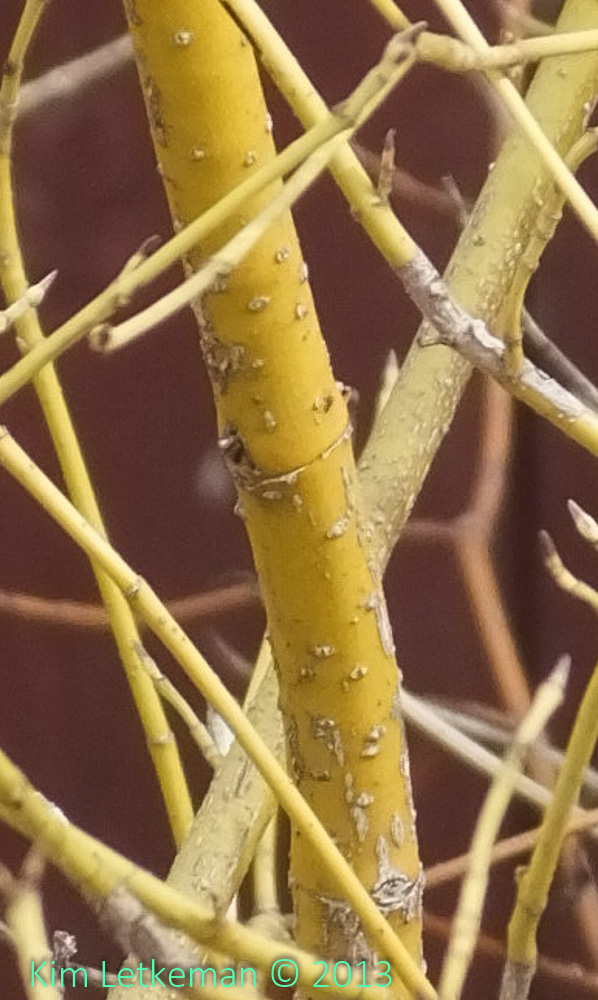 Not quite dSLR / mirrorless clarity, but very nice for a tiny sensor. Lots of detail, especially since I shoot M size and there are some people posting horrid M sized images as examples of why it sucks :-)
So … the walk. Remember … cloudy, blustery day with a snow squall. So ISO will automatically raise to get some semblance of sharpness. I specifically set auto ISO 3200 to see how the cam would handle it.
As I turned the first corner, I saw that my neighbour still had the Christmas decorations up … they look kind of cool so I captured them …

HS50exr 8.8mm (48mm EFL) 200iso f/8 1/80
Very little sharpening on that one … it is excellent straight form the camera.
As I walked along, I saw a pair of Robins wandering about looking for worms. I shot about a dozen images and got two that are worthy (mostly) of showing. This is not the camera's fault … it is the fault of the Robins moving too much :-)
This one turned out very nicely in my opinion … especially when you consider it is shot at 400 ISO.

hs50exr 185mm (1000mm efl) 400iso f/8 1/120
Note that I should have opened the shutter wide open. Oops …
This next one is worthy because of the way the eye and beak came out, but the feathers are slightly smeared, which is the risk several stops above base ISO. Still, I like it enough to show it …

hs50exr 185mm (1000mm efl) 400iso f/8 1/125
I turned the second corner and decided to shoot the snow squall. You can't really see it as it is fine snow, but the hedge came out really nice. Not too fond of cedar, though, as it seems to attract a lot of mosquitoes.

hs50exr 4.4mm (24mm efl) 100iso f/8 1/170
Note the nice, fine branches. This camera has a lot of subtlety once you figure out how to sharpen properly. I remain very pleased with it as a walk about camera.
And that was that. By this point I was freezing and almost ran back to the house.