I popped into the office for several meetings last Thursday and had lunch at the local Thai / Cambodian restaurant again.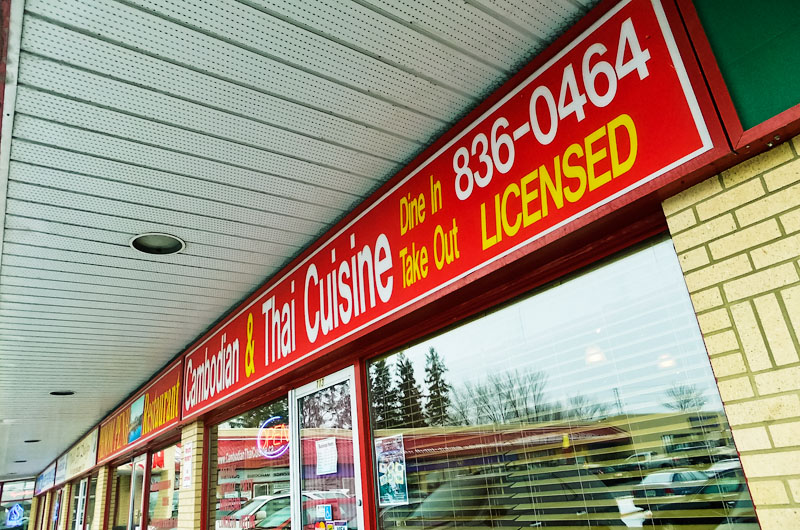 Some might have read my previous article, celebrating their wonderful Golden Chicken dish, designated C6 on the menu.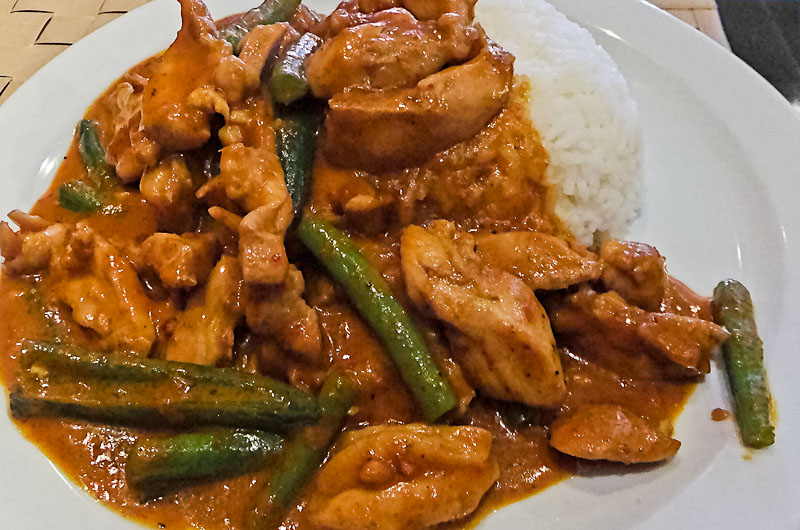 This time, I have the item designated C1, which is some sort of Thai curry with white instead of dark Chicken meat and with a splash of coconut milk on top I believe.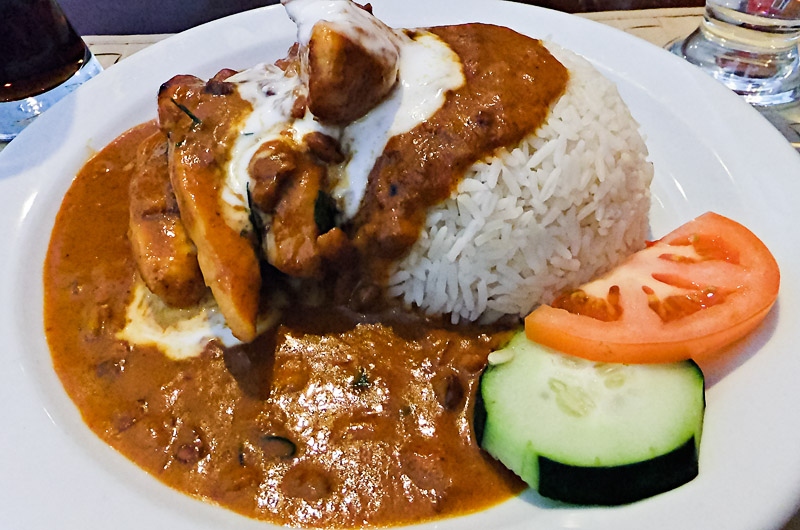 They taste nothing like each other and are equally addicting :-)
Early this afternoon, Jon and I decided to head off to the local Broadway Restaurant, which has the best breakfast in town.
On the way to the car, Jon noticed the weird pattern on the hood, no doubt caused by uneven heating of the hood, itself caused by the brace attached underneath. This affected what happened to the light snow that fell on it yesterday after we got back from the dentist and some shopping …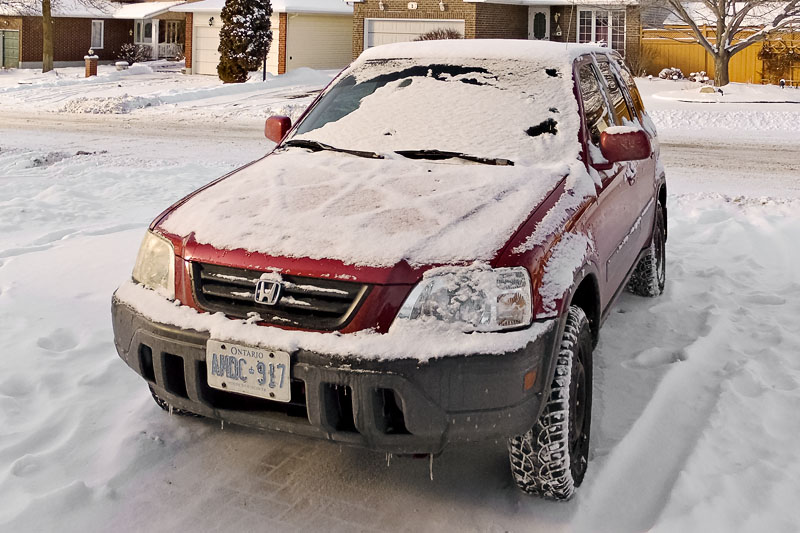 Jon hates having his image taken, but I convinced him to pose for me and got this rather lame effort. Mixed lighting inside forced me to black and white, and this is the perfect illustration of why we do not shoot portraits at 24mm … it stretches the depth of the face wildly … note that this is shot at fixed ISO of 800.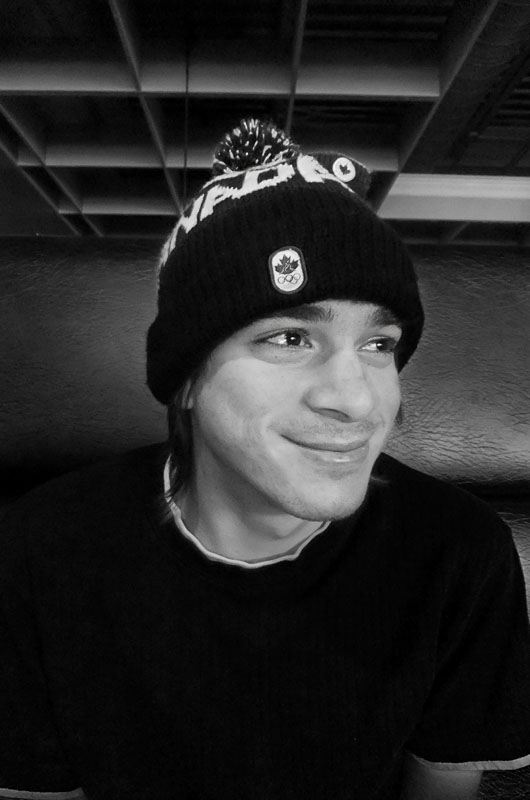 We arrived home and I shot a few images of the area. My neighbor's tree, for example. Of course, I failed to remember to change the ISO to auto 800 or even fixed 100, so the following images are all at 800 ISO and a bit substandard. Let that be a lesson to you … when the light changes, check your settings!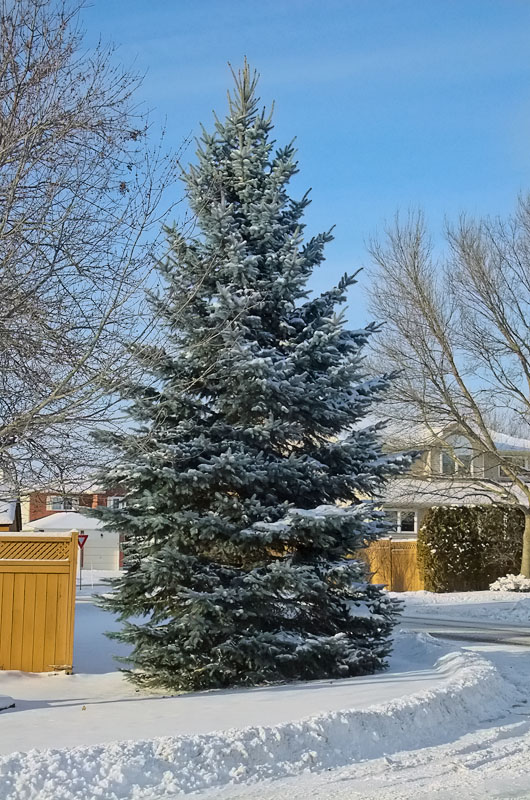 We've had most of our snow this year in the last few days … and look what it has amounted to. This massive snow drift is from the snowplow going by :-)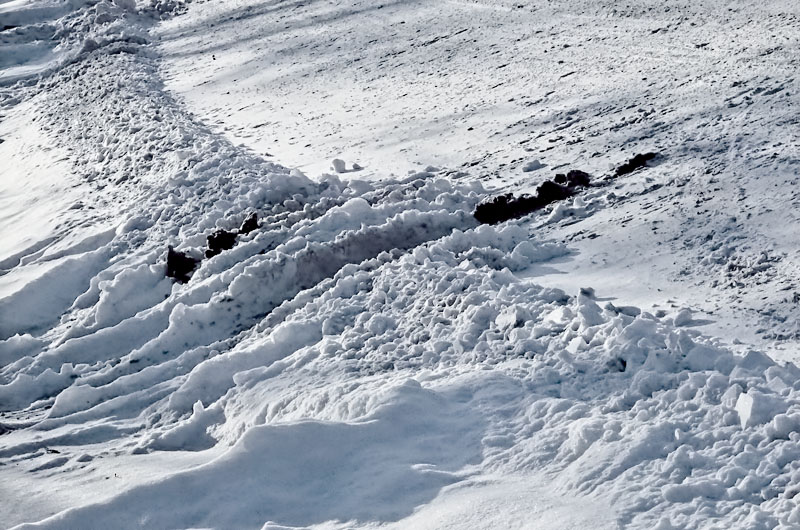 This image required f/10 to keep the shutter speed from going red at 1/2000s. That alone should have triggered the thought that ISO was too high, but my vision is not great without reading glasses and my color vision is really poor, making me insensitive to the classic user interface tricks with color.
But it turned out well enough anyway …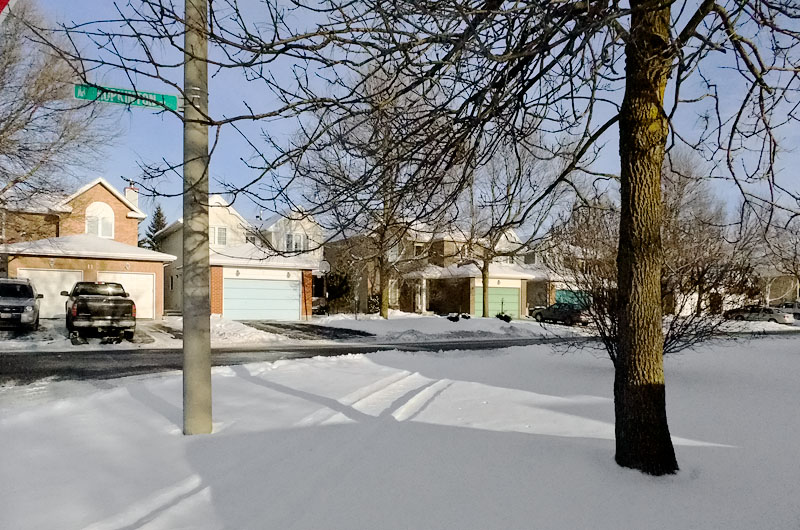 I find the bright blur shadows that days like today create on snow to be rather obnoxious. So I always mitigate them with the hue/sat tool and then mask off the sky so that it is not affected by the reduction of saturation in the shadows. This is the result.
This is what the image (and indeed all the images shown here) looked like before I adjusted the shadows a bit.
Let me know if I have overdone the mitigation …