I finally got some time to pop out and shoot with the HS10 some. I of course left the camera in RAW and, after shooting this opening image to capture the snow's effect on my car I realized that I should shoot the F300EXR as well in order to have some sort of comparison between the two.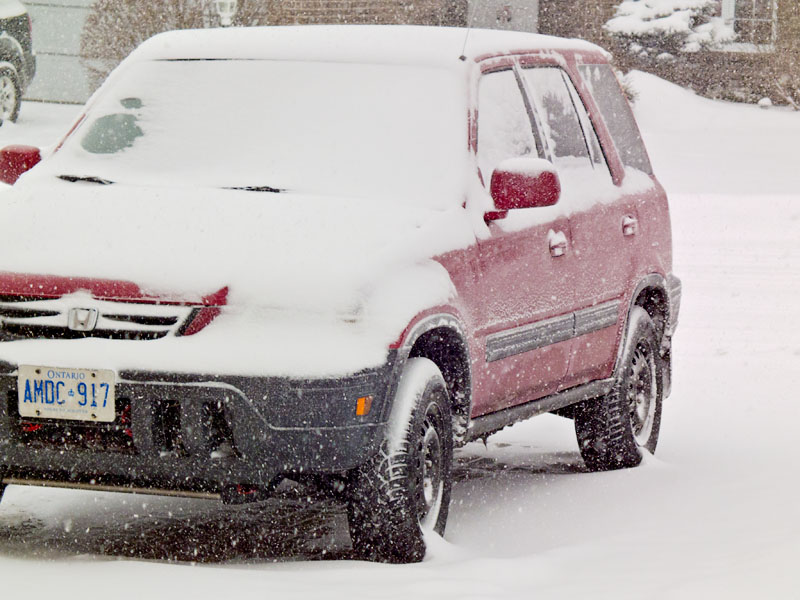 The F300EXR did it this way …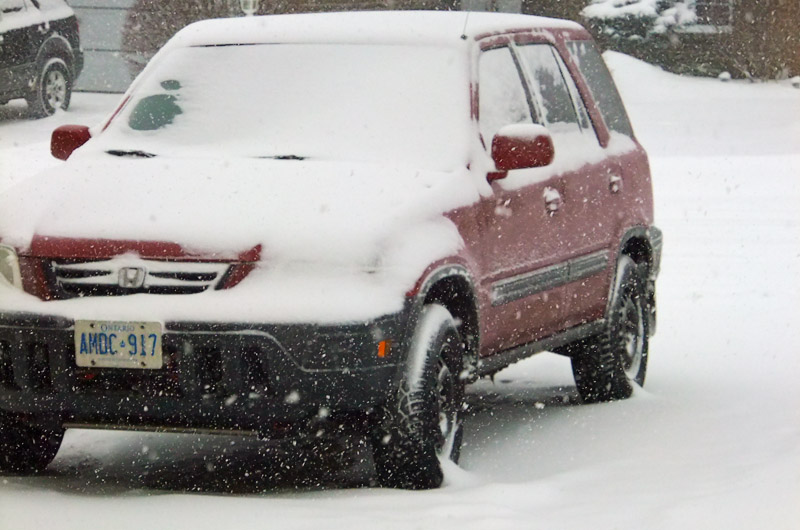 The HS10 image is obviously sharper … but that may of course be because I was paying a great deal of attention to pulling sharpness out of the RAW file …
I wanted to hit two locations … the Elk Farm and the river. I needed to be in the same town as the Elk Farm later, so I started with the river. One of my favorite spots is a place called Dick Bell Park. This is a small marina that hosts maybe a hundred boats … each with its own slip (duh.)
But I wondered how the place looked at this time of year, and in a snowfall …
HS10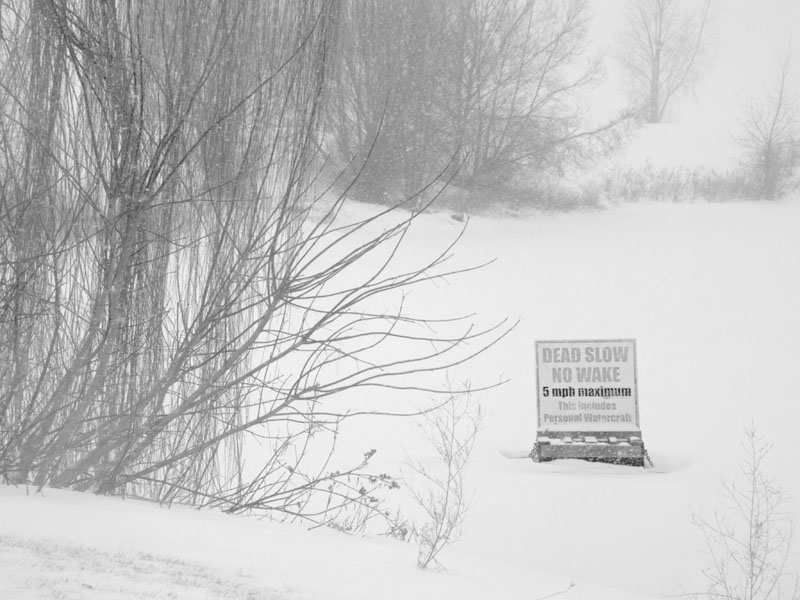 I walked down to the water's edge (I think that was the edge :-) and shot some images. But none looked like anything because of the low vantage point and few points of reference … the snow was blanking the horizon …
The above image, though was shot at a slightly higher vantage point, this park has a hill that becomes the breakwater. Rather a long walk around half the harbor for a nice sunny evening. Also a stunning spot to catch a sunset.
I walked up the hill from the water's edge and found out that this was not ideal, since the snow had piled up a couple of feet there. Still, I had noticed something out in the bay and needed to get up there and cross over to the other shoreline.
And I found a Paraskier … how very cool. He spent at least 20 or 30 minutes while I literally froze (right ear still hurts today) waiting for the action to begin. The HS10 gave me plenty of reach to capture his ministrations though, and I ended up processing a number of them.
Of course, last night's article on the torture of handling the nasty off color vignetting came out of this process. Most of these images have a strong black and white component, as that was my only way to get a nice smooth look to the snow …
Here, he walks back to the sail as one of his umpteenth attempts to get it set up and in the air.
HS10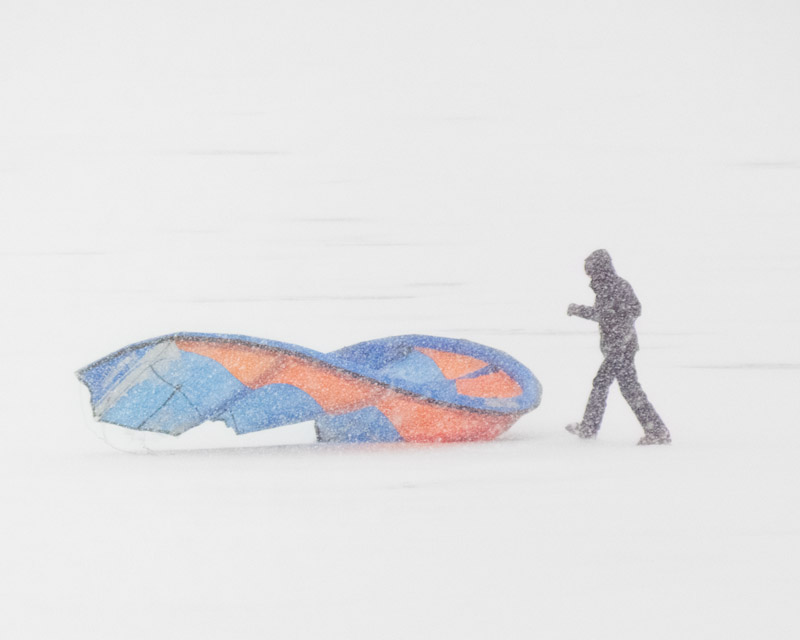 He's out in the middle of the bay here, between two points of land that are quite a long way apart. He had to walk back out from the end of his long line many times to grab the sail and get it set the way he wanted to be able to launch it.
F300EXR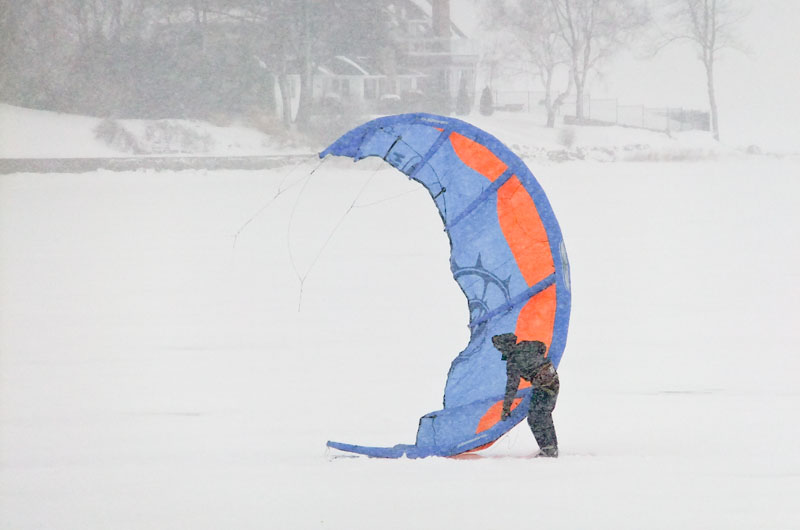 I had to move around to keep the blood flowing, and to wait out his interminable setup time … here, I get a nice image of the boats in dry dock above the empty slips … from the top of the hill.
HS10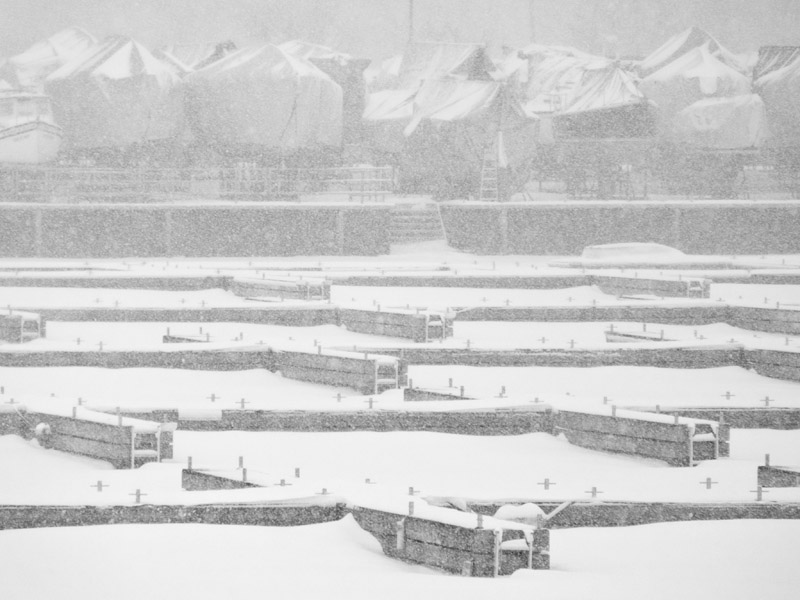 And a bench at the water's edge looking out over the bay. No doubt put here expressly to watch sunsets.
HS10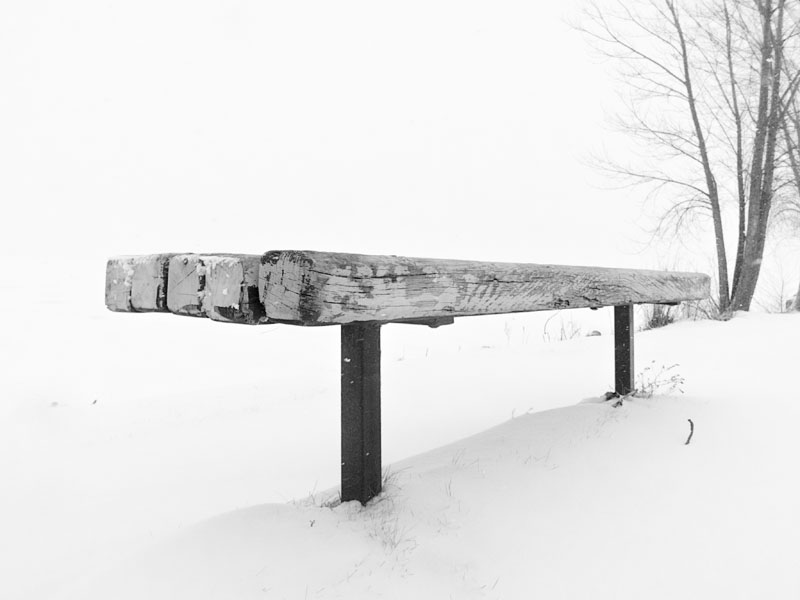 I braced myself against a tree for some of the images, since 720mm is a little comical for hand held photography. But then I noticed how nicely he was framed in the stumps.
HS10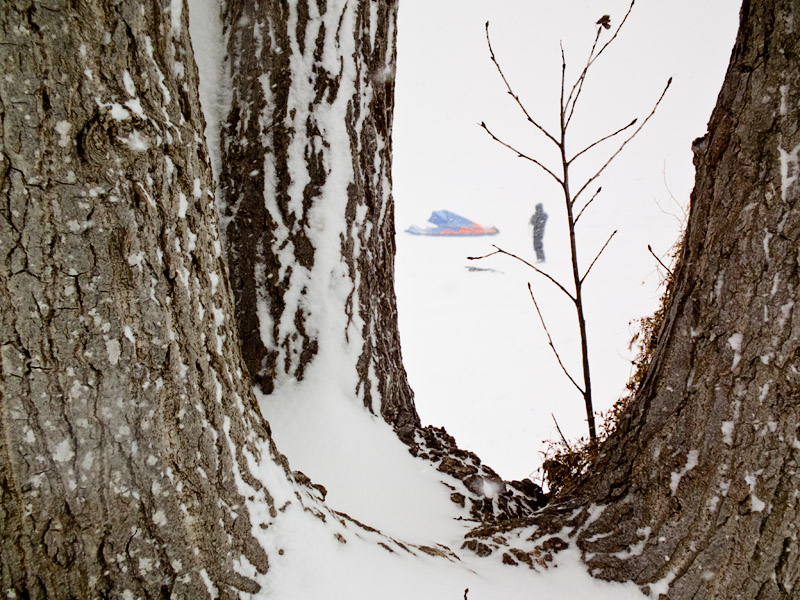 More ministrations to try to get it airworthy …
HS10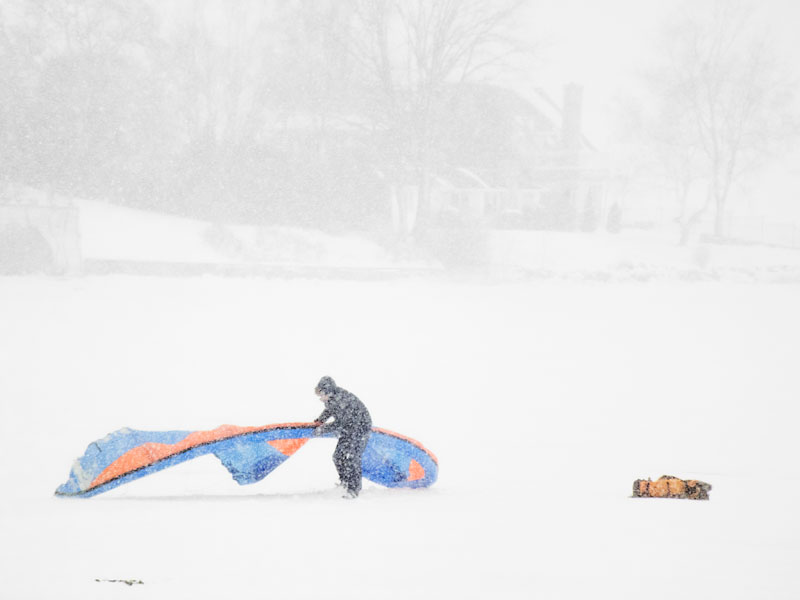 He brought his skis together to be ready for when he could lift off.
F300EXR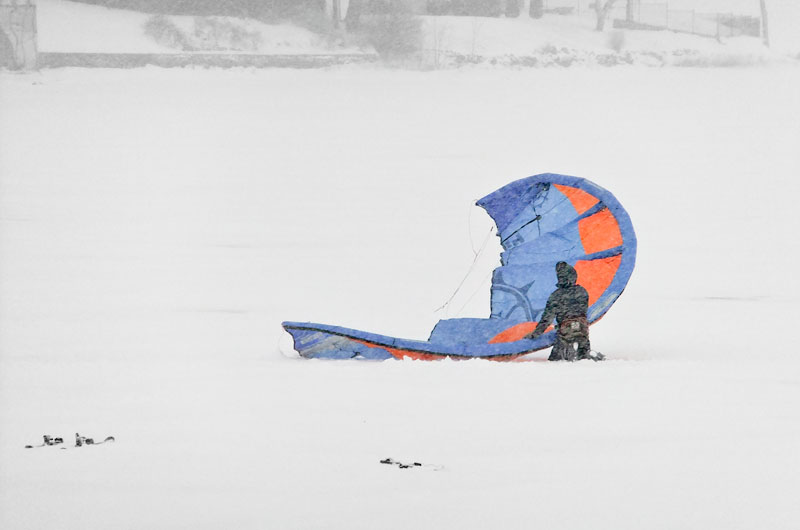 HS10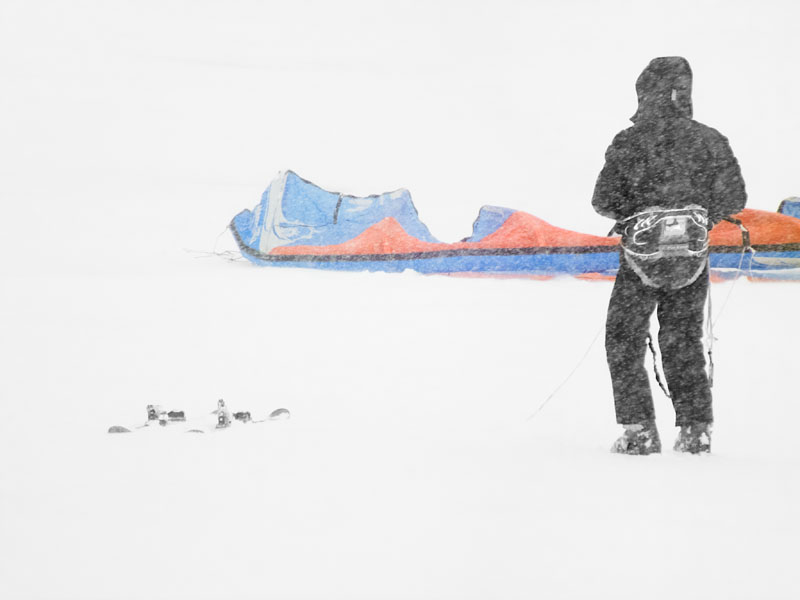 Several attempts failed to lift it off. Here, he uses body English to try to force it into the air.
HS10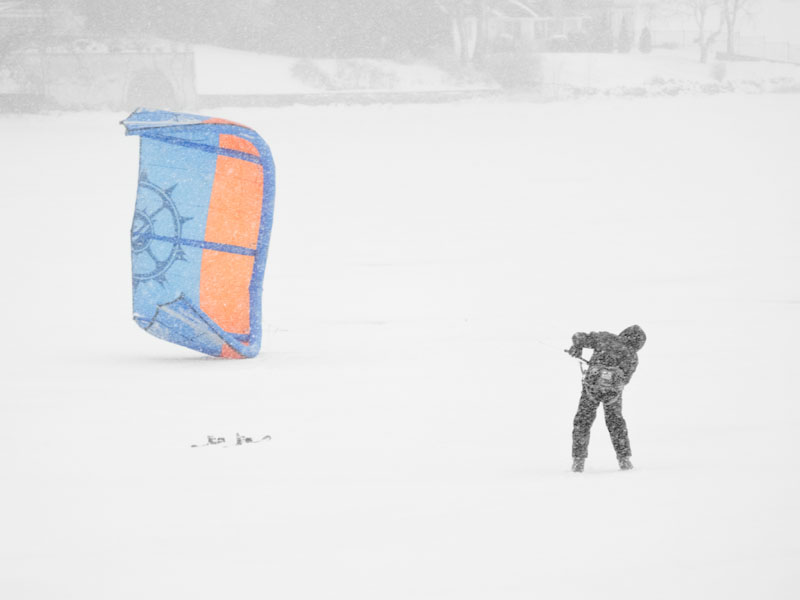 Almost there … and some of you might have noticed here that his skis are still not on his feet. That gets interesting later :-)
HS10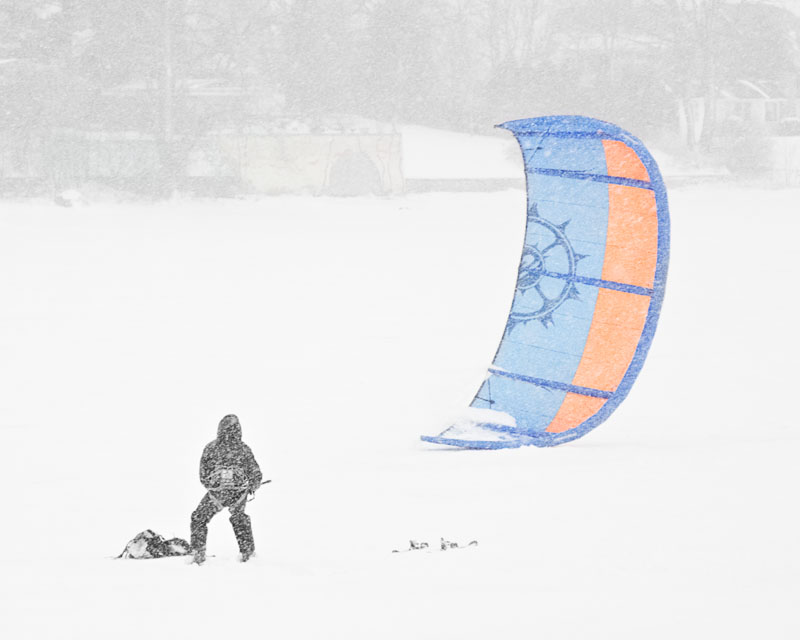 And here we go … skis still not on the feet, and the sail has a lot of power.
HS10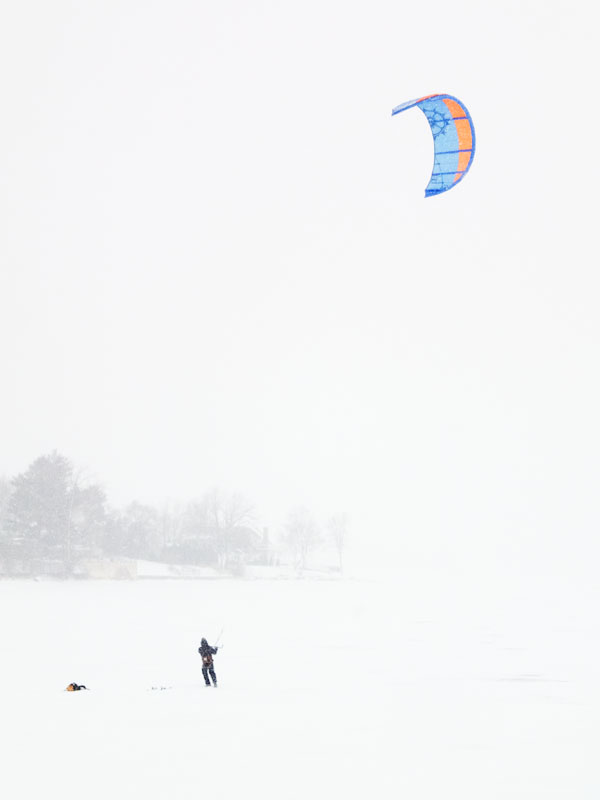 F300EXR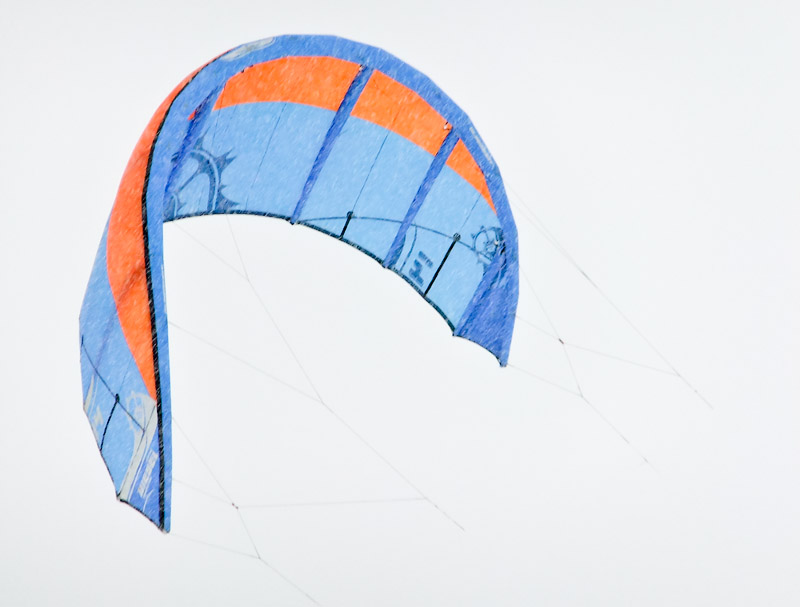 Trying to get his skis on … really difficult.
F300EXR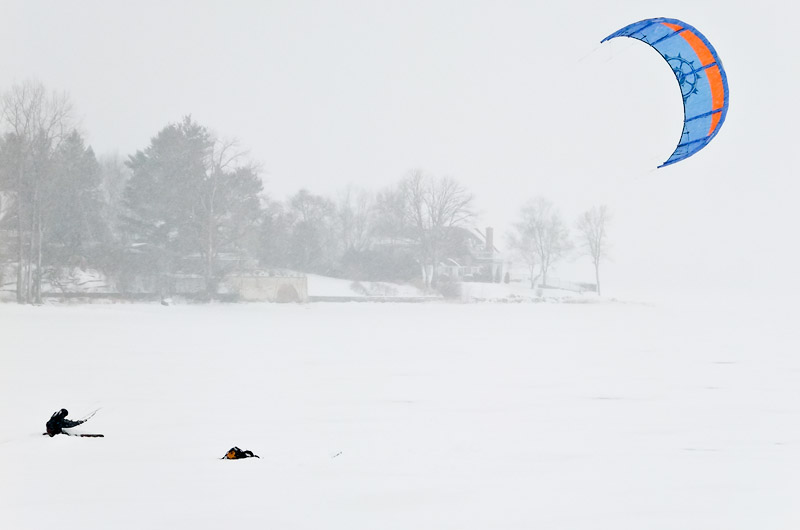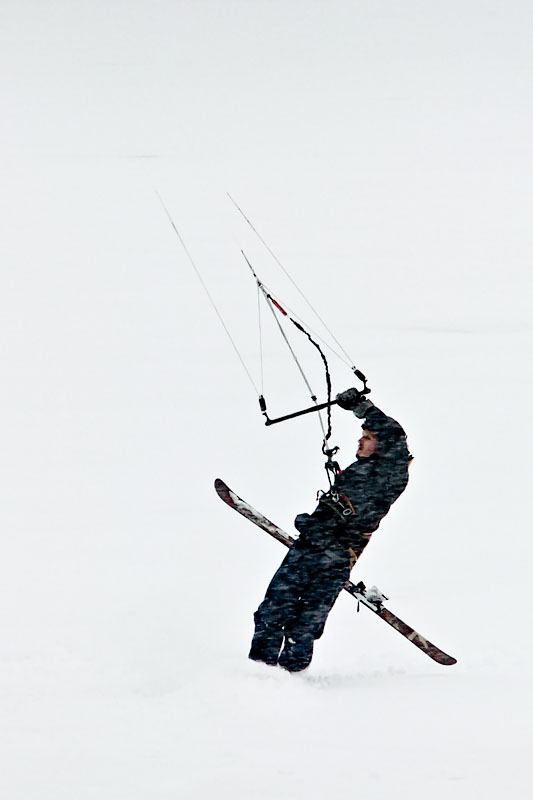 And then it worked! In only a moment he had blasted half way across the bay. Before the crash that is :-)
HS10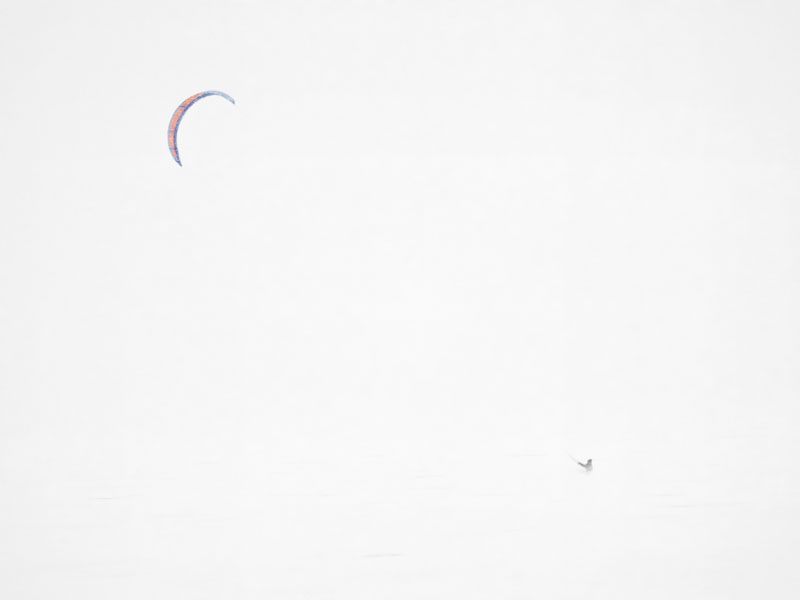 And that was that. Nothing left to see out in the bay. The sail went to ground again and he sat there a long while. I suppose the incredible amount of energy for less than a minute of fun was taking its toll …
As I was walking back to the car, I stopped to get another image of the slips and dry dock …
F300EXR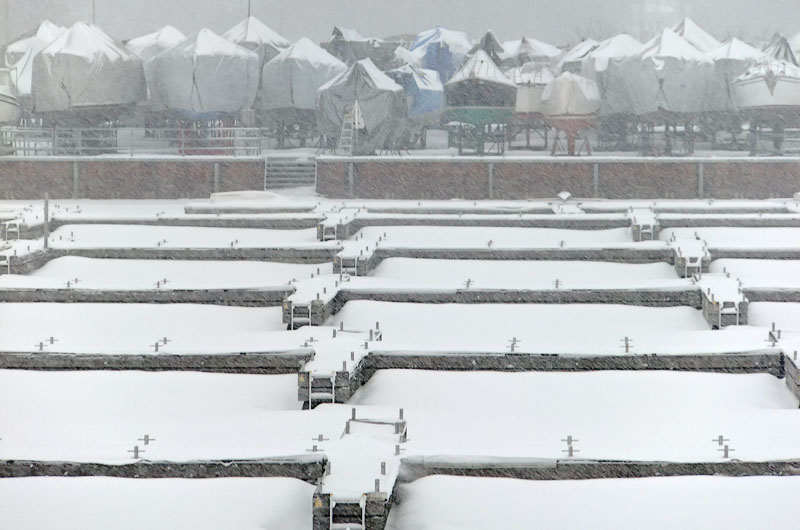 A more oblique view of the wake warning sign …
F300EXR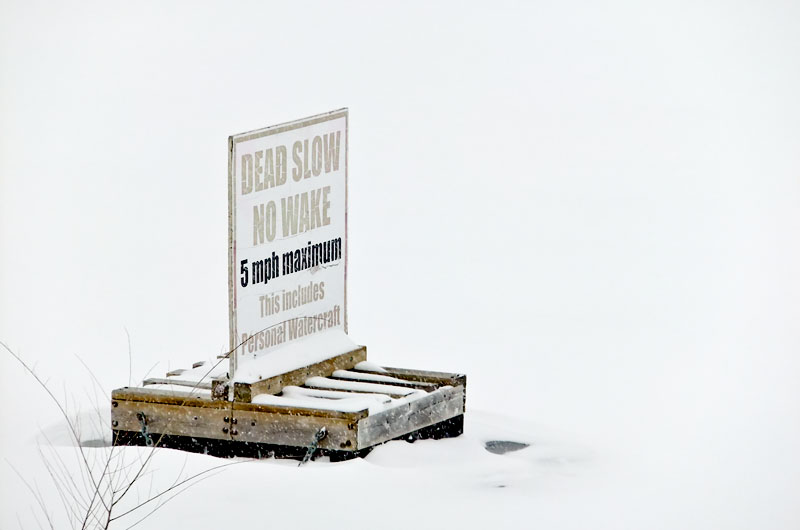 Some huge trees up on the hill invited a shot from underneath …
HS10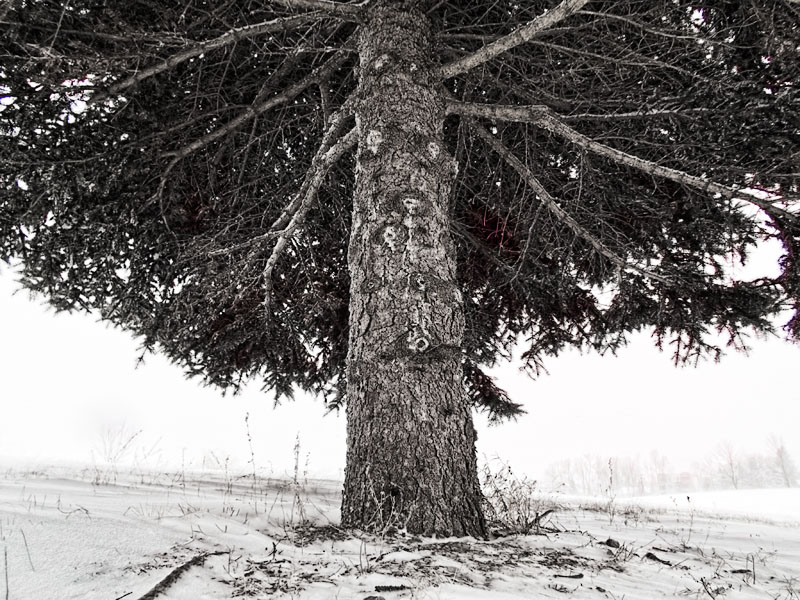 A last view of the dock …
F300EXR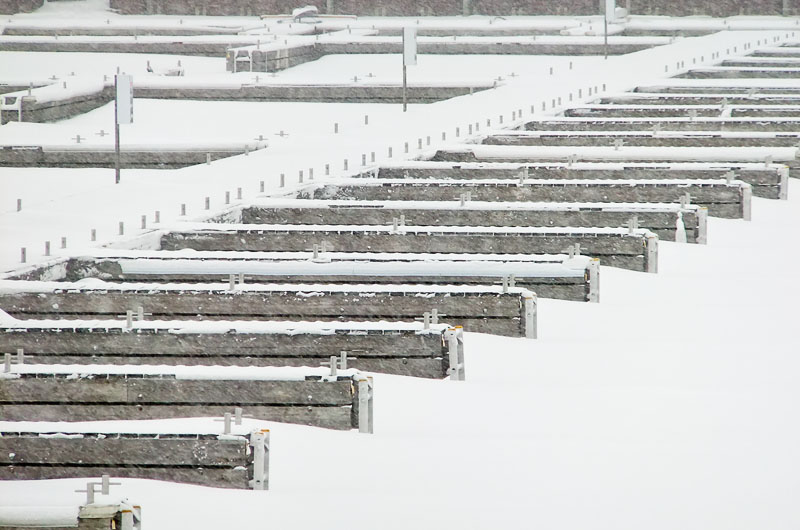 And off to the Elk Farm. This farm is not too far from where I used to work in Kanata, ON. It's a family business and you have to ring the very loud bell to get some attention. But a decent sized Sheltie (or something very similar) kept me company enthusiastically :-)
HS10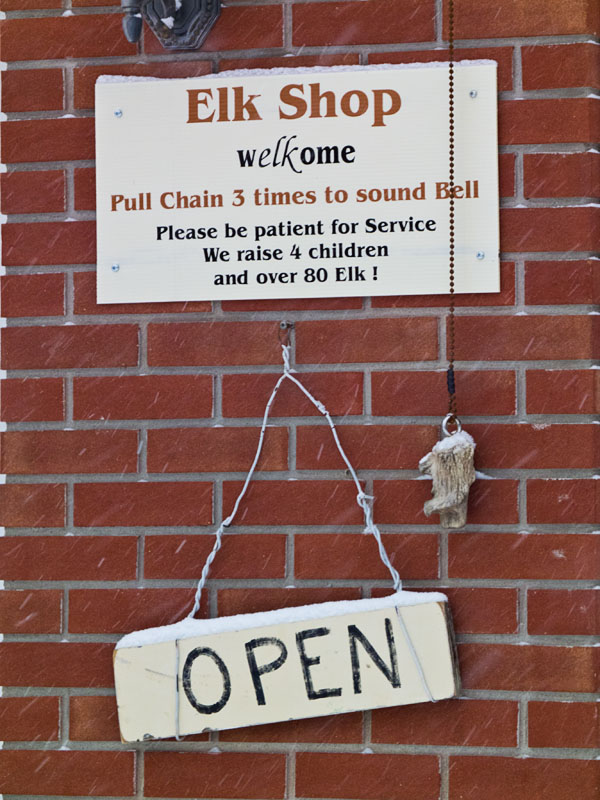 After purchasing two frozen Elk strip loin steaks (around 30 bucks), I asked if it was ok to shoot images of the Elk in back. She said sure, but not to wander too far back.
I walked along the fence, and interestingly the dog had no interest. Strange, I thought. Anyway, the huge buck was standing right there, but as soon as he saw me, he wandered away. Unfortunately, I got nothing interesting of him.
But the does were all huddled together and I got a few images. Still snowing like mad and getting dark by now, so tough to get decent shutter speeds.
HS10 – 100 ISO, 1/25s (!) Poor WB and vignetting forced B&W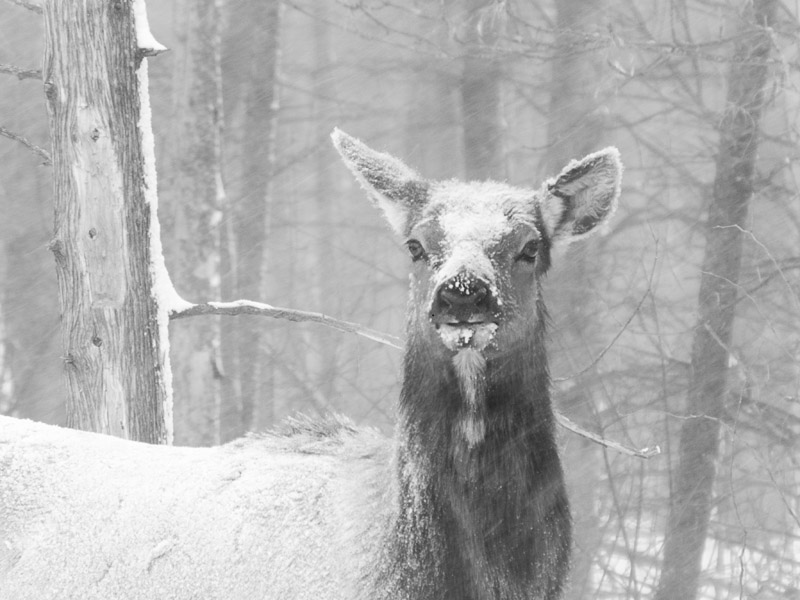 The F300EXR, on the other hand, has little difficulty with these conditions. Obviously, the HS10's RAW files are sharper and have no noise reduction applied, but sometimes it's not just about sharpness …
F300EXR – 800 ISO, 1/220s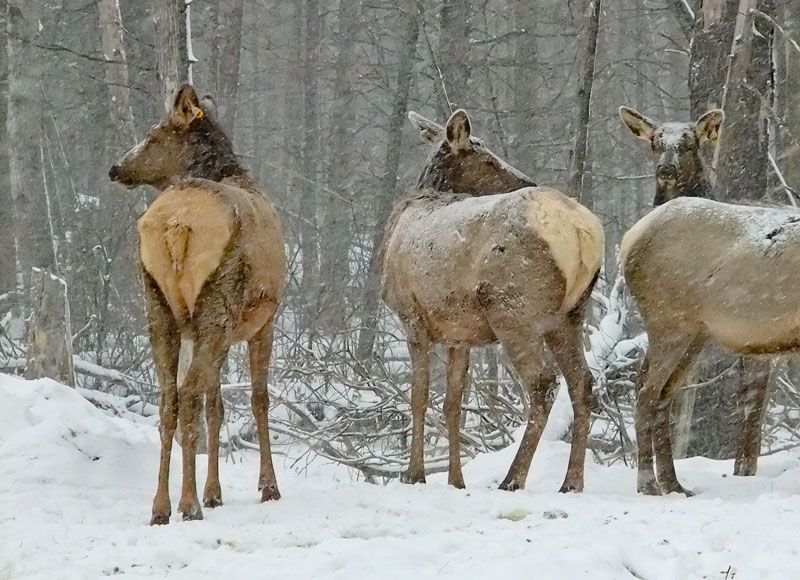 Turning around to leave, I realize how beautiful the trees are back here. It has been snowing for hours, constantly since I left the house. So there is a lot of snow on the conifers here … and I am a sucker for the snow mound / needle contrast.
F300EXR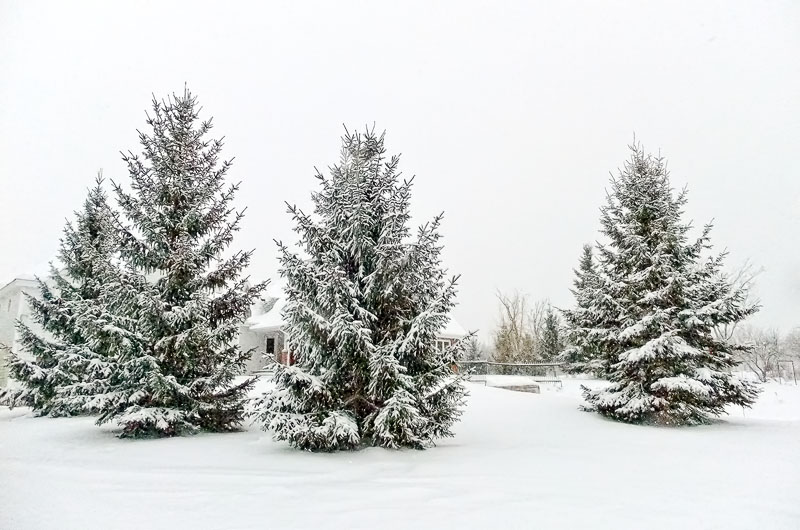 Here is a surprisingly delicate interpretation of a close up of the branches. This took a lot of processing to achieve … it is a Duotone image …
HS10 – 400 ISO, 1/250s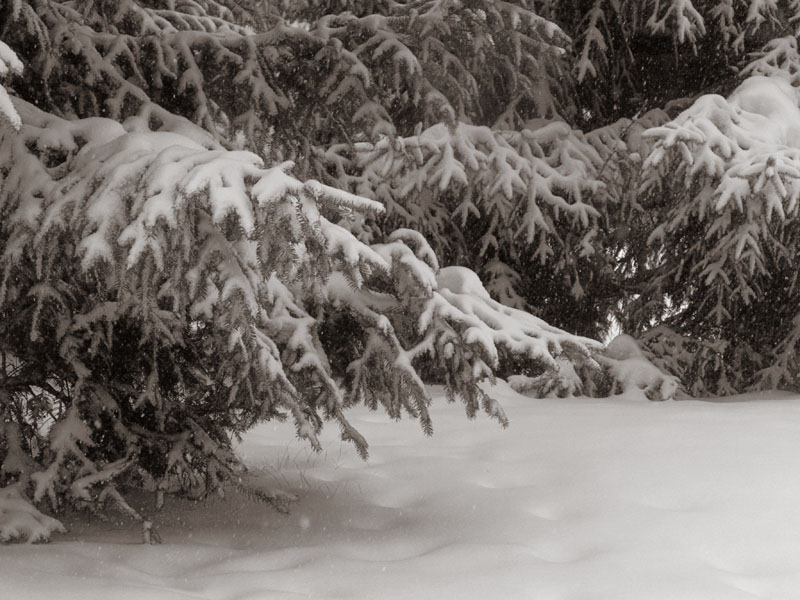 Here is a similar one form that other camera :-) … and it too is a duotone …
F300EXR – 800 ISO, 1/420s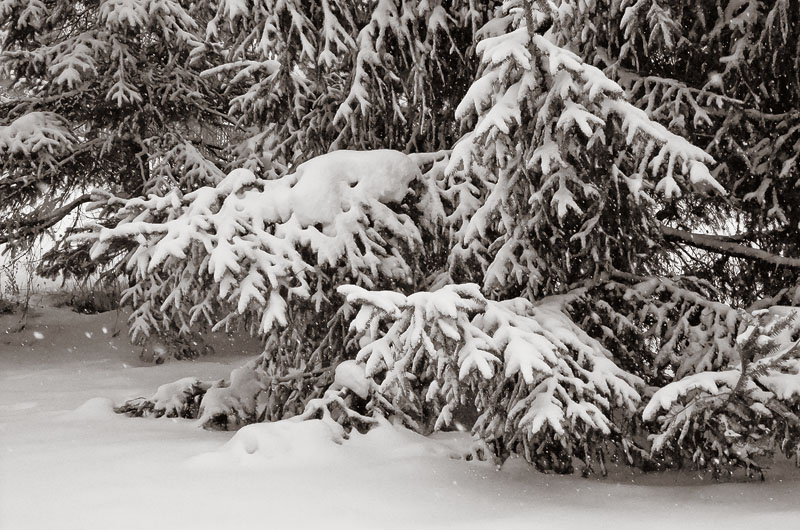 I'll give the HS10 the nod between those last two images. The RAW format is very twitchy with the HS10 (again, a lack of dynamic range and wonky mix of channels) but it can be more delicate since I get to set the tones myself.
Some candidates here for "Mt Canada" for sure. I'm leaving shortly to shoot skaters on the canal, the Parliament and eternal flame and possibly the art gallery etc. Later, I hope to catch the golden skies with shots of the Library of Parliament and the Rideau Falls all lit up. Stay tuned …