Well, not really. I was asked to walk Karen's pups this evening to help out with a scheduling conflict and of course I said yes. Not only to help a friend (actually her daughter) but also because these are really nice dogs. Sweet dispositions, cute and fun to play with. The little one likes to play all the time.
So the little one is a young Boston Terrier with a gorgeous black eye patch and a very small stature. I understand that she was the runt of the litter, but that just makes her more special. Her name is Lexi and she's as fun as they get. This first image of her is shot at 6400 ISO, but the rest of the outdoor shots are at 800 ISO. The shade was fairly dark in the neighborhood so I was constantly fighting blur.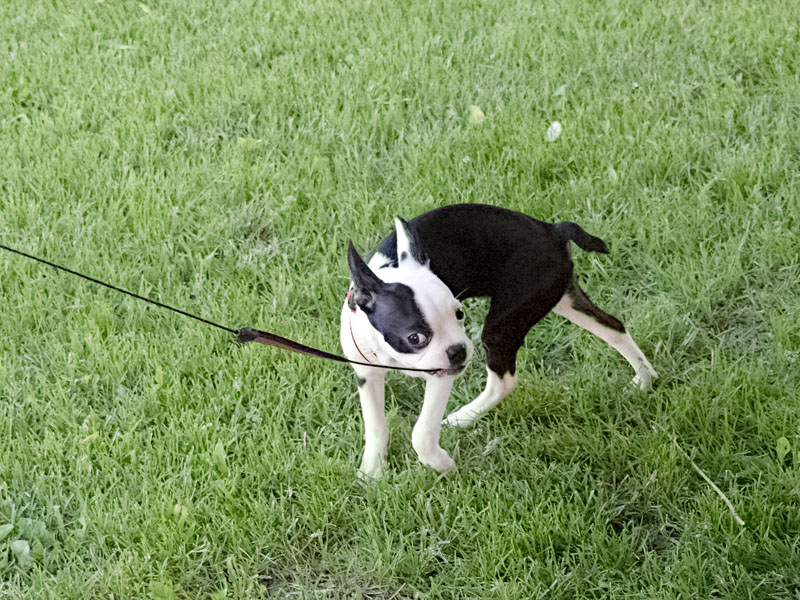 Obviously, she's not all that used to the leash. But even that's cute :-) …
I had Jon with me because he likes dogs and because it makes it easier to take both out for a walk. Sophie is a middle-aged Pug with a very nice disposition.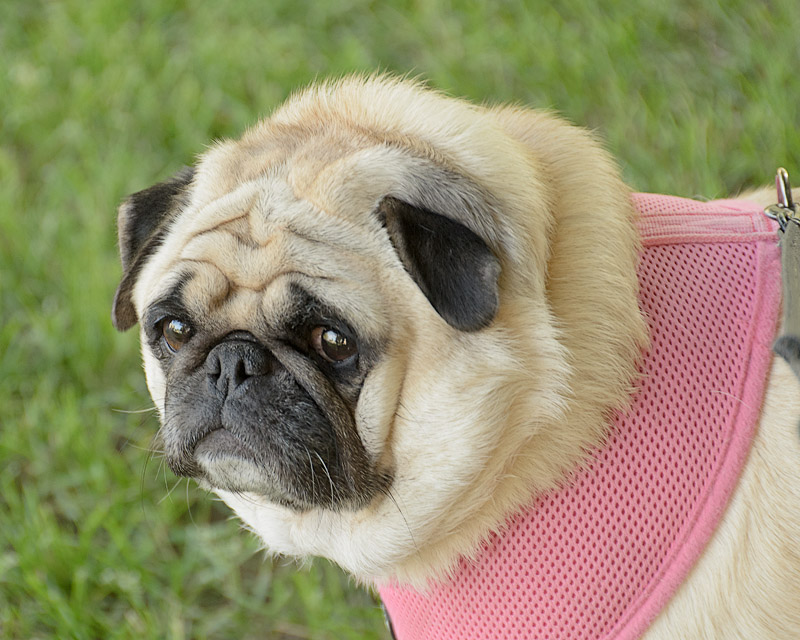 Very quiet and unassuming. She'll play with Lexi and even fight with her. I was surprised that she rolled onto her back several times to entice some playtime … it was very cute.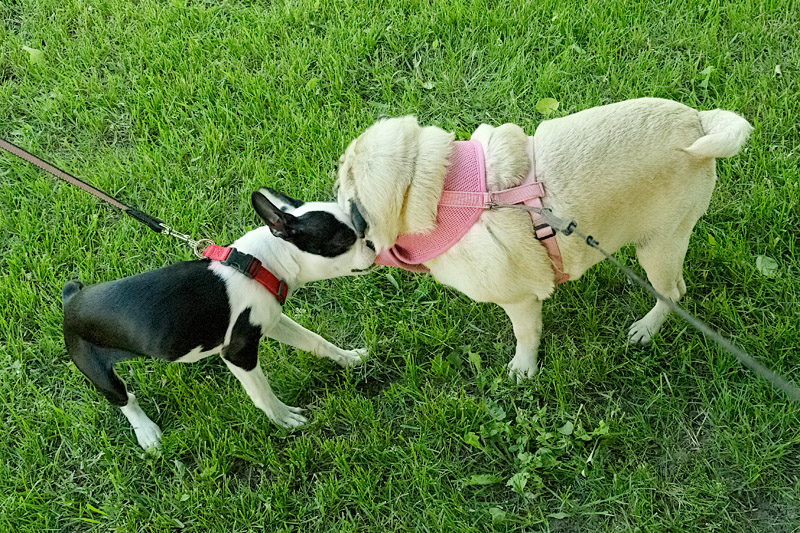 Jon really likes Lexi, calling her adorable several times this evening. He even said that he could enjoy having a Boston Terrier if it was like her … that's saying something since he prefers the Wolf-like Husky breed and postulates that lapdogs are more like rodents than dogs.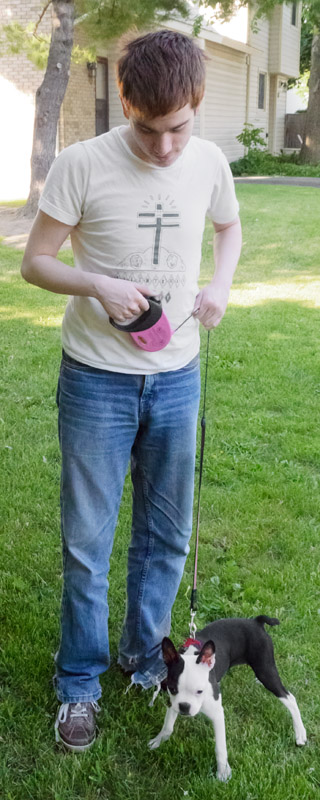 And again some play. We were trying to get them to do their business, but this was the only business that interested them for most of the half hour walk.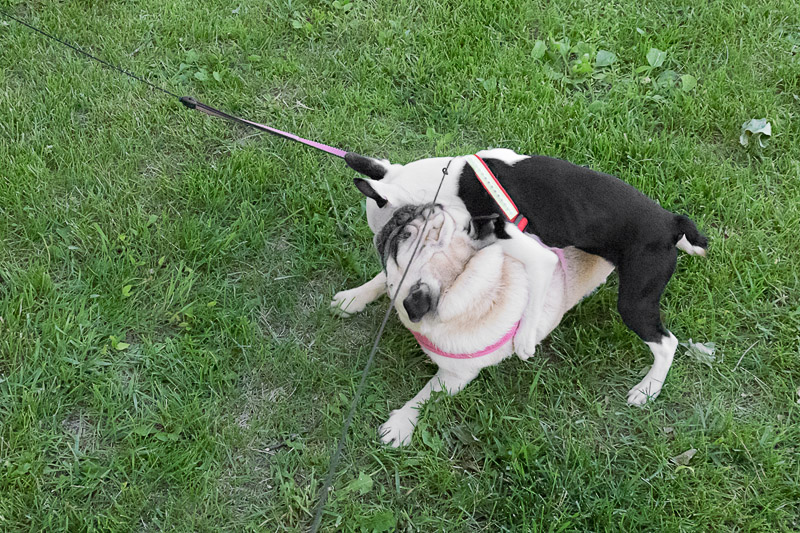 At one point I saw a squirrel a long way off and shot him at 200mm (300mm effective focal length) … not bad, but I think I have a slight back focus tendency. That would be no surprise as there are myriad complaints of that with the D7000.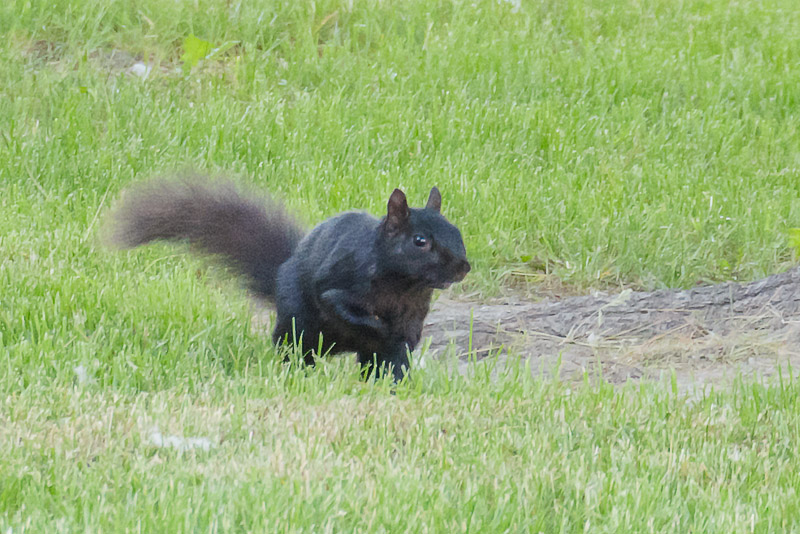 When we got back to the house, Lexi still had not done her business, so we fed them and watered them (Lexi seemed quite hungry) and then took Lexi out one more time in the front lawn area. Jon allowed her some freedom and I shot images from a distance. The high contrast was somewhat tricky, so I only got a small number of keepers. But late evening shooting of a black and white dog moving around in sun and shade is challenging anyway, so I was happy to get any.
One of these is probably my best shot of Lexi all evening.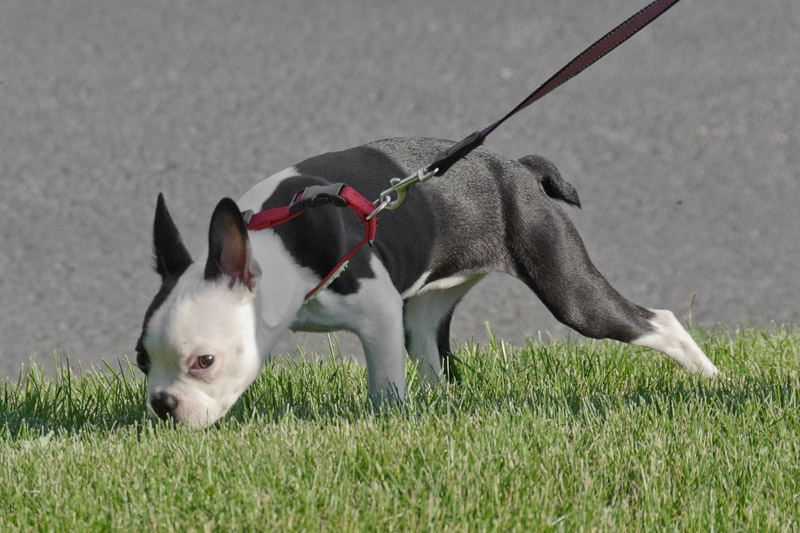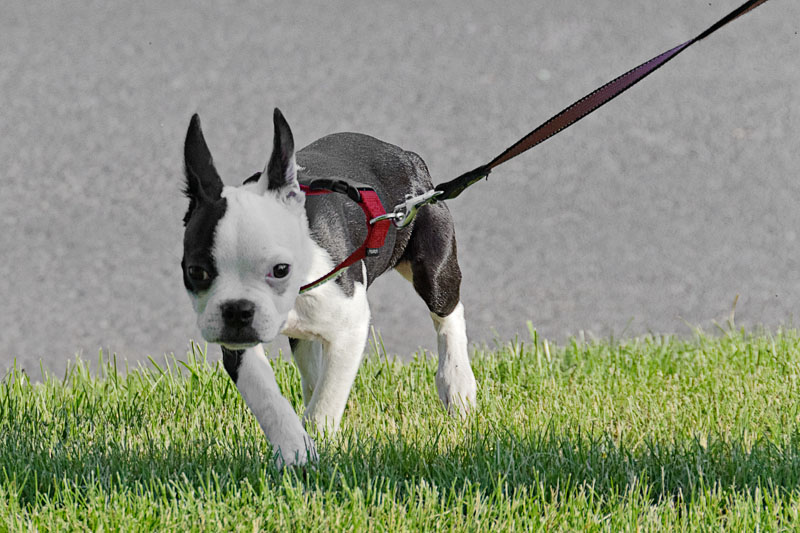 One thing that amazes me for a small puppy is that she is not a runner. The collar we used is much too big (obvious from the photographs) and it came off twice while walking her. Yet she just waits for you to put it back on. Here Jon does the honors as he did the first time.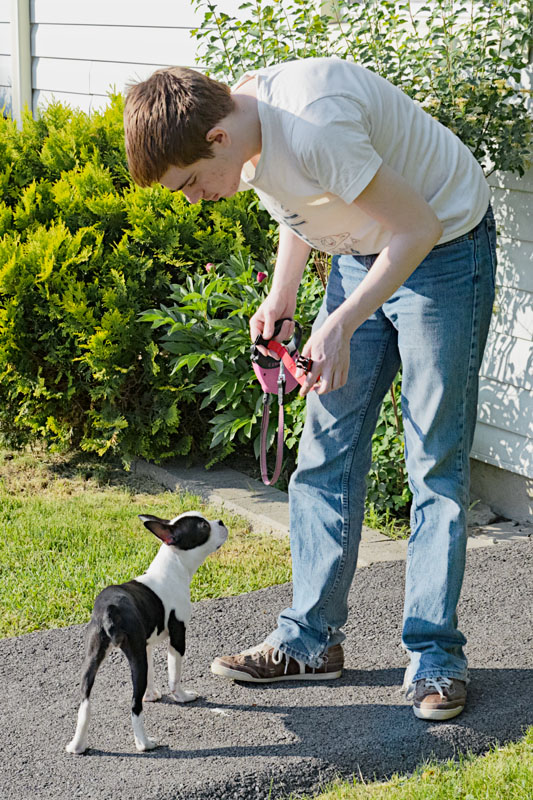 Here Jon stretches backwards to avoid the friendly licks that Lexi is so full of. She is sooo sweet! Time for bed though as we leave …