Lots of "size matters" jokes out there …
It's not the size of the wand, it's the magic in it …
It's not the size of the dog, it's how hard he bites …
… and so on …
Anyway, the whole point of the swap of my D300 backup camera for the D7000 was to provide me with a much smaller kit for travel. And I have to say that I am very pleased at the result. It's magnificent and can shoot at 6400 ISO … what's not to love?
Anyway, here is a comparison of sizes shot by the F550EXR at 1600 ISO in RAW … this image looks pretty darned good for that ISO if you ask me …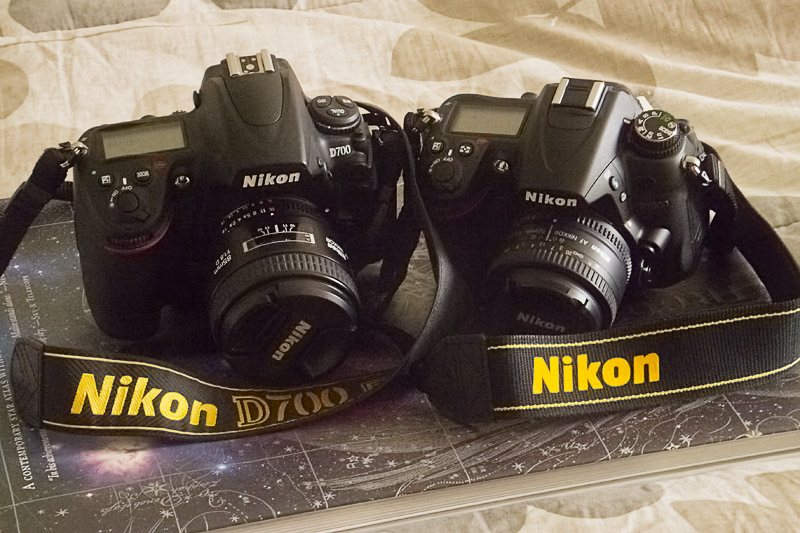 You can see that the D7000 is visibly smaller. Each camera has a prime on it here, the 85 for the D700 and the 50 for the D7000 … that's as close as I can get to the same field of view with primes.
I can add one lens to the D7000 (18-200VR) for a 27-300 effective range, while I must add two lenses to the D700 (Tamron 28-75 and Nikon 70-300VR) to the D700 to match. The D700 would smoke the D7000 with that kit, but the D7000 is still very good and much, much lighter.
This is the same reasoning that people who buy bridge cameras like the HS10 and HG20 use to justify those purchases … and there is nothing wrong with that reasoning in general.
My problem with bridge cams as a solution to the travel problem is that the F550EXR gives me most of the reach and all of the IQ in a tiny package, and the D7000 with megazoom gives me vastly better IQ and most of the reach in the same sized package. I.e. I see no reason to own a bridge cam. The F550 is the travel cam of choice on a budget, and the D5100 / D7000 with a megazoom is the travel cam of choice if you have the cash.
That's how I am wired. YMMV of course.