I like to bitch and moan when companies disappoint me in some significant way. Several have responded and restored my faith (e.g. CIBC) while others continue to disappoint me (Rogers, profoundly.)
So I think it important that I plug Lexar's customer service, which went above and beyond the call of duty recently in replacing a defective dual slot card reader. To begin at the beginning, my eldest worked at Henrys Photo for about a year as one of their technicians and part time sales people. He actually did pretty well at it and I was always very interested in what he was selling. Pretty fascinating job.
For Christmas 2009, he purchased a Lexar Dual Slot Card Reader as a gift for me. This reader is reputed to be one of the faster ones out there. It turns out that this is quite true. You can read about it on Rob Galbraith's superb flash memory testing page here.
Back to my story … I plugged the Lexar in on Christmas day and found that it would read SD cards with no problems (and very fast) but would not recognize CF cards at all. Since I was running Vista, I went and plugged it into my work laptop, which at that time was running XP. No dice on either. To shorten a painful story, I tried everything I could think of and burned a not small number of hours on the Internet trying to find answers.
I asked Nick to see about swapping it at Henrys for one that was not broken and they gave him some lame excuse about packaging being crushed, which it was. So it sat in his locker for months. I eventually told him to bring it back to me and it sat on my desk for many more months. When I got Windows 7 finally, I plugged it in again for SD reading and CF still did not work.
At some point 4 or 5 months ago, I figured I'd take a shot at Lexar support. They asked me for some data like the original purchase date, which we did not have, and I let it lie for more months. But I recently decided that I would fill out the email with my best guesses and send it in.
Well, they sent me a few more emails and then sent an RMA with labels for free shipping via UPS. I was flabbergasted (who says that any more?)
But that wasn't the end … I was absolutely floored when, a few weeks later, UPS left a small box at my door containing a brand new Lexar reader with a new cable, which I had not sent in.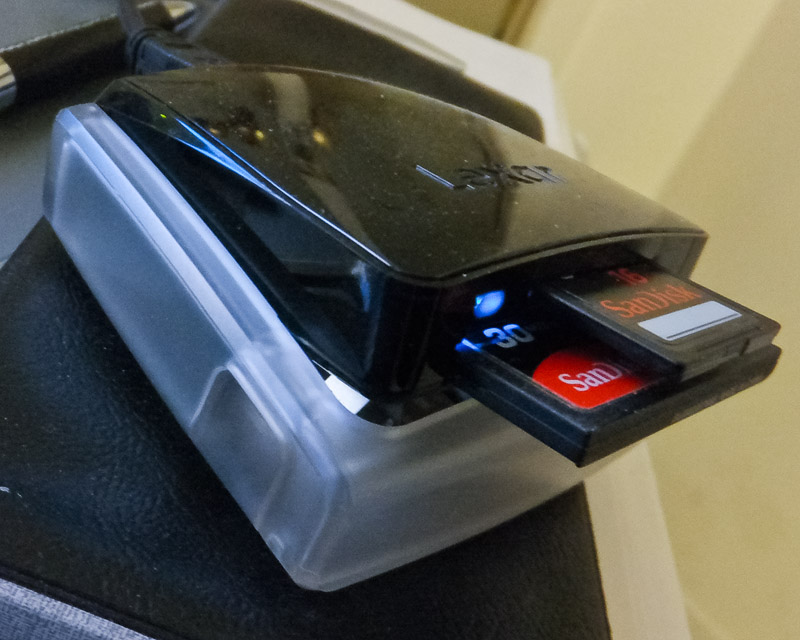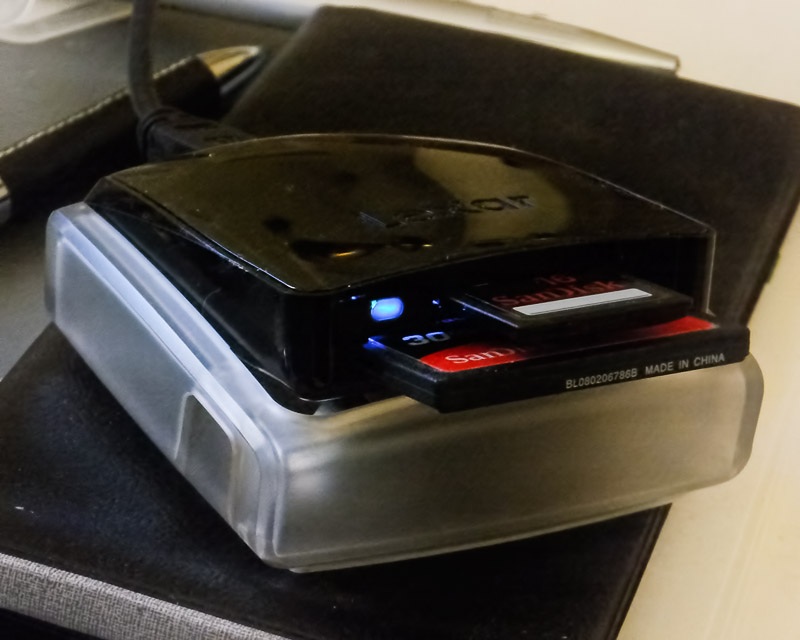 Wow … and this one works (does it ever!)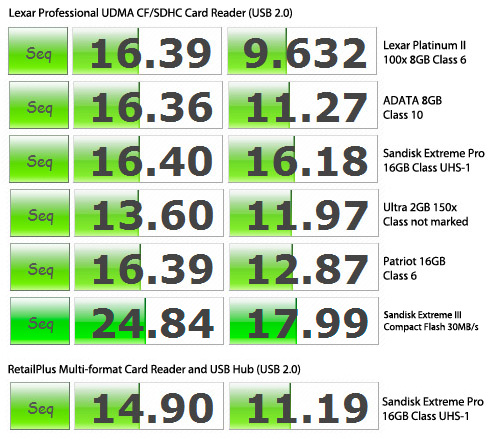 These numbers are from CrystalDiskMark (how many of you read CrystalDiskMeth or CrystalMethMark ;-) which is a different program from that used by Rob Galbraith in his tables. I bought the program he recommends and it ran the tests just fine, but this presentation is nicer for the blog. These numbers are a bit higher, but still in the ballpark so close enough for our purposes.
So the only flaw with the new reader is that it is not the newer USB 3 version, which would have at least doubled the speed I got with my new Sandisk Extreme Pro UHS-1 SD card. Oh well, that would have been a miracle …
Some observations on the cards you buy:
If you are shooting RAW, newer cameras like the D7000 will perform better with newer cards like the Sandisk Extreme Pro cards …. they meet the new UHS-1 standard and are wicked fast.
If you want super speeds from your reader to your PC along with the ability to read the UHS-1 cards at their highest speeds, then get yourself one of the new USB 3 card readers. Pretec and Lexar both make them and Rob has added them very recently to his tables. These are fast …
Bigger cards read and write faster than smaller cards at the same speed class
Some cards barely meet the minimum specs and some beat them easily … thus, a better quality class 6 card can beat a low quality class 10 card now and again … read Rob's table to be sure
Those readers in your printer or the cheap ones from WalMart etc are slow by comparison … the last line in my table above shows you that, but Rob's table brings that out crystal clear
So buy your cards at 8GB or bigger (I will be trying to buy only 16GB or 32GB from now on) and shop around.
I paid about $91 including shipping for my 16GB Extreme Pro card from B&H Photo in the US. They are the only company I have seen to offer very inexpensive Purolator ground shipping to Canada … 8 bucks. And it takes less than a week. So don't spend more than you have to on these cards. You could do a lot worse than B&H Photo.
One last thing … this very cool dual slot reader can run both cards at once …