Just a scant 3 days after Prince gave his superb concert, Bob Seger rolled through town with the Solver Bullet band that even sported a pair of original members from the 70s. That's pretty cool. What is even cooler is that the official tour web site shows that every one of the 23 dates on this Nov-Dec segment of the tour is a US city except for Ottawa! And that's just awesome.
Note: All still images captured with the Fuji F550EXR.
I have not seen these guys before, but I do have an original copy of the Against the Wind vinyl album that I bought in the early 70s. And that was one heck of an album. Against the Wind is one of the songs I caught while filming, so look for that at the end.
Karen and I had pretty awful seats … better than the Prince seats, but Prince's stage took up half the arena floor, which gave us a decent view anyway. Bob's stage was at the far end of the rink, which puts it almost 200 feet from our original location.
Here is an image of the opener, another superb Detroit band called Jessica Hernandez and the Deltas. They played a nice selection of songs and at one point she danced quite nicely at center stage. Her voice is deep / sultry and really goes well with their chosen style of music. She reminds me vocally of people like Serena Ryder and Amy Winehouse …
This shot is full zoom at 360mm …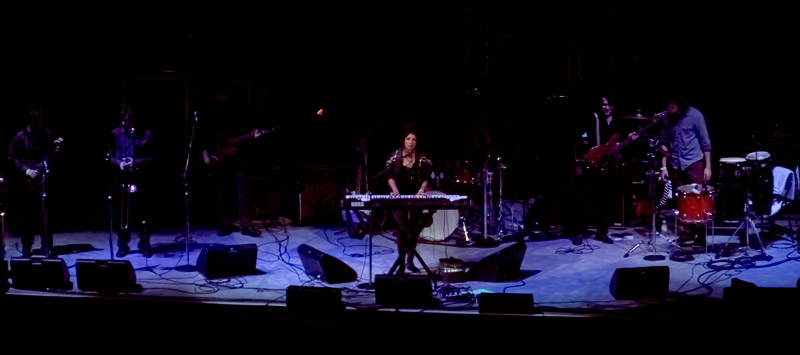 So you can see why we chose to move at the intermission. The distance precluded any more images of Jessica et al, which is really too bad. I have some footage, but that will have to wait until I get a bit more time. Stealth mode from that distance will require a bit more mastering than the stuff I got for Bob Seger from a better location.
Edit: Here is a clip from that footage as they walked off the stage and I zoomed back out to 24mm .. you can see the challenge:
We walked around to the side of the stage and grabbed some empty seats in an unoccupied section around the middle.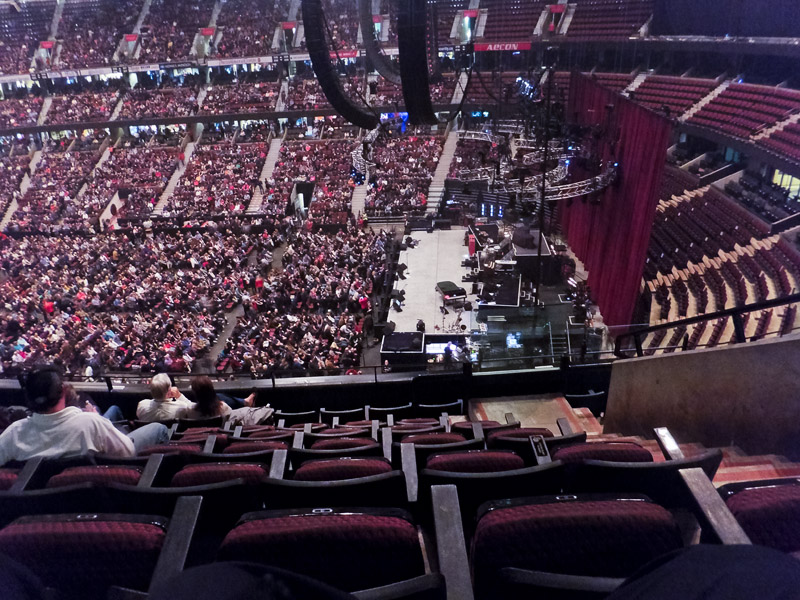 Believe it or not, this was a huge improvement. What can you ask for $35 seats?
So then Bob came on and played an excellent set of 22 songs. Here's the set list, and again click on it to go to the original and track updates at http://setlist.fm …
I caught some great stuff on video, including Old Time Rock and Roll, Little Drummer Boy, We've got Tonight (Bob at the piano soloing), and both encores. A very nice video. Again, linked at the end.
I also managed 80 images, although the shooting had to be interrupted as we moved to avoid a huge group of incredibly obnoxious people. At some point, they all decided to do what we did, get closer to the stage. Nothing wrong with that … but first we got a pair of young ones who were tall and insisted on standing almost in front of me and dancing wildly, so I have random arms in my film from about 10 feet in front. They totally blocked Karen and forced her to move. You can see the vid go blank as she is forced to cross in front of me.
Then, an older woman decided to stand directly in front of us and get up and dance every second song. She blocked me completely. And that was not enough … a whole bunch of people filled that area, all hugging each other as they found themselves together, and they constantly got up to search for more beer. The older woman actually looked back straight at me several times and just turned right around and kept on dancing. Oblivious or obnoxious, either way she impressed no one sitting above her …
So we moved. In the following set of images, a subset of what you can find in my gallery, you will see the angles change perhaps half way through … right after I got half the older lady in one image and gave up trying to shoot around them. Nothing annoys me more than stealing a nice seat and then having to steal another one LOL …
Of course, the video shows that the second location (actually our third of the night) was the best of them all … so obnoxious arrogance can actually be helpful now and again …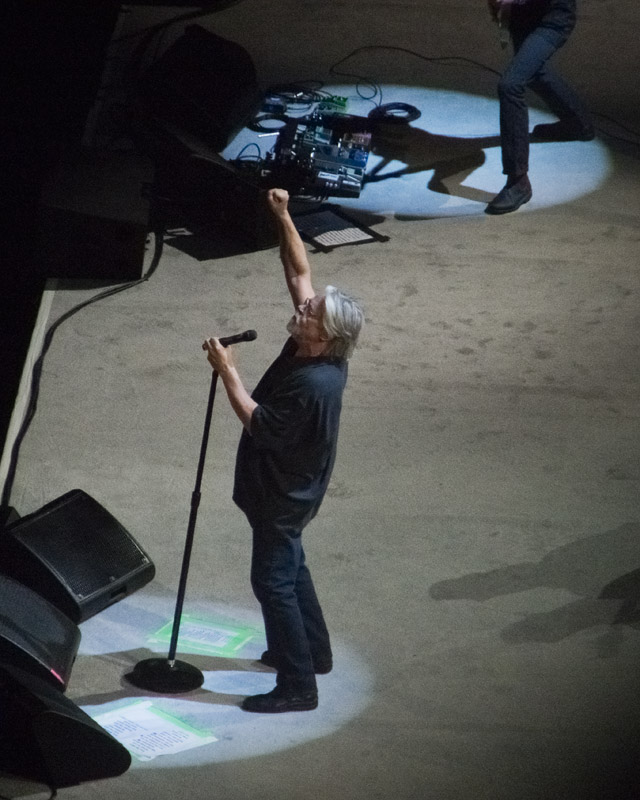 No photography … lots of signs … strictly enforced … yeah, right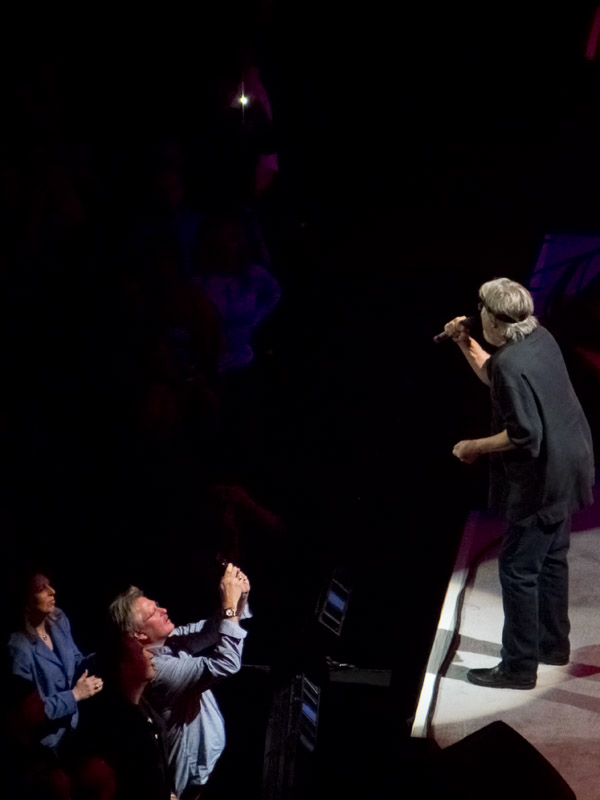 A couple of the band members were front and center all night long. The lead guitar was excellent …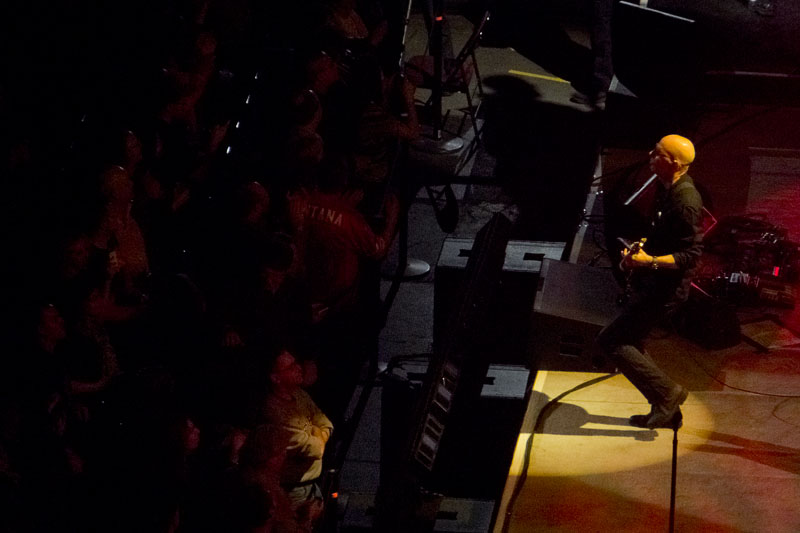 … but the Sax player was dominant …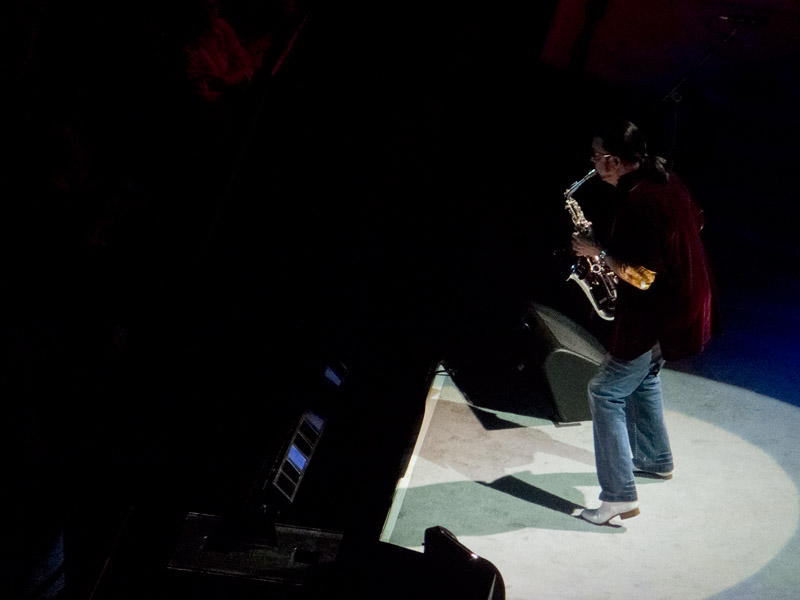 Bob sang at center stage for perhaps 80% of the time, taking to the wings for perhaps 10% for each side. The lighting was really variable, sometimes bathing the stage in light and sometimes lighting only the band … luckily my typical concert settings work for both …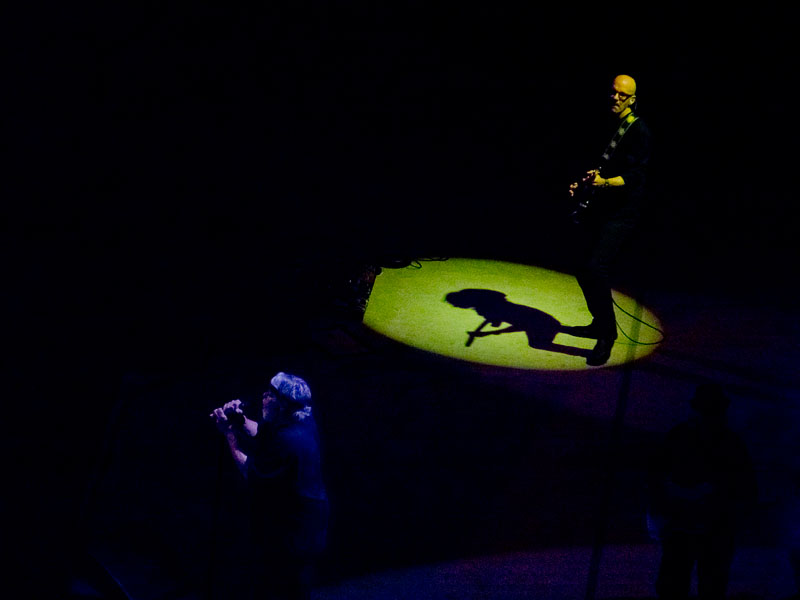 Bob likes to point at the soloist during the concert. Here, I am pretty sure the Saxophonist, Alto Reed, is wailing away in the corner … he and the lead guitarist, Kenny Greenburg, were really good about keeping the corners near the front engaged …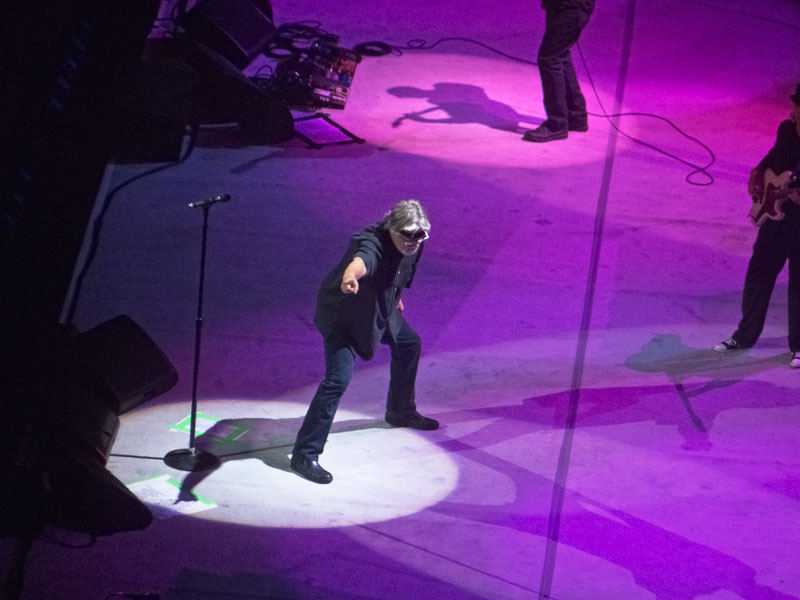 Let's get to the lineup, cribbed from a very good fan site called http://segerbob.com … click on the following image to see the entire cast and crew including management and support / fan relations. It takes a lot of people to put on such an impressive show …
The drummer, Don Brewer, has been with the band a long time as well. Sorry that I never got a shot of his face …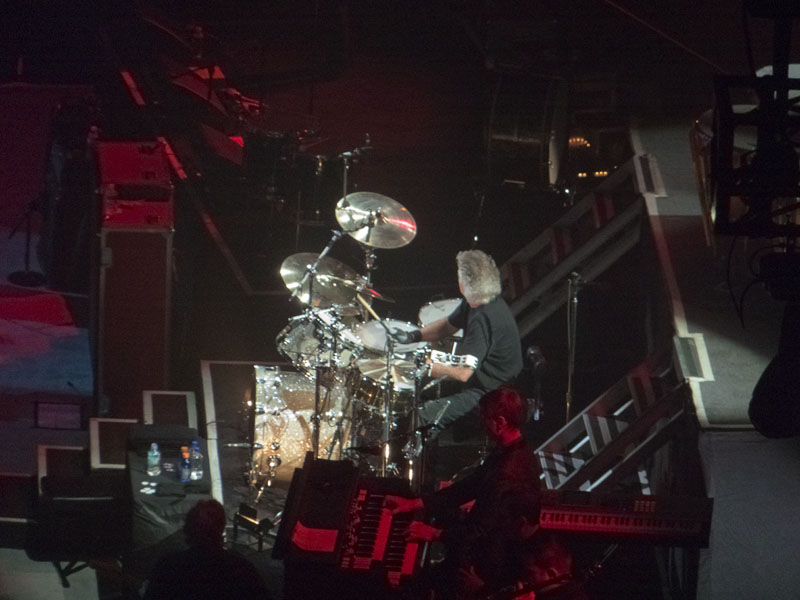 A nice, clear image of Bob singing to the front row.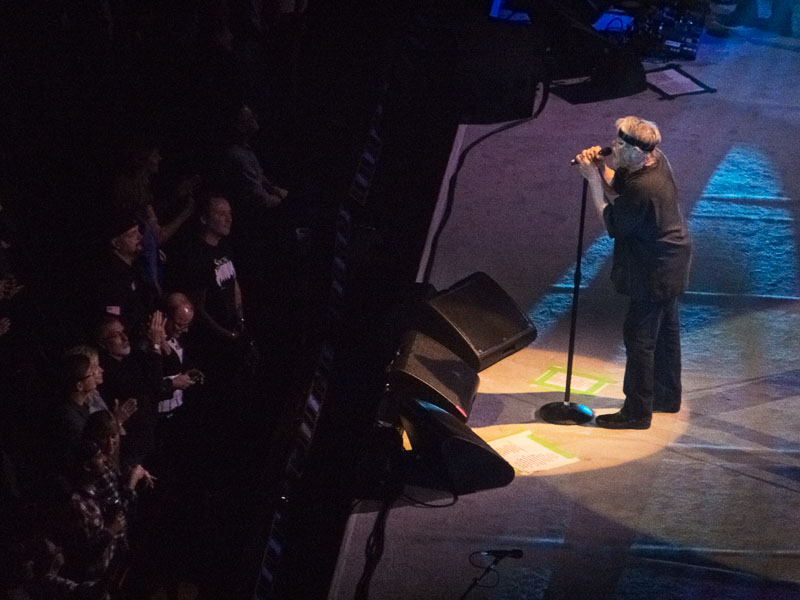 Backing out. you see a very elaborate stage with lighting reaching to the sky (where I'm sitting LOL) …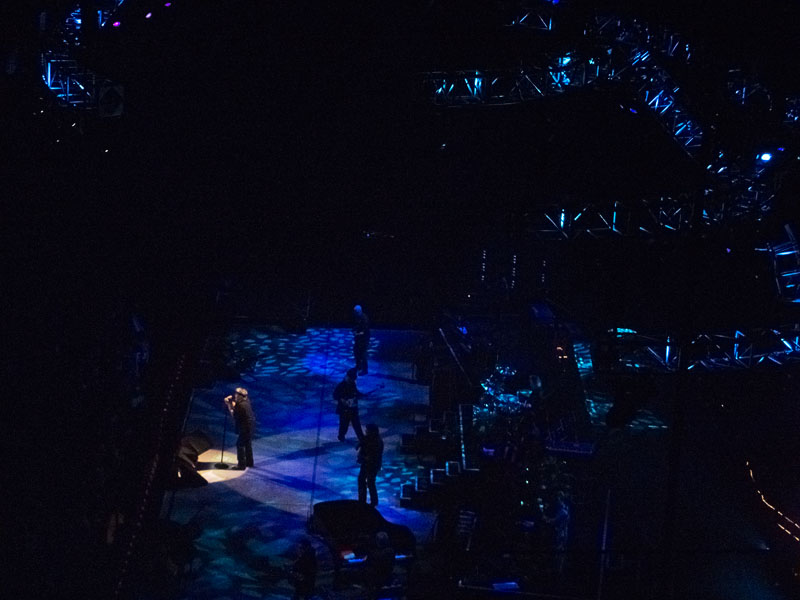 If you look closely (click on the image to see the 800px version) you will see the bass player, Chris Campbell (an original since 1969) wearing his trademark hat and walking back and forth across the stage all night long. From what I was hearing, he's still got it …
I snagged a shot on one of his trips to the wings on our side … here, Bob shows that he is a contortionist as well …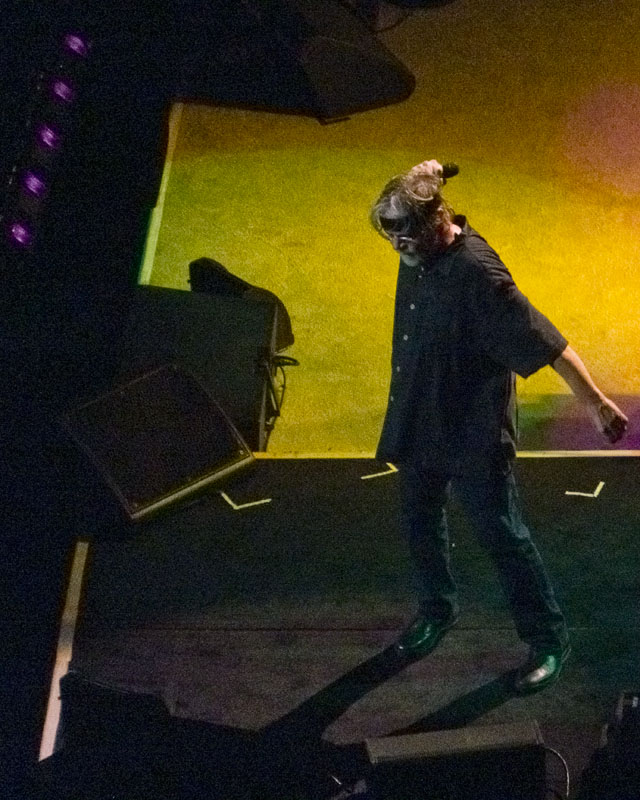 This particular image looks a little like those movie scenes in which one person has an almost religious experience and the light from above highlights it …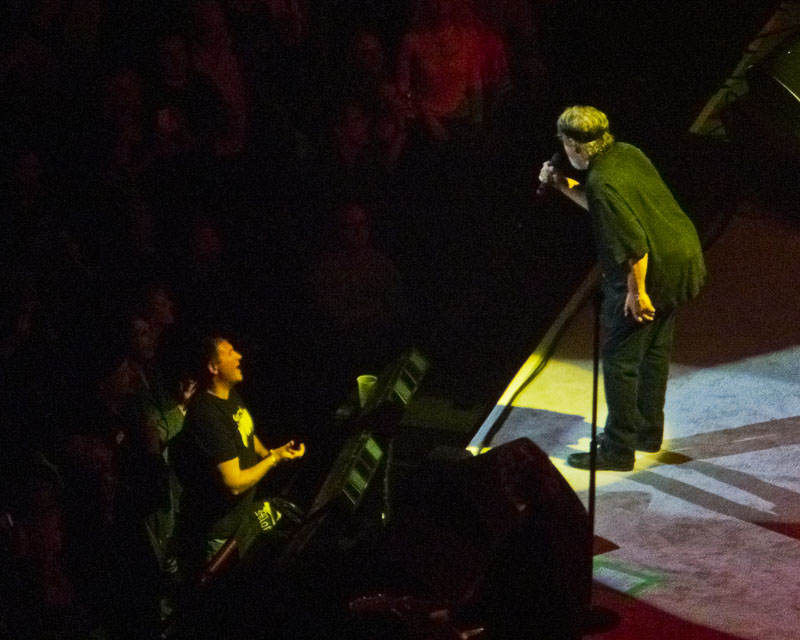 This might be Jim "Moose" Brown … a newer member who has toured with Bob before.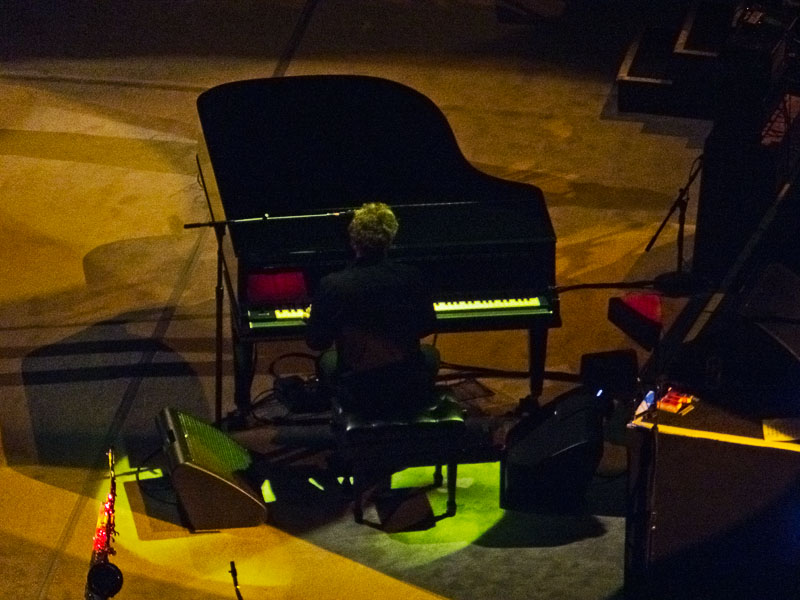 Here, Bob introduces the superb backup singers.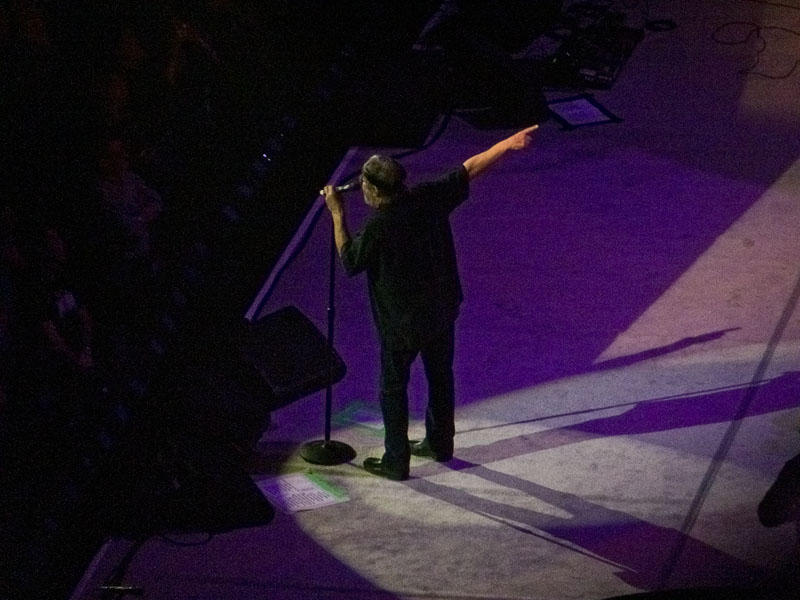 Here, Bob introduces Jim "Moose" Brown and he and Chris have a little fun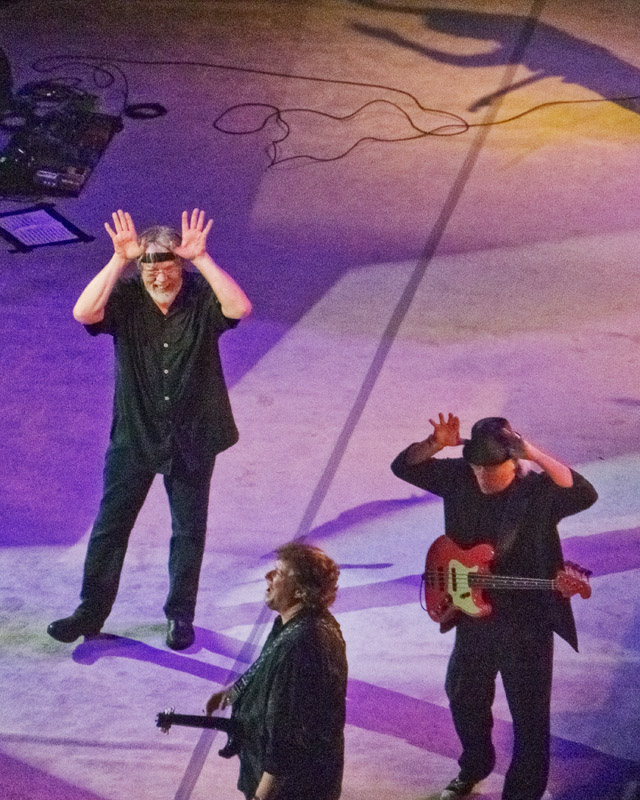 Even a superstar has to adjust his glasses now and again …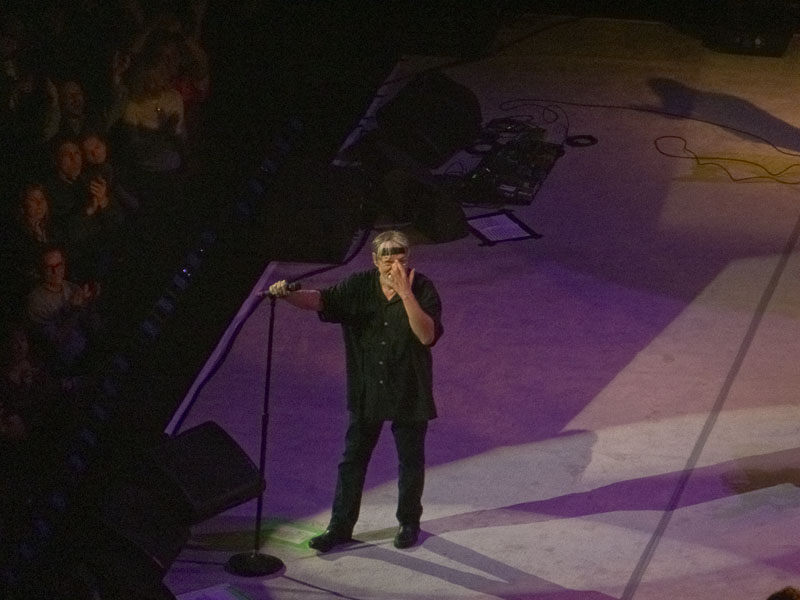 A great shot of the band proper doing its thing … Chris has walked over in front of the piano, and I think Moose is playing it. The others are arrayed across the front of the stage giving the fans what they want … nice job …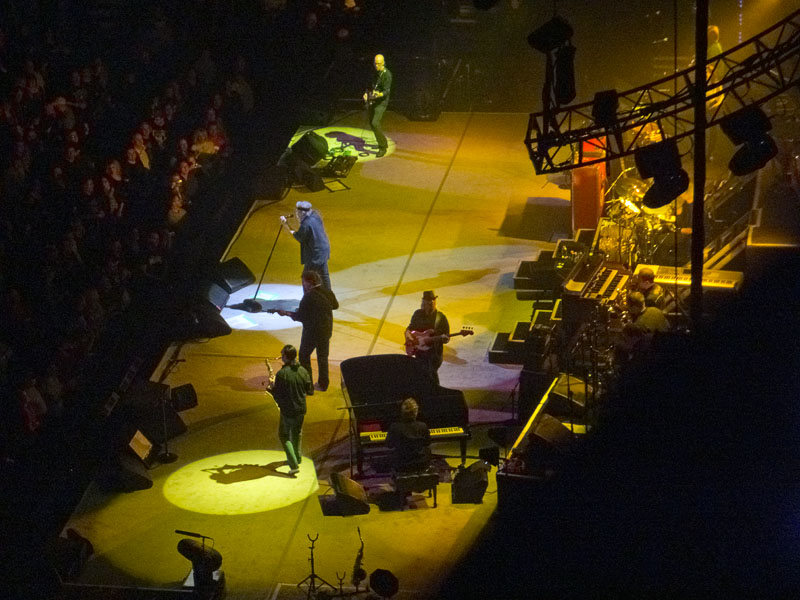 Another shot of Alto Reed wailing away … (by the way, he's playing an Alto Sax and there is a reed in the mouthpiece that is responsible for all the noise that comes out, just in case you were wondering where he got such a cool name.)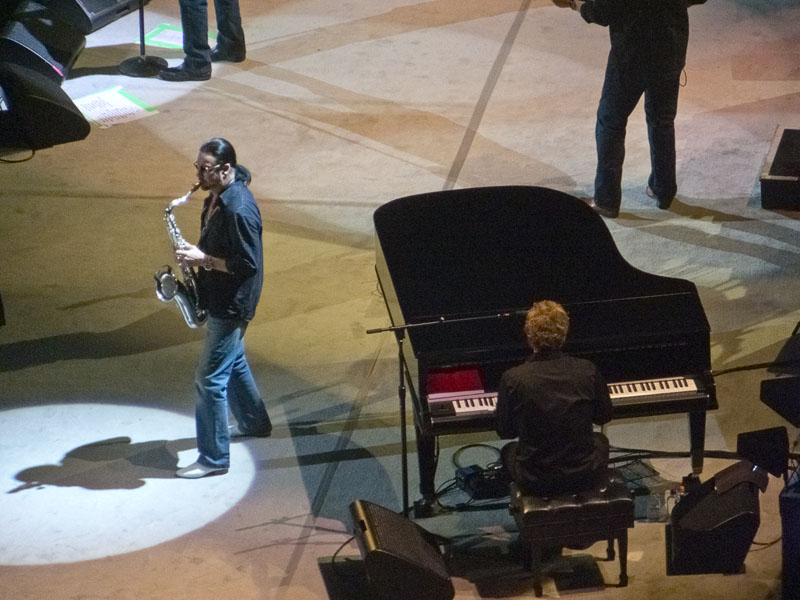 Kenny again too … over on the far side of the stage …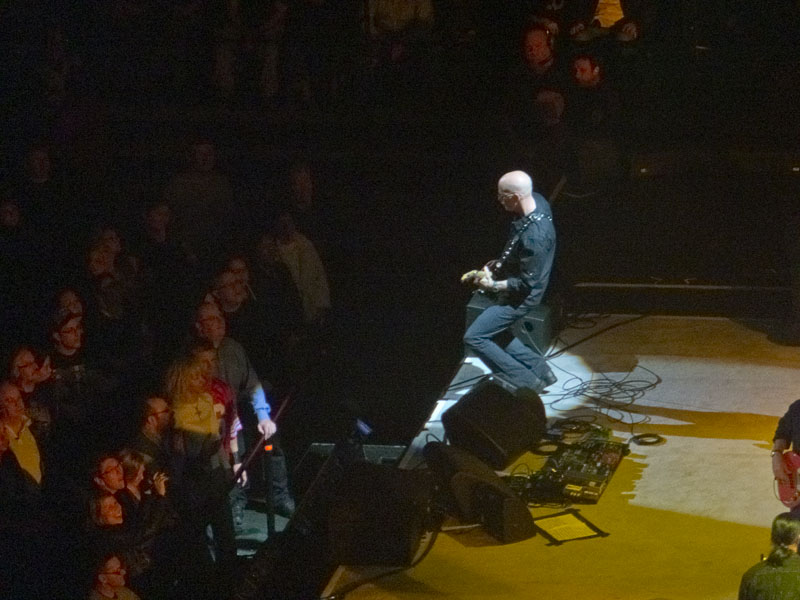 Bob can really belt it out …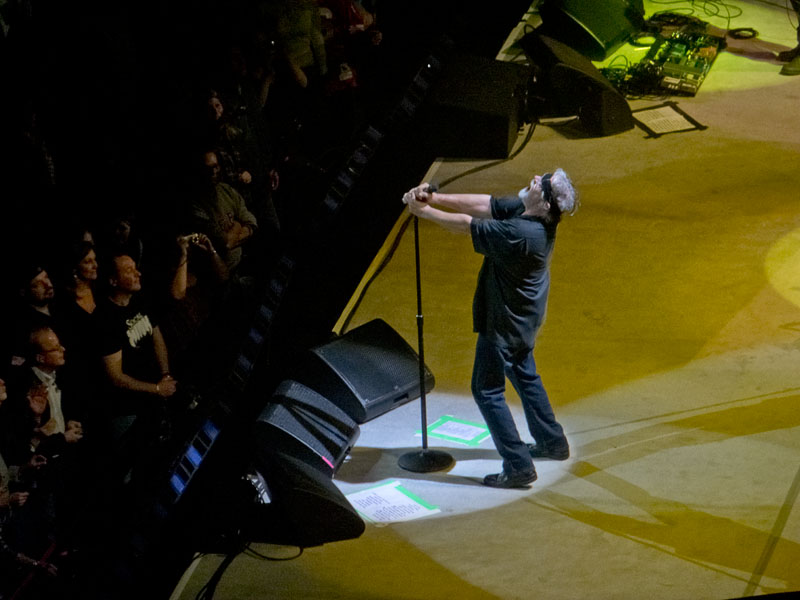 I love this next shot … an intimate moment with the audience …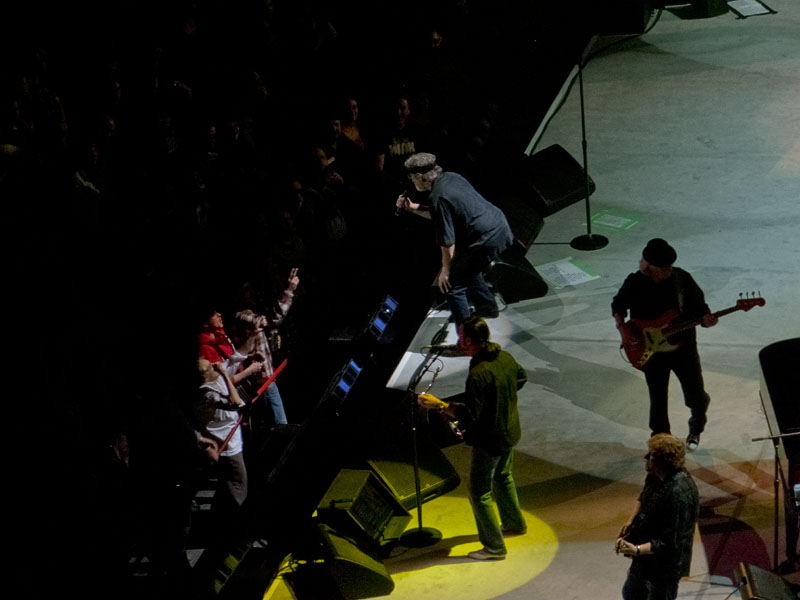 I am sooooo disappointed that I missed the clasp over the shoulders between Bob and Alto … dang, I was half a second too late!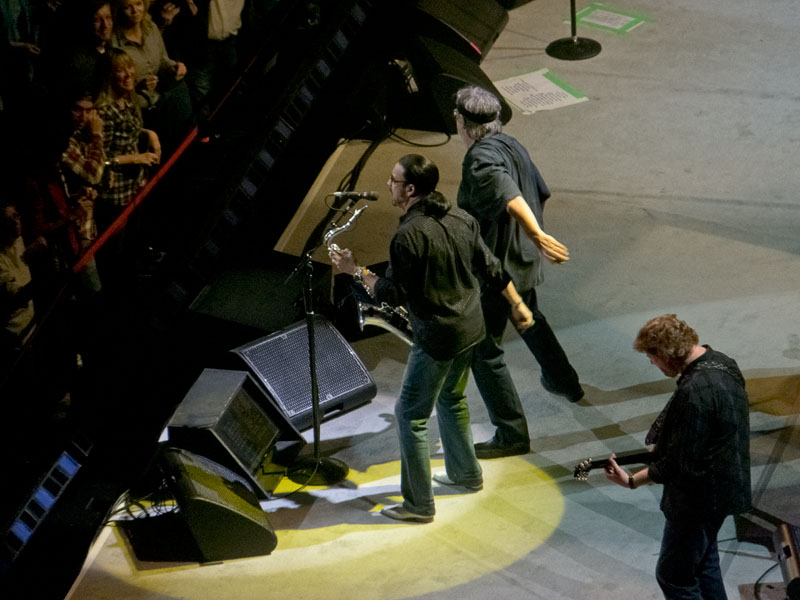 A beautiful shot of Bob with Chris just behind him and Moose at the very bottom of the image …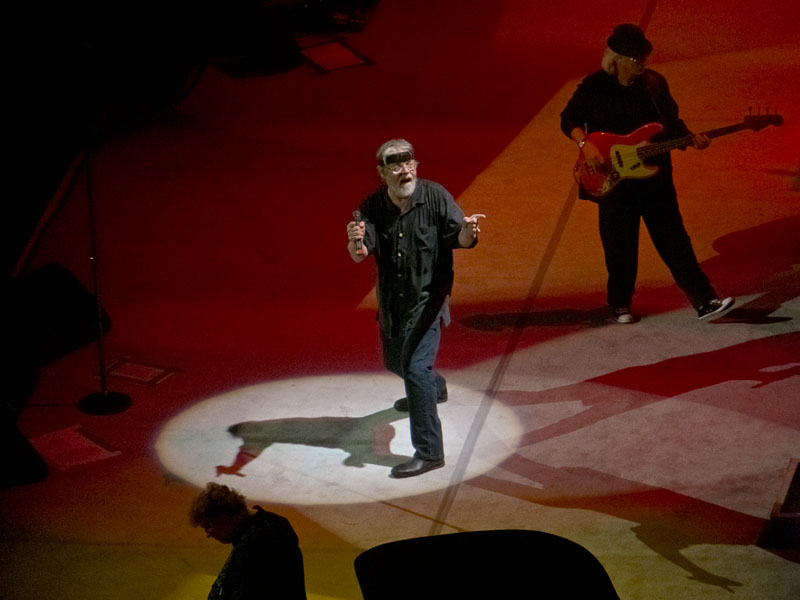 And they leave the stage …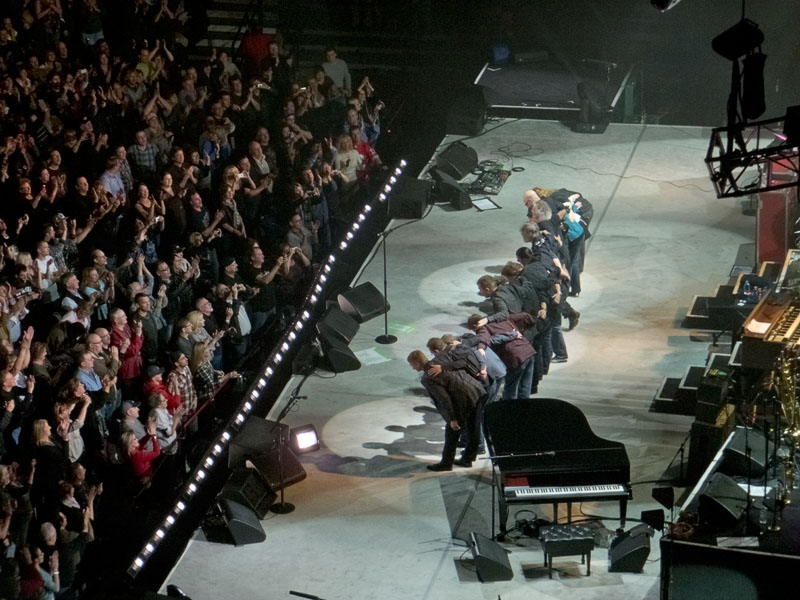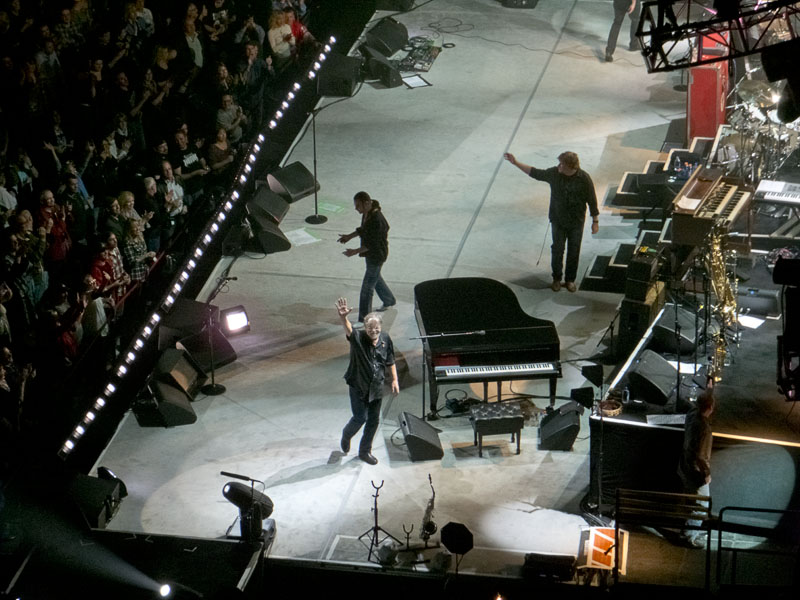 ---
And now, the video … the songs, in order, are:
Old Time Rock and Roll (ZS3)
Little Drummer Boy (ZS3)
We've Got Tonight (F550EXR)
Nutbush City Limits (F550EXR)
Against the Wind (ZS3)
Hollywood Nights (ZS3)
Night Moves (ZS3)
Rock and Roll Never Forgets (ZS3)
I hope you enjoy.
Note: The views on this video have been rather light … possibly because the video is blocked in some countries. If it is blocked in yours, please leave a comment on this article. Music Publishing Rights Collecting Society (WTF are they?) has flagged my video as having three instances of copyright violation for musical composition … that's right, they violated the video because these songs were composed by the fellow performing them.
While they are within their rights (apparently), this has not been a huge problem on YouTube in the past … but I've recently read some warnings that big media has been pushing harder and harder on these informal memories, which tells me that YouTube will be slowly ruined in the same way that Napster was destroyed.
Hopefully something will change the game again to allow us our little bit of fun …
And a final thank you to the lady who managed to annoy everyone behind her … here's a still from a video that would have been rather nice but was terminated early because the subject suddenly changed … we moved right after this …
Update: I removed the video from YouTube today because I receive a copyright violation strike from the company named in this notice from YouTube. One more and my account gets wiped out, so I am taking no chances because they have already said my video matches their content (song compositions, and how can you fight that one?)