Just before midnight, I checked the skies from my bedroom window … and things looked pretty grim.
It's 3:45 now and we're right in the middle of the zone of total eclipse … we should be seeing a blood red moon right now. Instead, we're still seeing a lot of puffy grey clouds. The forecast was for broken cloud all night, and in fact there are some very small breaks in the otherwise uniform grey … but not enough and not in the right place.
Sadly, this means that I am unable to photograph a truly momentous occasion … the first lunar eclipse on the winter solstice in something like 400 years … and the first lunar eclipse on the Flying Spaghetti Monster's birthday ever … what a bummer.
We had a total lunar eclipse a couple of years ago and I caught the red moon, but I brain farted and shot at a too low ISO and to slow shutter … so I had to process the crap out of it to rescue this truly lame image …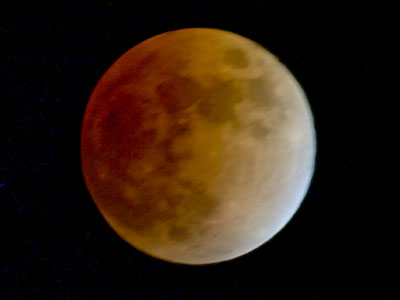 Crap … I only wish I could have redeemed myself tonight. Oh well … better luck next time …
It's still the FSM's birthday though … so that's something …