I like the Canon 500D … I had two at one point, the 58mm that I still own – which perfectly fits the Sigma 105mm 2.8 Macro lens and the HS50EXR – and a 77mm that I had for my 300mm F4 AFS, a professional lens and the sharpest lens I ever owned.
But since I am on m4/3 now, keeping the 77mm made no sense. So I am left with the smaller one, which I used for this test.
As mentioned, it screws directly onto the HS50EXR, and as I proved in my last series of reviews, it allows the camera to focus at about 16 inches at 1000mm. That makes for some ridiculous magnification and of course razor thin depth of field.
The S1 is not so easy a nut to crack. Fuji, for some reason, did not thread the end of the lens. That would have worked fine with their electronic lens, since nothing covers it and a lens cap has no trouble sitting in there as it retracts.
But instead, they force you to buy an adapter for various thread sizes … a way of grabbing 35 US dollars for the simple attachment of filters to the lens. I actually looked into getting a cheap knock off from China, but the shipping brought it to 20 bucks and since the camera is a loaner, this seemed rather moronic.
So I improvised:

I found a leather strap that went around the filter perfectly, but would not close. I solved that problem with one of my wrist straps, which snugly fit the filter with the strap on it, and viola, a hackdapter …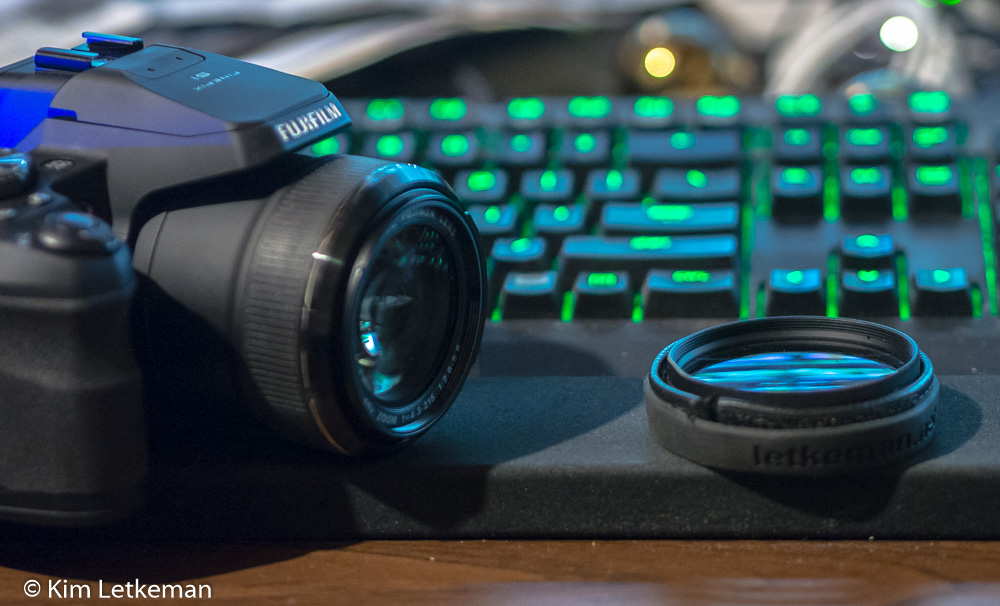 It is now a press on filter, much like the Raynox …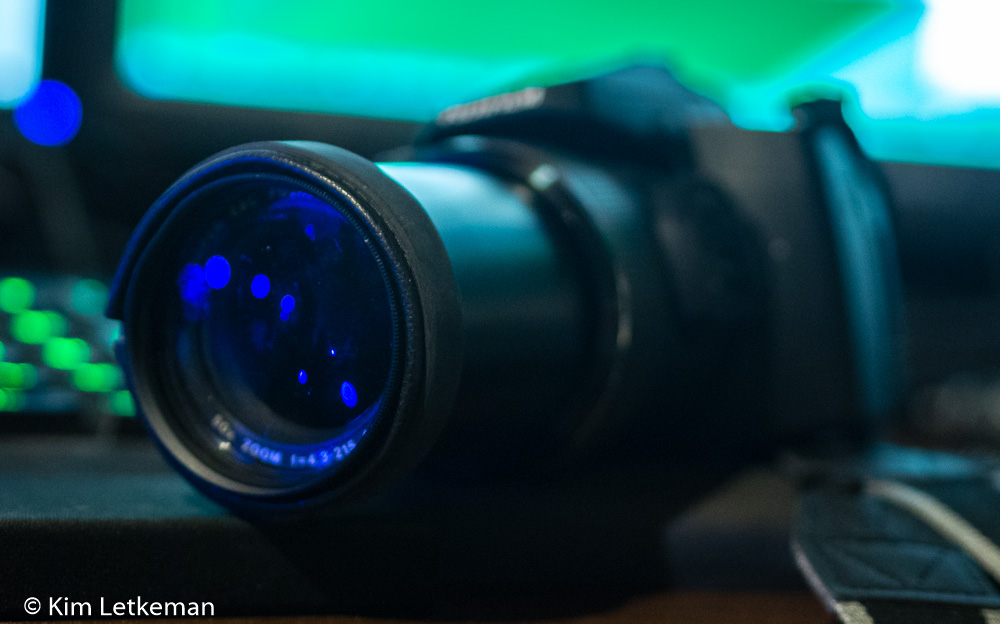 So how close does the S1 go with the adapter on? Well, it focuses to about 16 inches (that's an FL of about 500mm, which is the naming convention.) And the results are interesting … here is a crop of one of my LCD monitors …

I think I will try a more formal test to see if the HS50EXR magnifies more … it should, since the FL when focused close is longer than that of the S1. We shall see if I have time …
So we start with a pretty tiny flower … it is about an inch and a half across … the center area is maybe an inch. This is about 80 or 90% of the frame, with only squaring up performed …
Getting focus lock is extremely difficult in nature since even the slightest puff of wind (that you would never normally notice) will move the subject a huge amount at this magnification.
The center of a daisy, and this is the full frame.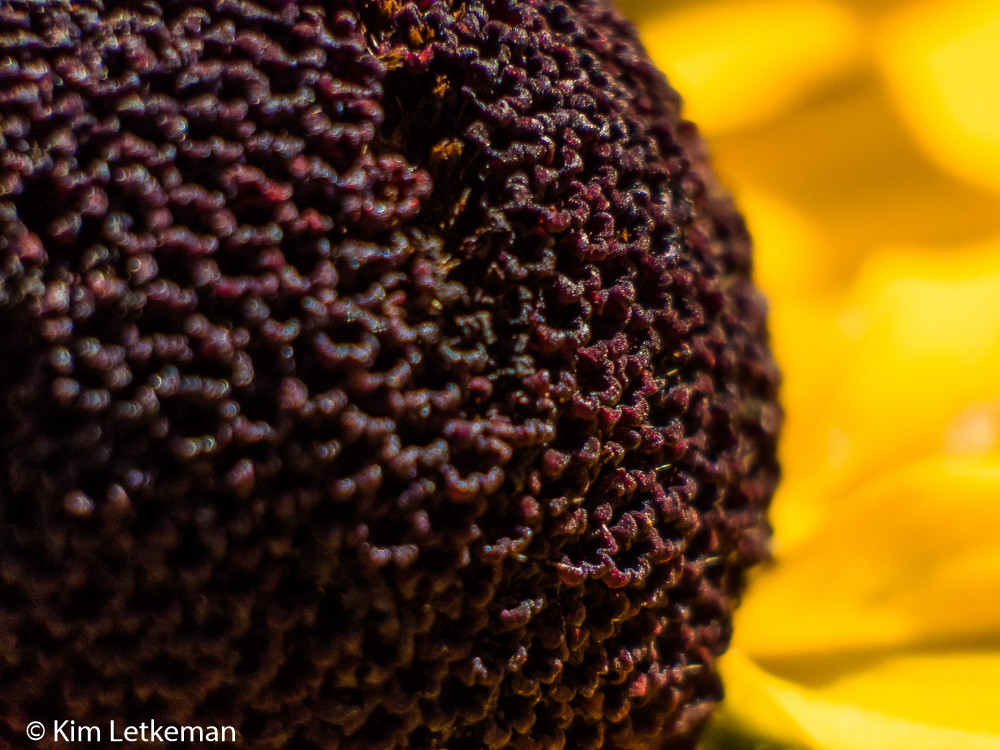 The center of a difference kind of daisy … again, wow.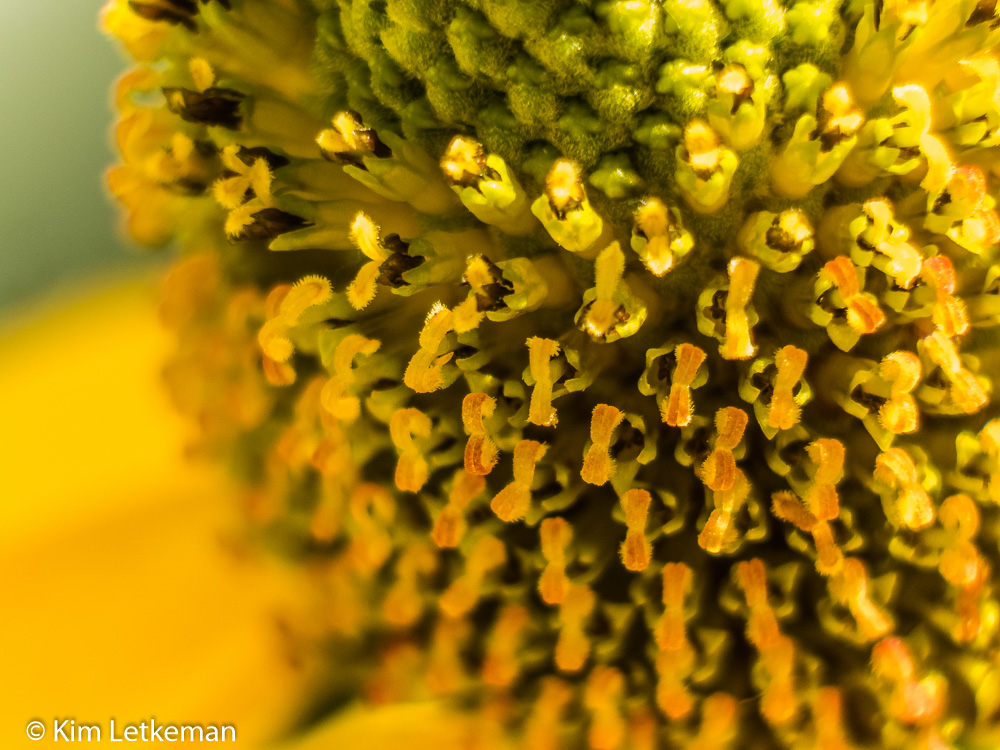 And now things get interesting. I decided for this test to upload full sized jpegs that were unprocessed and untouched. These are straight from the cameras … And please remember that there was a breeze and I was trying to get this done on a monopod, but that's kind of difficult to do.
Also remember that the HS50EXR was set up for low contrast and low noise reduction, so do not compare grain or tones, other than as a general look … the sharpness is comparable, but it is so difficult to shoot this kind of magnification in shadows that many of these are slightly off. Still, I used the best ones and they are not half bad. Hopefully, this will provide a useful comparison for someone out there … I choose to not draw any significant conclusions from this series …
The HS50EXR is shot at L sized unless I specify M size by the way …
HS50EXR in shade at 185mm (1000mm EFL) …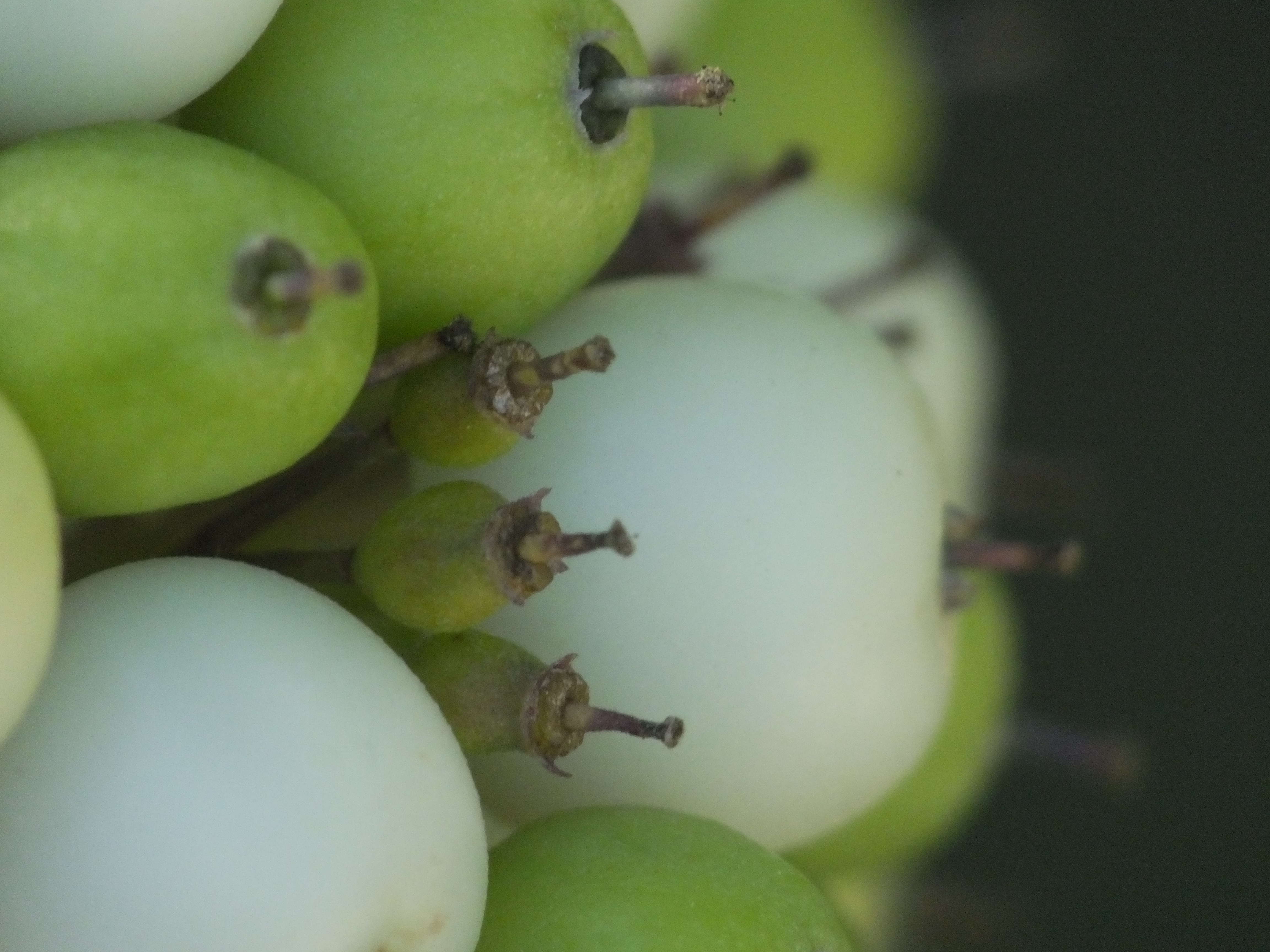 HS50EXR in sun … dialed back to 99mm, just over 500mm EFL … very crisp …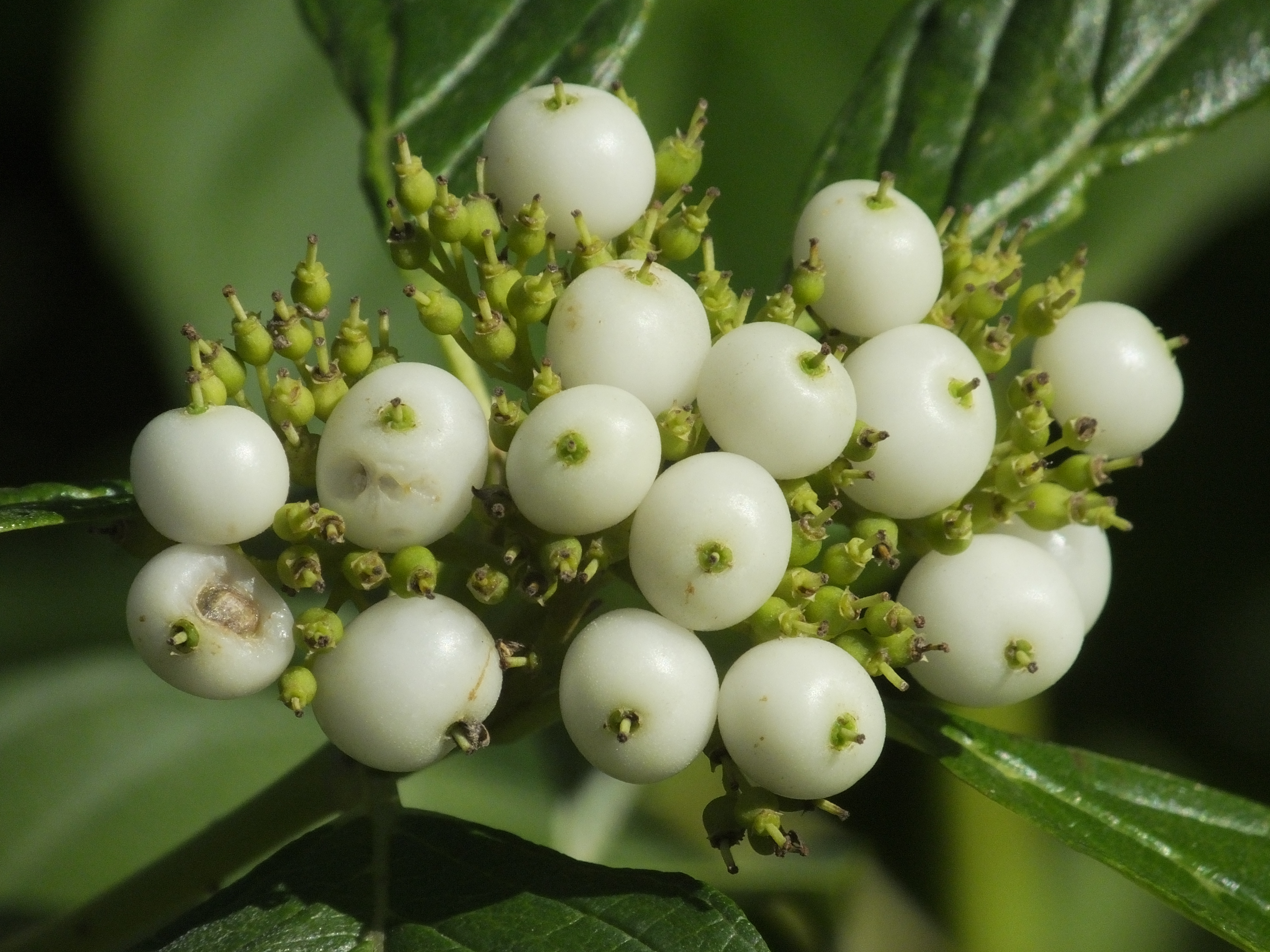 And again at 99mm in shade, AF a little closer (there is some range on the AF when you dial the FL back a bit) …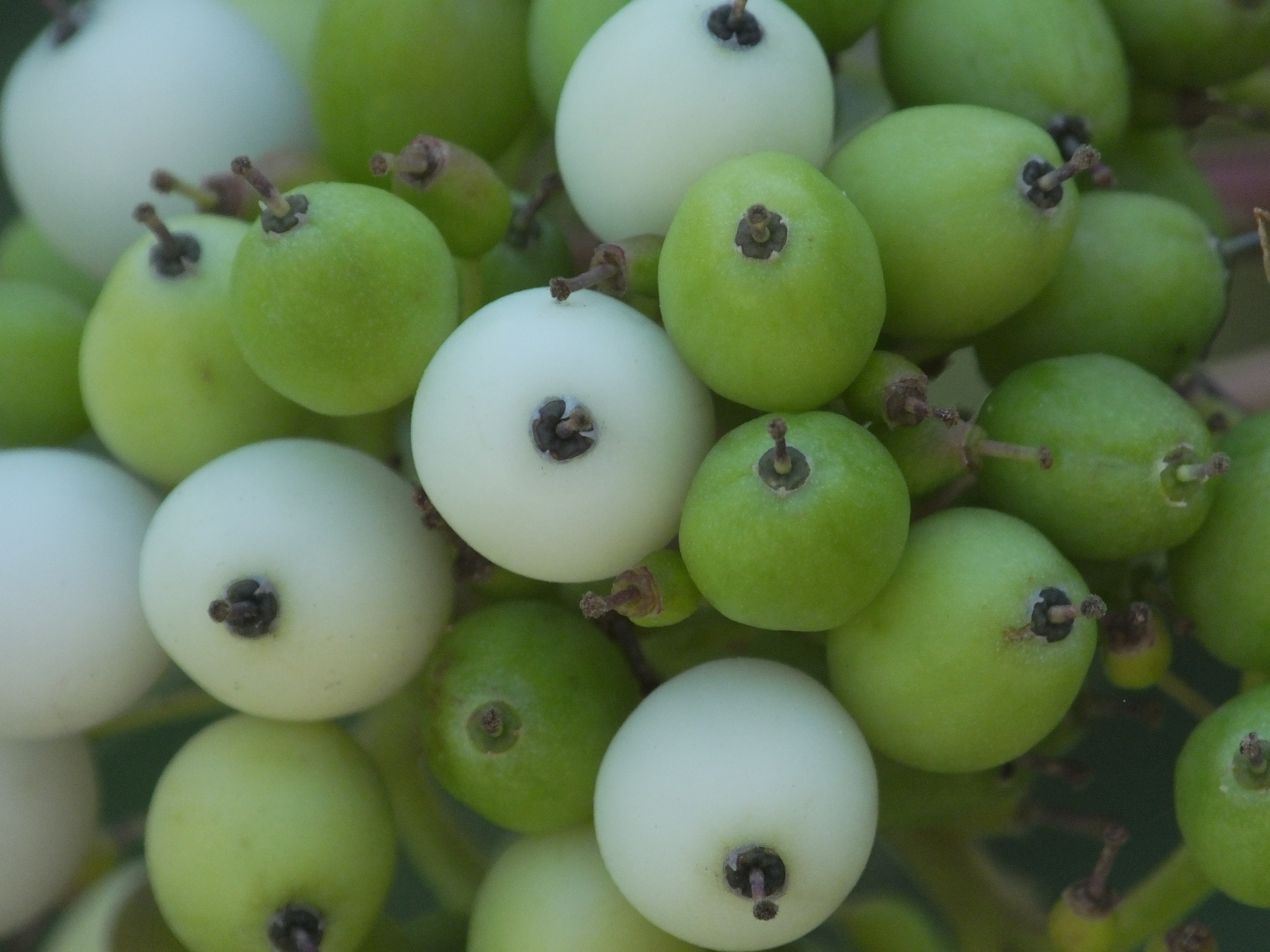 And back to 185mm in shade … this is the toughest image to get … no light and extreme magnification, and anyone with a Dogwood on the property knows how tiny these berries are …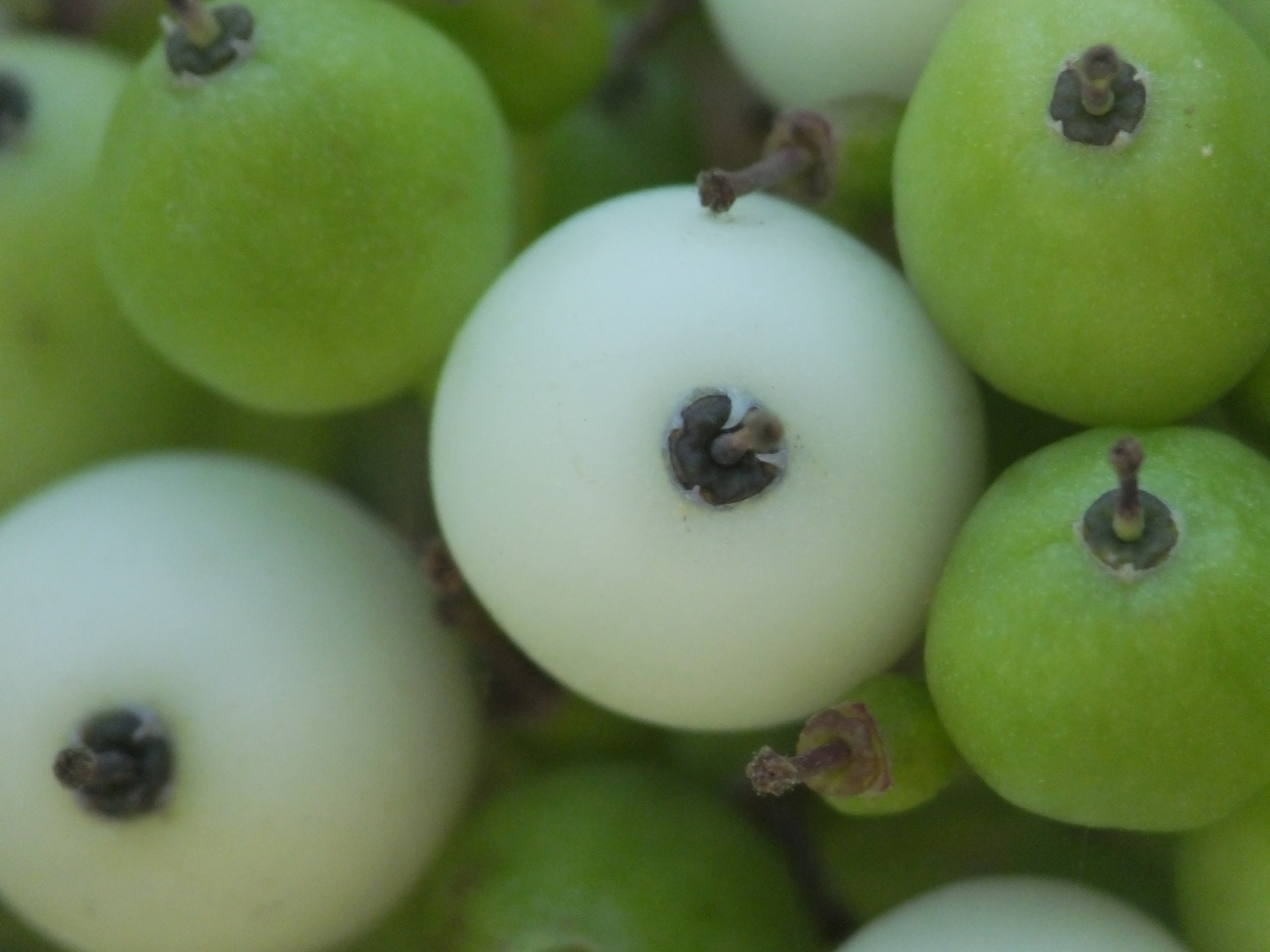 Looks like I did not shoot the HS50EXR at M size … hmmm …
Anyway, now the S1 … in sun here at 215mm, 1200mm EFL …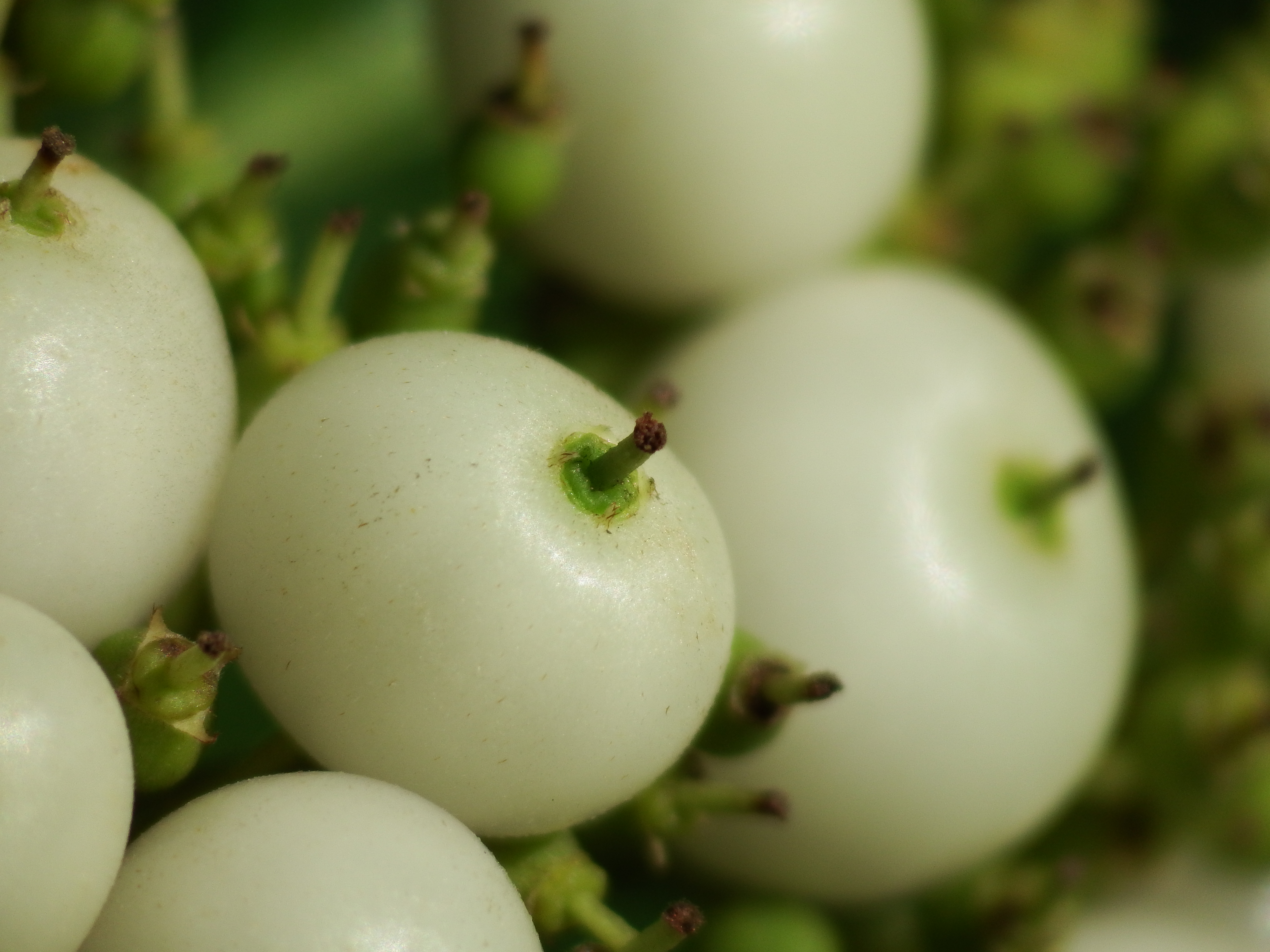 Dialed back to 48mm … this time in shade …
And at about 110mm in deep shade …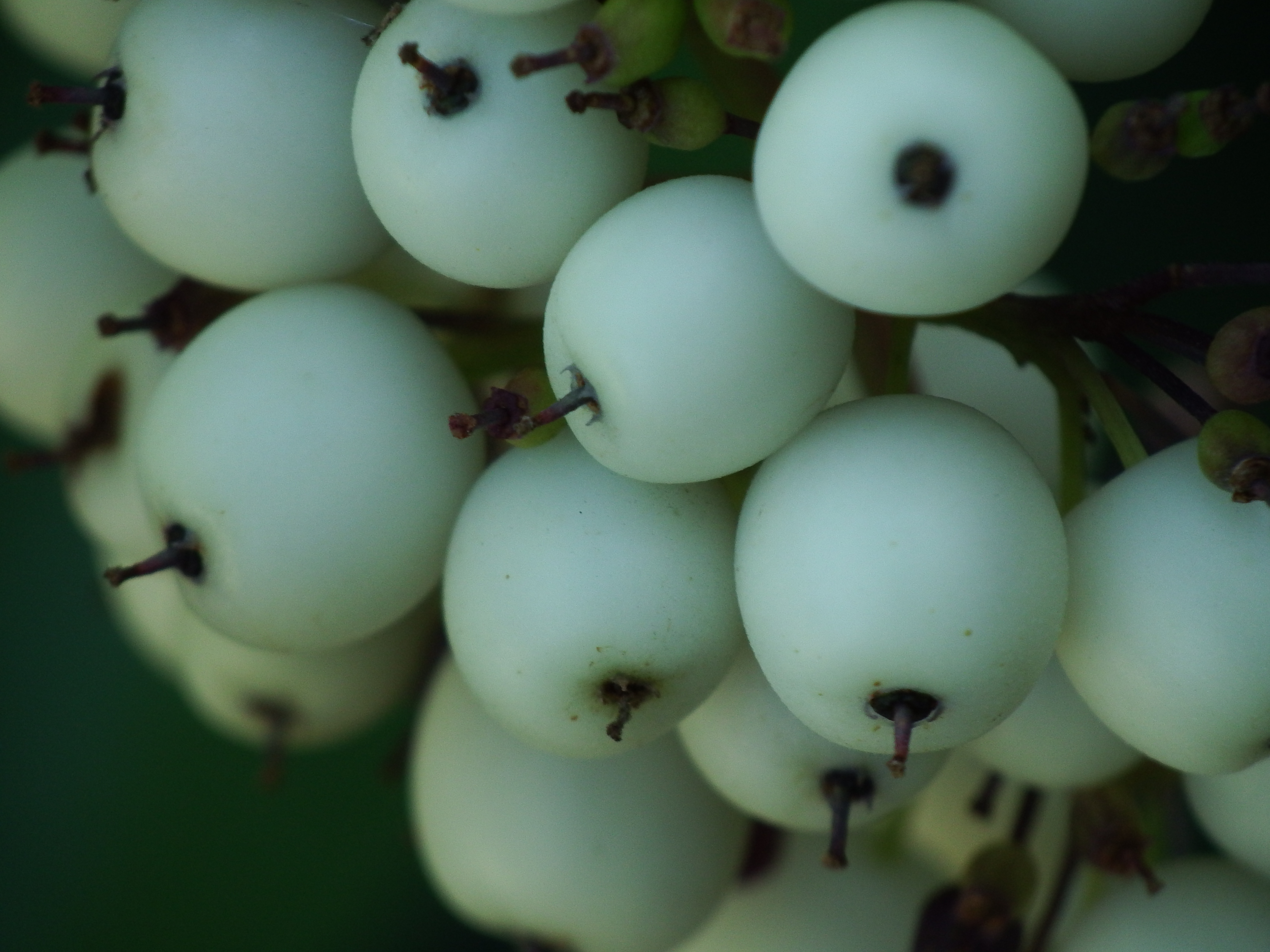 Moving to the neighbour's back yard, I photograph this lovely plant … not sure what it is, but the tiny flowerlets look great at this magnification. Only 38.5mm needed to frame the amount of the plant I wanted …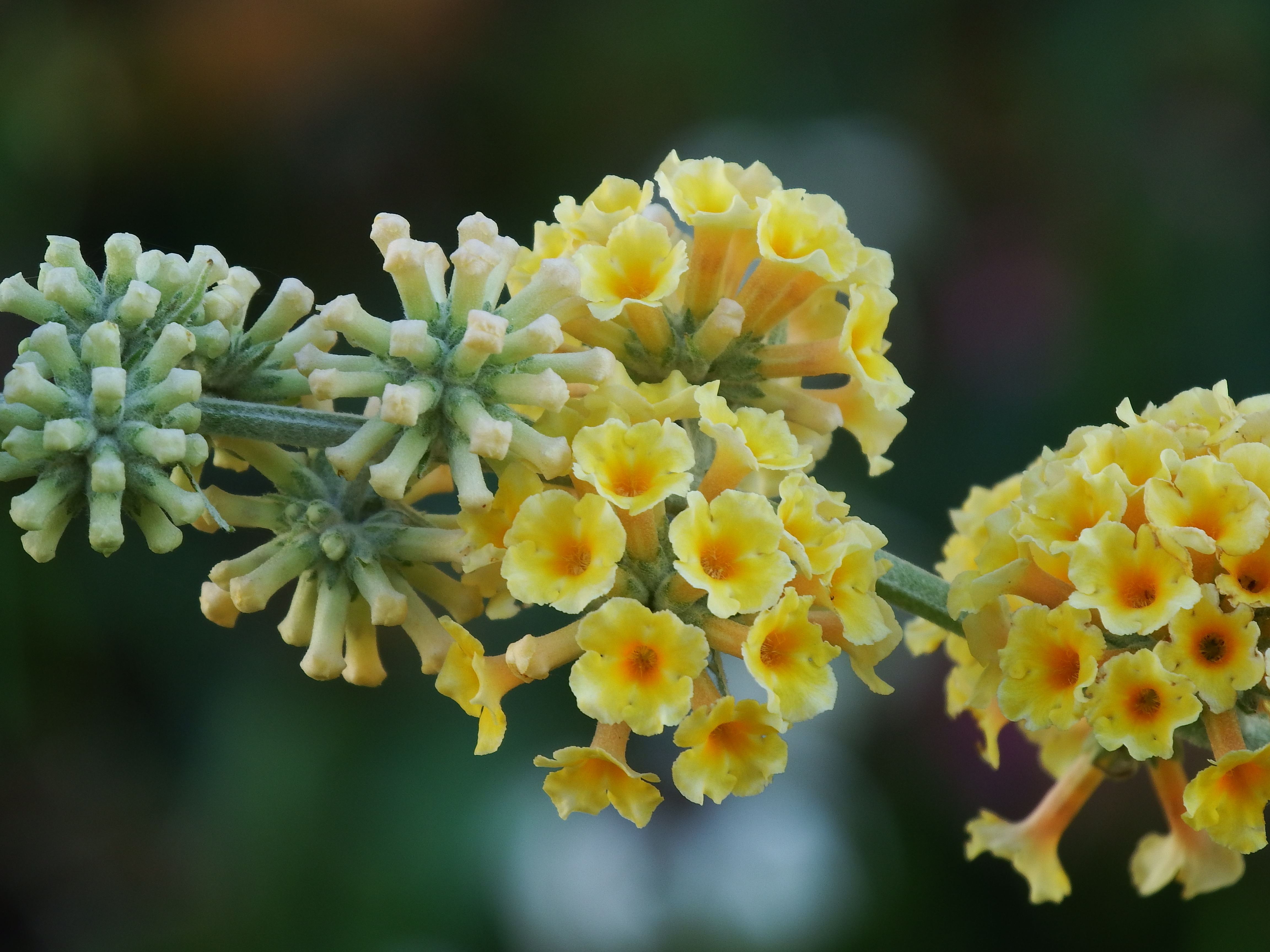 A magnificent Hydrangea … these leaves are so delicate and the tiny stamens are almost invisible normally … dialed even further back to 31mm … again in shade …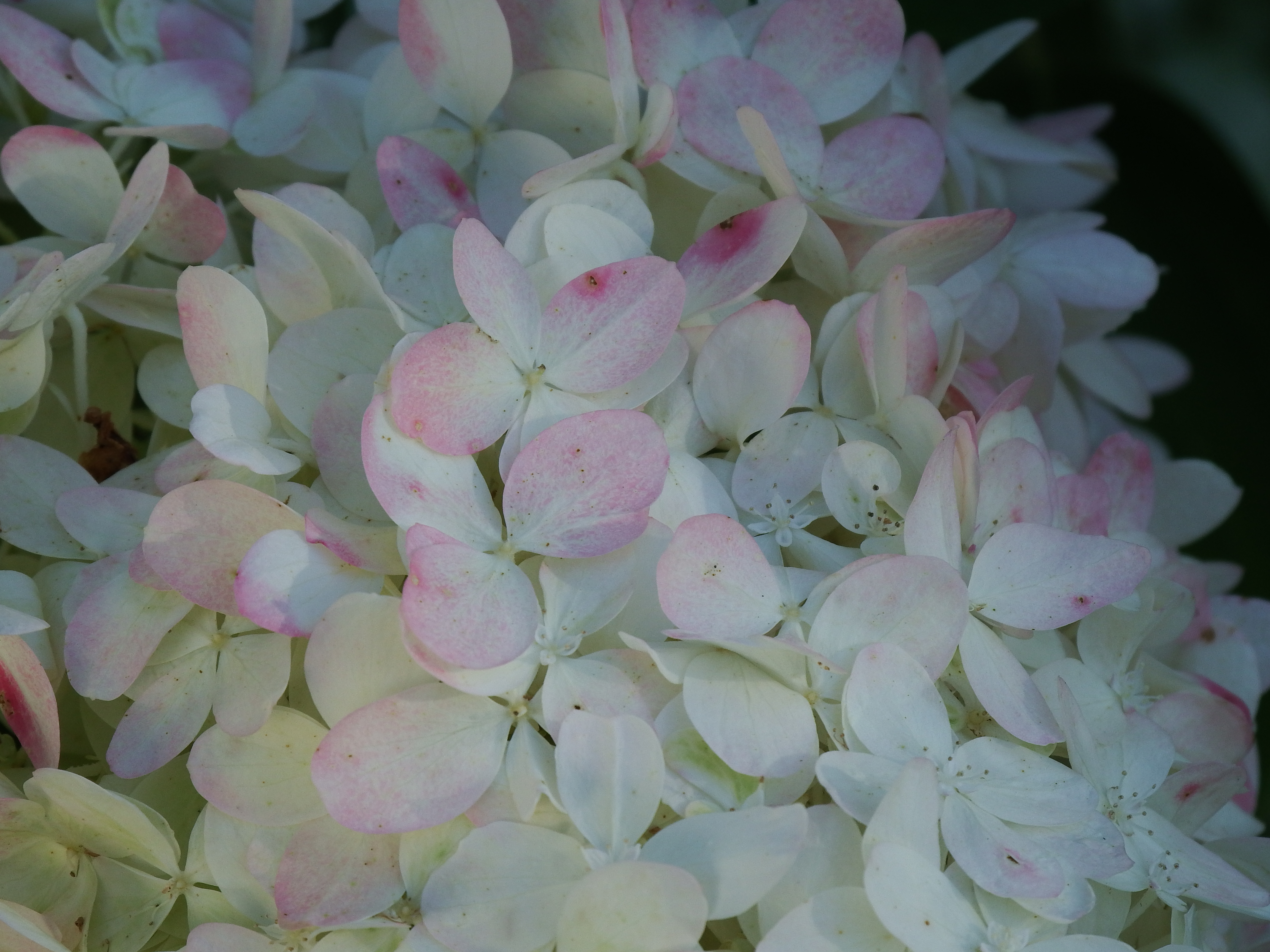 While shooting the Hydrangea, a bee appeared on a close by daisy, so I shot it at the same 31mm …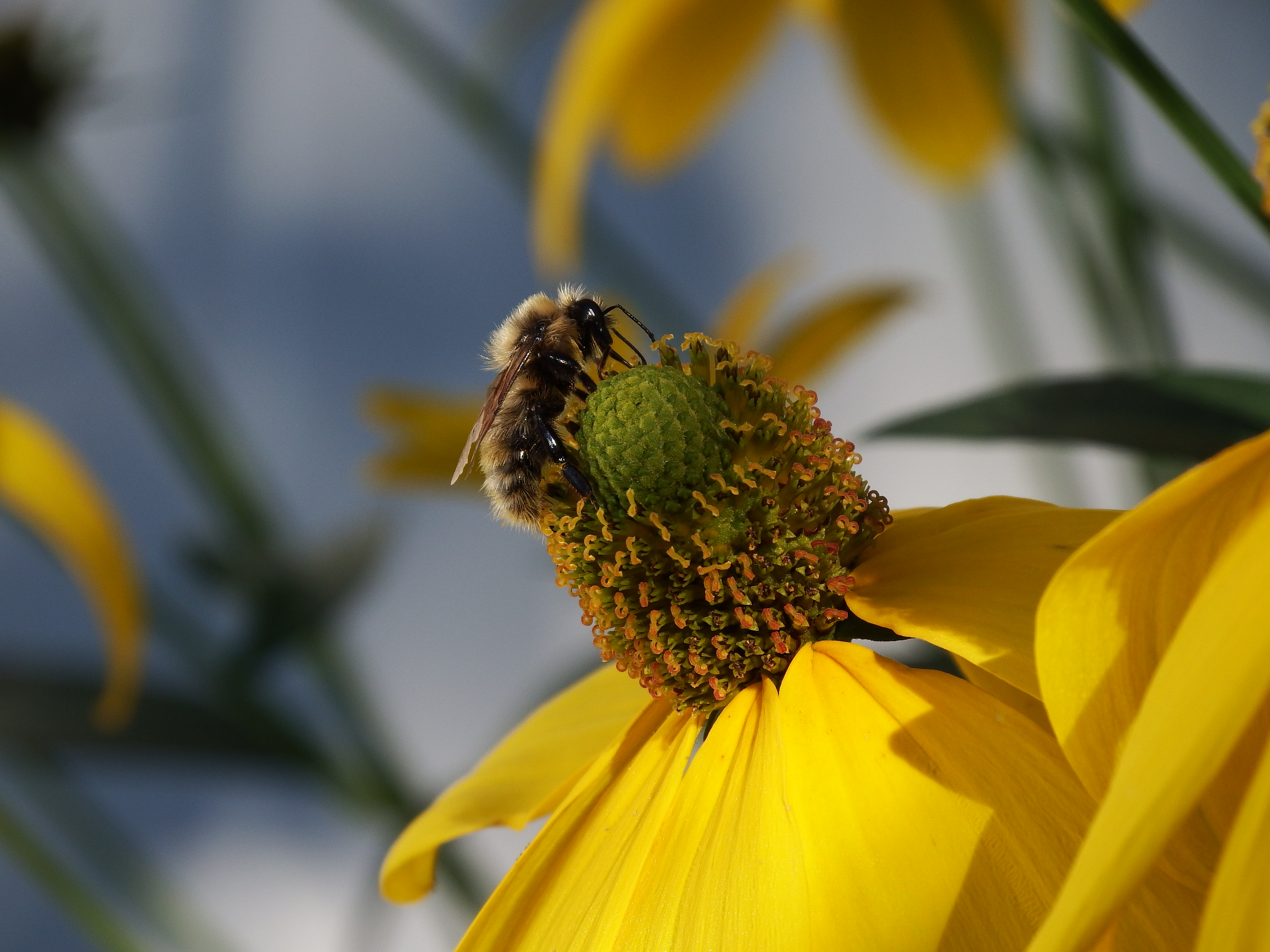 Then I dial it up to 119mm, a little beyond 500mm EFL, for these tiny flowers again. I want more context but I also want wicked sharpness. This is tough to get in deep shade, but the S1 handled it nicely in my opinion …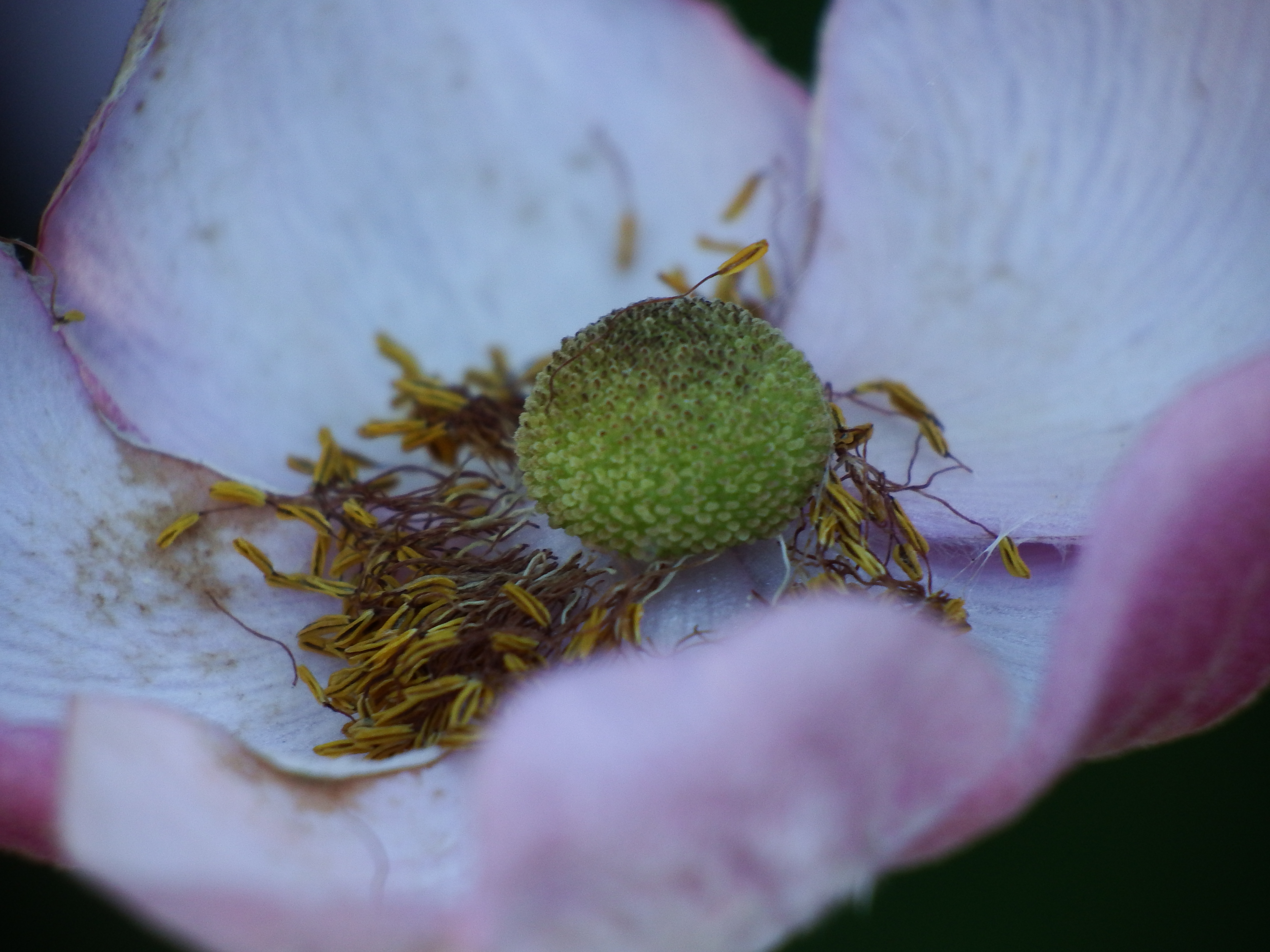 And another angle, slightly better lit.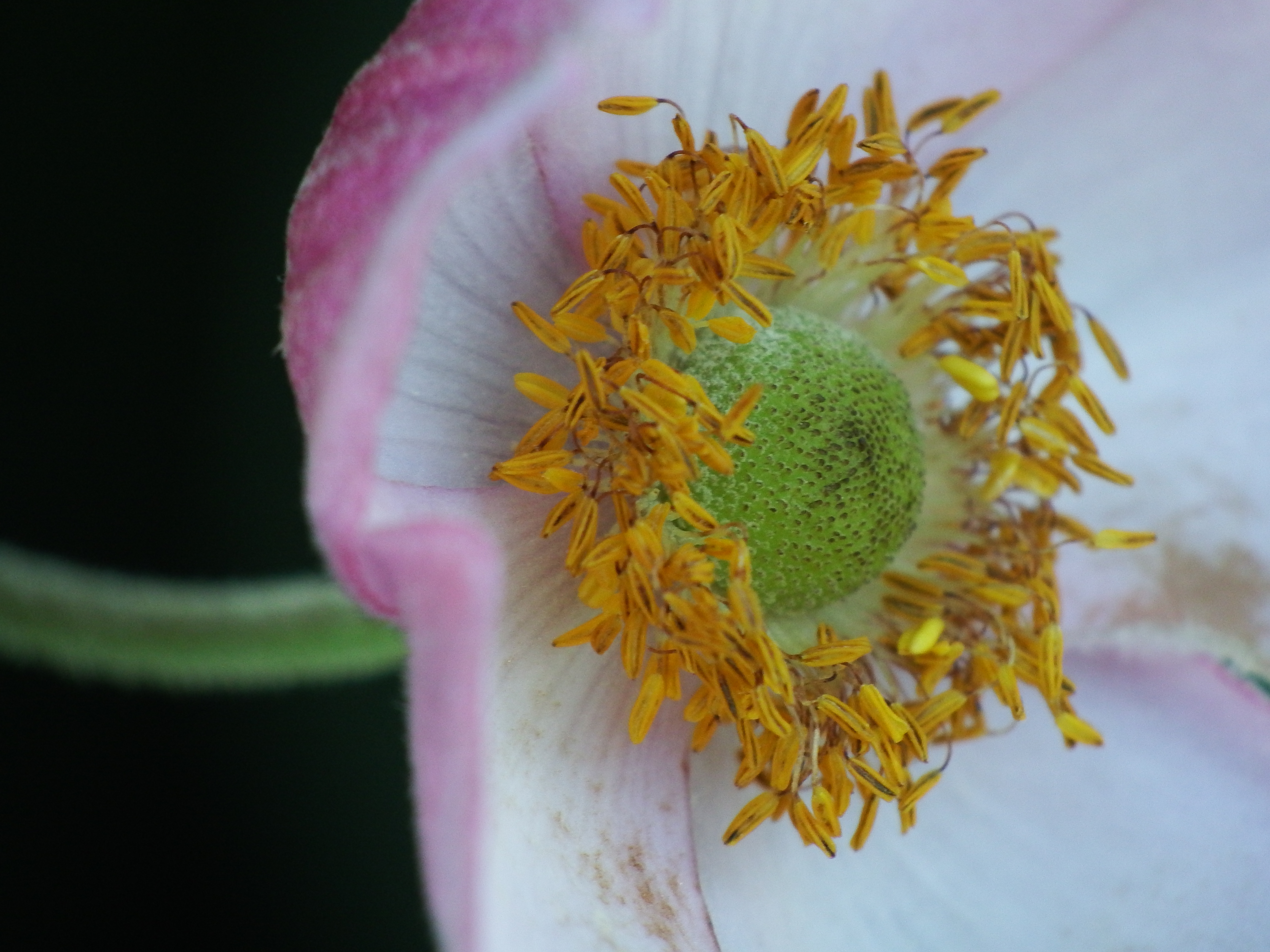 And that is that … you have lots of originals jpegs by which to judge the two cameras at close range and augmented by the Canon 500D. Enjoy …