I was asked this question in the comments to one of the other review parts and of course it hit me as a great big DUH … this is one of the first tests that one should run to see how the EXR sensor responds with different settings.
So … 1600 ISO, all the modes, tripod, timer, yada yada yada …
This is very low light, the exposure being f/5.6 at 3/10s … with f/2.8 at 1/10s for the auto modes. But the temperature of the light is closer to daylight, so the camera does not struggle as it did in the poor light ISO ladder.
Here's the target image. I set macro mode and zoomed in tight. The usual suspects for image elements, although the coin has been changed as I dropped the whole thing from about 6 feet up. Two crayons lost (decapitated I am sorry to say), the coin lying somewhere under something … but otherwise unscathed. This is the RAW DR400 shot fully processed. Frankly, this is as good as a compact can get.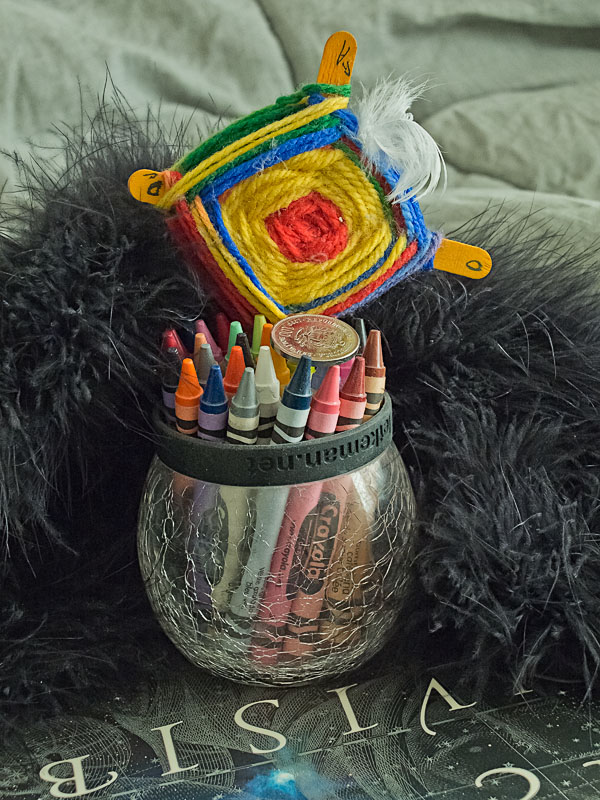 The jpegs are straight out of camera because that's how people shoot the X10. The RAWs are adjusted aggressively for tone and noise. The two large sized RAWs are downsized to match the M size of the rest.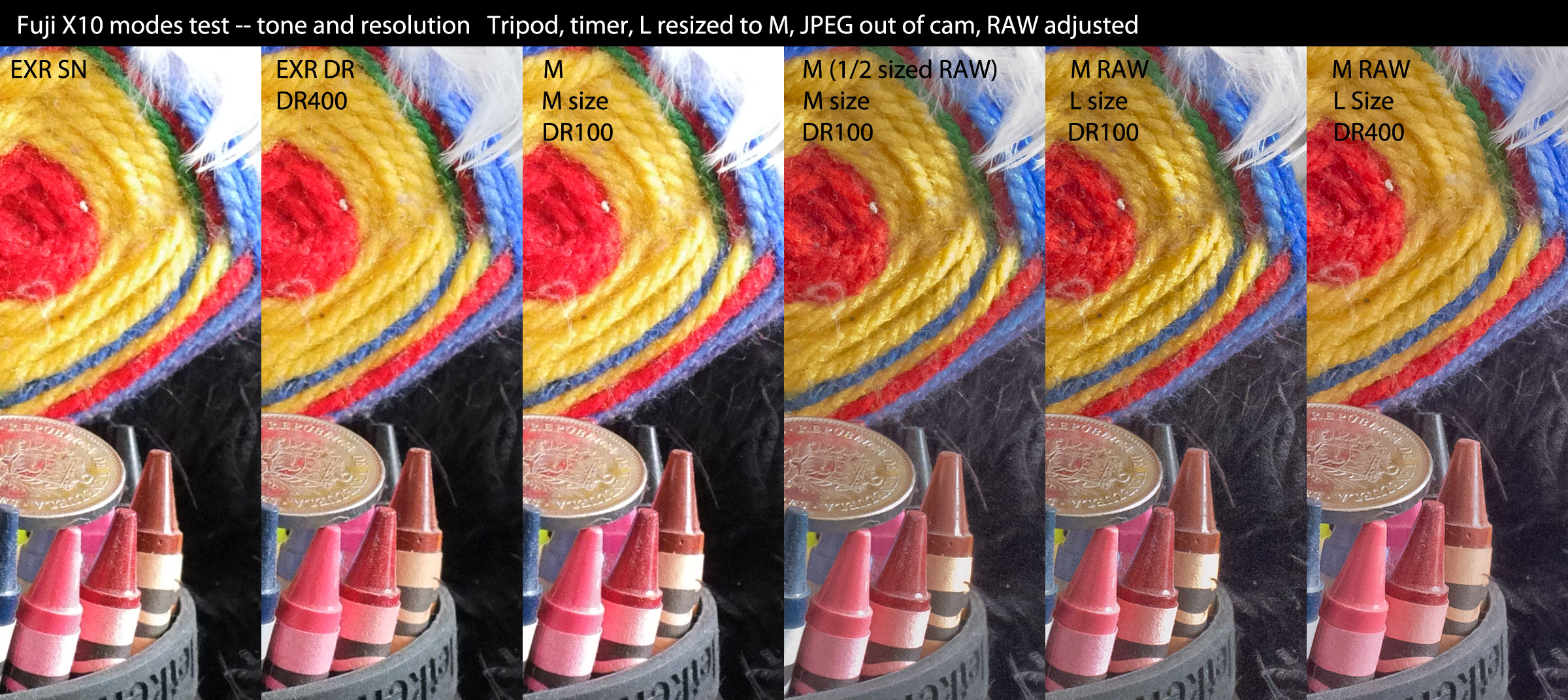 You will be wanting to click through the crops. They are huge, so make sure you expand the image your browser shows you to full sized.
My Analysis
All are pretty close to noise free. The RAWs would just just as noise free were I to hold the same dark tones.
Only DR400 can hold the highlights on the right-most crayon and the feather. This is significant, since I continue to see constant burn outs of parts of images and that's just unnecessary.
Plenty of detail retained in all of these, but the RAWs have a slight edge.
The X10 shoots nice and clean at 1600 ISO. Even in really low light. Shutter speeds are nothing to write home about, but then we know that the Fuji requires about twice the light of the D7000 for the same exposure. This partially negates the fast lens of the X10, and that's unfortunate. But otherwise, all the modes work well.
However … if you shoot DR100, then you should be protecting highlights yourself and opening shadows. Otherwise, just shoot DR400 all the time and save yourself some grief.
Unfortunately, there is no way to shoot ISO100 and DR400 in pure RAW mode. So you have to make a choice at that point … set –EV and handle the tones yourself, or set 400 ISO and live with extra shadow noise. But once ISO rises to 400 or above, set DR400 and enjoy the extra tonality you get for free …