Tuesday ran the gamut … freezing rain in the morning, rain midday … and pouring rain with freeze in the evening. Unbelievable mess …
The roads turned to pure ice and I needed some groceries, so out I went anyway. Traction control + excellent ice tires == BFD.
When I was done shopping, I slipped and slid my way back to the car in the downpour. Really unpleasant … but I stopped anyway to capture the skating rink it made of the parking lot. Wow …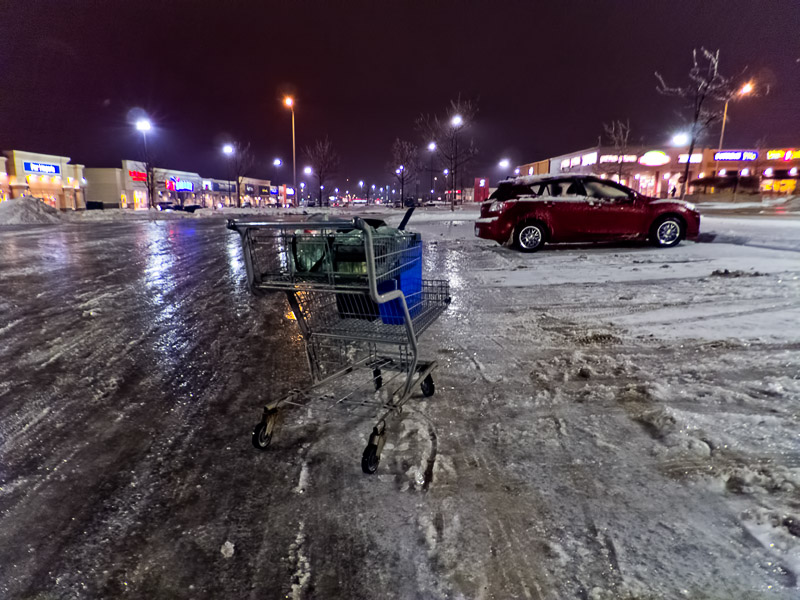 Yes, you are correct of you spotted the recycle bin in my cart. The perfect size to fit under my sink on the left side (big pipe in the way.) The right side takes the garbage bin you see on the left of the blue bin … it fit perfectly as well.
By the way … I had a world-class brain fart when I shot the above image … I should have used –1EV compensation to protect the lights, but it was pouring so hard that I forgot. So none of the signs are readable as they should be … sorry about that.
By the time I shot that image, there were a number of drops on the lens. The rain was driven at an angle, so hitting the lens was inevitable …and my car was covered in ice in only 30 minutes in the store at most …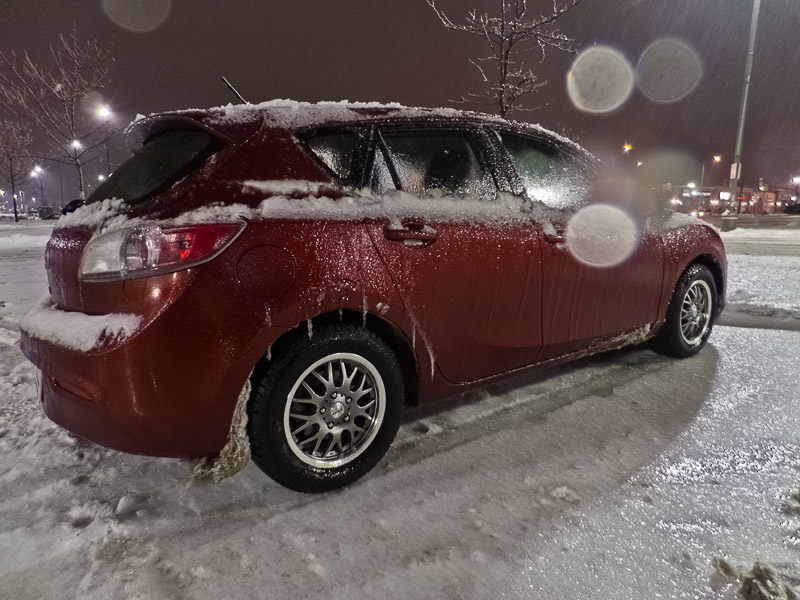 Opening the door to start it up showed me how much fun I was going ot have scraping yet once more … third time that day …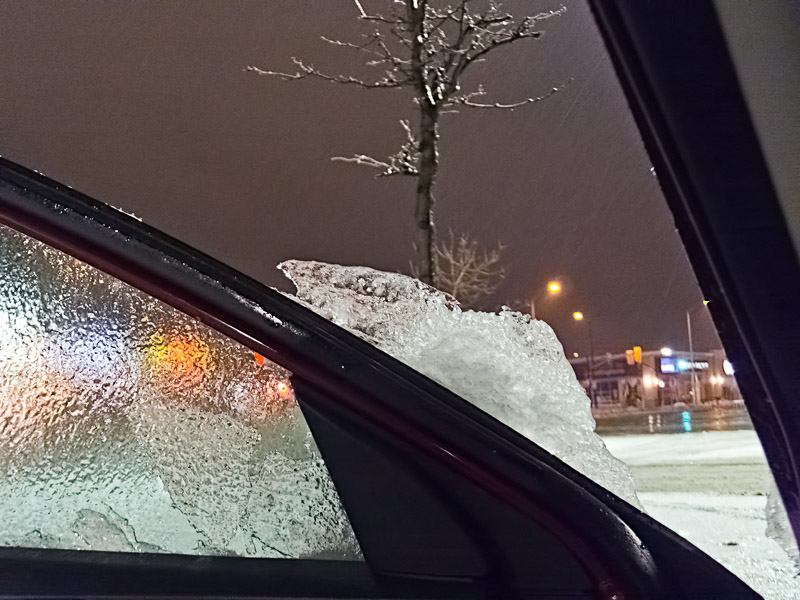 In that image you can finally get a glimpse of the rain …
Next up are shots of the driver's window, which is completely coated …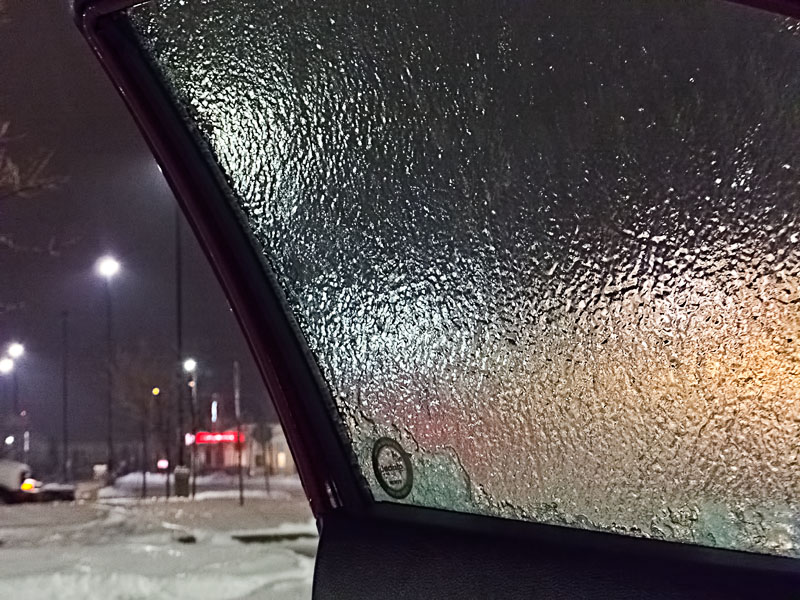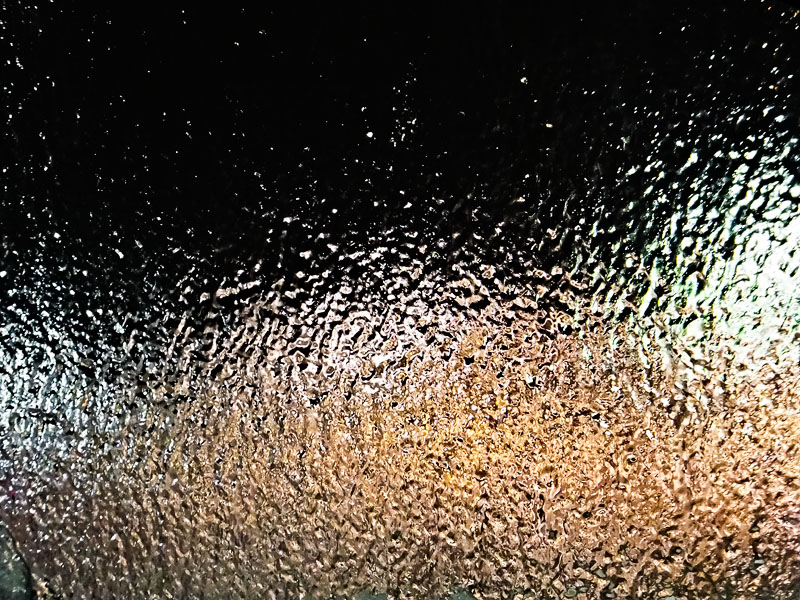 And lastly for the evening is the wind shield … by this time, this ice was breaking up from the heater …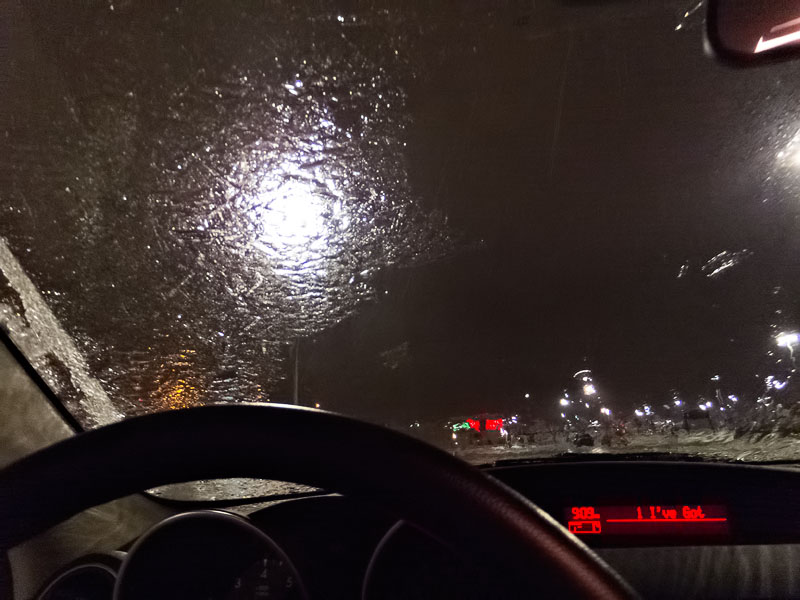 The next day it was beautiful sun and crisp. I left in mid afternoon to attend a meeting and it was rather cold … around –12 if I recall correctly. Here, the front yard has that fondant look again, but this time it really is that way. There is a crust of smooth ice form all the rain. Pretty, but yuck.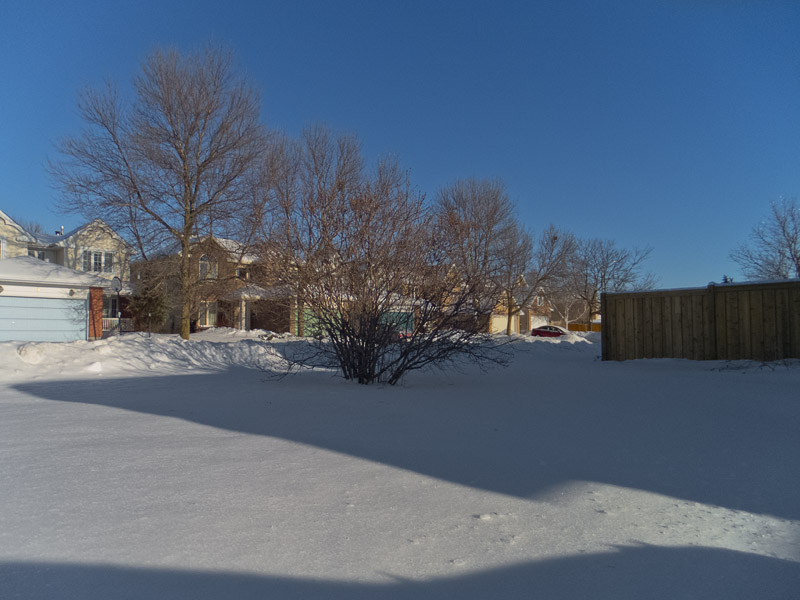 Car is still covered in ice …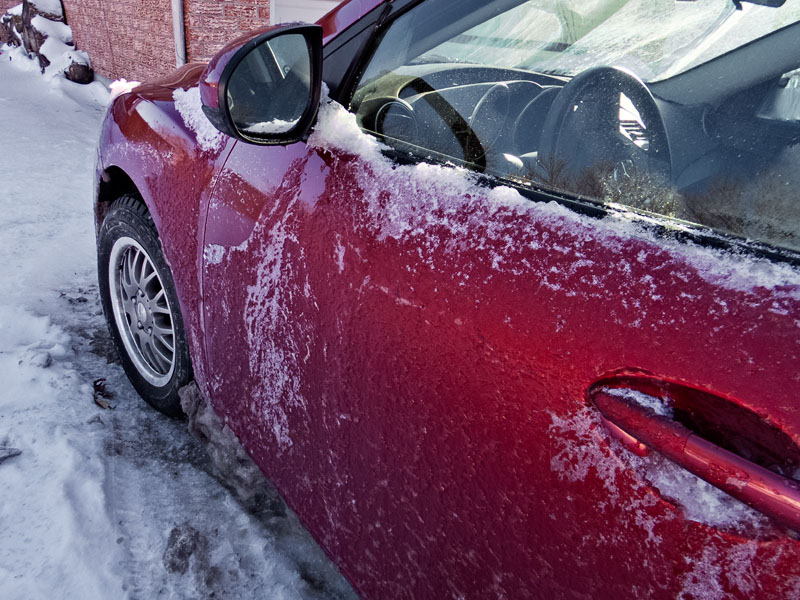 And of course the trees have a beautiful layer of ice on the branches … a favourite motif of mine … these shot at the office as I was leaving after the meeting …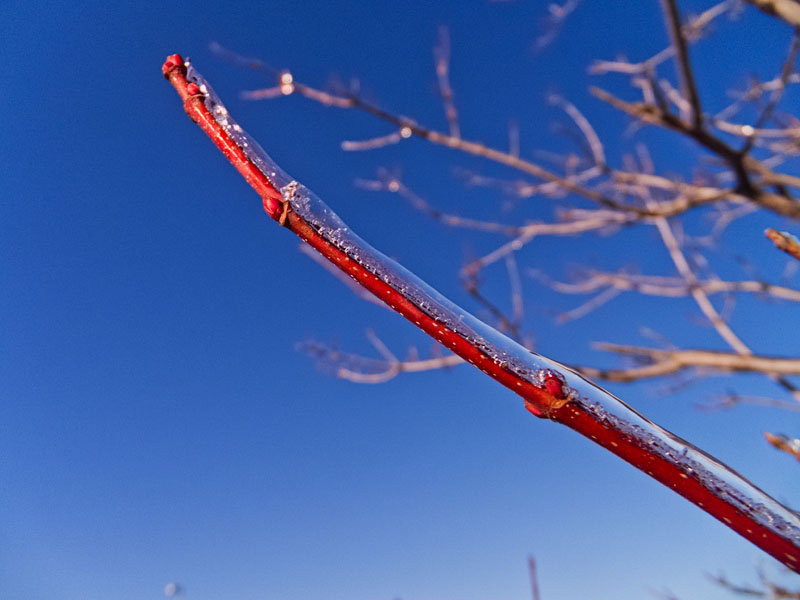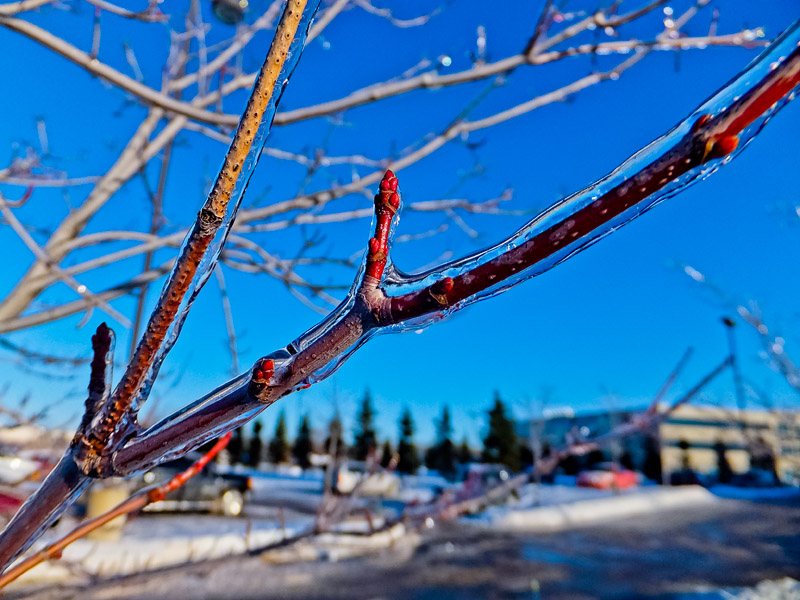 Hockey game tonight, so the parking lot next door got a lot of attention. Looks pretty in the late afternoon sun …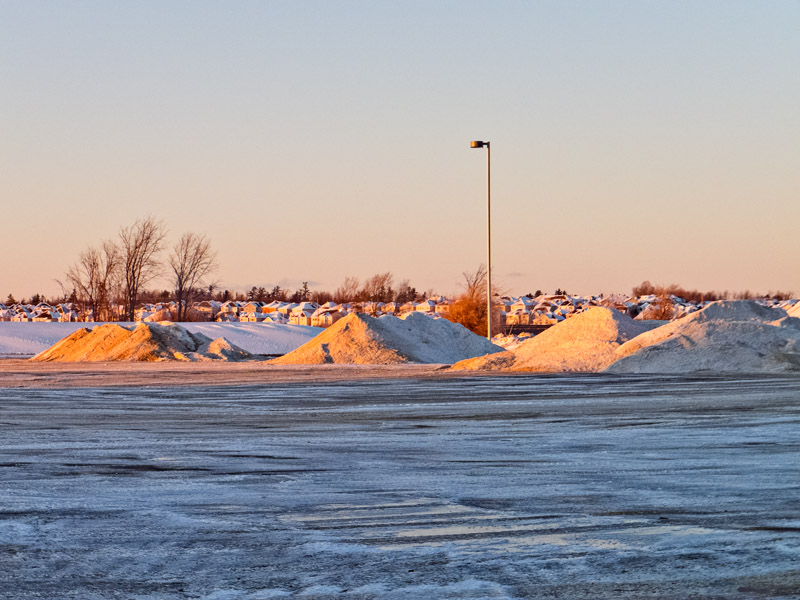 Every car in the lot has icicles hanging underneath from the freezing rain …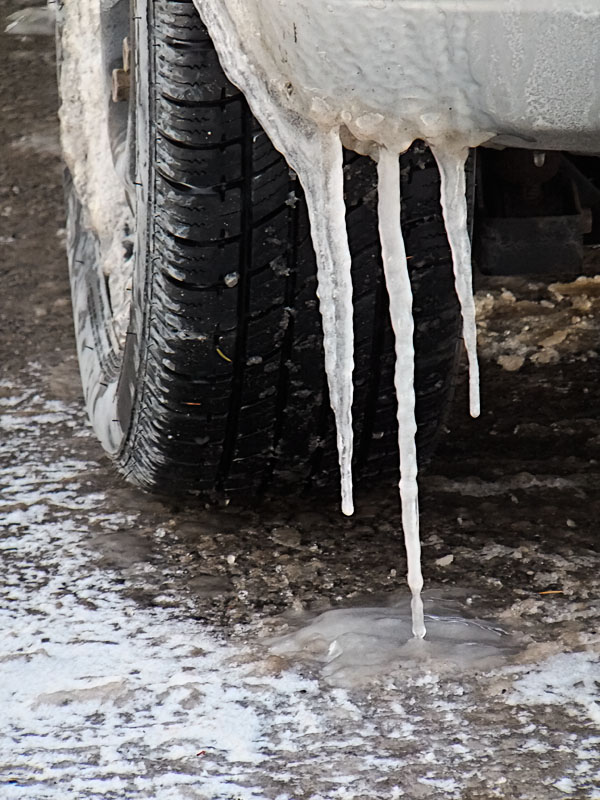 And so … the F550 handles images like these quite well. The base ISO pixel peeping is not as much fun as it is with dSLRs, but with 16MP there is plenty of downsizing room so the images look quite nice … and all that extra dynamic range has to go somewhere …