I spent the better part of a decade driving my 2001 CR-V and I loved every minute of it. Not only did I have a kick-ass after market stereo in there with subwoofer on separate amplifier, but it has on-demand all wheel drive. Yes, this is not the rugged all-terrain hyper-manly testosterone-fueled locking transaxle 4 wheel drive for the back roads … but it works beautifully in crappy conditions.
I could climb 45 degree ice hills in the country without taking a run at it … I was able to drive around the night of our biggest storm ever while listening to the snow rubbing on the bottom of the car for block after block … such was the prowess of that car.
But the old Lumina Nick was using packed it in and I wanted a newer car. To kill two birds by passing the CR-V off to Nick required that I get something for myself. I was not shopping in the $30,000 range, else I would simply have bought a Subaru something or other to get back into all wheel drive. Instead, I bought a very inexpensive low-end Mazda 3 Sport … 18 grand all in. That's cheap by today's standards. Especially once you sit inside and feel the spaciousness of the interior … then kick the peddle and feel the relative responsiveness of the small engine. Nice …
But I was of course reticent about the front-wheel drive. I like FWD of course, it makes snow much less difficult. There is a reason why the only RWD cars around are sports models and parade floats …
But I needn't have worried. This car has traction control … something I ignored all summer long. But something that makes the little FWD car a dream in the snow. Of course, I did put the excellent General Tire Arctic Altimax ice-tires on the car. That makes a HUGE difference. But traction control completes the quinella for safe driving in snow.
Example: A local street near the top of a shallow hill … the kind that is a PITA to climb from a stop, as I have to when picking up or dropping off at one of my son's friend's house …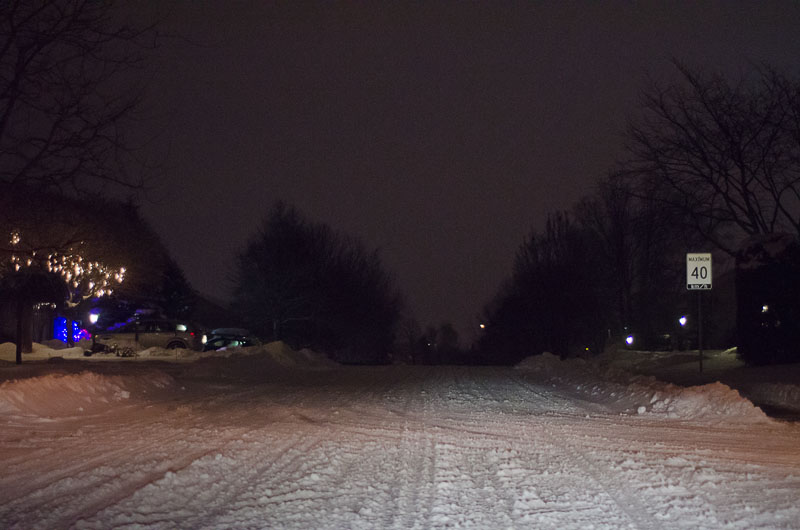 Packed snow with some ice below. We've had weird weather this La Nina year … lots of rain followed by sudden freezing and snow. That makes for treacherous roads, and anyone who thinks all season tires are adequate should seriously consider the ramifications of sliding into another car, or much worse … a pedestrian.
Anyway, when traction control kicks in, which is all the time on this road, the little icon flashes and the car continues as straight as an arrow and without faltering or slipping. That is, of course, the point behind the feature.
Bottom line ... get excellent snow tires and consider traction control as mandatory for your next purchase ... it'll blow your mind.