And finally … after playing with wonky meters all afternoon, I get to show the difference between M sized images and L sized images …
I shot four images, but used two of them. The L sized image took 6.5s to capture the scene at 100 ISO, so the light is pretty low in this room. But the tripod is sturdy enough … shown in a repeat image from part 21 …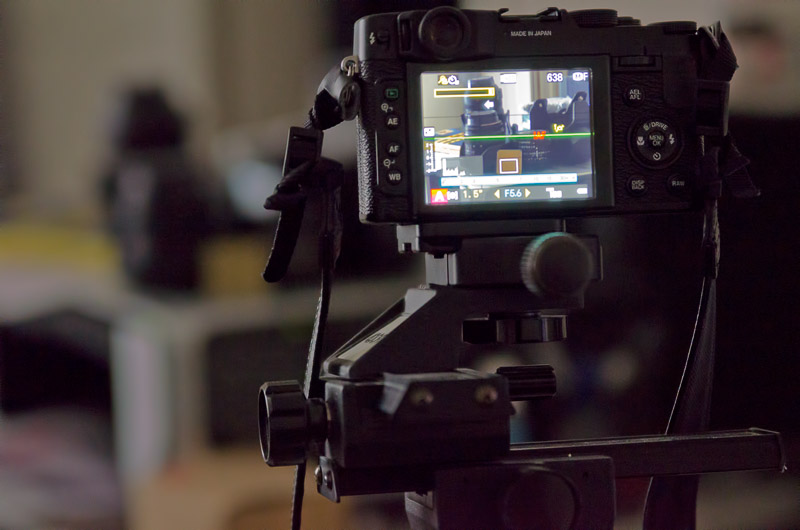 The M sized image only spend 1.7s capturing the same image … and was stimulated to shoot that speed by forcing it with –2EV compensation. That is the only way to get am M sized image to meter the same as an L sized image. See part 21.
You'll need to click through and expand the image in your browser to see the differences here …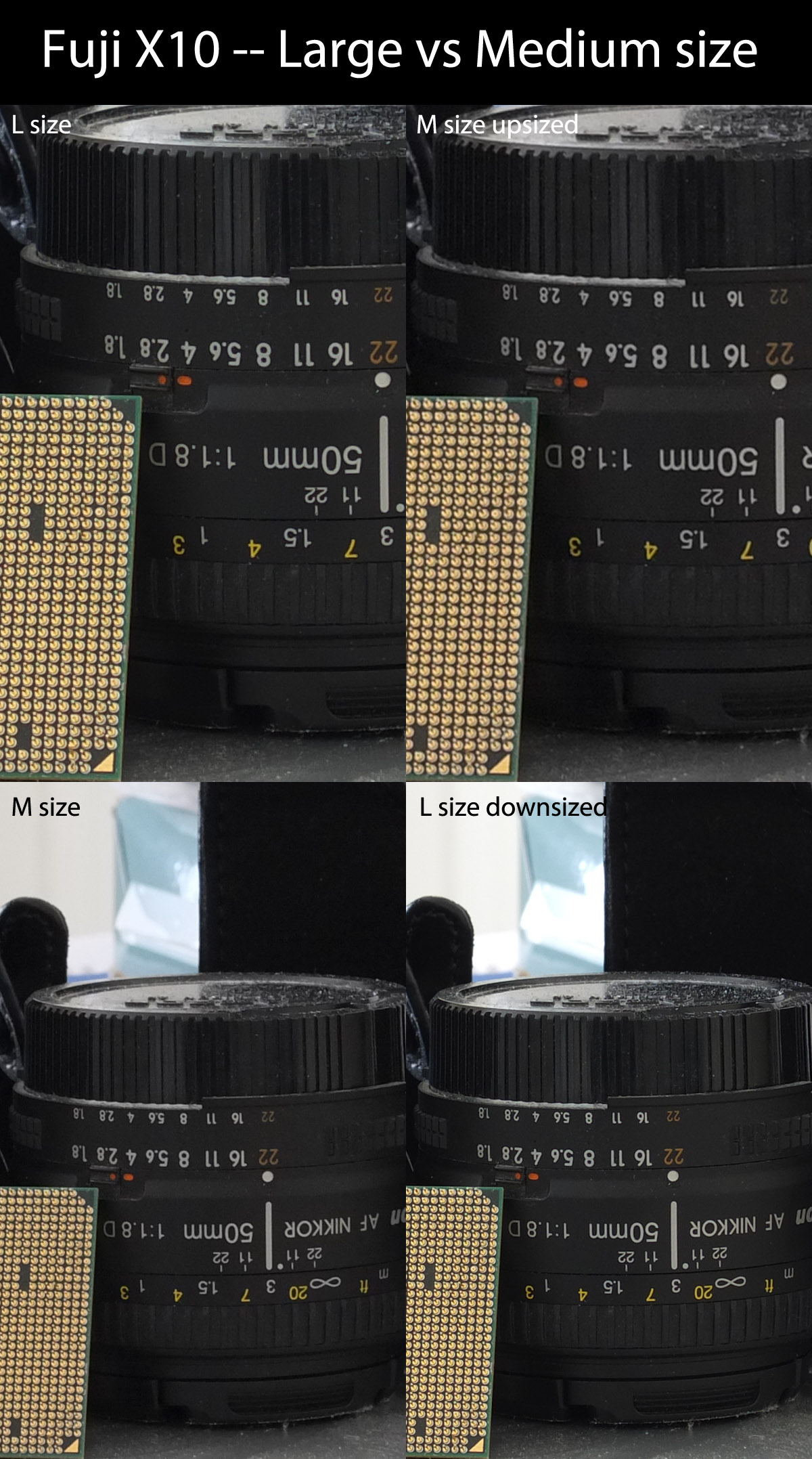 The differences are fairly small … but there is a clear advantage to the L sized image both when downsized to match the M sized image and when the M sized image is upsized to match the L sized image. (Say that three times really fast.)
In other words … at very low ISO and with excellent shot discipline, you will get better sharpness in L size. But it is noticeable here because you are looking at crops that are effectively a 49" print viewed from 20 inches.
At any normal display size and at any normal viewing distance, the differences wash away …
And then you start looking at tonality. And the M size with DR400 has a clear advantage with the light colored background objects … the L size blows then out as DR100 tends to do.
So … if you regularly print 50" prints, then you might want to shoot L size … for most people though, the advantages of shooting DR400 will win out over the slight sharpness advantage. So again … my original EXR recommendations from almost 3 years ago still stand …
---
Update: I was curious how the F550EXR would compare. So I shot three images with it from tripod. To get sufficiently long exposures, I had to use M mode. That's a change in the X10, which allows longer shutter speeds than the traditional 1/4s limit in auto modes.
The images ended up with identical exposure because of manual mode, but the key point is that all three images – L size DR100, M size DR100 and M size DR400 – also had identical brightness. The only difference being a slight drop in highlight brightness in the DR400 image, which is expected.
So the meter in the F550 works perfectly but the meter in the X10 is wonky. As I thought.
Now, here are the same crops that you saw from the X10 … and these show that the 1/2" sensor and the 15x lens create all kinds of nasty artifacts in the images. It also shows that it really does not matter much whether you shoot M or L … so I would go with M size DR400 as always …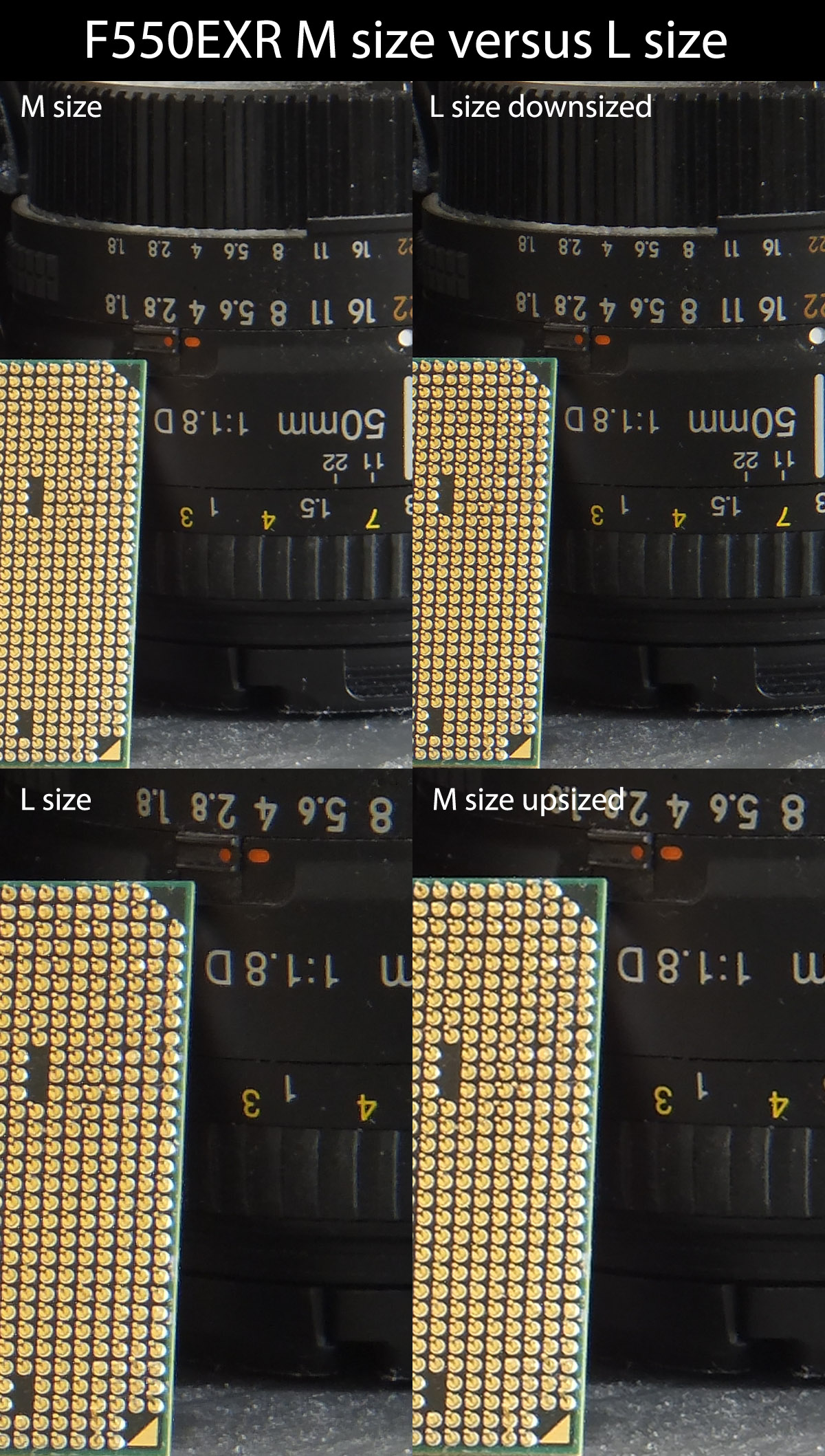 The main difference at small web sizes between the X10 and the F550EXR is the lens quality. The long lens of the F550 has obvious CA in these images … and that cannot be hidden. But otherwise, the F550 makes a decent image at base ISO …