Part 21 was overwritten by the way I used Microsoft's Windows Live Writer. So I lost that article. Bit of a POS sometimes. Anyway … the gist of the first version was that the meter seemed to randomly overexpose and destroyed my test for L versus M size sharpness.
In that article, I complained about the tripod socket being too far left …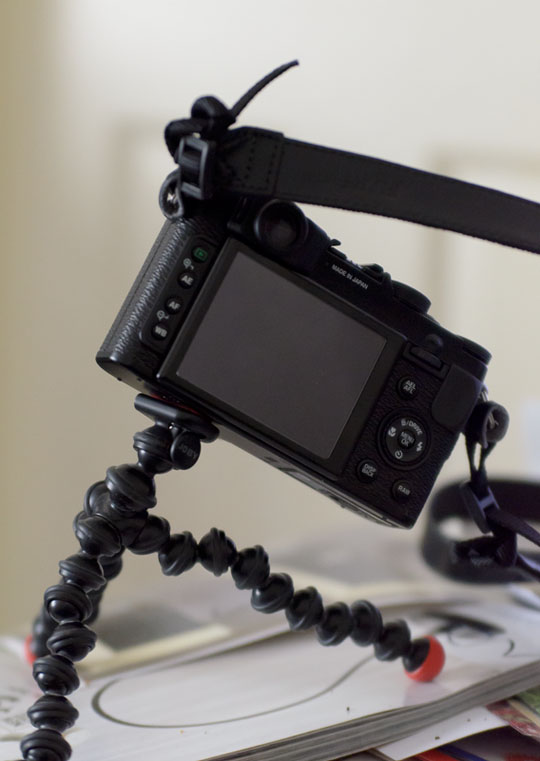 My Joby Gorillapod is not happy. And yes, that is exaggerated …
The original shots from the Jopy showed a weird exposure for M size … and the meter chose the same exposure, so there is no explanation for the JPEG's brightness …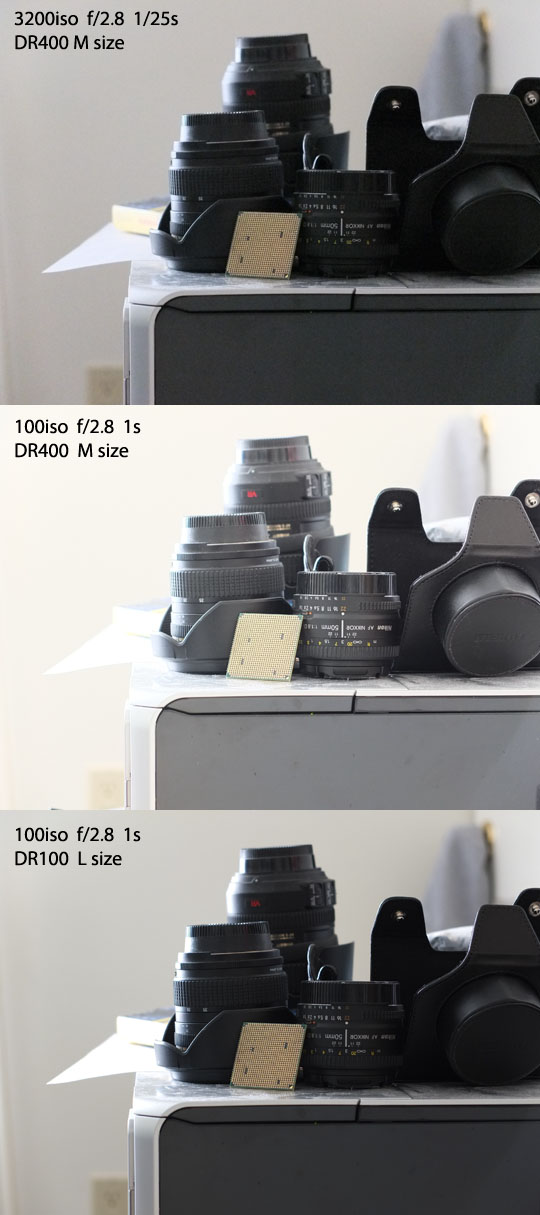 I concluded that Fuji seemed to have a random issue with the meter.
But I was wrong …
---
Cut to test number 2 …
A sturdier setup this time … in order to get a very precise focus and metering point (even though I am using matrix meter, I have noticed an unusually strong sensitivity to what is under the focus point.) You can see on the LCD screen that I moved the focus poiint down to be directly on the pins of the AMD 1100T processor.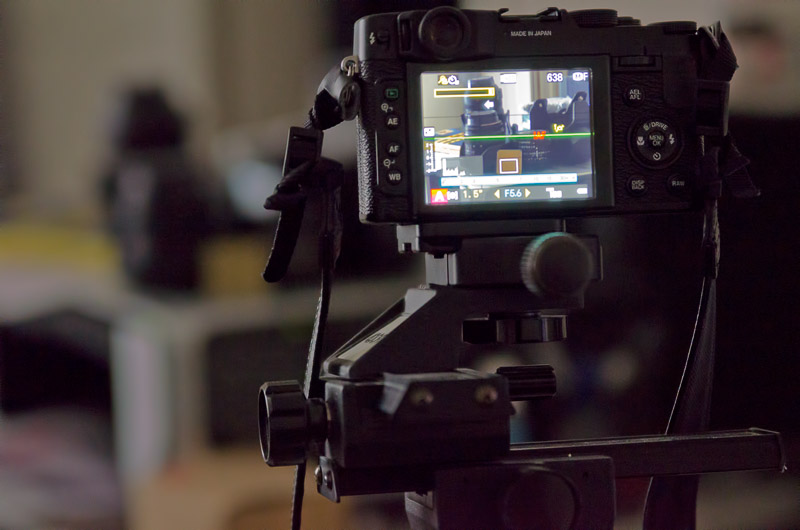 And with this perfectly precise metering, I shot this scene (cropped a bit to show the key elements.)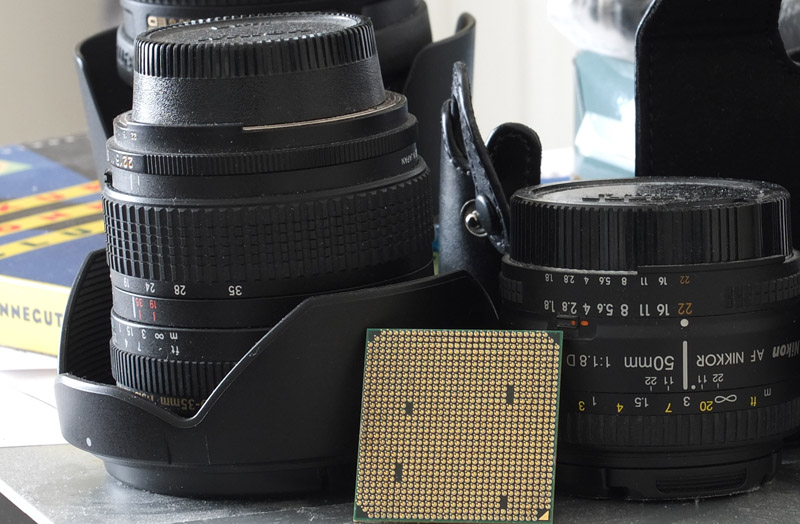 You can see that tripod mounted L sized images come out breathtakingly crisp.
But … I then shot a series of M sized images, changing nothing for the first shot and then dropping EV to –1 and then –2 … and I found that the shutter speed dropped even at zero EV difference. In other words, then meter shot the same scene in the same light from a sturdy tripod and the meter chose a different speed for the M sized image.
What is perplexing is that the meter chose a faster shutter speed for M size. It left the shutter open for 6.5s on L size and only 4s on M size. Yet the M size image is showing two stops overexposure.
WTF?
So here is the whole series in one image … you can see that the –2EV image, which only leaves the shutter open for 1.7s, is the closest match.
I'm gobsmacked … why has this not been reported before?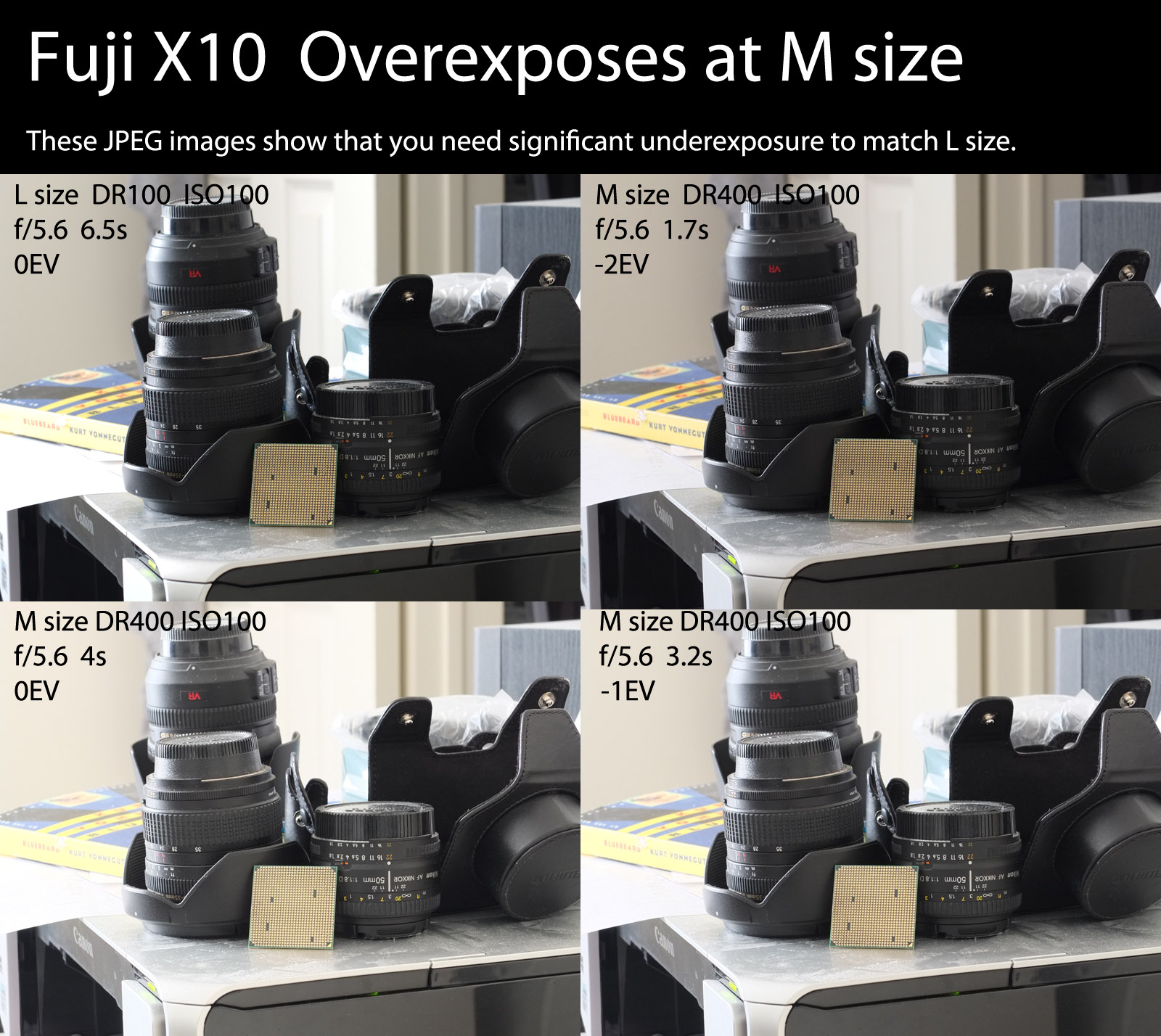 Click through to see the meter perform …
Now, obviously people will speculate wildly about what Fuji might be doing. After all, the DR400 images cut the shutter on the highlight half of the sensor exactly two stops early (supposedly.) Perhaps somewhere in there is some confusion that leaves the shutter open on the slow half of the exposure much too long.
Not a chance.
One thing you notice with these long exposures is that M size starts processing the image much quicker than you think it should. You can count the seconds in L size and everything makes sense. But switching to M size gives you much shorter exposures. Exactly as reported in the EXIF.
So the meter says one thing and the final JPEG says another.
I hope Fuji can address this in firmware, because it makes no sense whatsoever …