This one came in on comments today … I have been meaning to get to it, but have been mired in trying to parse out the best way to shoot this thing in RAW. But what if the best way is to shoot it in JPEG? More than one person has reported that they cannot really match the jpeg sharpness in Lightroom.
Well, I don't use Lightroom, but I to use Bridge / ACR / CS … so that's close enough. But, of course, Lightroom does use a different code base I believe, so your results may vary. Can't do anything about that …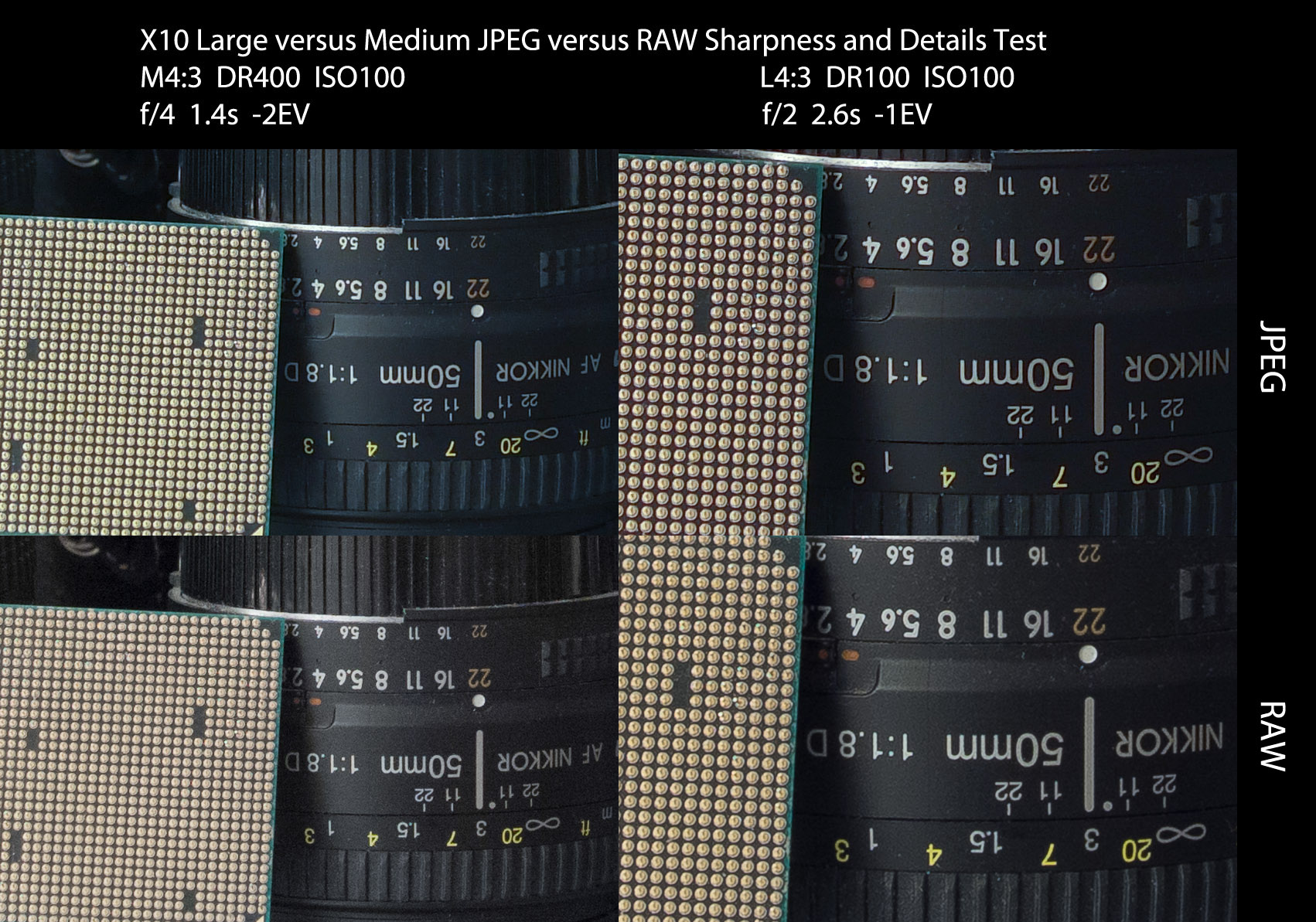 You will need to click through on that image and expand it in your browser to see the gory details.
My observations:
The JPEGs are sharp. But the RAWs are as sharp.
The JPEGs have emphasized black halos around the lettering, the RAWs are much closer to what is actually there. This accounts for the perception of sharpness for some people.
The JPEGs present the lens very smoothly. There is a shoulder that is angled just above "50mm" … you can see in the RAW images, especially the L4:3 image, that there is very fine and subtle texture there. With two pair of glasses on, I can see that texture on the actual lens. The JPEGs smooth that away completely, which is a property of NR. I am using standard NR, it might get better with NR off, but then noise would get much worse. TANSTAAFL.
So … ACR can match the JPEGs pretty easily as far as I am concerned. There is more fine texture and this might make a difference for those who shoot portraits of people with very fine hair (babies for example) …
The JPEGs are obviously plenty good enough for 95% of shooters … these differences are visible here at a size of about a 40" print viewed from 20 inches. A more typical sized print or WEB presentation will look fine …
But I am a RAW shooter and I am happy to see my preference confirmed once more …